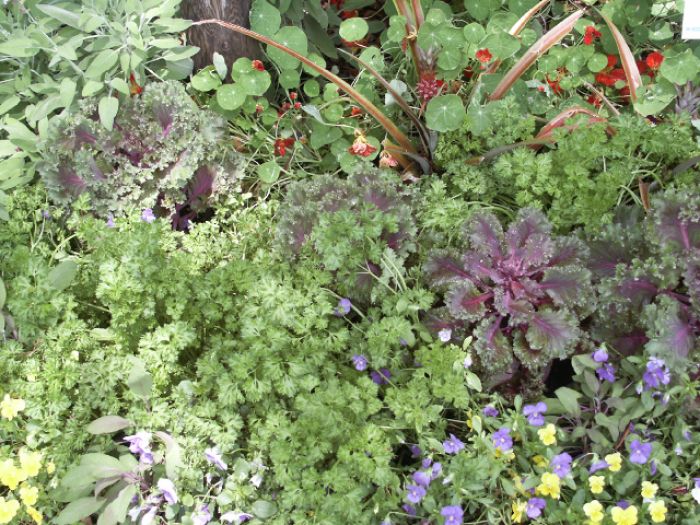 Once again, it is springtime for this roving gardener. I have been on the road teaching other folks about garden-related topics; which means that I haven't had a lot of time at home working in my own garden (or writing for that matter). Click on the pix to enlarge them and read the photo captions.
This is my busy time of year for traveling about the country giving lectures to fellow gardeners who are anxious for the growing season to begin, and for some, like those in the southern U.S., their gardens are already in full swing. I love to travel and have these great exchanges with like-minded cooks and gardeners, however sometimes I don't get enough hands-on time in the garden earth.
In the past six weeks, I have been to Michigan, Illinois, Arkansas, and Florida with intermittent return trips back home to Maryland and right now I am writing from Arkansas. The seasons have varied enormously–with temps ranging from low 30s to the 90s—and clothing from boots and coats to flip flops and sundresses. As a gardener, most noticeable to me are the varying stages of plant growth in each locale.
During this busy time, it is a challenge to get my blog written every week and I missed last week, however, I will do two blogs this week to make up for it. I will continue with my harbingers of spring entries after this one which I am writing here. I just thought I'd share some photos of my recent visit to the Epcot International Flower and Garden Festival. This year I did six programs—two each day—The Creative Herbal Home at noon and Not Just Desserts—Sweet Herbal Recipes at 3 p.m. My herbal cohort and co-author Tina Marie Wilcox joined me and we presented the noon demo together. We had great audiences and lots of fun and I recognized a number of Floridian gardeners from last year. Of course the cast members at Disney were most helpful from procuring fresh-cut herbs and herb plants for us to share and preparing samples for everyone to taste so that we all had a sensory experience of rubbing leaves, sniffing and tasting. We thank horticulturist Debbie Mola for providing everything we needed and more.
Outside, we spent our spare time enjoying the massive plantings all over Epcot and the other parks as well. Although, all of the gardens are impressive from design and execution to a rainbow of colors and a huge variety of plants, some of the container plants wowed me. Everywhere I looked, combinations of vegetables, flowers and herbs were spilling out of pots all over the parks. Compared to my zone 7 Maryland garden, where it is still spring, it was like the height of the summer season in Florida. Two of my most favorite gardens in Epcot are the magical fairy garden and this year, there is a huge kitchen garden display with huge Mickey and Minnie topiaries dressed in overalls which was amazing.
I returned home to Maryland to see that the salad garden I planted at home was doing well and the seeds that I had sown sprouted and all of the spring shrubs and flowers were blooming. Then I headed for the Spring Extravaganza here at the Ozark Folk Center in Mountain View, Arkansas. Hopefully, when I get back to Maryland, I will be able to harvest baby salad greens to eat! In the meantime, I am inserting some photos for you to enjoy. And a recipe for Moroccan Mint Tea, which we served at Epcot, chef Georgia Ducksworth prepared it with fresh spearmint and a delightful smoky Oolong tea and served it over ice. Mint is another harbinger of spring, which I will discuss in detail in my next blog; in the interim, enjoy a delicious cup of this pleasant infusion.