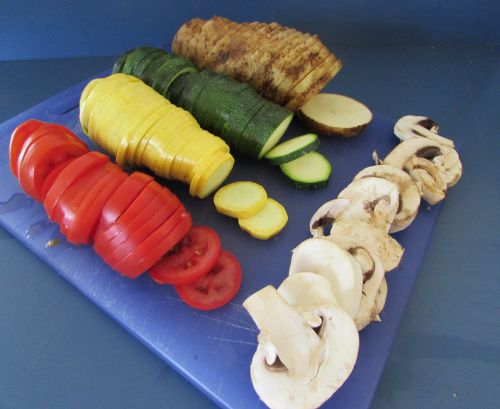 In January your garden was but a drawing roughly accented with scribbles of vegetable species and varieties. During the cold months you changed your mind more than a few times. Sure enough by spring a plot of soil held some tender and spindly vegetable plants.
They might have been small, but they were off the paper and very much alive. March through July, you were certain they would be devoured by something evil which might show up in the form of plant-eating insects, disease, or your own marauding dogs. 
It's now August and your little garden that could — did. And boy did it ever. You have a veggie bounty to be proud of and if you're lucky, there's more than enough to share with neighbors and friends.
Maybe this weekend you should invite a few of them over for a "Last Days of Summer" grill and throw together a little ratatouille side dish fresh from your garden. This recipe is courtesy of my bestie and me witnessing the subtle signs of fall and realizing that we hadn't partied enough.
Ratatouille Ingredients:
1 Zucchini
1 Yellow squash
1 Large Russet potato
3 Roma tomatoes
1 Clove (or more) garlic
10 Fresh basil leaves (rolled up together and sliced)
1 Wedge Parmesano – Reggiano cheese (grated)
White mushrooms
Olive oil (bottle)
1/4 tsp Thyme
1/4 tsp Rosemary
Pepper
Salt
1/2 Onion (minced) *optional
9″ X 9″ Glass baking pan/dish
Foil
Directions
Preheat oven to 350.
1. Cut the zucchini, yellow squash, potato, and Roma tomatoes into 1/4 inch slices. You'll have little stacks of each veggie when you're done. Thinly slice the mushrooms (they will be thinner than 1/4″, but it's all good).
2. Put a thin coat of olive oil on the bottom and the sides of the baking dish.
3. Now you're going to line up your veggies in a row, taking turns with each one.  Any Kindergartener living in your house will tell you this is a pattern. Example: one potato slice, one zucchini slice, one yellow squash slice, one tomato slice, and one mushroom slice. Repeat this until all of your slices are used up. You'll need to make several rows.
4. After your veggire rows are made, pick up your olive oil bottle and gently drizzle/shake some olive oil over the veggie line-up.
5. Sprinkle the basil slices as evenly as possible over the dish, as well as the thyme, rosemary, and chopped garlic. Add a dash of salt and pepper.
6. The diced onions are optional because I love onions and my bestie is turned off by them. If you opt to use them, just pop them and a little olive oil into a separate frying pan with the heat setting on low to medium. Cook them until they are tender and floppy and then sprinkle them over the entire dish before you put it into the oven.
8. Cover the ratatouille with foil and put it into the oven on the middle rack for about 40 minutes. After that time, check to see if the potatoes are tender, if not then re-cover them with the foil and give it another 5 minutes or so until they are soft. 
Once the potatoes are soft, pull the foil off of the glass dish and sprinkle the grated Parmesano-Reggiano cheese all over the top. Put it back into the oven uncovered for 5 more minutes or so — enough to melt the cheese.
Let the dish sit for a couple of minutes before serving.