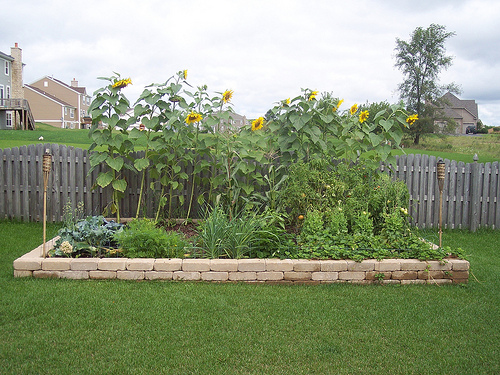 We're looking straight into January and believe it or not, these are the months to start planning and plotting (pun intended) about the spring gardening. One of the first things that I ask myself every winter is, "Do I need more garden space?" The vegetable garden happens to be one of the first places that comes to mind because I'm always hearing about or running across a new vegetable variety that I just have to try.
Living in suburbia, I always ask myself if there are more places my yard that I could do more vertical gardening; either with trellis or maybe more hanging baskets. Beyond that, I start really looking at other places in my yard that haven't been fully optimized. What about you? Do you need more garden space?
Find Garden Space on Your Lawn
If so, have you considered working it into your landscaping? What about your lawn? Many people have front and back lawns that aren't used at all. They're watered, mowed, and they do add some green to the yard. But have you ever thought about actually using them? Step outside and take a look at your lawn. Are you willing to give some of it up?
Garden Space at a Community Gardens
If you're absolutely certain that you either have nowhere to garden or you just need more plant space, consider a community gardens. Many cities have community gardens where you can lease a plot for the year (and beyond). It's also a great place for camaraderie, guidance, and a chance to share what you're growing with other like-minded gardeners. Alos, a group of people at our community gardens takes the bounty surplus to the local food bank.
Yard Sharing For More Garden Space
Here's an alternative to the larger community gardens: yard sharing. Yard sharing is along the same lines of a community gardens but it's much more intimate. There's as many variations to this theme as there are gardeners. A yard share project could be three neighbors maintaining a garden at one person's home.
Or it could be a couple of people using the yard of someone who hasn't time or is incapacitated and can't garden by themselves. In this case, the gardeners would share the bounty with that person in exchange for using their yard. It could also be several neighbors tending gardens at each other's homes on a rotating basis.
So, if you're wondering if you can find more space this spring; yes, there's more than enough room for a new garden.