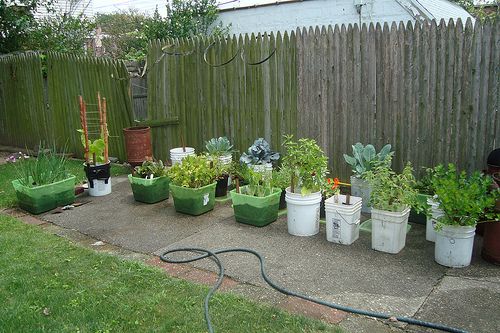 Not much. Truthfully, it depends on the types of veggies you want to grow and how many. But you'll want to know what you have to work with before you choose your vegetable seeds or seedlings. For example, if your kids really want to grow giant pumpkins, a good-sized part of the yard or a large raised bed could easily be devoted to pumpkins. But, one thing is for sure, you absolutely do not need what is referred to to as "land" to plant a vegetable garden. Not even close.
There are ways around to successfully grow sprawling veggies like pumpkins and other squash. One way would be to "train" the vines by physically aiming them in a direction and pruning them to keep only several vines. If you prune, remember that you'll harvest less fruit than if the plant was left to its own devices. Another way to save space with vining veggies is to grow them vertically.
There are some veggies take to containers with ease. Carrots, peppers, and lettuce come to mind. Tomatoes usually do well in containers, although if you let them dry out to the point where the soil pulls away from the sides of the container, they may never forgive you which can affect their performance by producing less fruit.
In fact, if you think of containers as basically small raised beds, it's hard to think of anything that wouldn't grow in them. One thing that's different about containers versus raised beds is that the container will dry out faster because it has sides above ground that absorb the heat.
When choosing a container, take into consideration the mature size of the vegetable plant. Hanging baskets along the eaves of the sunny side of your house can work, too. Creative containers such as the Topsy Turvy hanging tomato planter is also a good option.
If you know you're going to need more space, have you considered working it into your landscaping? What about your lawn? Many people have front and back lawns that aren't used at all. They're watered, mowed, and they add some green to the yard. But have you ever thought about if you're using them? So, step outside and take a look at your lawn. Are you willing to give some of it up?
If you're absolutely certain that you either have nowhere to plant or you honestly do need more space, consider a community garden. Many cities shave a community gardens where you can lease a plot for the year (and beyond). The nice thing about gardening in a large space among other gardeners is camaraderie, the guidance, and chance to share your vegetables with other gardeners.