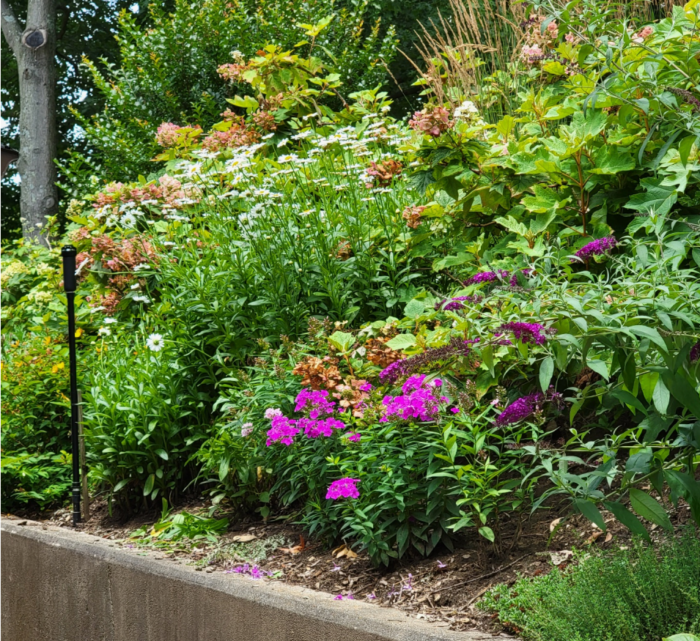 When we moved to Hamilton, Ohio, in 1998, we purchased the adjacent lot to our north, so we call it the North Lot Garden.
The slope above the retaining wall was covered with winter creeper (Euonymus fortunei, Zones 5–9) and scrub trees that overhung the house. We cut down the trees, and with a lot of effort we removed the winter creeper.
It is a steep slope, so planting was a challenge. I relied on oakleaf hydrangea (Hydrangea quercifolia, Zones 5–9) and crape myrtle to anchor the area, gradually filling in with perennials. It is a sunny, south-facing slope that welcomed coneflowers (Echinacea species and hybrids, Zone 4–9), reed grass (Calamagrostis × acutiflora, Zones 5–11), black-eyed Susan (Rudbeckia fulgida, Zones 3–10), Joe Pye weed (Eutrochium purpureum, Zones 4–9), and other sun-loving perennials.
I took the Master Gardener class from the Ohio State Extension after retiring in 2011. I enjoy working on public gardens with new friends and learning more about unusual and/or hardy plants that I can add to my garden.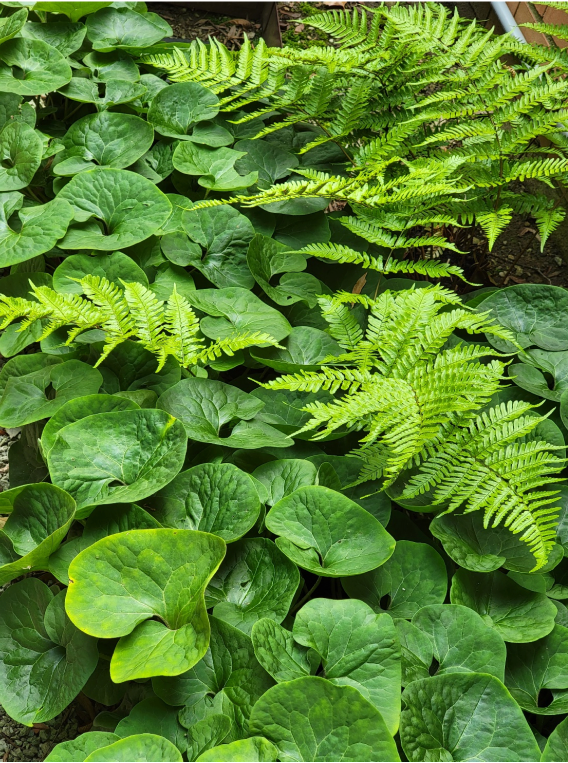 'Brilliance' autumn fern (Dryopteris erythrosora 'Brilliance', Zones 5–8) and wild ginger (Asarum canadense, Zones 4–6) border the path in the shade of the house.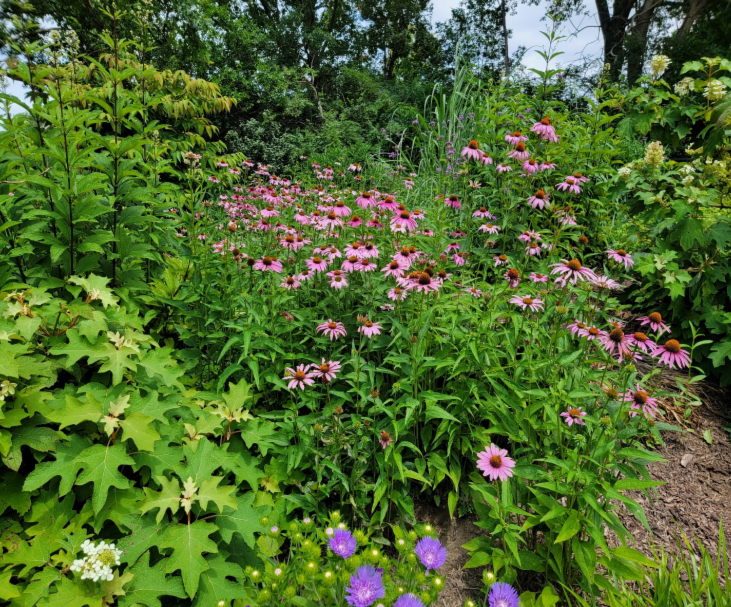 Coneflowers and Joe Pye weed dominate the slope between the oakleaf hydrangea, accented with Stokes' aster (Stokesia laevis, Zones 5–9) in the foreground and a few Verbena bonariensis (Zones 7–11 or as an annual) interspersed.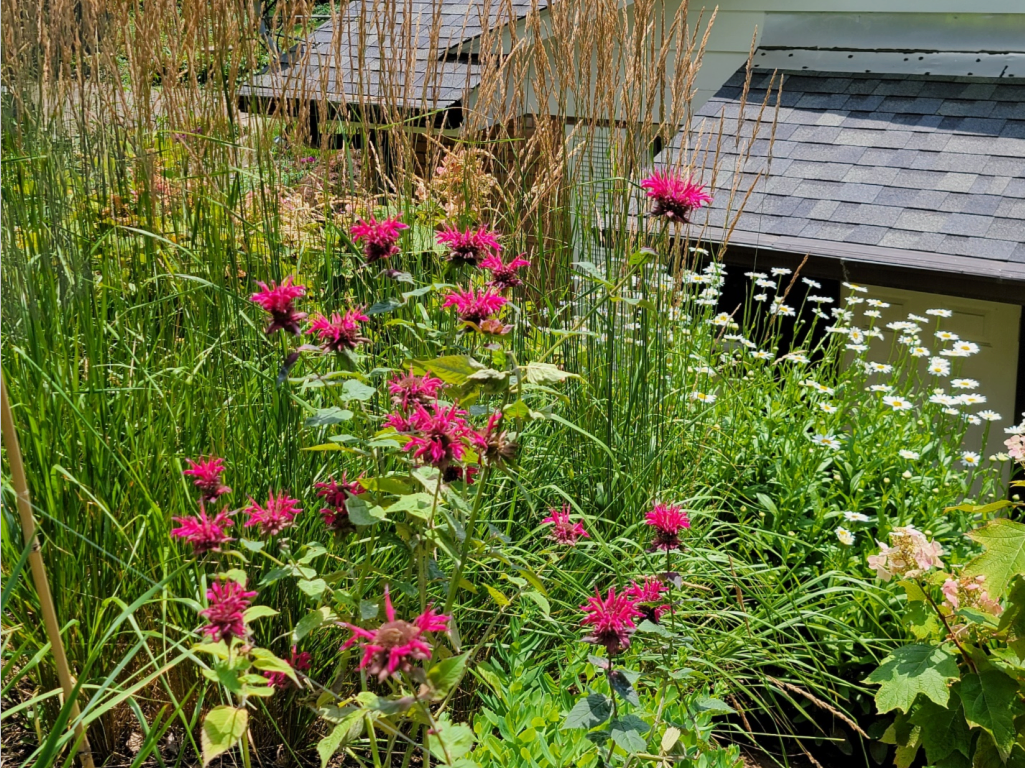 Reed grass anchors the slope among the bee balm (Monarda spp., Zones 4–8) and Shasta daisies (Leucanthemum × superbum, Zones 5–9) that always bloom on my birthday. Hummingbirds are frequent visitors to the bee balm.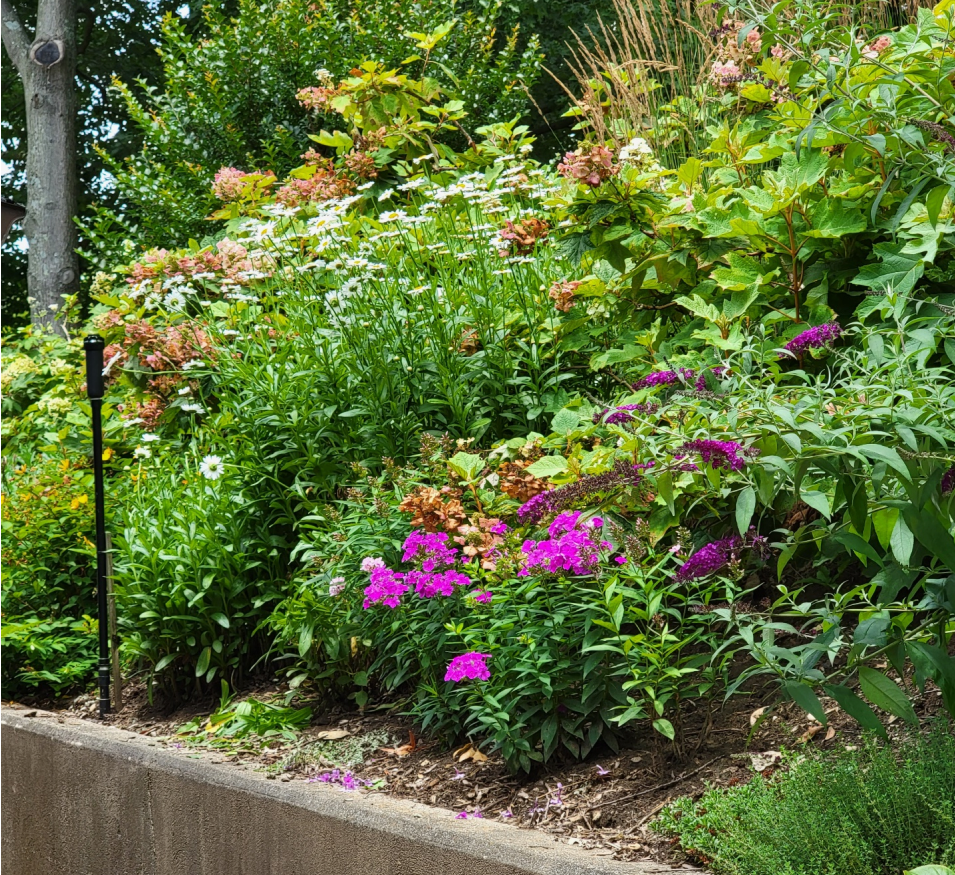 Phlox (Phlox paniculata, Zones 4–8) bloom just above the retaining wall, with crape myrtle (Lagerstroemia, Zones 6–11) in the background.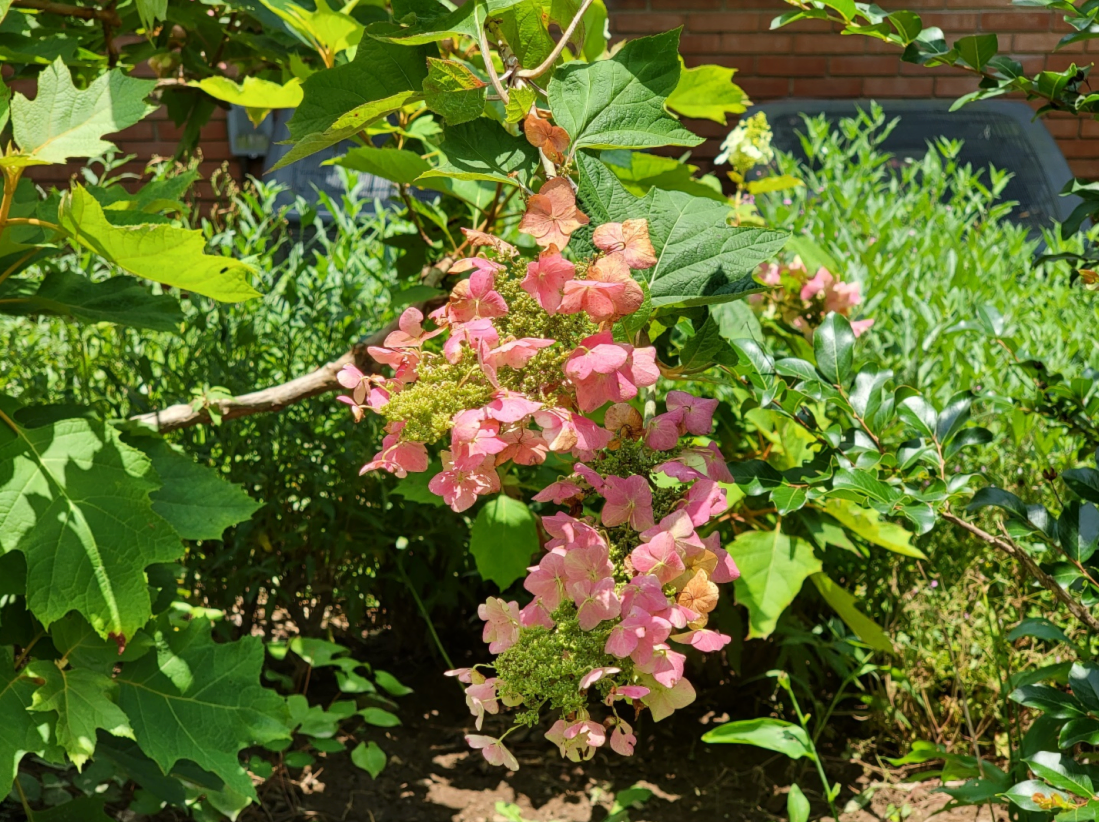 While this oakleaf hydrangea is turning pink for summer, blue mist (Caryopteris × clandonensis, Zones 5–9), in the background, is not yet blooming.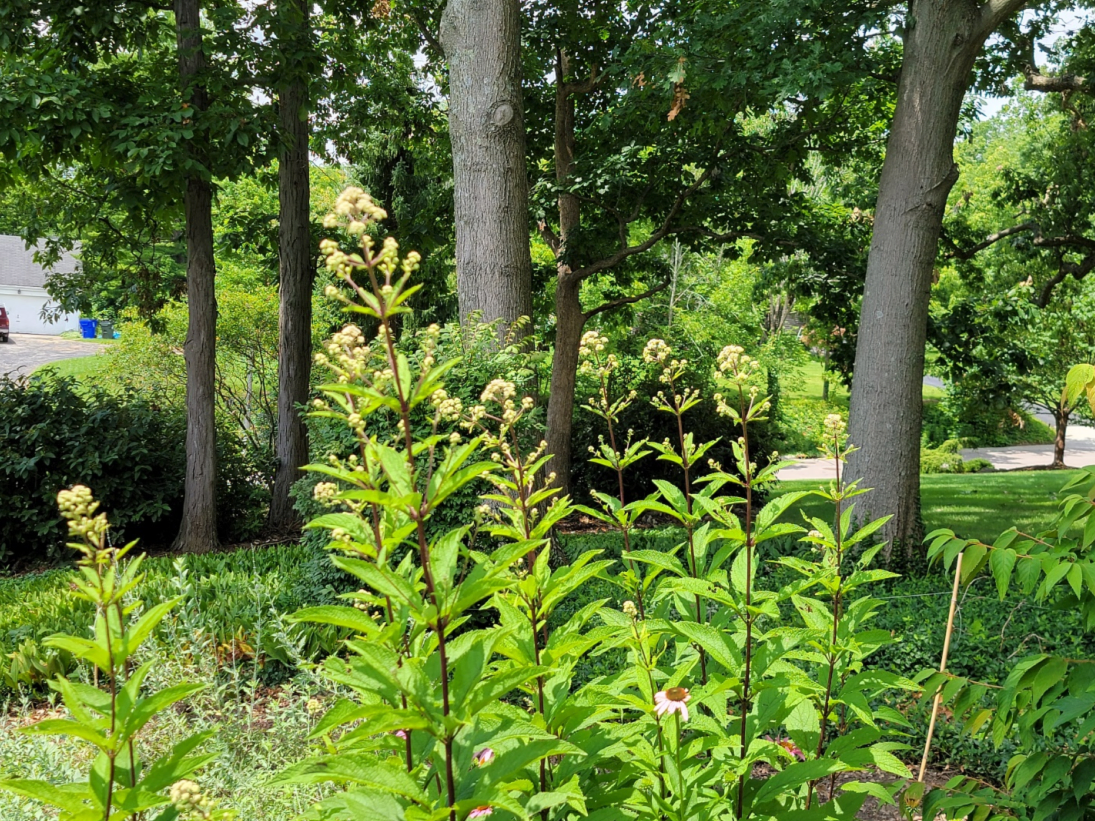 Joe Pye weed is standing out against the backdrop of shade trees.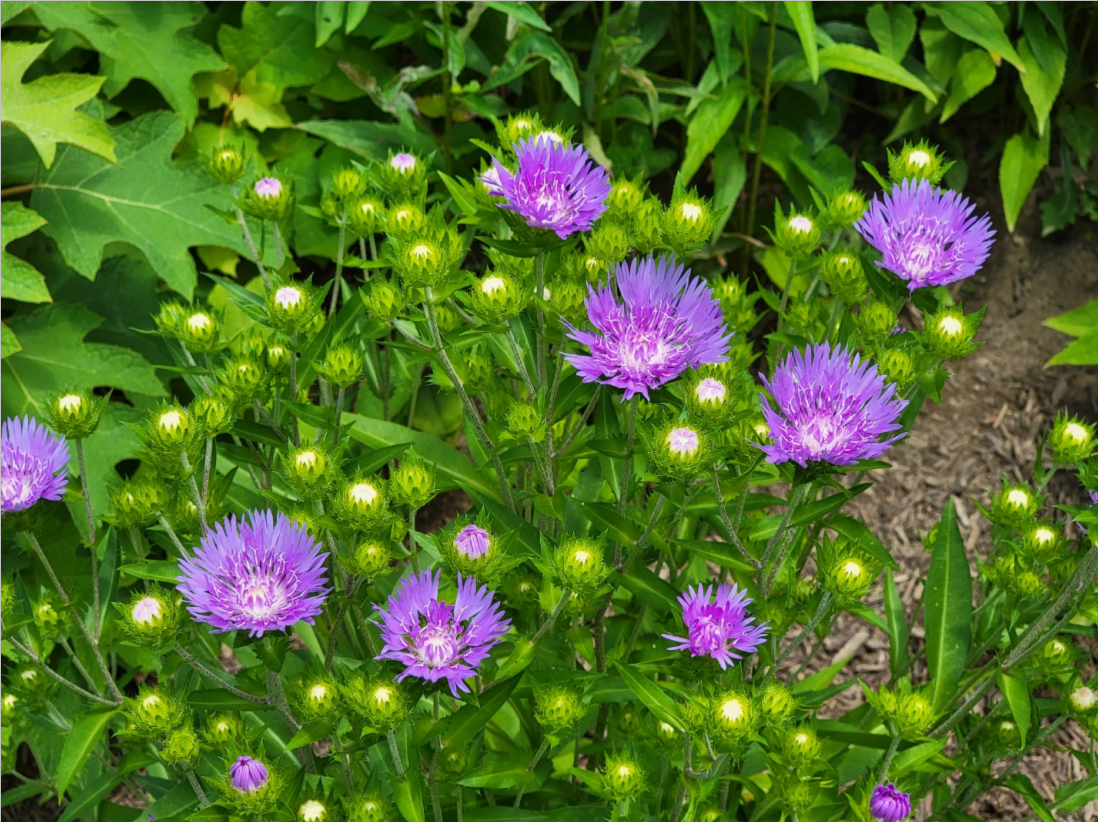 Stokes' aster shines out in purple splendor.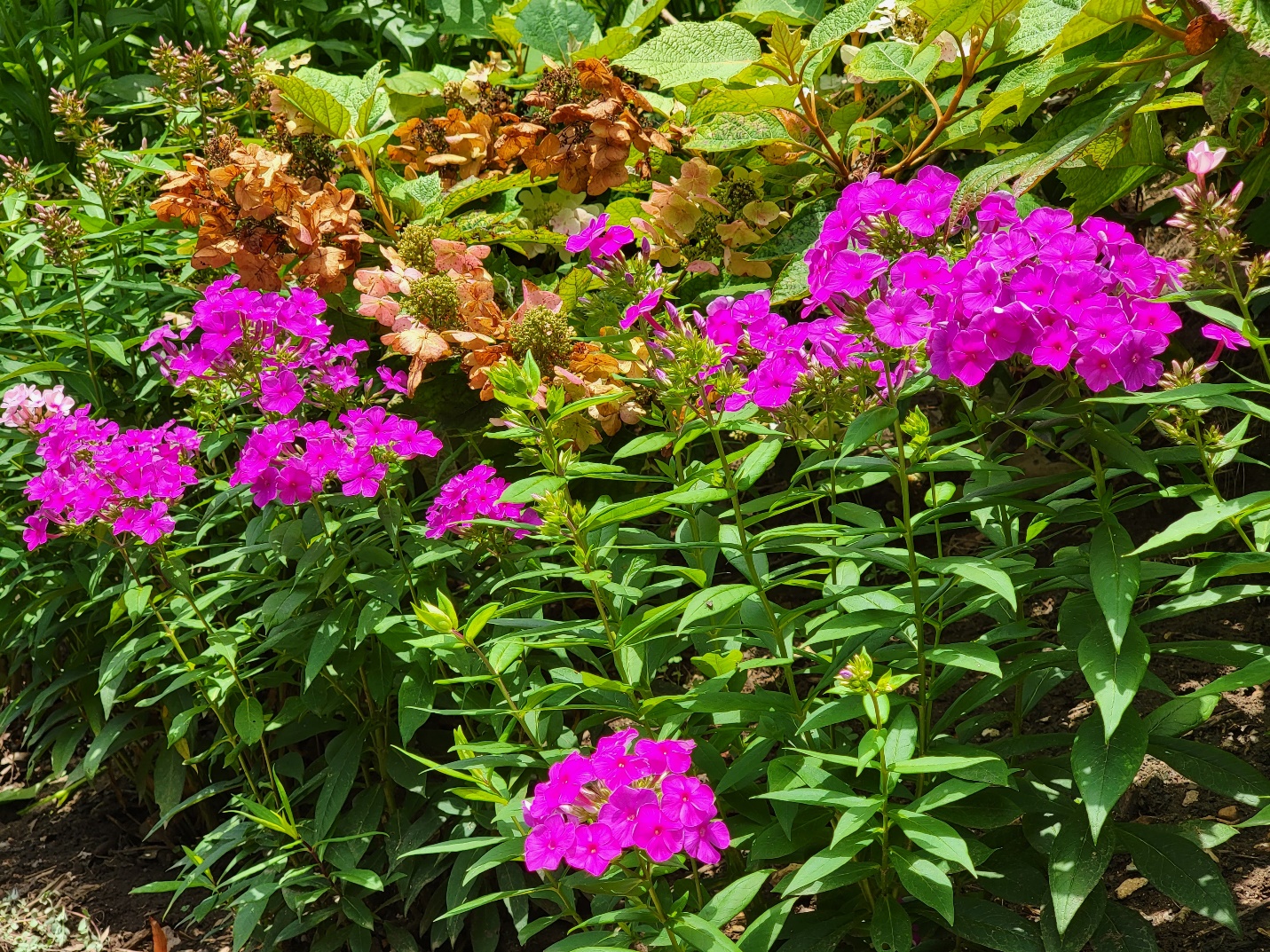 The phlox almost looks fluorescent against the hydrangea blossoms.
Have a garden you'd like to share?
Have photos to share? We'd love to see your garden, a particular collection of plants you love, or a wonderful garden you had the chance to visit!
To submit, send 5-10 photos to [email protected] along with some information about the plants in the pictures and where you took the photos. We'd love to hear where you are located, how long you've been gardening, successes you are proud of, failures you learned from, hopes for the future, favorite plants, or funny stories from your garden.
If you want to send photos in separate emails to the GPOD email box that is just fine.
Have a mobile phone? Tag your photos on Facebook, Instagram or Twitter with #FineGardening!
You don't have to be a professional garden photographer – check out our garden photography tips!
Do you receive the GPOD by email yet? Sign up here.