Cherry Ong is a frequent contributor to our "GPOD on the Road" series. But she not only loves visiting beautiful gardens. She has a wonderful garden space of her own at her home in Richmond, British Columbia, and today she's sharing some summer views from that space.
It's been hotter than usual, and the spring was colder than usual, but that's how it goes with gardening.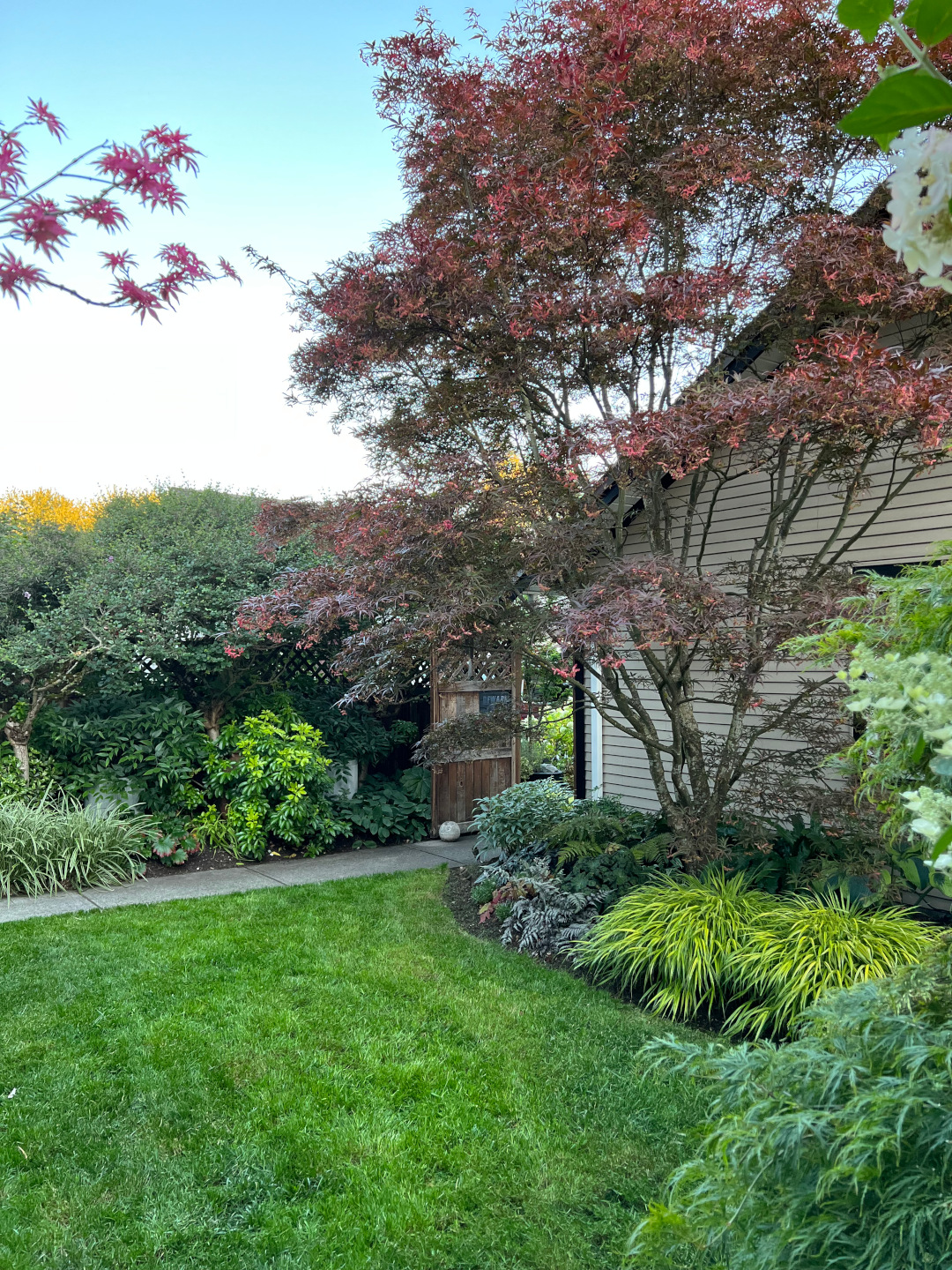 My garden was born in June 2008. It was a DIY project borne out of a want for some privacy. Now my greatest challenge is pruning (and learning how to prune), so if you see what Billy Goodnick calls "a crime of horticulture" in these photos, please be gentle with your comments. This photo was taken two nights after I mowed the lawn. I have to admit that I still like a tidy garden.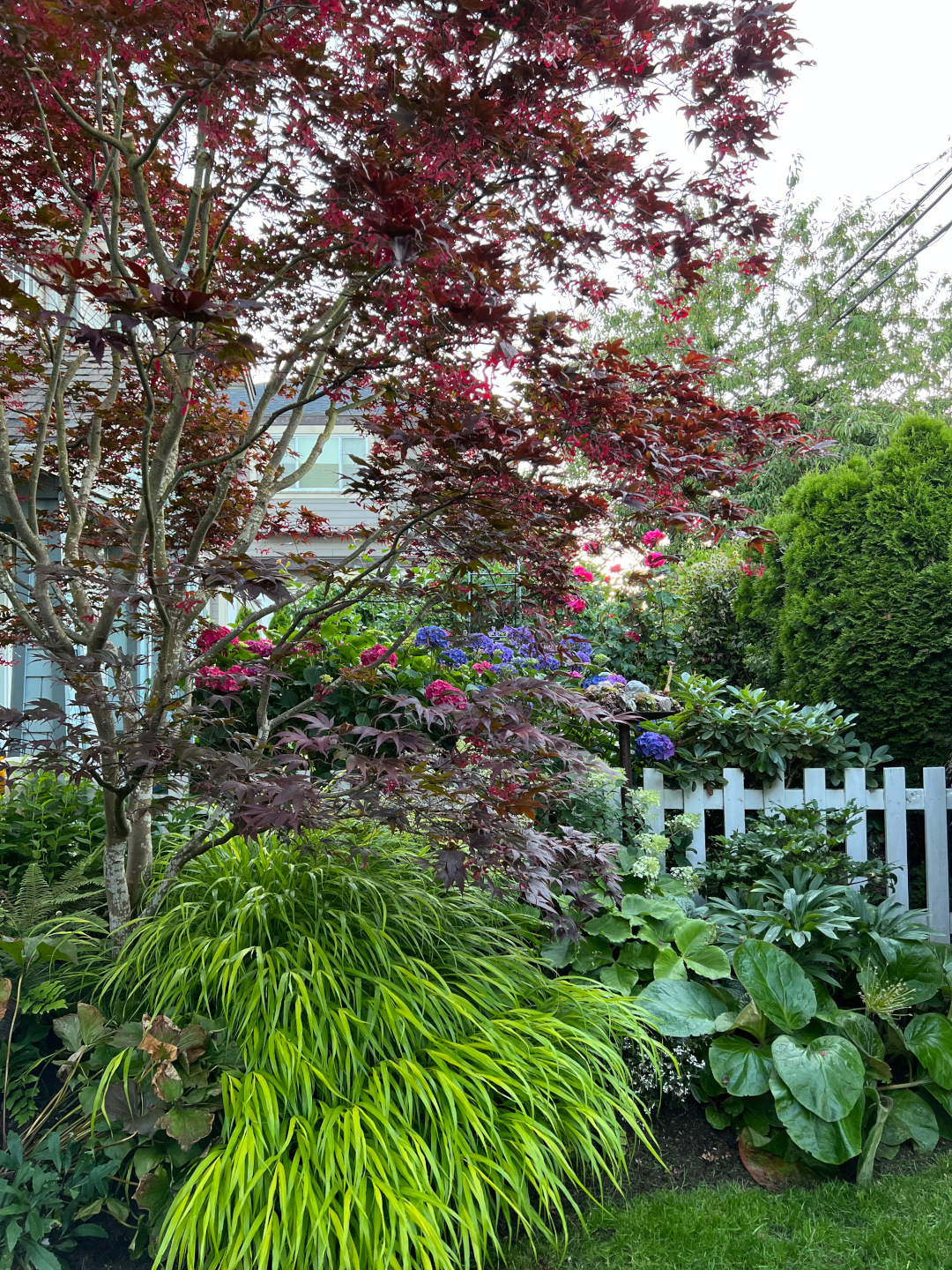 Hakonechloa macra (Zones 5–9) is one of my favorite ornamental grasses. 'All-Gold' in this bed along the west border is quite the show-stopper, as it brightens the shade and has amazing texture. It's a slow grower but definitely worth the wait. It's also an excellent container plant.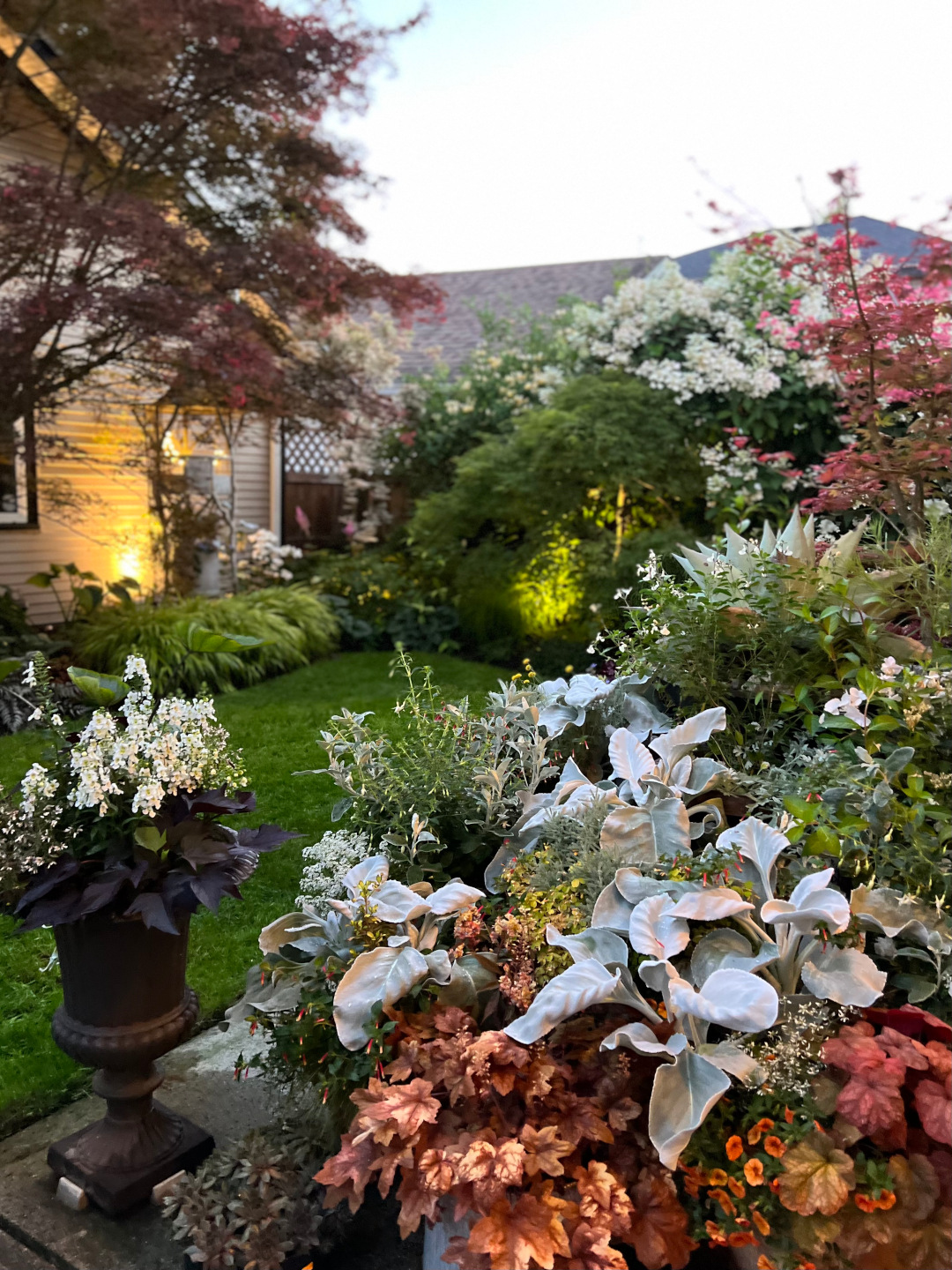 I like packing the area outside the back door with seasonal containers. Senecio candicans 'Angel Wings' (Zones 8–11 or as an annual) is an all-season favorite for containers. Garden lights are courtesy of my hubby!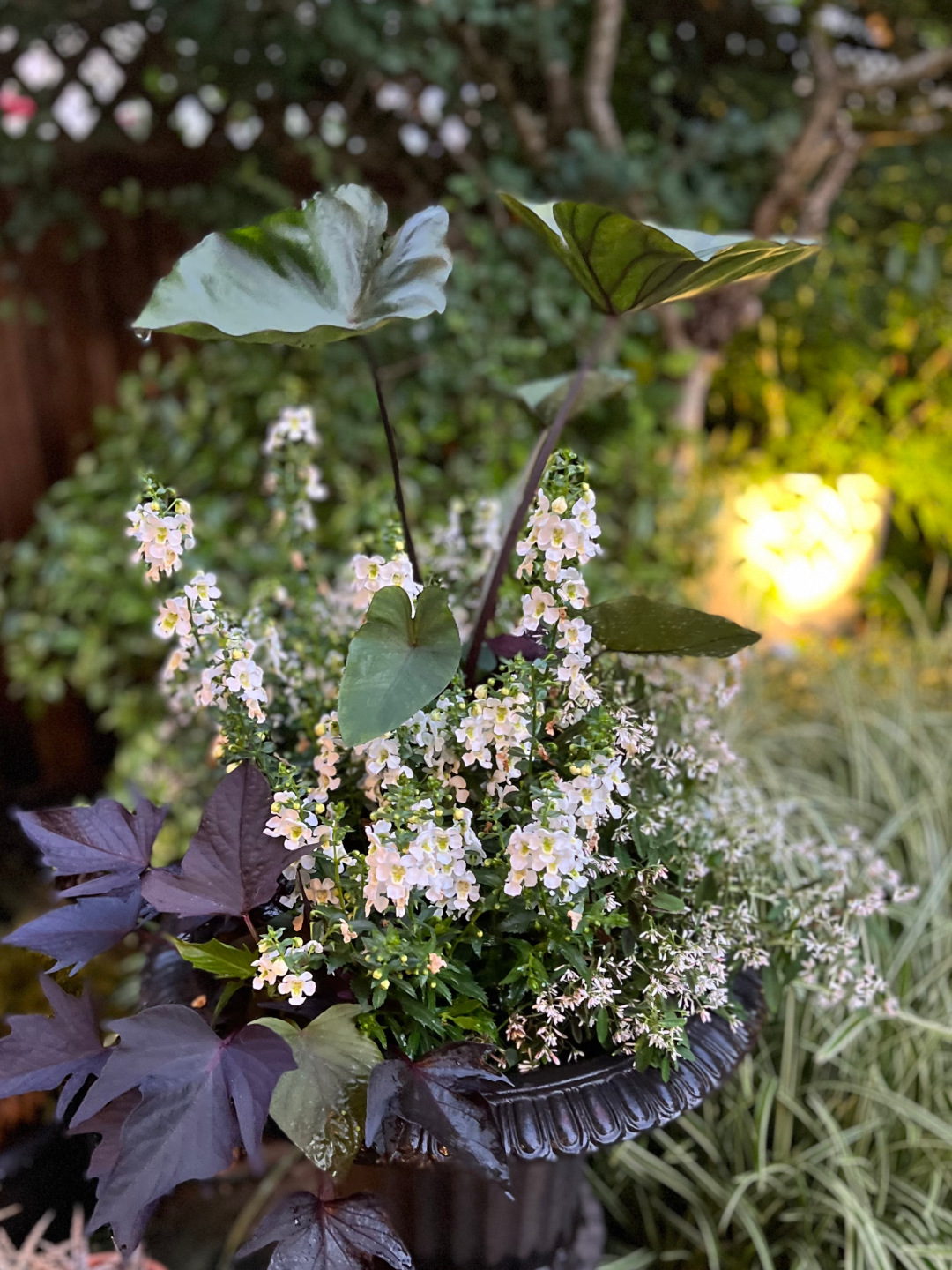 I've not had much luck growing Colocasia given our historically cool summers, but this year I succumbed to my love for them. I also love cookies-and-cream/black-and-white plant combinations, and I whip some up every season where I can. The ingredients of this container are Colocasia esculenta 'Coffee Cups' (Zones 7–11 or as an annual), Angelonia (Zones 9–11 or as an annual), Euphorbia 'Starblast Soft Pink' (annual), Plectranthus scutellarioides 'Color Blaze Newly Noir' (Zones 9–11 or as an annual), Ipomoea 'Sweet Caroline Bewitched After Midnight' (Zones 10–11 or as an annual) and Dichondra 'Silver Falls' (Zones 8–11 or as an annual).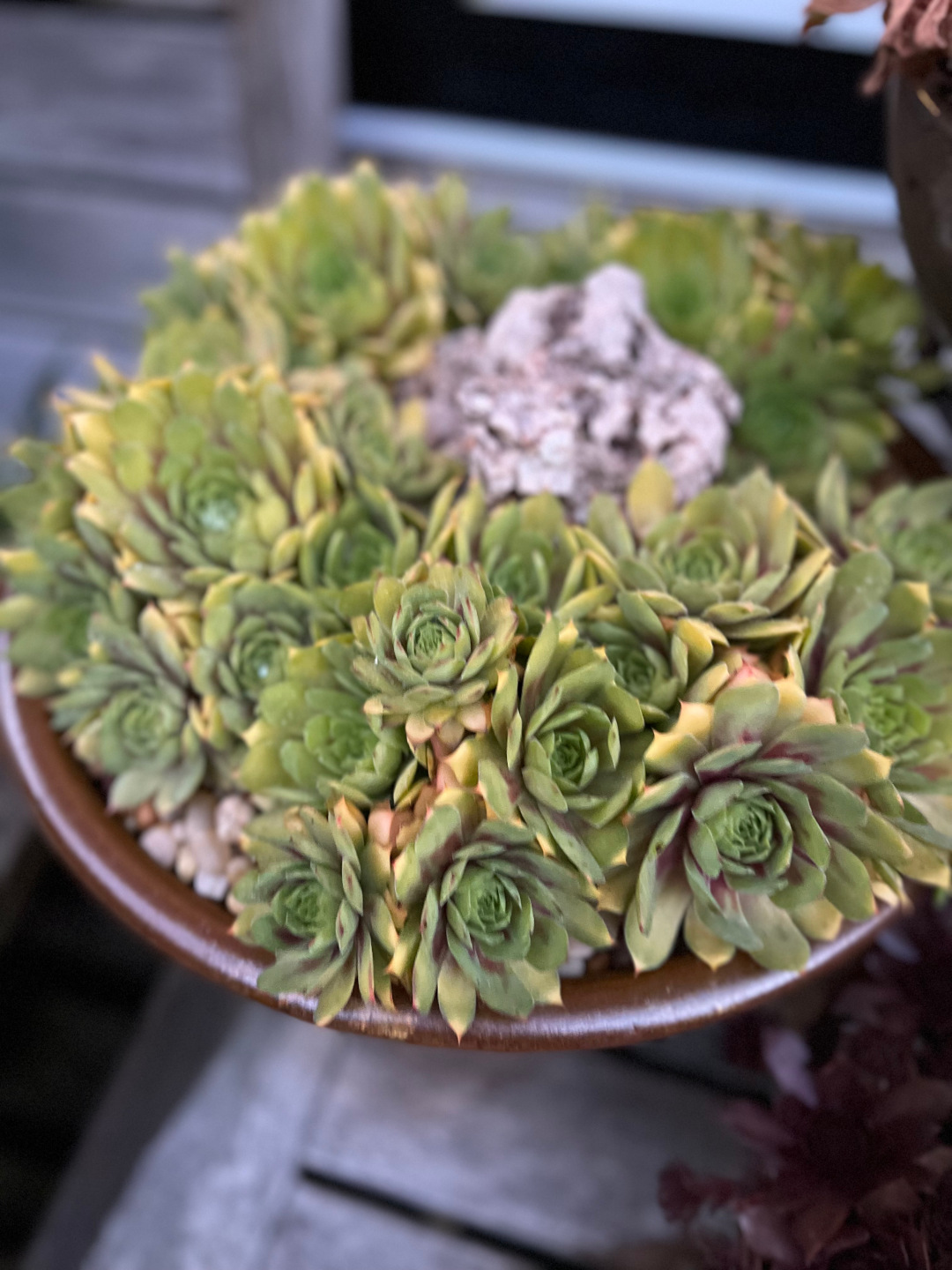 Who doesn't love a bowl of hens and chicks? This one is Sempervivum 'Bee Golden' (Zones 5–8) and is from a local breeder/nursery.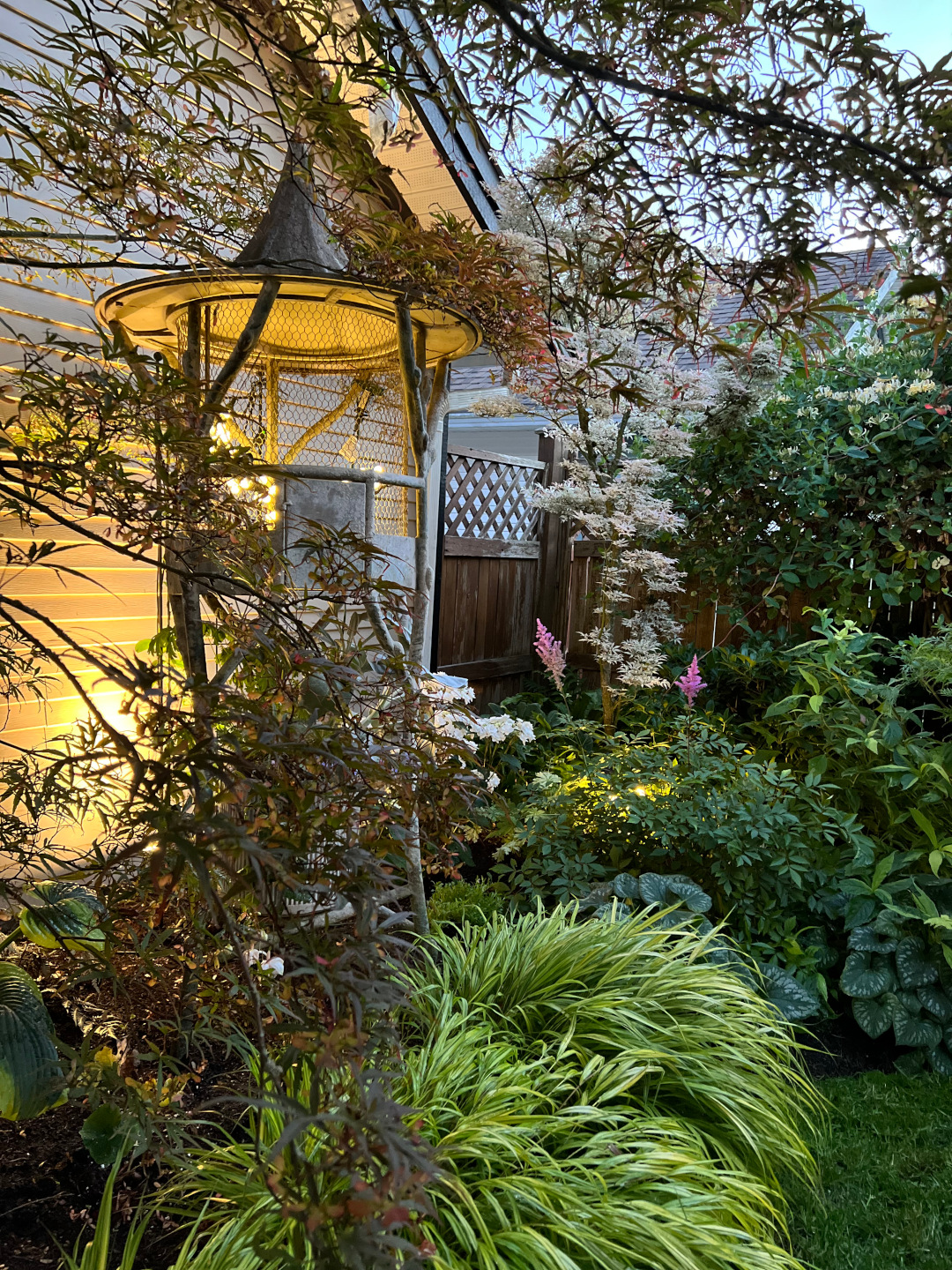 I so love my faux bois birdcage! Those who have seen photos of my younger garden might remember a garden clock in this location. When the clock broke and couldn't be repaired, I thought it was an opportunity for an upgrade, so I saved up for this beauty from a local specialty nursery! It echoes the dreamy foliage of the Acer palmatum 'Ukigumo' (Zones 5–9).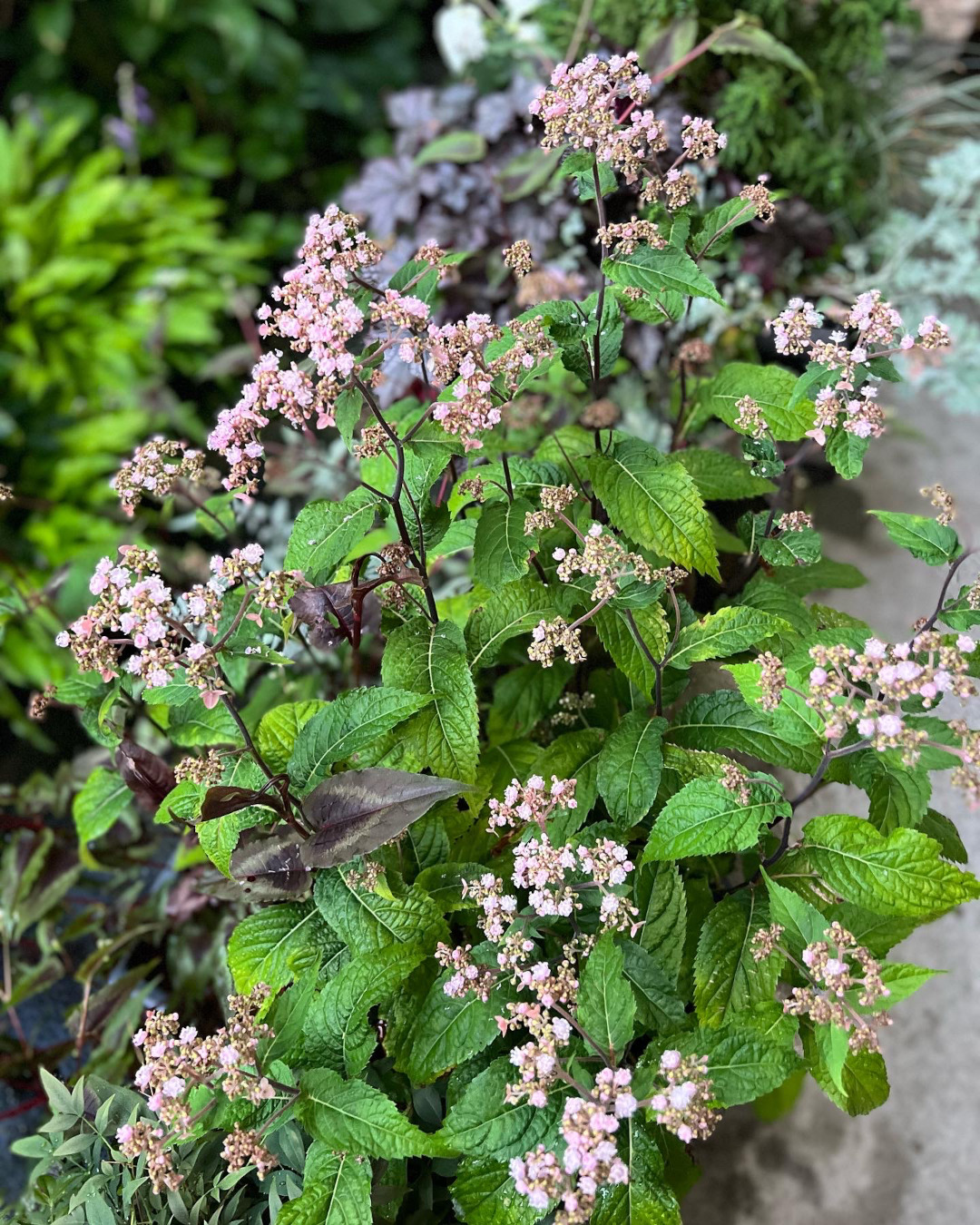 How about pink stars to celebrate the summer? Meet Cardiandra alternifolia (Zones 5–9). I've had this shrub growing in a container for many years now.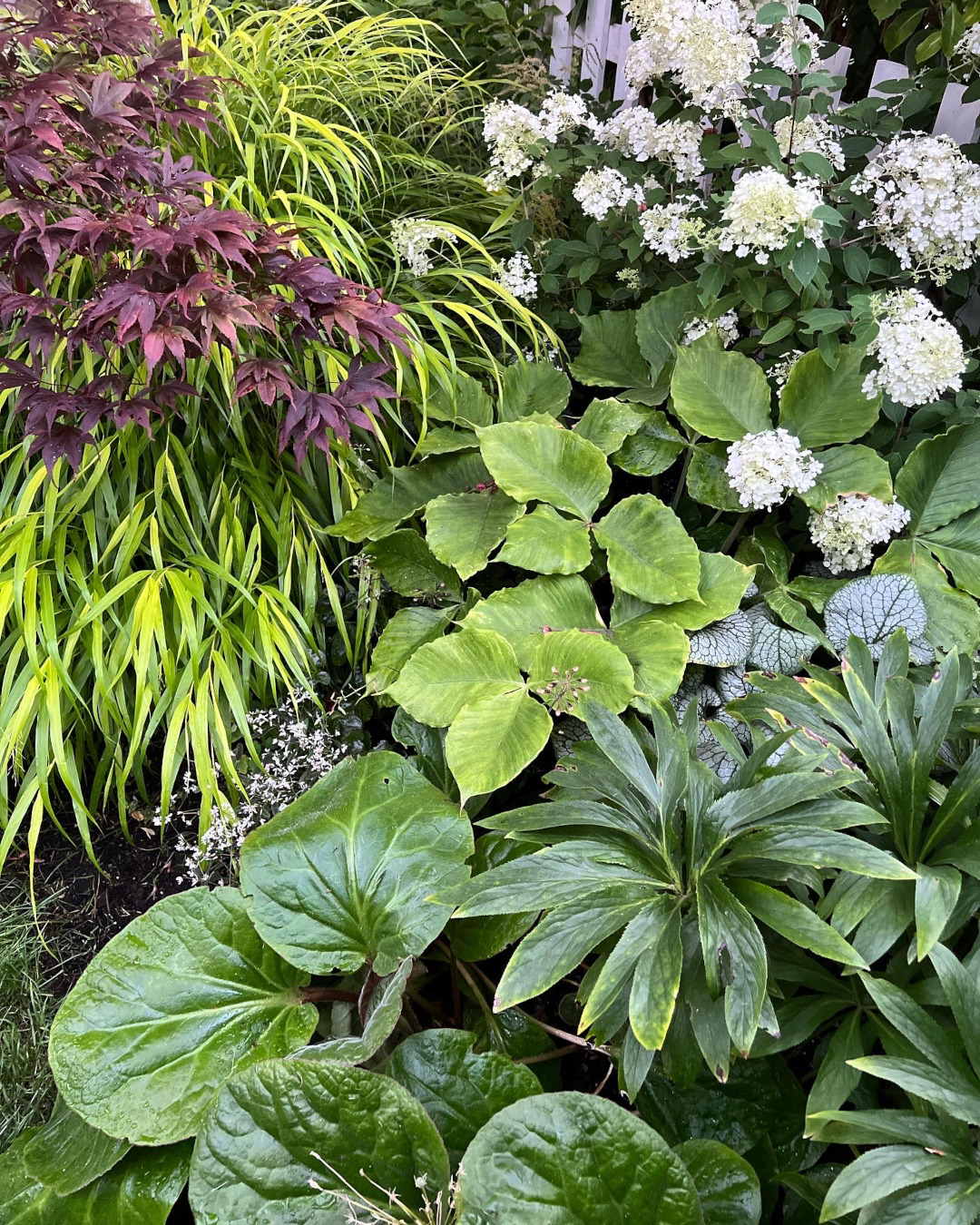 In the west bed, Hydrangea paniculata 'Bobo' (Zones 4–8) is putting on a summer show. It's not as showy as it can be, likely because it needs more sun. Hopefully the recent pruning of the Acer palmatum 'Moonfire' (Zones 5–9) will be enough of a change for next year's blooms. Bold foliage stars in this photo are Arisaema ringens (Zones 6–9), Helleborus hybridus 'Onyx Odyssey' (Zones 5–9) and Bergenia ciliata 'Dumbo' (Zones 5–8).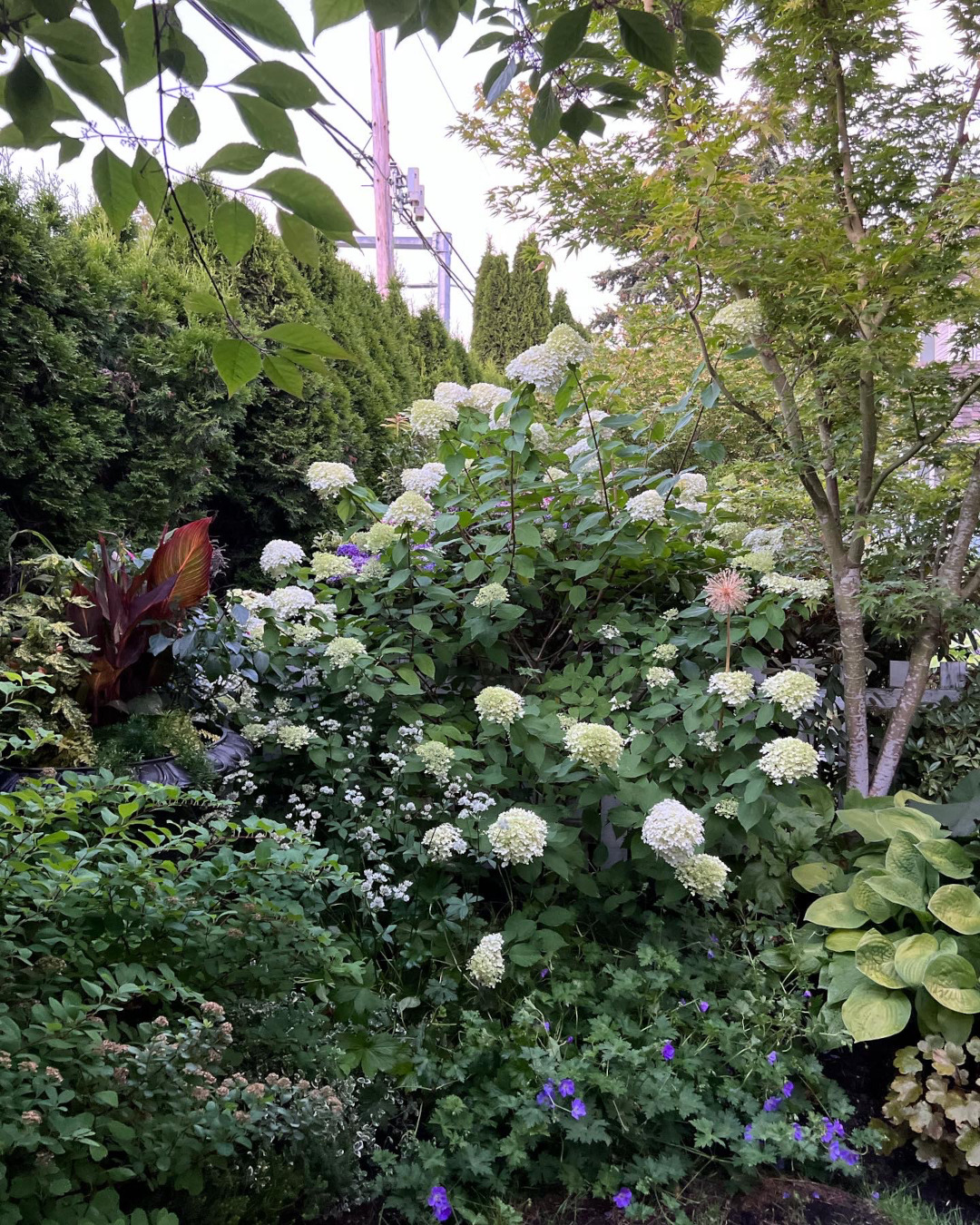 In the east bed, another hydrangea is putting on a show. Hydrangea paniculata 'Limelight' needs no introduction, though I think this one is leggy due to the shade cast by the neighboring Acer palmatum 'Sangokaku' (Zones 5–9) I had to wait until after June 30 before pruning any of my Japanese maples, so that was a limiting factor. Likewise, the summer container with Canna 'Durban' (Zones 7–9 or as a tender bulb) has been affected by the same situation. I do hope we have enough of a summer left for the container to reach its full potential. Fingers crossed!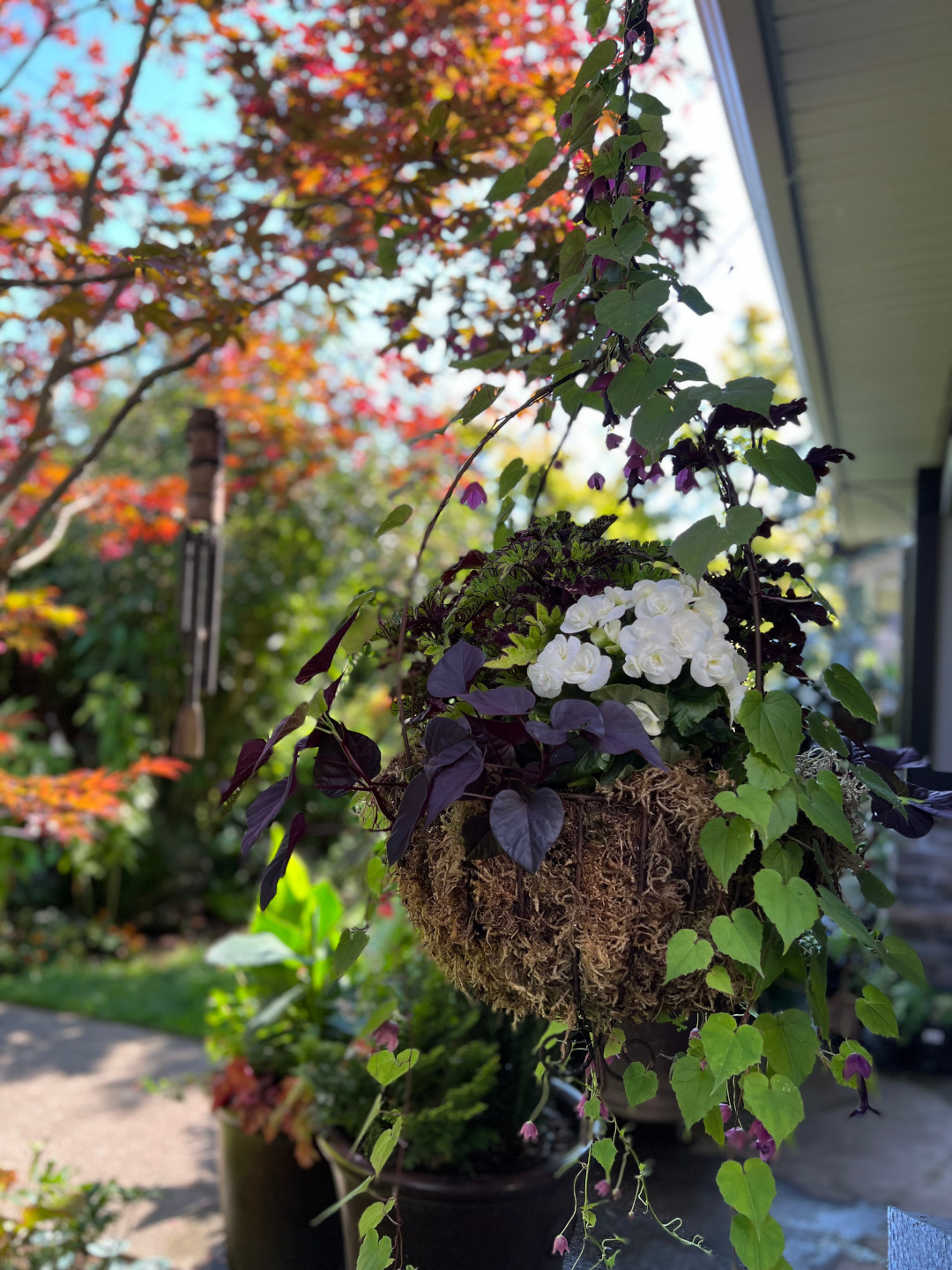 The last photo shows one of my experimental hanging baskets this year. It's my first time to grow Rhodochiton (Zones 9–11 or as an annual), and I've been training it to grow up the hanging basket and onto the Japanese maple. I'm hoping that I'll have a pretty garland of trumpet flowers hanging from the branches by the end of summer. Wish me luck!
Last thoughts: I long for garden rooms much like those I see in the pages of Fine Gardening magazine. My city garden is diminutive and doesn't allow for such, so if any of you have ideas on how to achieve this in a small-space garden, I would love to hear about it.
Have a garden you'd like to share?
Have photos to share? We'd love to see your garden, a particular collection of plants you love, or a wonderful garden you had the chance to visit!
To submit, send 5-10 photos to [email protected] along with some information about the plants in the pictures and where you took the photos. We'd love to hear where you are located, how long you've been gardening, successes you are proud of, failures you learned from, hopes for the future, favorite plants, or funny stories from your garden.
Have a mobile phone? Tag your photos on Facebook, Instagram or Twitter with #FineGardening!
Do you receive the GPOD by email yet? Sign up here.