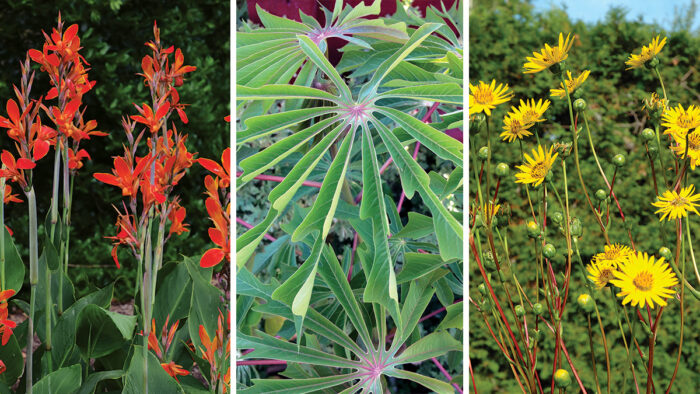 A garden and a chorus have certain similarities, with lots of different plants or lots of different voices coming together to create something beautiful. If all the plants or voices were the same, the result would be rather dull, to say the least. Each element, plant or voice, has something to contribute. Just as you need the sopranos or basses to make the song sound right, you need big and bold plants to make a garden border look right. The following plants are some of my favorites for adding that perfect bold note to a garden composition. With just a few choice plants, a garden can go from being the warm-up act to being the star of the show.
Now get out there and strike up the chorus. It's time for those big and bold voices to be heard in your garden. Learn how to stake big and bold plants so they don't flop.
'Zanzibarensis' castor bean grows swiftly from seed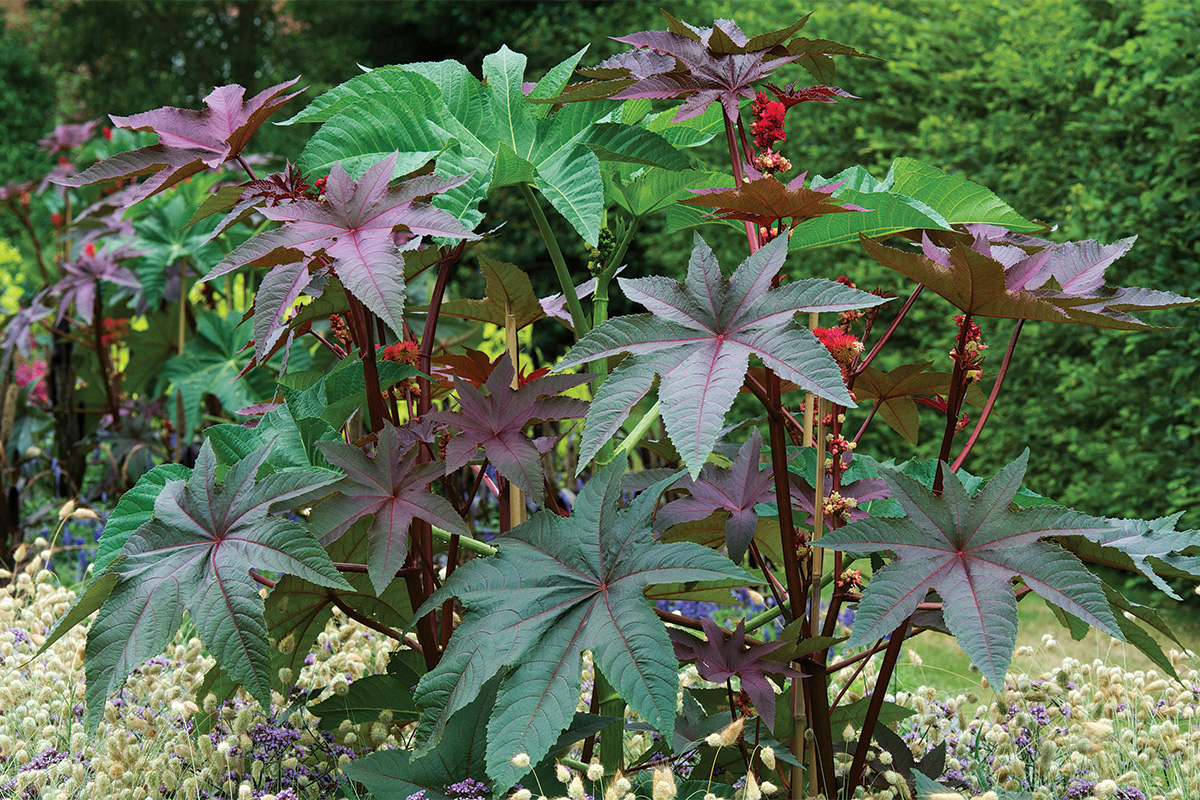 Name: Ricinus communis* 'Zanzibarensis'
Zones: 8–10
Size: 6 to 12 feet tall and 3 to 6 feet wide
Conditions: Full sun; rich, moist, well-drained soil
Native range: Southeastern Mediterranean, eastern Africa, India
You don't get much bolder than castor bean, and the biggest and boldest of the bunch is 'Zanzibarensis'. Unlike the popular burgundy cultivars, this monster plant sports foliage in shades of blue-green. The palmate leaves can be 2 to 3 feet wide, and the plant's truly bold habit can push upward to 10 feet tall or more. Full sun will give the best growth. Flowering occurs in upright clusters that form ornamental, spiky, red seedpods. I must point out that castor bean is poisonous. Make sure that children and pets do not eat the seeds, and cut the seed clusters off if there is any reason for concern. Castor beans self-sow readily in warmer climes, so they return nearly every year. This is a true tropical, hardy only until frost or freeze, so saving seeds is a necessity if you want plants every year in cooler zones.
'Aurea' southern catalpa adds a burst of sunny color to any garden bed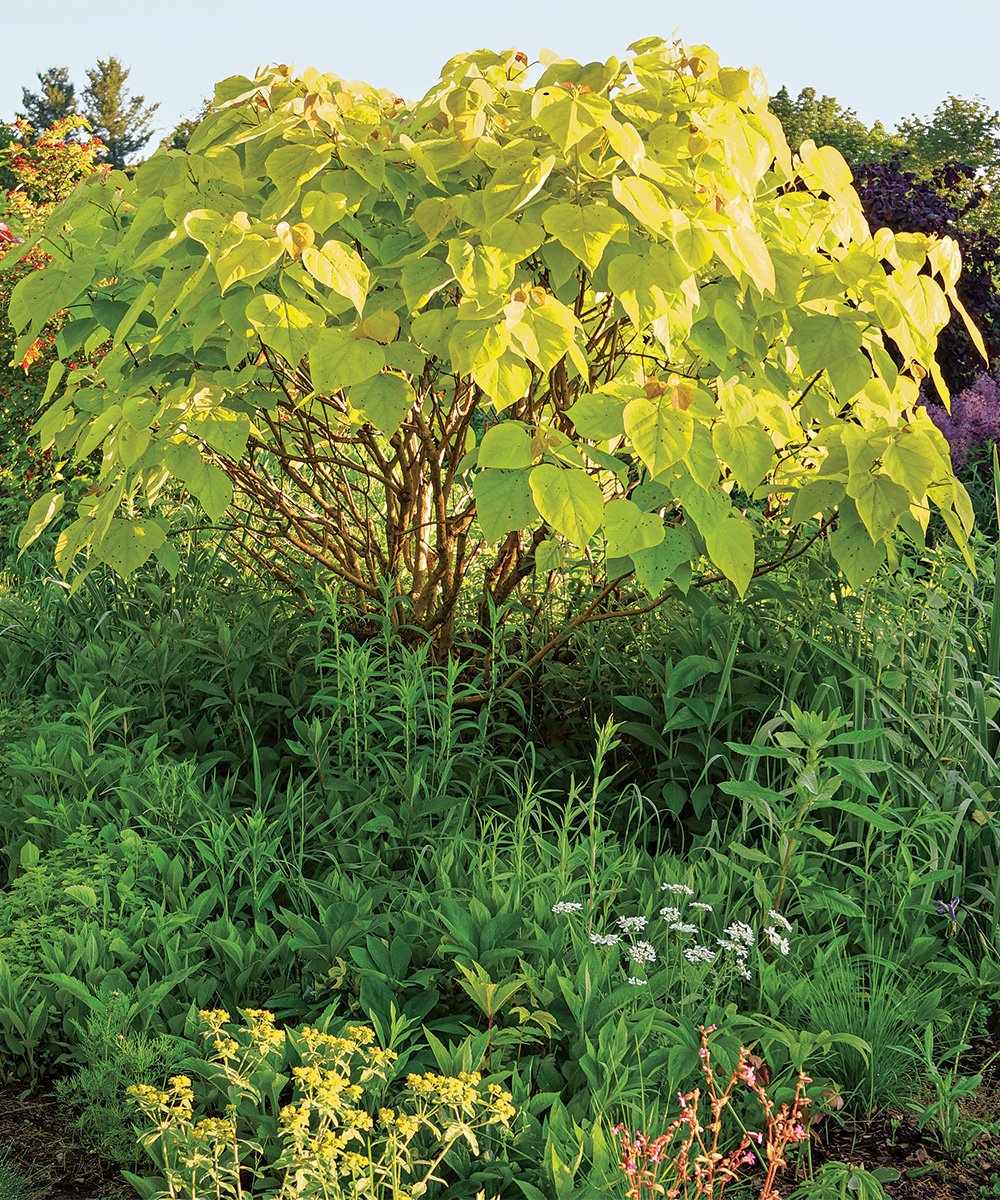 Name: Catalpa bignonioides 'Aurea'
Zones: 5–9
Size: Up to 20 to 30 feet tall and 15 to 20 feet wide
Conditions: Full sun; average to dry soil
Native range: Southeastern United States
If you like trees but don't have room for a whole one, sometimes you need to get creative. For example, I love the big yellow leaves of 'Aurea' southern catalpa but certainly didn't have room for a 30-foot-tall tree in my front garden. My solution was to plant one and cut it back to 3 or 4 feet early each spring. It responds by flushing a ton of bright acid-yellow new growth on branches that reach about 6 feet tall in a season. It looks great and doesn't take over the entire garden. Hardy throughout most of the country, 'Aurea' could be a bold option for one of your beds too.
'Flaming Kabobs' canna lily is a tropical delight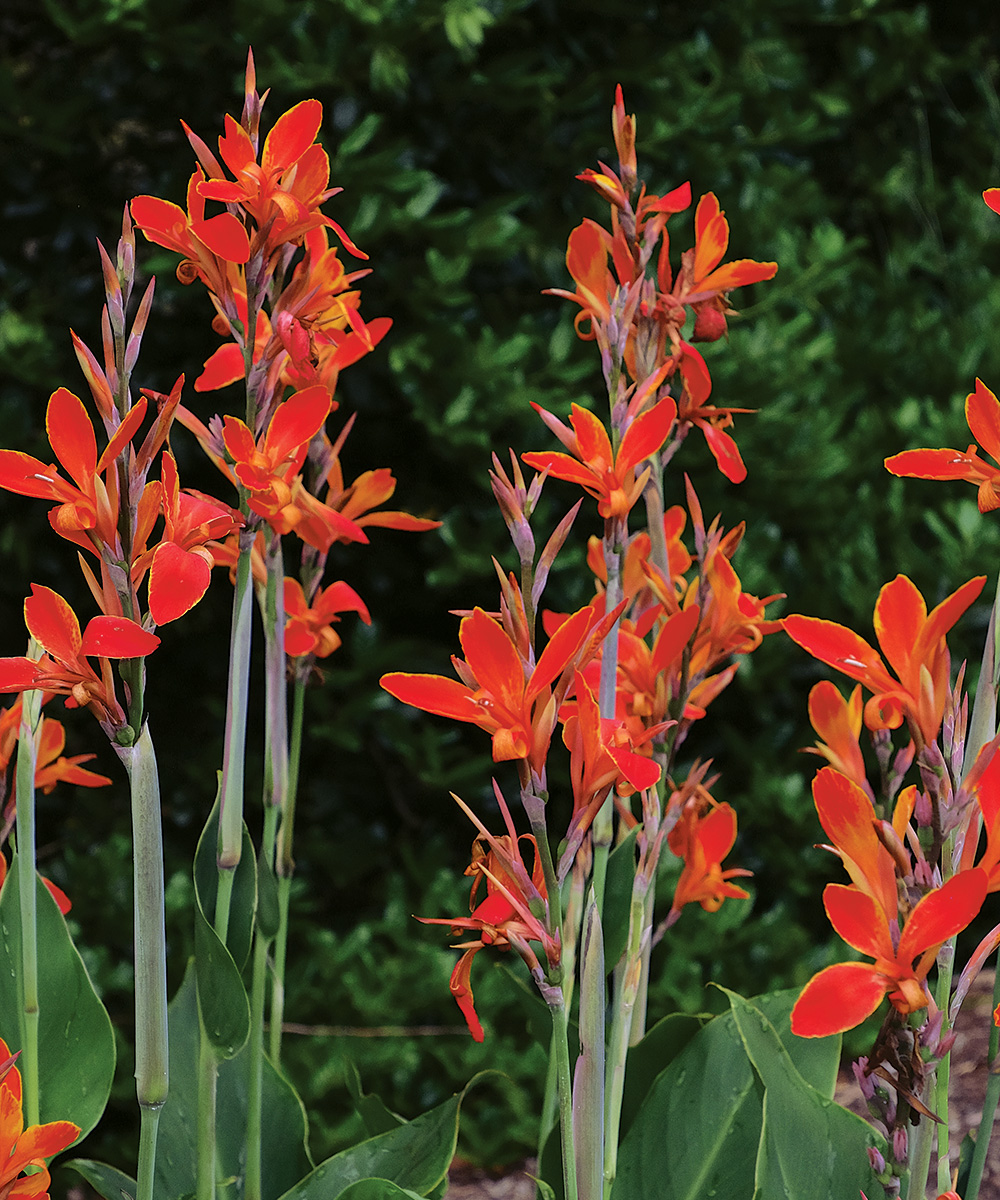 Name: Canna 'Flaming Kabobs'
Zones: 7–11
Size: 5 to 6 feet tall and 3 to 4 feet wide
Conditions: Full sun; rich, moist, well-drained soil
Native range: Southern North America, South America
All cannas are fabulous, and the bigger they are, the more fabulous I find them. 'Flaming Kabobs' canna is a tall beauty that delivers both glorious foliage and eye-catching flowers. Its 5- to 6-foot-tall stalks hold large, gray-green leaves topped with an abundance of small, orange-red blooms edged in yellow that glow against summer's blue sky. 'Flaming Kabobs' is a vigorous grower, so a small clump planted in midspring will be a huge clump by midfall. I am not the only creature that enjoys the intensely colored flowers; hummingbirds can be found zipping around the plants all summer. For the best show, give it full sun, rich soil, and ample moisture. Cannas are easy to overwinter in colder zones if you dig them after frost.
Glade mallow's tropical looks belie its hardy nature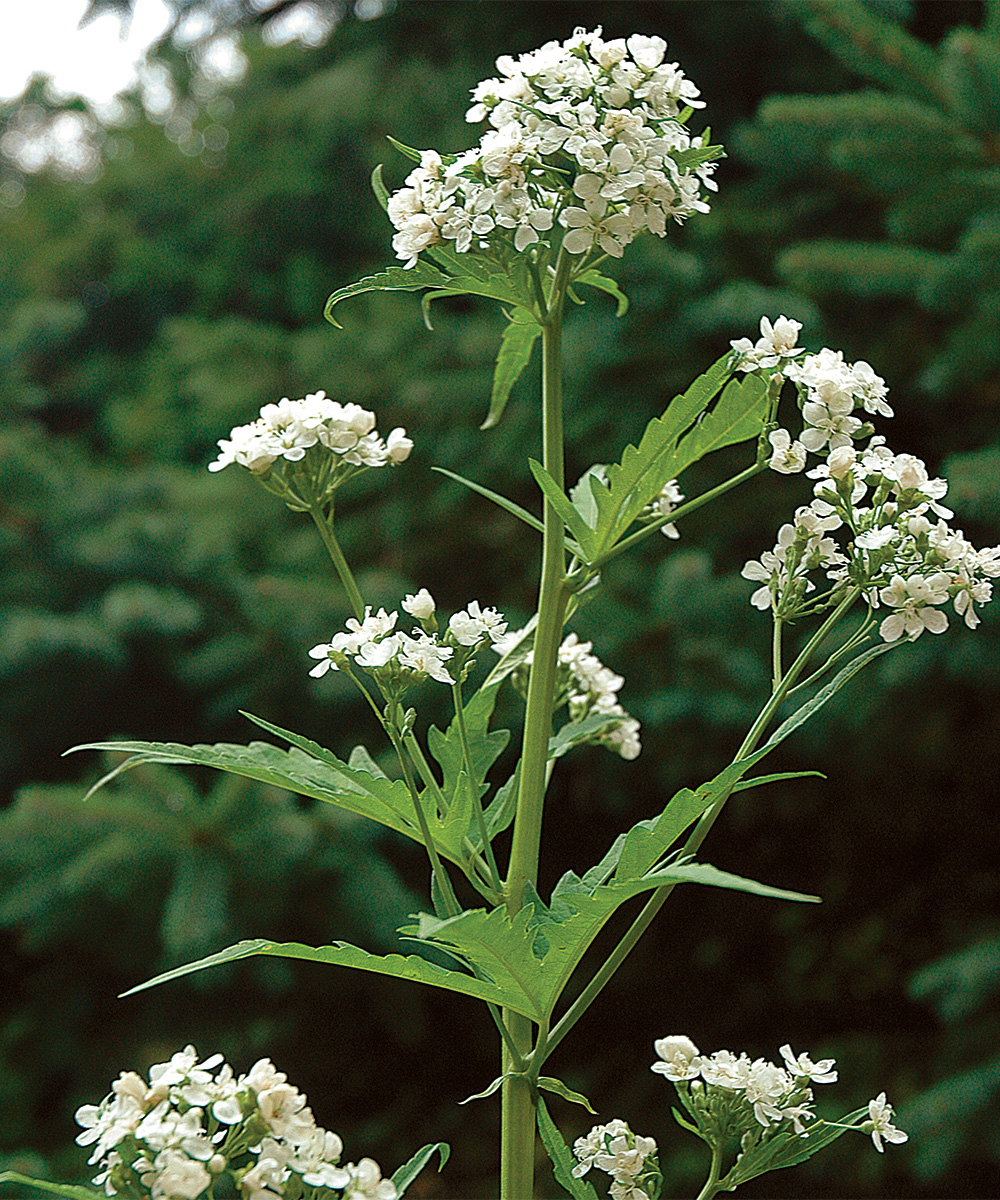 Name: Napaea dioica
Zones: 3–8
Size: 3 to 9 feet tall and 2 to 3 feet wide
Conditions: Full sun to partial shade; medium to wet soil
Native range: Midwestern United States
I stumbled across glade mallow quite by chance at a large perennial plant nursery. I'm always looking for big, tropical-looking, hardy plants, and the bold, maple-shaped foliage of glade mallow caught my eye. The leaves can be 18 inches long and wide at the base of the plant, decreasing in size as they go up the tall stems. For many weeks in early to midsummer the plant is topped by small white flowers. In very moist to wet soil it can tolerate full sun, but generally I put it in a spot with bright shade or limited direct sun to keep the soil from drying out too quickly, since it will become ragged looking in dry conditions. Because glade mallow gets quite tall, some protection from wind is helpful.
Design tip: Can I do big and bold in a small space?
Bold plants can actually make a small space feel bigger. If all the plants are small, then the space ends up feeling small. Throwing in one (or three) big, bad, bodacious beauties will add structure and dimension that small plants can never bring. Since you are only doing a few, be choosy. Buy what you really want, and give yourself permission to spend a little extra. You may want to include a tropical that can do double duty as a houseplant all winter. If your small garden is in a protected spot, go ahead and push the hardiness zone. It will give you garden cred and bragging rights, and you will feel as bold as the plants you are using.
Hardy tapioca puts spoke-patterned leaves at eye level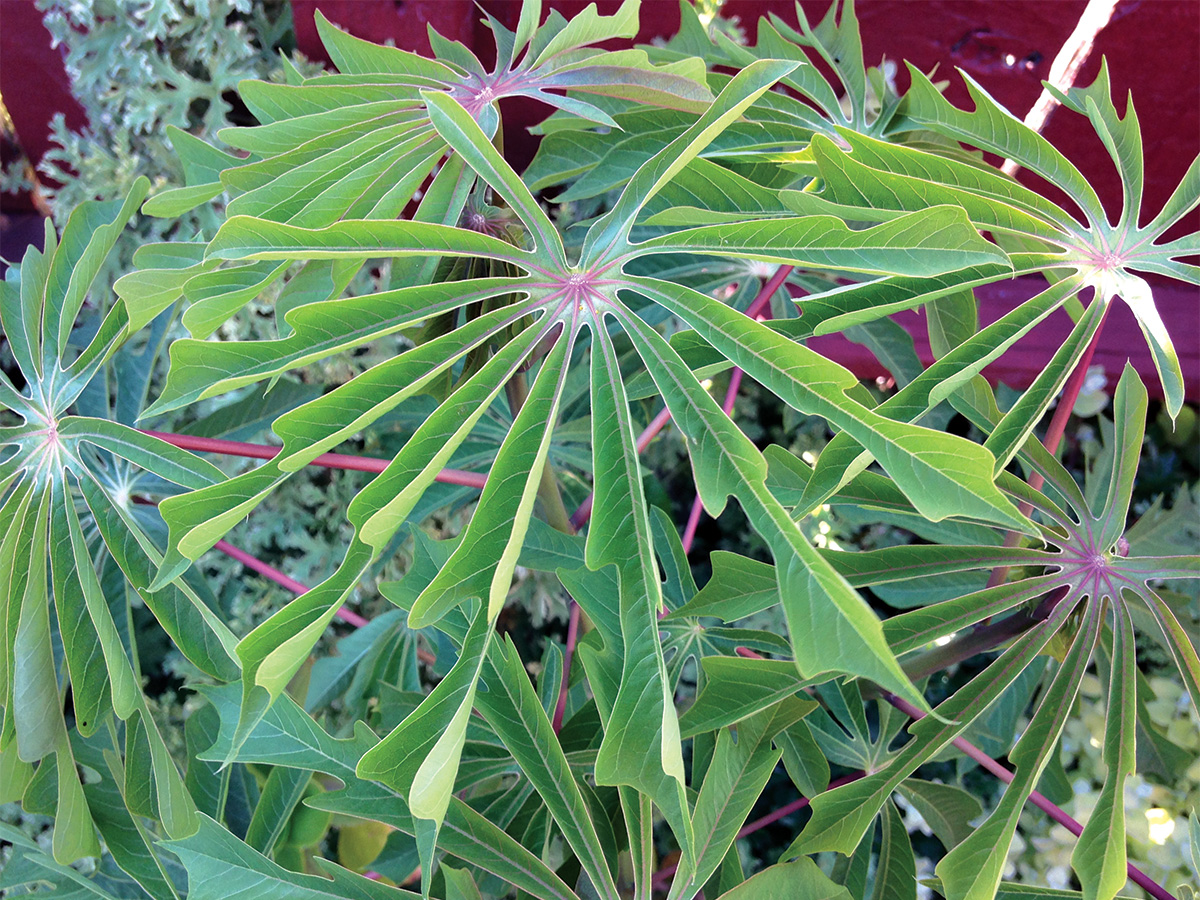 Name: Manihot grahamii
Zones: 7–11
Size: 6 to 20 feet tall and 5 to 15 feet wide
Conditions: Full sun; average to moist, fertile soil
Native range: Argentina, Brazil, Paraguay, Uruguay
Hardy tapioca has become one of my favorite tropical shrubs. Its deeply incised palmate leaves have an incredible texture, and the slightest breeze makes them vibrate in an intoxicating way. In Zone 7 or warmer it grows 10 feet tall, but the plants that I overwinter indoors get 6 to 8 feet tall and 5 feet wide in a season. I dig them up in fall and cut them back to 3 or 4 feet. They can then be potted up and overwintered as houseplants or allowed to go dormant, which is my preferred method. Full sun and good soil will give the best growth. The yellowish blooms are barely noticeable, but after flowering the plants should produce seed you can harvest. Be forewarned: The ripe seedpods may explode, sending the seeds across the garden (or the laundry room—don't ask me how I know). I get a few self-sown seedlings each year that reach 3 or 4 feet tall in my Zone 6 garden. If you are growing from seed, start them early inside to get a nice-size plant.
Roll out the red carpet for 'Siam Ruby' banana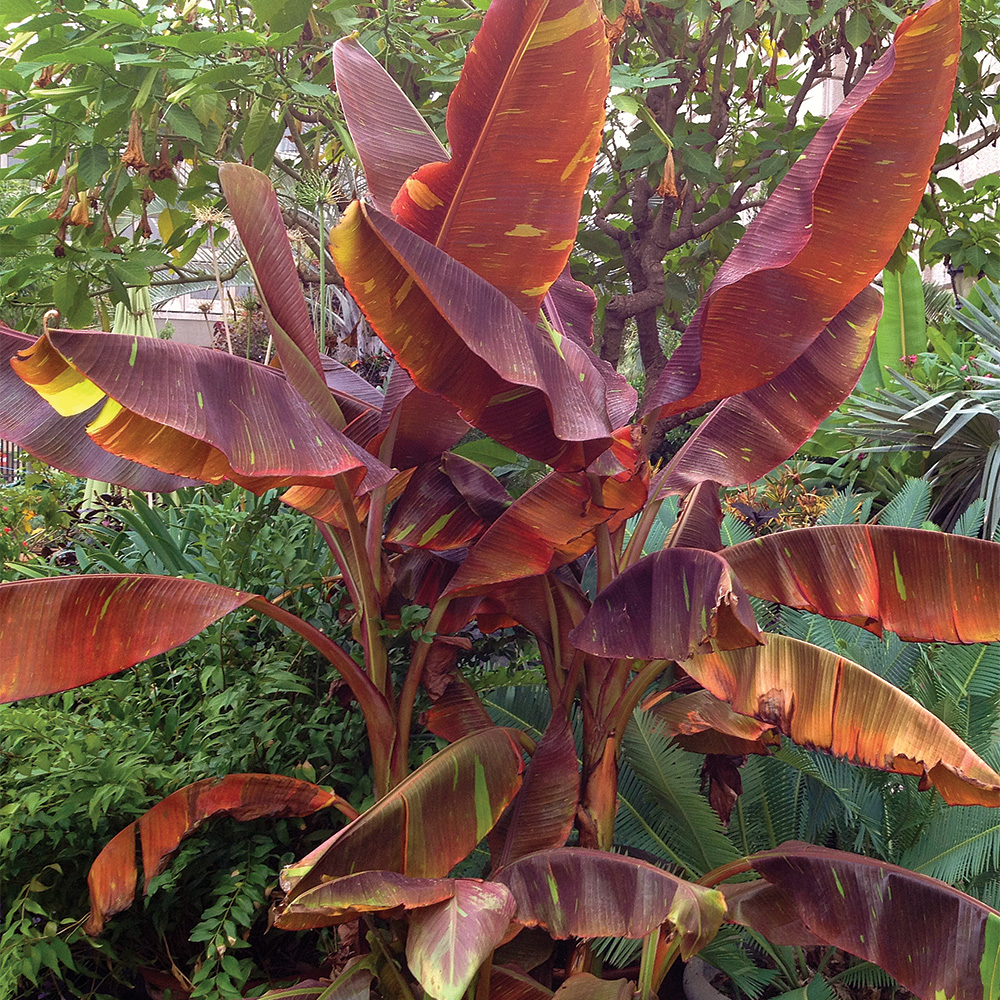 Name: Musa 'Siam Ruby'
Zones: 9–11
Size: 6 to 8 feet tall and 4 to 6 feet wide
Conditions: Full sun; evenly moist, fertile soil
Native range: Sport of a southeast Asian cultivar
In my top three banana loves, I have to include 'Siam Ruby', with its red leaves flecked with yellow-green. There are other bananas with burgundy in their foliage, but the color cannot compare with the intensity and red factor that 'Siam Ruby' displays. It is truly unique. This is a smaller banana, not exceeding 8 feet. Good, moisture-retentive soil with plenty of organic matter and full sun will give the best growth and color. Like most bananas it is truly tropical, so if you garden anywhere colder than Zone 9 you will need to dig it in fall. It is easy to overwinter—just pot it up after a frost, then store it dormant until spring. On the other hand, 'Siam Ruby' is not that expensive, so you can leave it out and buy a new one next year.
Prairie dock is undemanding and tough as nails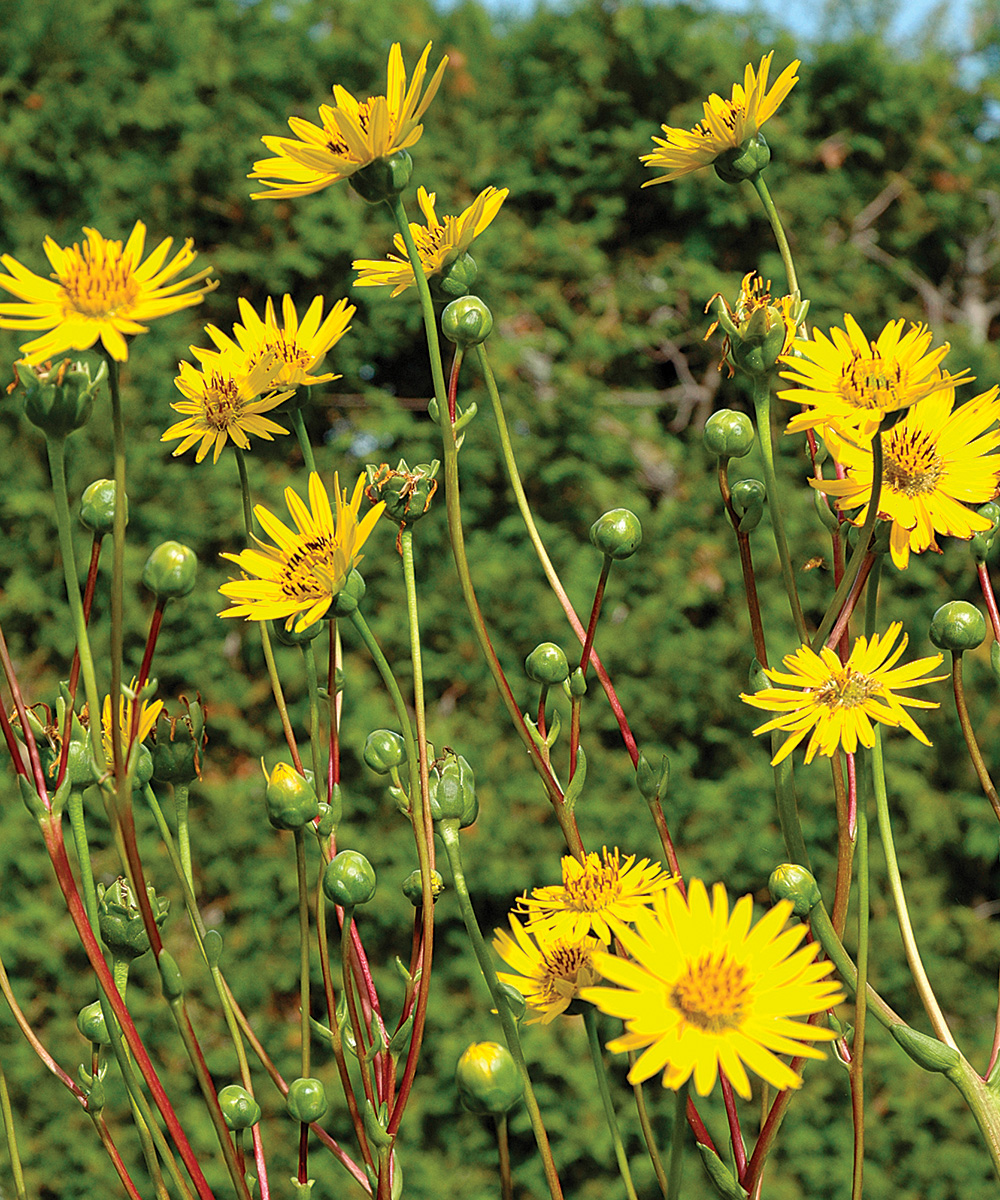 Name: Silphium terebinthinaceum
Zones: 3–9
Size: 3 to 10 feet tall and 1 to 3 feet wide
Conditions: Full sun; average to poor, well-drained soil
Native range: Eastern Canada and southeastern United States
Prairie dock gives us the boldness of a tropical plant in a prairie native. The basal clump of foliage reaches 3 feet across and is composed of toothed leaves that are up to 18 inches long and 12 inches wide. These are punctuated by naked stems of yellow daisies that can shoot up 10 feet into the summer sky. It's just glorious. Full sun is a necessity, and the better the soil, the bigger the plant. A plant this tall can have some issues with strong winds, however. It helps to include it in a community with other tall perennials and woody plants that can help it to stand upright.
Plant 'Jonesboro Giant' ironweed for a tower of late-season flowers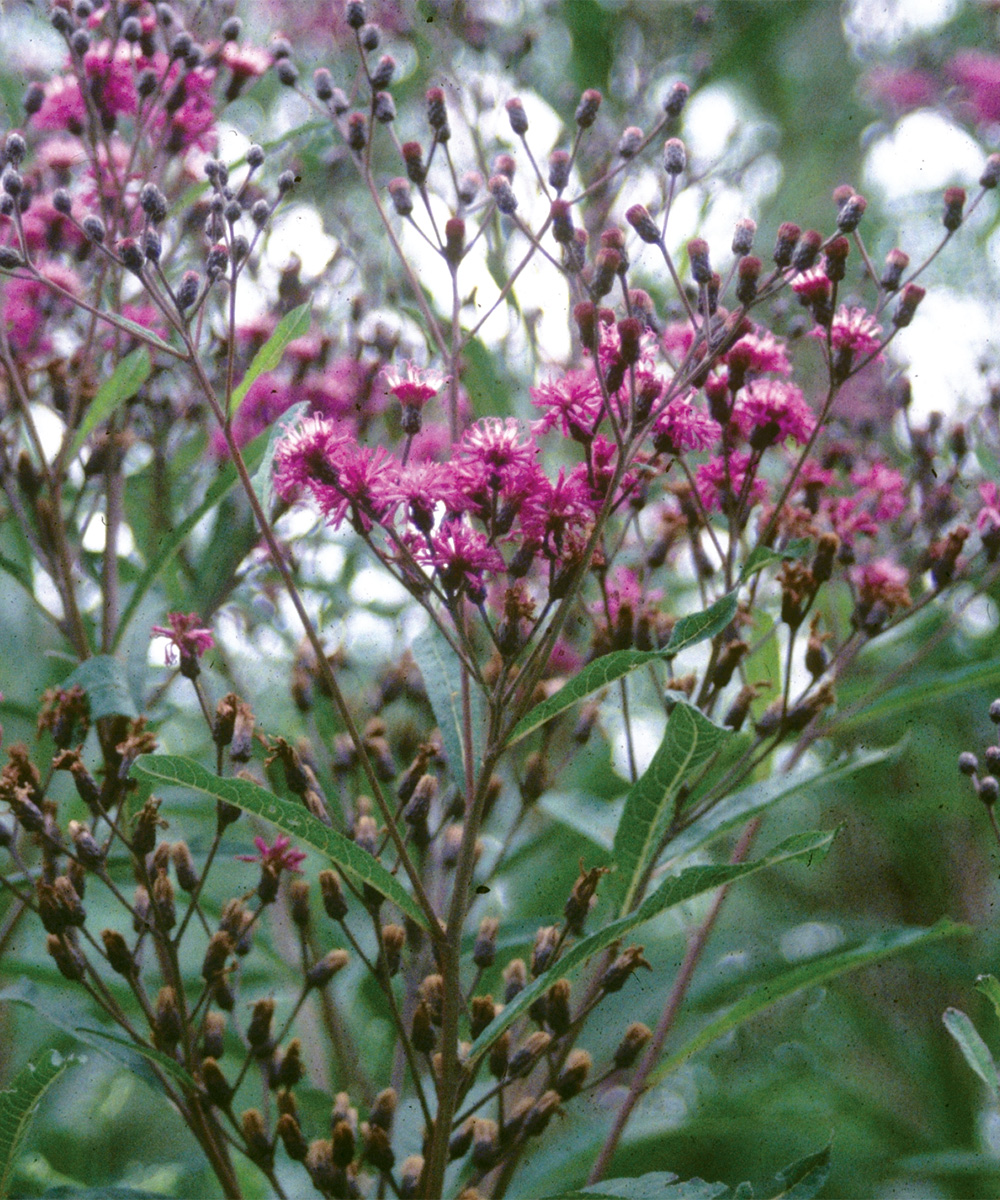 Name: Vernonia altissima 'Jonesboro Giant'
Zones: 5–9
Size: 8 to 12 feet tall and 4 to 5 feet wide
Conditions: Full sun; moist, well-drained soil
Native range: Southeastern United States
Late summer in the Midwest will find pastures and abandoned fields turning purple with the flowers of ironweed (Vernonia spp. and cvs., Zones 4–9). While these plants are often 6 to 8 feet tall, for some of us that isn't enough. We need skyscraper-status plants such as 'Jonesboro Giant' ironweed, which can reach 12 feet tall. Although it is quite adaptable to a variety of growing conditions, it does need consistent moisture to reach those dizzying heights. The dark green leaves clothing the tall vertical stems make this plant attractive long before the jewel-toned purple flowers appear.
'Daydream' smokebush adds ethereal texture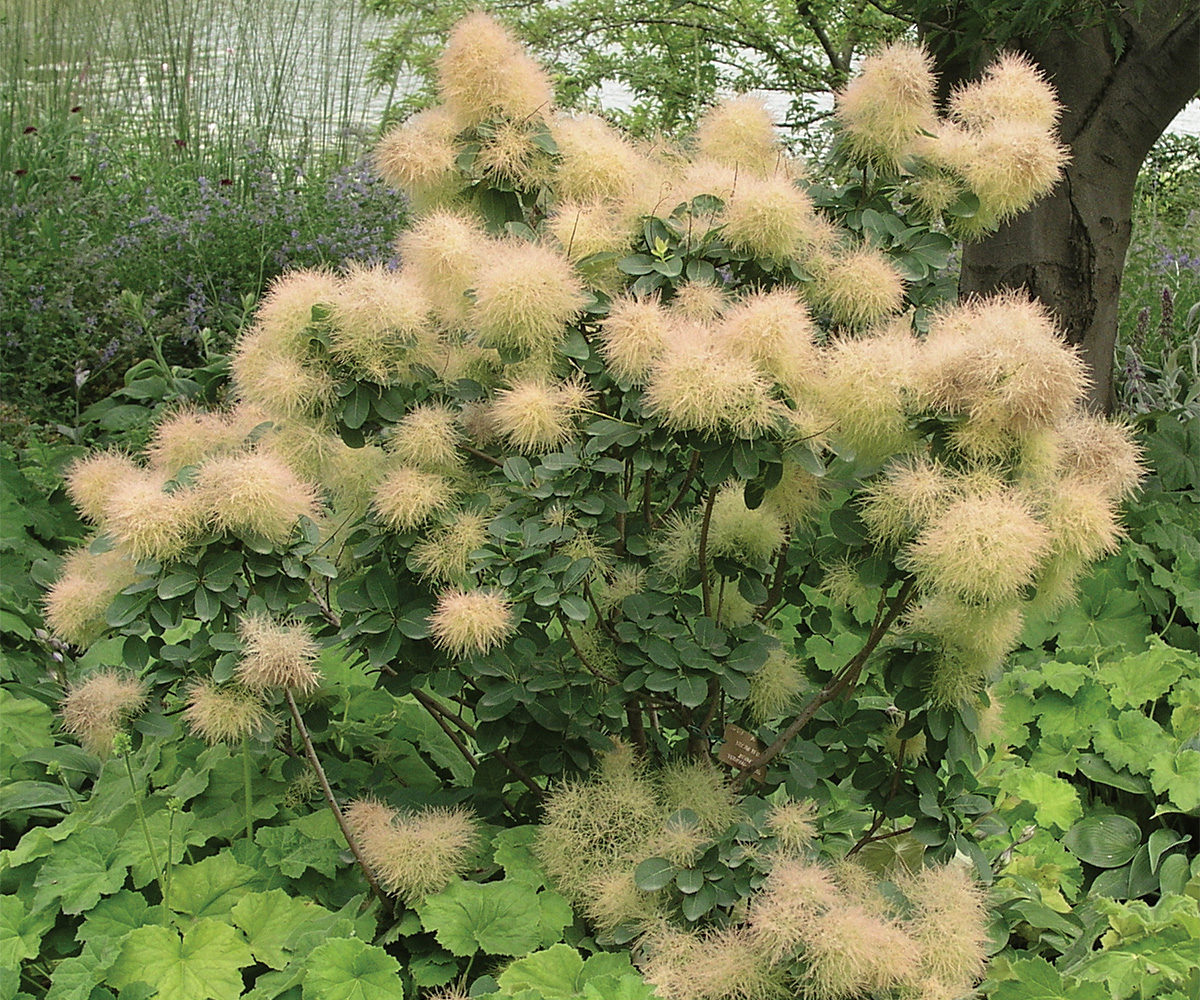 Name: Cotinus coggygria 'Daydream'
Zones: 5–8
Size: 8 to 10 feet tall and wide
Conditions: Full sun; average to moist, well-drained soil
Native range: Southern Europe to central China
The burgundy and yellow foliage of some smokebush cultivars may be lovely, but I plant 'Daydream' smokebush for its flowers. This smaller cultivar tops out around 10 feet tall. In early summer it covers itself in puffy pink flower clusters. Its very attractive blue-green foliage shines in autumn, transforming to shades of burgundy, orange, and gold. Smokebush is often treated as a cutback shrub, but I don't recommend that with 'Daydream'. Hard spring pruning will remove the flowers, which are one of the main reasons for planting it. This sun-loving shrub tolerates various soil types but does not appreciate wet conditions.
---
*Invasive alert: Castor bean (Ricinus communis)
This plant is considered invasive in CA and FL.
Please visit invasiveplantatlas.org for more information.
---
Irvin Etienne is curator of herbaceous plants and seasonal garden design at Newfields in Indianapolis.
Photos, except where noted: millettephotomedia.com
Sources