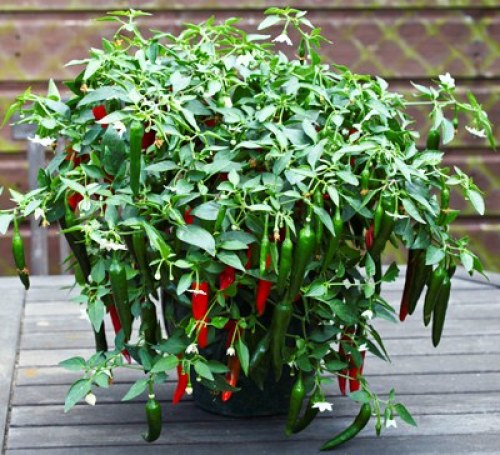 On March 12 I started some of the 'Cayennetta' seeds All-America Selections sent for me to trial in my garden and they're just beginning to sprout. I'm already looking forward to picking these peppers this summer.
I've grown other All-America Selections (AAS) winners in the past and haven't been disappointed yet. I've grown a container of Holy Molé' hybrid pasilla-type peppers that made a memorable mole (MOH-lay) sauce several seasons ago. Last summer I grew the two cherry tomato winners: 'Lizzano' and 'Terenzo' with equally tasty results.
AAS is a non-profit organization dedicated to testing new garden seed varieties, selecting the very best as AAS winners and then introducing them to gardeners to grow in their own gardens.
'Cayennetta' is one of two vegetable winners named for 2012. The other winner is an unusual 'Faerie' watermelon that has a lovely creamy-yellow rind that contrasts beautifully with its bright pink insides. An ornamental pepper, 'Black Olive', is a Flower Award winner for its dark foliage and purple-black peppers that ripen to brilliant red.
Because I love growing new peppers, I'm excited to try 'Cayennetta' in my patio container garden. It's said to be very easy to grow, even for beginning gardeners. 'Cayennetta' has a bushy habit and grows to over 2 feet tall and features 3-4-inch tapered fruit.
The AAS trial judges selected 'Cayennetta' a winner for a number of reasons:
Requires no staking
Tolerant to cold
Dense foliage protects fruit from sun scorch
Grows well in extreme heat
Prolific fruit set with a heavy yield
This pepper needs about 69 days to harvest after being transplanted into the garden. I'll be sure to let you know if it lives up to its billing.