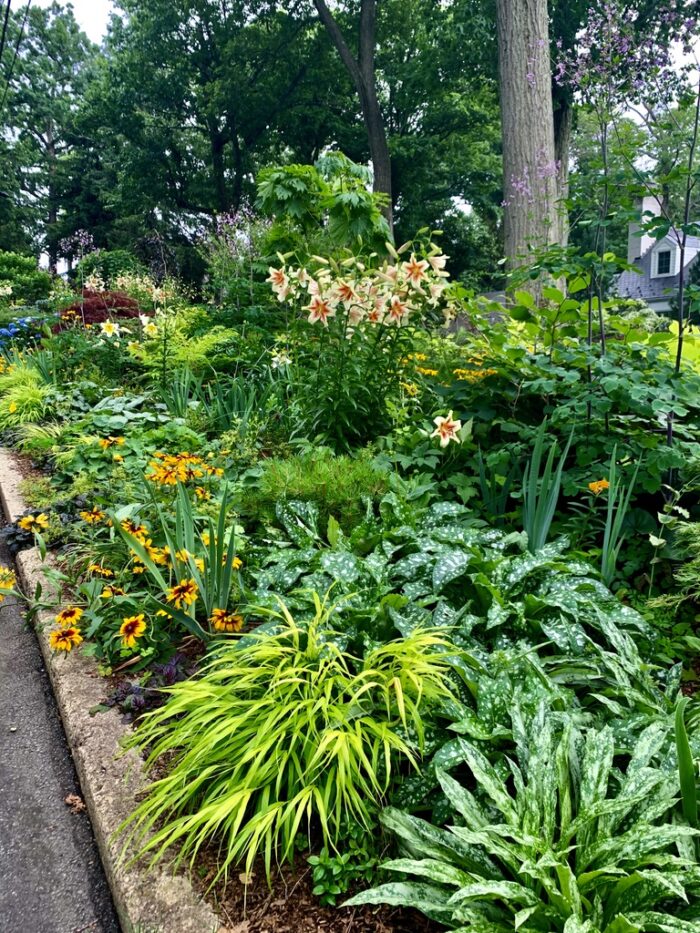 My name is Carolyn McKibbin, and I started this garden on my 2/3-acre suburban property in Summit, New Jersey, seven years ago. Named Colt Corner gardens, it is situated in Zone 6b among a thriving population of deer, rabbits, and chipmunks. I grew up in Sacramento in a family of talented gardeners, and later in life I worked for one season at Reeves-Reed Arboretum here in Summit on the horticulture team. A plant addict and "cram-scaper," my husband (who, to his credit, performs all the lawn care) calls my garden "Seymour." One of my missions in life is to share seeds, volunteers, and plant divisions with friends and neighbors who are new to gardening. I also strive to attract birds and pollinators, especially the monarch butterfly. I love the staying power, textures, and color contrast of foliage.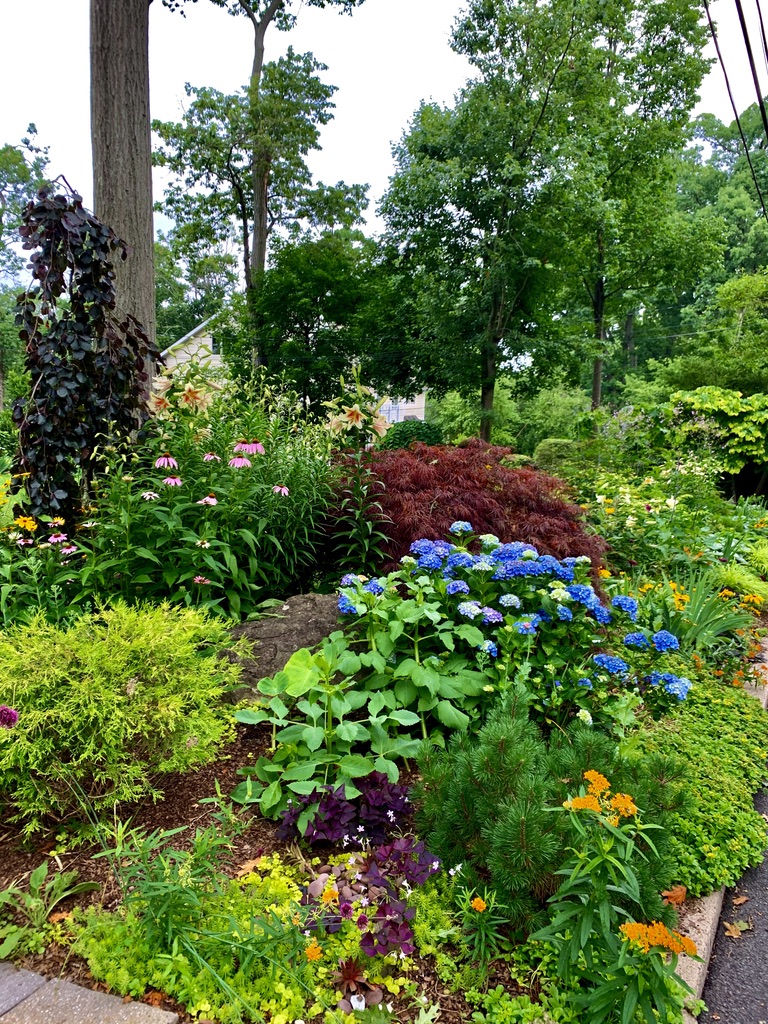 The front bed along my street curb is a mix of perennials, shrubs, and weeping trees like this Fagus sylvatica 'Purple Fountain' (Zones 4–7).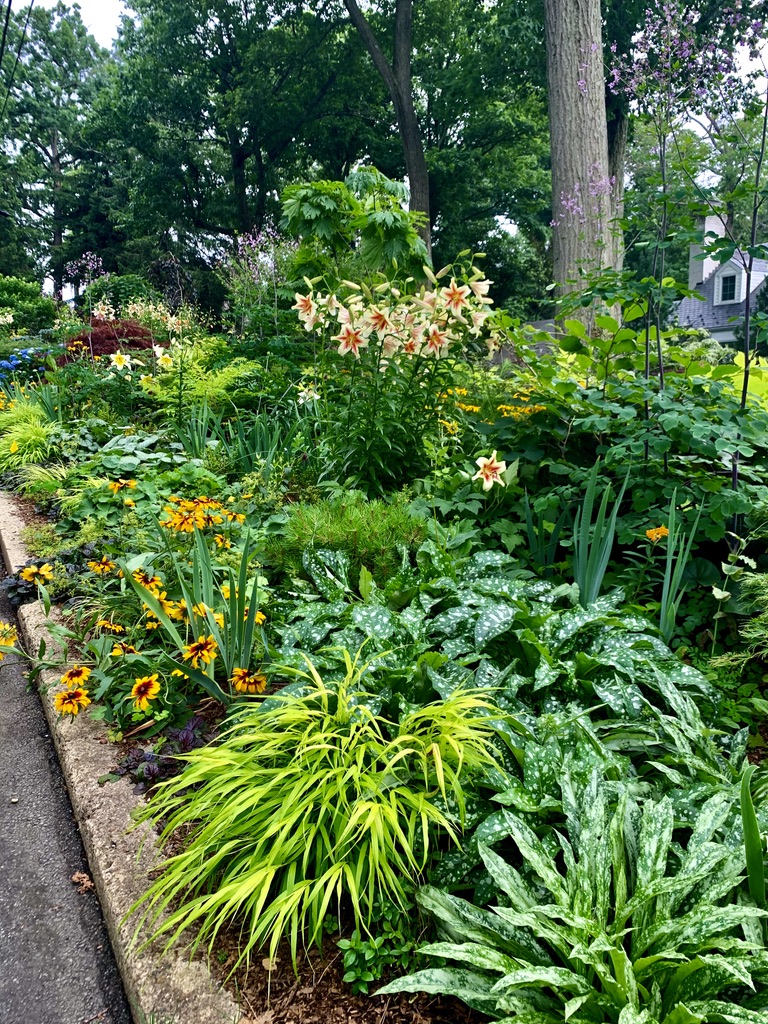 Pulmonaria (Zones 3–7) and Hakonechloa (Zones 5–9) mingle with Rudbeckia hirta (Zones 3–8) and Orienpet Lilium 'Lavon' (Zones 4–10).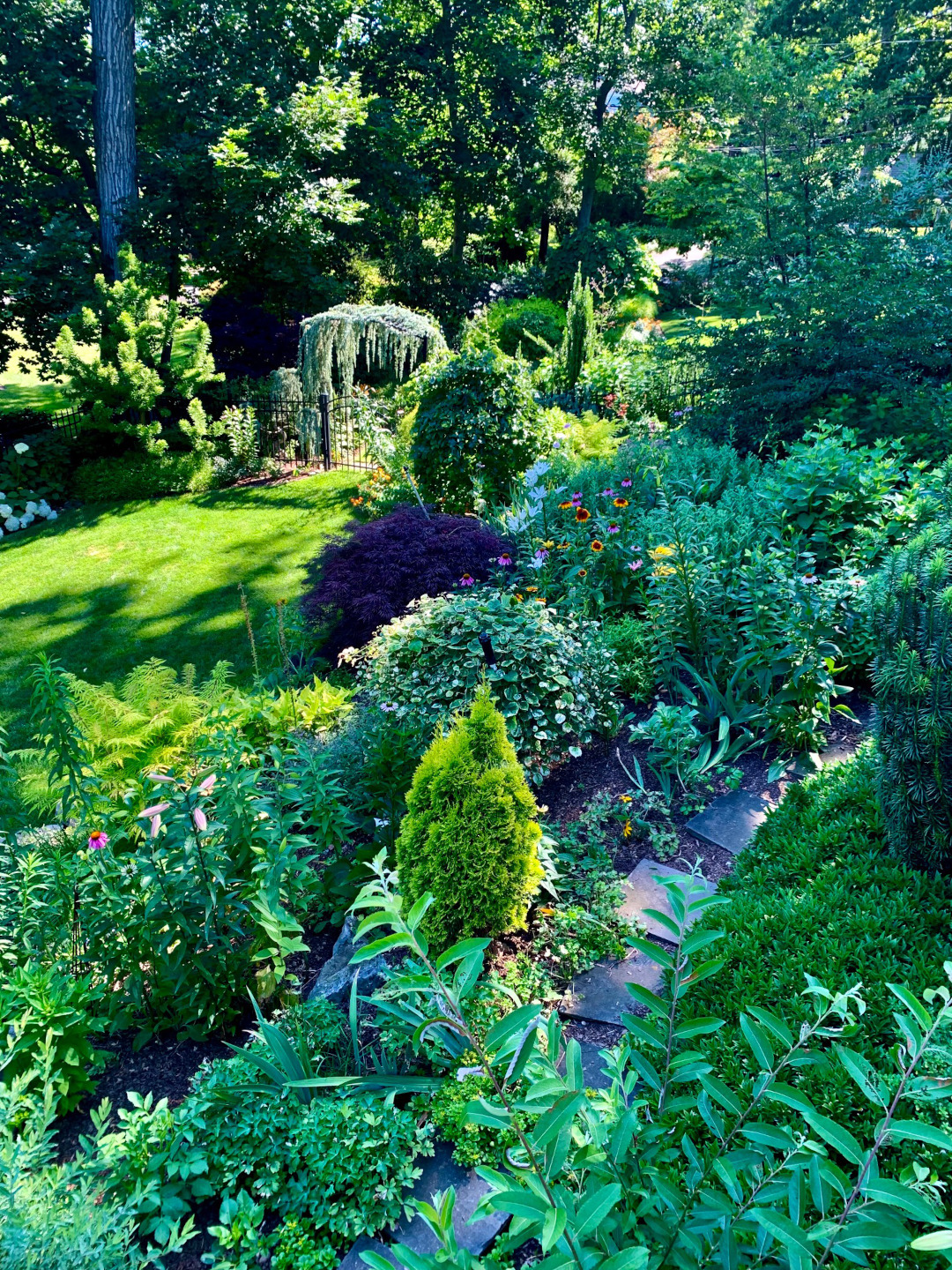 This view is from the deck of the north-facing side yard. I trained the two Cedrus atlantica 'Glauca Pendulas' (Zones 6–7) to grow over the fence arbor. It's an all-season head-turner.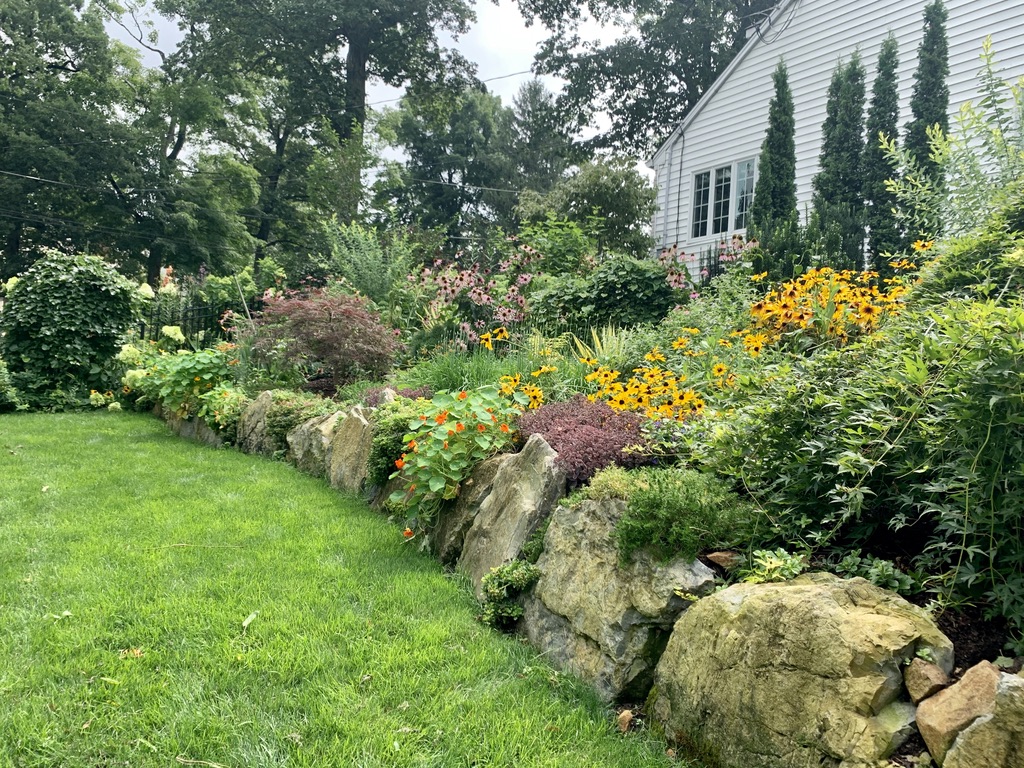 These moss rocks were installed for soil retention seven years ago when the garden was first established. Echinacea purpurea(Zones 3–8) and Rudbeckia hirta attract butterflies and goldfinches. To the right is Acer palmatum 'Ryusen' (Zones 5–9).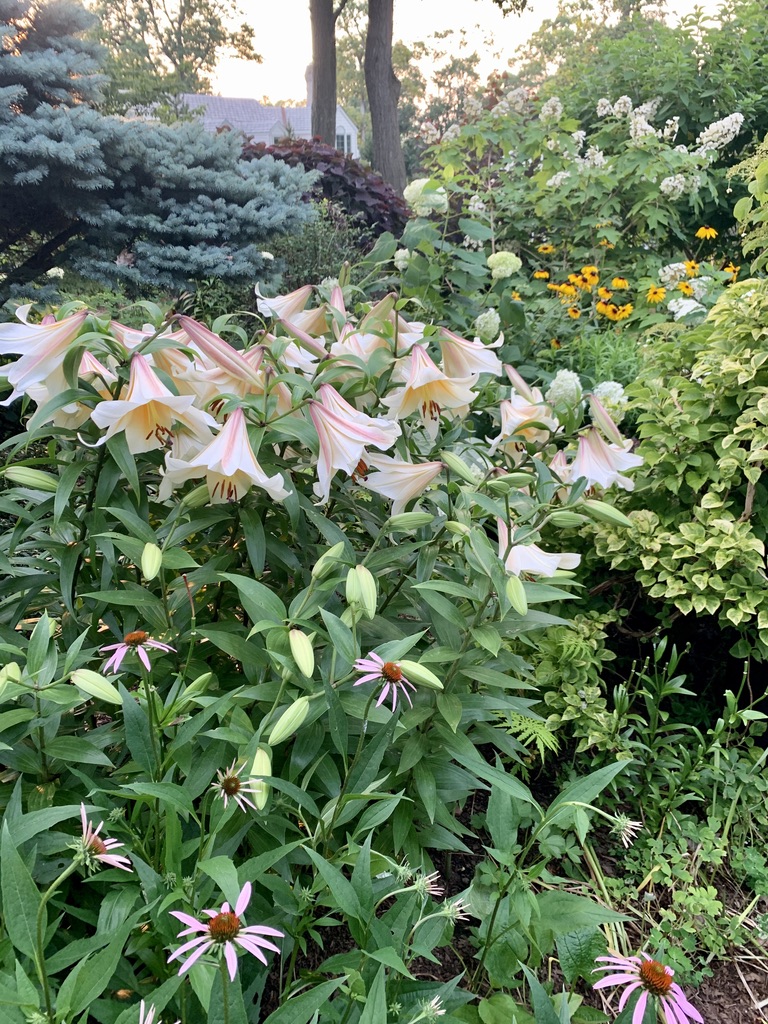 One of my favorite lilies is this Lilium regale (Zones 4–8). Passersby can smell its fragrance from the street.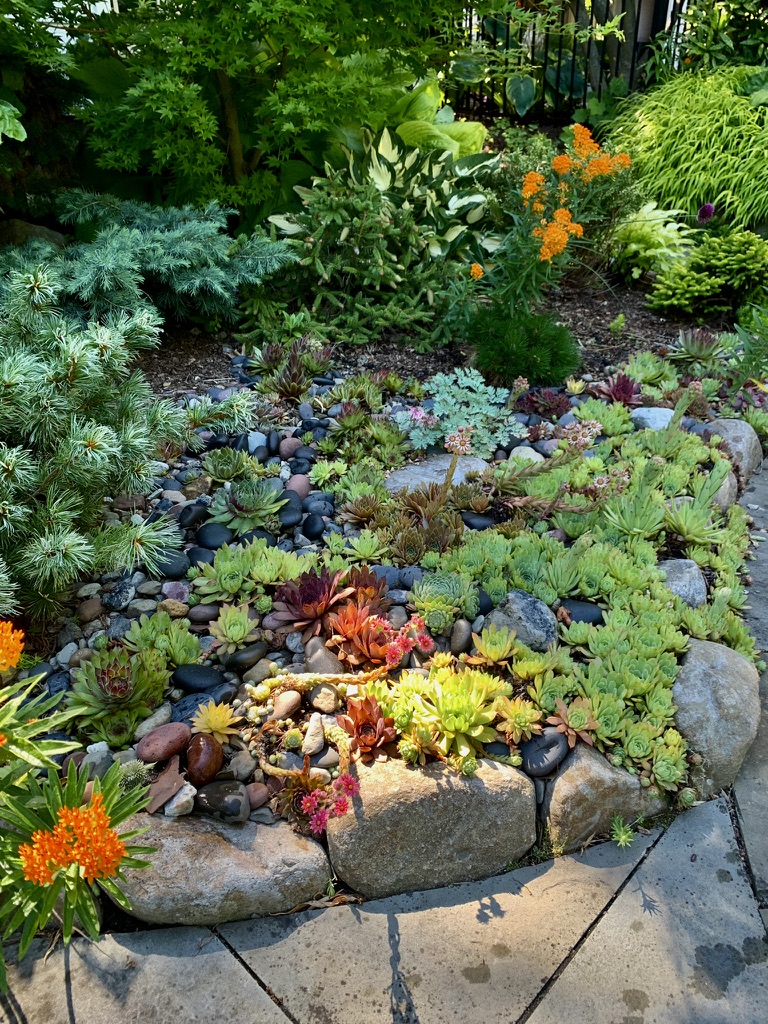 This is my patio rock garden. Each year I add one or two new cultivars of Sempervivium to my collection. A few are in bloom now. I love that they are hardy and evergreen in my climate and produce their many "chick" offsets profusely, which I enjoy sharing with friends. I always say to keep their foliage dry on rocks and situate them in full sun.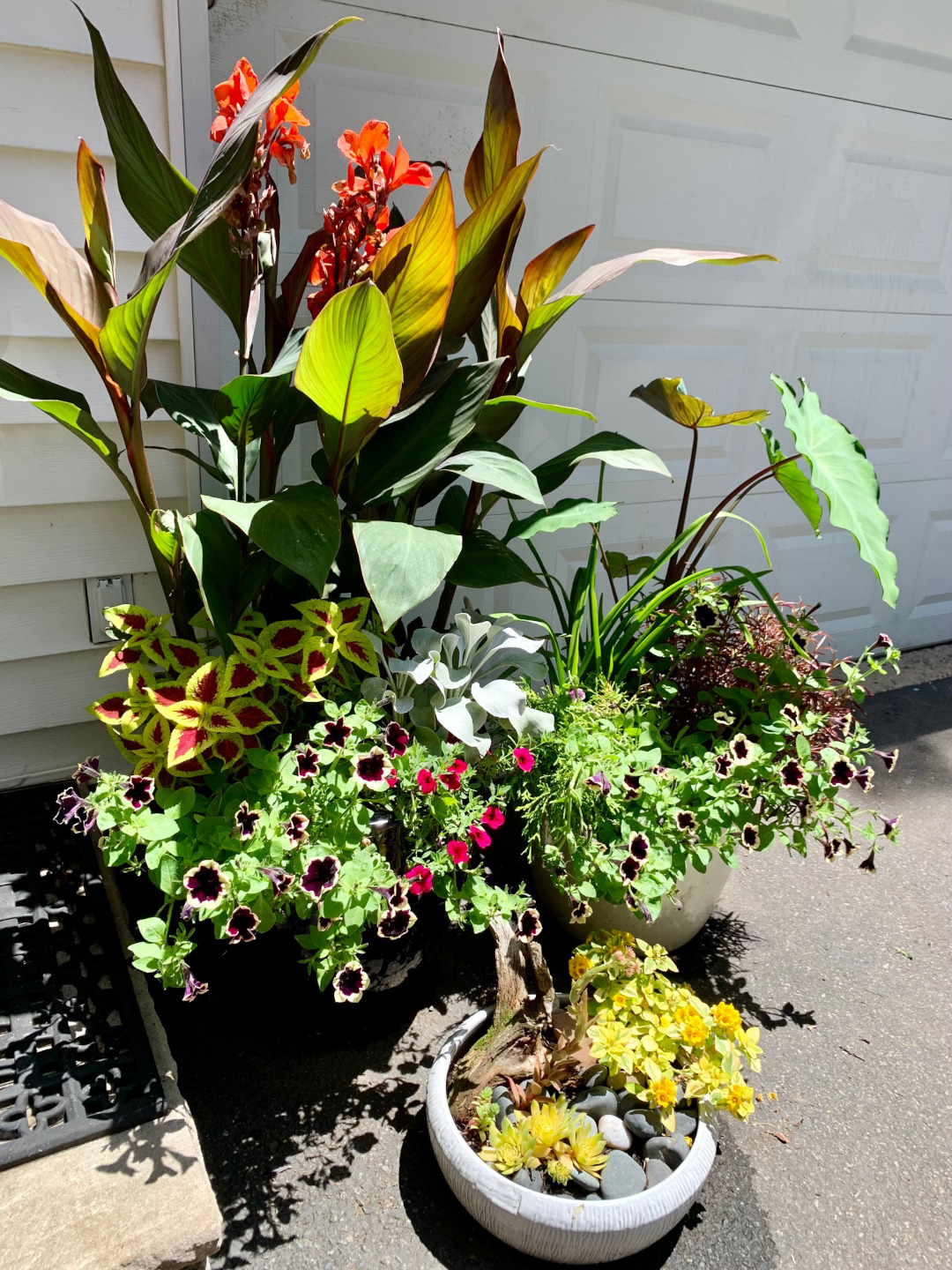 Container gardening is such fun! Big stars this season are the orange-flowering Canna indica (Zones 7–11 or as a tender bulb) and purple-veined Colocasia esculenta (Zones 7–11 or as a tender bulb). The classic "Thriller-filler-spiller" formula for container design never fails me.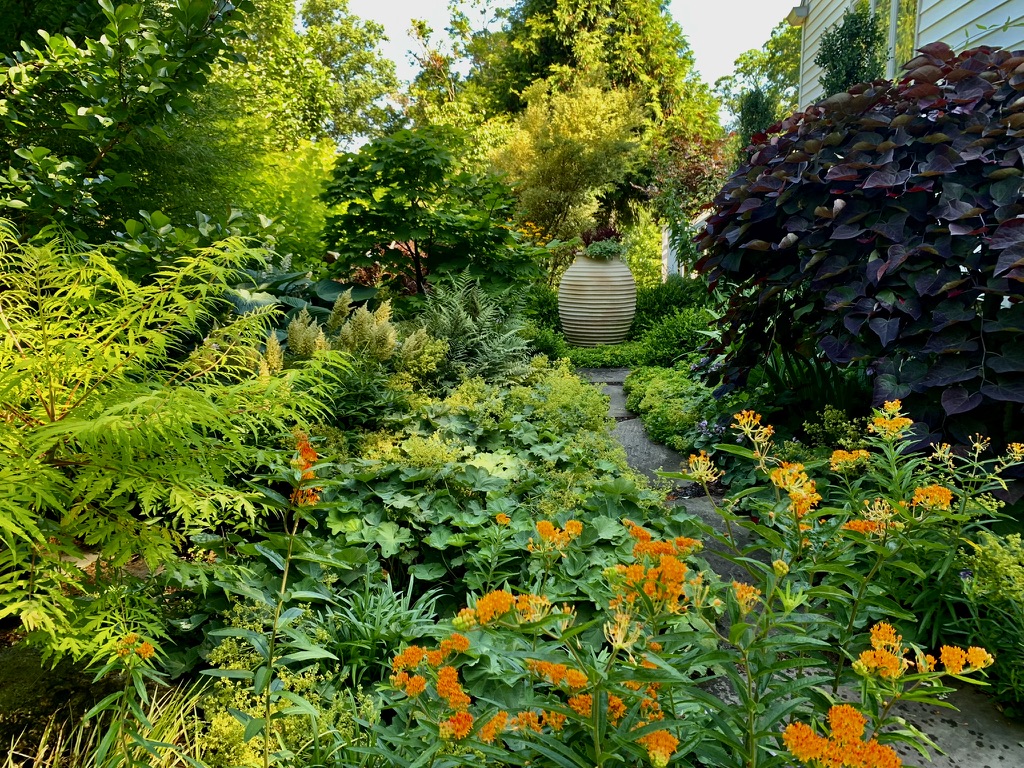 This terra-cotta olive oil urn was inspired by those at Reeves-Reed Arboretum. It is a focal point for my back patio walkway, which is flanked by Rhus tyhina 'Bailtiger' (Zones 3–8), Cercis canadensis 'Ruby Falls' (Zones 5–9), Alchemilla mollis (Zones 3–8), and plenty of Asclepias tuberosa (Zones 3–9).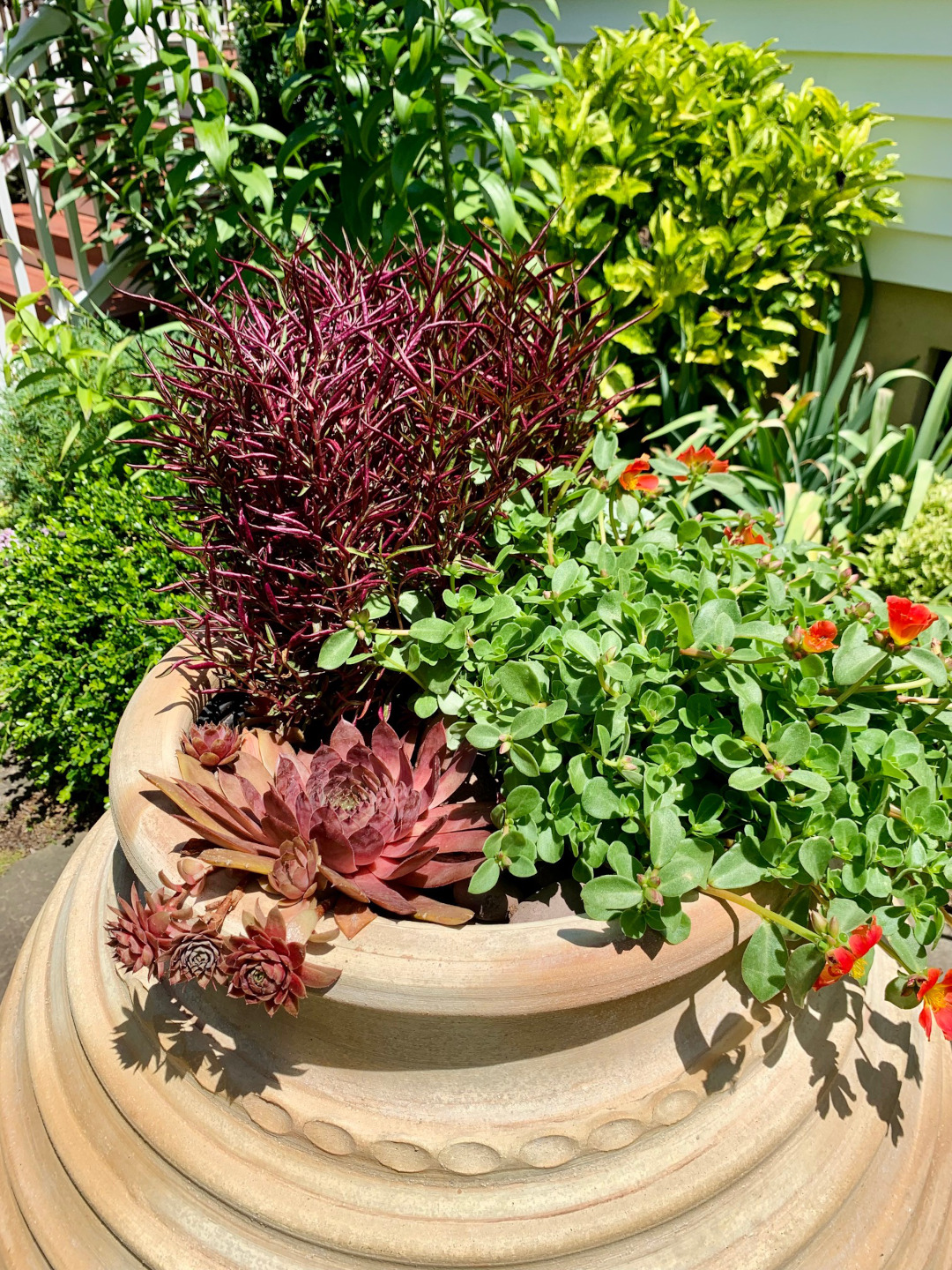 I refresh the terra-cotta urn's plantings with each season.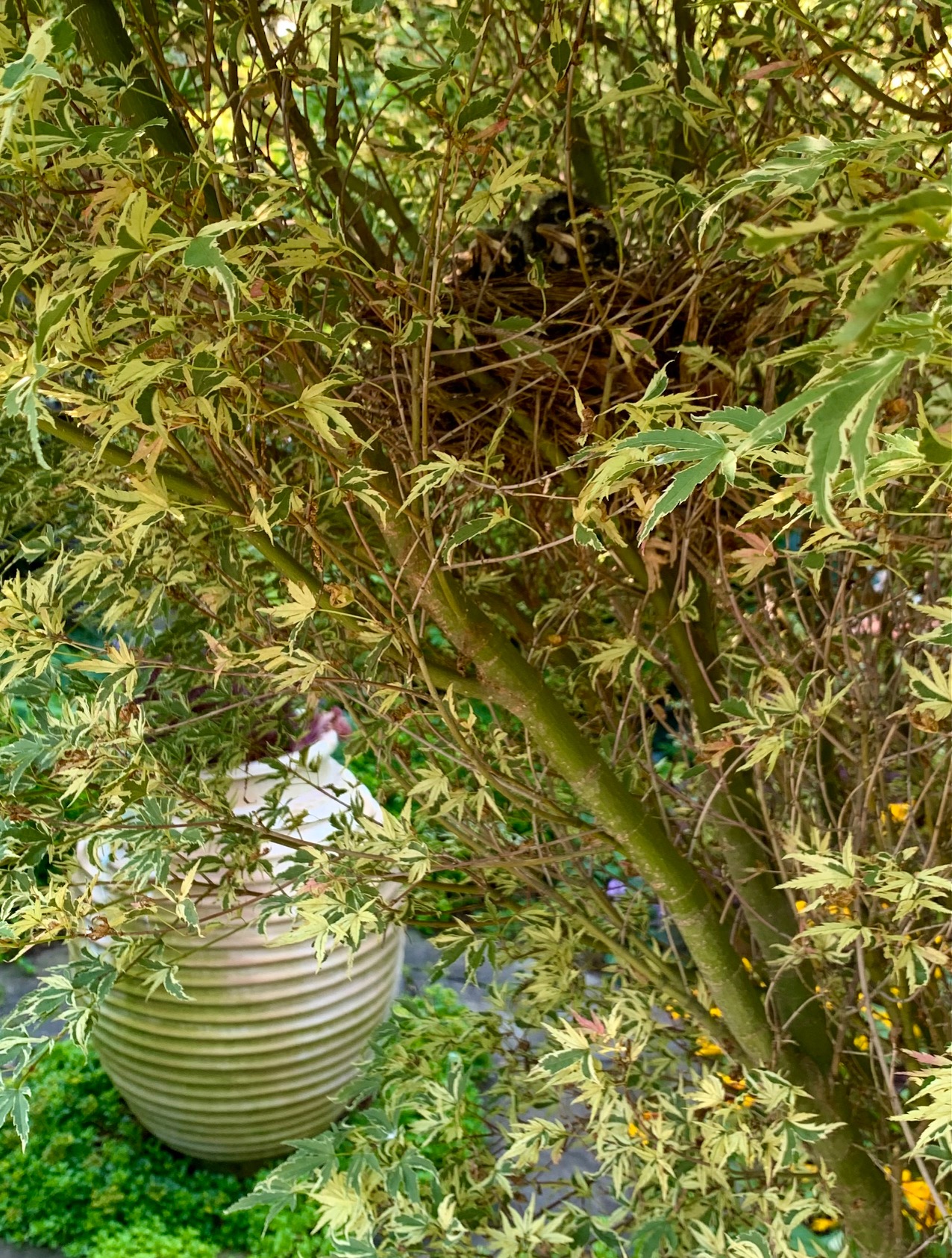 Can you spot the baby robins in the nest? Mama bird has good taste: she chose an Acer palmatum 'Butterfly' in which to build her home.
And finally, a view of my woodland shade garden. A friend recently bought a house for complete demolition and let me salvage a patch of Adiantum pedatum (Zones 3–8), which I divided and planted along this walkway in fall 2021.
If you want to see more of Carolyn's garden (and her beautiful quilts!) check our her instagram: @quiltergardener
Have a garden you'd like to share?
Have photos to share? We'd love to see your garden, a particular collection of plants you love, or a wonderful garden you had the chance to visit!
To submit, send 5-10 photos to [email protected] along with some information about the plants in the pictures and where you took the photos. We'd love to hear where you are located, how long you've been gardening, successes you are proud of, failures you learned from, hopes for the future, favorite plants, or funny stories from your garden.
Have a mobile phone? Tag your photos on Facebook, Instagram or Twitter with #FineGardening!
Do you receive the GPOD by email yet? Sign up here.