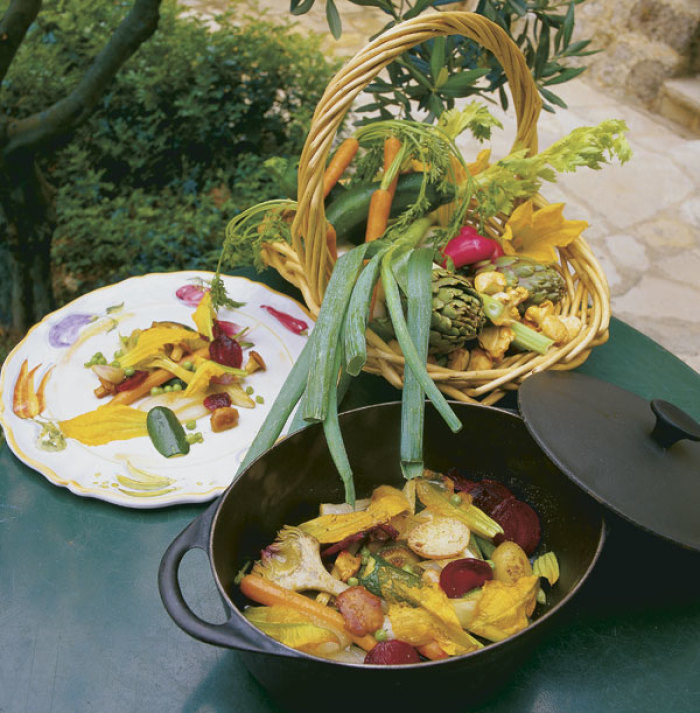 Ingredients:
1 medium beet
Olive oil
2 cups rich meat or vegetable stock
4 small or 2 medium artichokes
1 medium fennel bulb
4 zucchini (4 in. long) with flowers
12 baby or 8 small potatoes
1 celery stalk
8 baby carrots, peeled
4 baby white onions, peeled
5 oz. mushrooms, cleaned and trimmed
1-1/2 cups shelled green peas
Sea salt and pepper
4 servings
The flavor of this dish depends entirely on the quality of the ingredients. Use just-picked vegetables, homemade broth, and a pot wide enough to get the vegetables all in one layer.
Scrub and trim the beet, and cut into 4 pieces. In a small saucepan, sauté the beet in a dab of olive oil for 1 to 2 min., season with salt, and add 1/2 cup of the stock. Cover and cook until tender, about 30 min.
Cut away the top third of the artichokes and peel off the outer leaves to expose the tender, inner leaves. Peel the stems, trim the base, and cut them in two. Cut the fennel in quarters. Remove the zucchini flowers, cut them in halves or quarters lengthwise, and set aside. Wash the zucchini. Scrub the potatoes and cut them in half. Cut the celery into 4-in. lengths.
Put 1 Tbs. olive oil in a wide cast-iron pot and set over medium-high heat. Cook the potatoes first, cut side down, to give them some color. Add the artichokes, fennel, celery, carrots, and onions. Lower the heat to medium, cover the pot, and sweat the vegetables without coloring for several minutes. Season with salt, moisten with a ladleful of stock, and continue to cook, covered. As the liquid cooks away, keep adding stock.
Meanwhile, cut any large mushrooms in half. Heat a small amount of olive oil in a pan and sauté the mushrooms over medium heat until tender, about 5 min. Set aside.
When the vegetables are just beginning to be tender, add the zucchini, placing them on the bottom of the pot. Cook until just tender. Add the peas and zucchini flowers and cook for a few minutes more.
Set the mushrooms back over medium-high heat for a few minutes to color them, and then add them to the pot with the rest of the vegetables. Season with a trickle of olive oil, a pinch of salt, and several turns of the pepper mill. Cover and cook for 2 min. more. Just before serving, place the pieces of beet on top.
Recipe adapted from La Bastide de Moustiers
February 1998
from issue #13