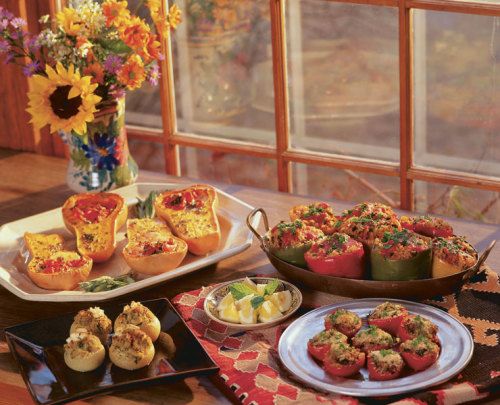 by Kathy Gunst
October 1998
from issue #17
The end of the gardening season in Maine is a bittersweet time. The air is redolent with the abundance of the final harvest, but filled with anticipation of the many long, cold months to come. This is the time of year when my garden spills over with late tomatoes, sweet onions, squash of all kinds, and gorgeous green, red, yellow, and chocolate peppers. Filling these just-picked vegetables with savory stuffings and roasting them until tender and browned produces some of the most satisfying dishes of the harvest season.
For centuries Mediterranean cooks have understood the pleasures of stuffed vegetables. Several years ago, in a tiny village in the south of France, I was served a luncheon of stuffed baby zucchini; eggplant filled with anchovies, olives, and breadcrumbs; and perfectly ripe tomatoes stuffed with crème fraîche and garden herbs. It was simple food, but the memory of those tastes lingers today.
Throughout Turkey nearly every meal begins with meze, an assortment of appetizers similar to Spanish tapas. Stuffed vegetables abound, with an emphasis on eggplant and peppers seasoned with fresh mint and exotic spices.
You'll find similar dishes in Spain, along the Italian Riviera, and throughout Greece, Syria, and Israel. In fact, many of the most beloved dishes of the Mediterranean are stuffed vegetables, from stuffed grape leaves to artichokes filled with savory breadcrumbs to hearty cabbage leaves rolled around a meat and rice stuffing.
The basic technique for making stuffed vegetables is surprisingly straightforward: Carve or scoop out the seeds, ribbing, or interior flesh to transform a vegetable into a hollow vessel, then fill it with an aromatic stuffing. Many vegetables work well, everything from zucchini, eggplant, tomatoes, and onions to cabbage. Peppers, mushrooms, and winter squash are ideal candidates for stuffing because they come with a ready-made cavity.
Getting vegetables ready for stuffing is also quite simple, but the technique varies from vegetable to vegetable. It's important to always use the freshest, ripest vegetables available, avoiding those that are oversized and tough. Cut just-picked tomatoes in half, then scoop out a bit of the pulp with a spoon to create a shell. For peppers and winter squash, remove the seeds and stringy bits of flesh, and you'll be left with a natural cavity to fill. Preparing onions is a bit more complex. I've found that pre-roasting onions not only develops a deliciously sweet, smoky flavor, it also makes it far easier to peel the onions and remove the multiple layers hiding inside to make room for a savory stuffing.
Pack the stuffing into the vegetables, place them in a shallow roasting pan or casserole, and bake until the vegetables soften and the stuffing is cooked through and golden brown. Liquids like tomato sauce, wine, broth, or water are often placed around the vegetables to keep them moist and provide even more flavor.
Stuffings should be assertive but not overwhelming. They should literally burst with flavor to highlight the natural goodness of the vegetables without overpowering them. There's no need for fancy or esoteric ingredients; rice, breadcrumbs, cheese, nuts, herbs, and spices are naturals.
In the recipes that follow, I stuff sweet onions with creamy feta cheese, caramelized onions, breadcrumbs, and a touch of cream that's offset by the punch of roasted chile pepper purée. The fiery pepper flavor plays beautifully against the mild, naturally sweet onions. To make the purée, I roast the chiles in a very hot oven to loosen the skins. You can also char the peppers in the flame of a gas burner, or on the grill.
I fill ripe garden tomatoes with olive purée, sautéed onion and garlic, basil, and breadcrumbs. You can buy a prepared olive purée, like tapenade, or make your own by puréeing good olives with a bit of olive oil.
Peppers may be the ultimate stuffing vegetable. I pack a colorful assortment of sweet peppers with a robust Middle Eastern mixture of rice, dried apricots, currants, and nuts seasoned with aromatics like cinnamon, coriander, cumin, and fresh mint. The peppers are then baked with a simple tomato sauce. This dish is fresh, exotic, and delicious. Serve it hot, or let the peppers cool to room temperature and drizzle them with lemon juice and olive oil.

Butternut squash is paired with tomatoes, cubes of cheese, sage, and white wine. The sharpness of the cheddar cheese is a good counterpoint to the squash's sweet flesh. A maple syrup glaze adds a beautiful luster.
Many of these stuffings are interchangeable and work well with other vegetables. Try the onion feta stuffing in mushrooms, the Turkish rice stuffing in eggplant, or substitute acorn for butternut squash. You can add bits of smoked ham or sausage for a meatier taste, nuts for a crunchy texture, and experiment with your favorite herbs and spices.
These recipes are appealing because they can be made ahead of time and popped into the oven just before serving. So they're ideal dishes for entertaining or simply planning ahead for a family dinner. Except for the butternut squash, which tastes best served straight from the oven, these stuffed vegetables taste good hot or at room temperature. Serve them as an hors d'oeuvre, first course, main course, or side dish. Also worth mentioning: In true Mediterranean fashion, stuffed vegetables tend to be low in fat.
These recipes are designed to inspire. Once you've experimented with one or two of these dishes, go out into your garden or visit a local farmers' market and create your own stuffed vegetable combinations.