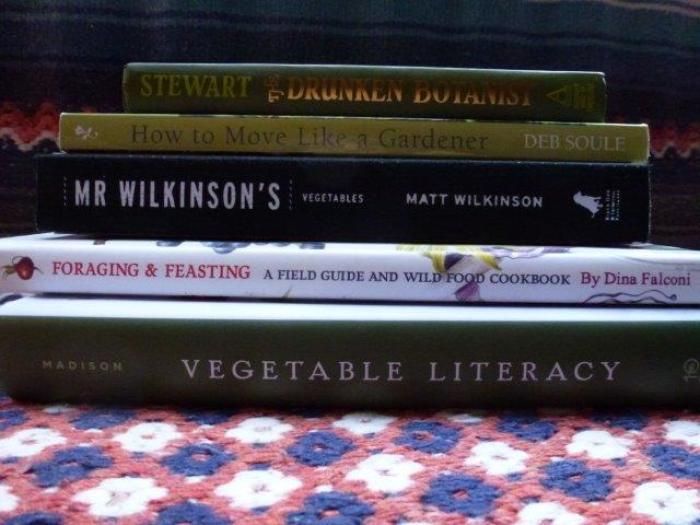 There is a plethora of books out there. I am an avid reader and have both new and old books piled high awaiting my perusal. It is hard to choose just a few, however I am limiting myself to just a handful of recommendations for gardening and cooking-related books. Below are my top 5 picks for 2013, along with an herbal calendar.
Vegetable Literacy by Deborah Madison,Ten Speed Press, Berkeley, CA, 2013.
Once again, Deborah Madison has produced another superb book; she writes from experience as well as in-depth research and thoughtfulness in her approach to cooking and gardening. The subtitle to Vegetable Literacy is Cooking and Gardening with Twelve Families from the Edible Plant Kingdom, with over 300 Deilciously Simple Recipes.
This is an unusual approach to a cookbook, however it makes sense from the gardener's point of view–classifying vegetables and herbs by their family. I can tell you from experience that Deborah's recipes are always tasty, both simple and elegant. Each plant that is contained in the chapter featuring its family has growing information, general info, stories and experience related to the plant, nutritional facts, selected varieties, using the plant, kitchen wisdom, and other food companions to cook with that particular plant, not to mention a good handful of recipes featuring said plant. This book inspires the gardener, botanist and cook in me and is well worth the investment.
Foraging and Feasting: A Field Guide and Wild Food Cookbook by Dina Falconi, illustrated by Wendy Hollender, Botanical Arts Press, Accord, NY, 2013.
This is perhaps the most beautifully illustrated book that I own. What with Wendy's drawings and Dina's years of experience gardening and foraging, this book is chock-a-block full of creativity, literally bursting with knowledgeable information, delightful ideas, visuals and good things to eat. I first heard of Dina and Wendy's project from an herbal e-mail mentioning how they wanted to publish their own book and so signed up with their Kickstarter campaign. After watching the video, which Dina's son, Sam, created interviewing Dina and Wendy about their intent and showing their work–I signed up for a copy before the book was even written. Their goal was to raise $25,000 so that they could publish their own book… not only did they exceed their goal… they raised over $100,000! This success story–with the support of like-minded people (gardeners, foragers, herbalists, naturalists, cooks and folks who like to eat)–Dina Falconi and Wendy Hollender were able to fulfill a dream that they had. And did so splendidly, with hard work, dedication and support from their community from across the country. I've spent many hours reading and perusing this lovely book and look forward to winter by the woodstove with it. Besides the glorious botanicals, there are informative charts, and abundant master recipes with many variations.
 Mr. Wilkinson's Vegetables by Matt Wilkinson, Black Dog and Leventhal Publishers, New York, NY, 2012.
I was given this handsome cookbook for Mother's Day back in the spring when the garden was still in the planning/planting stage. Chef Matt Wilkinson (an Australian chef who has a restaurant, bar and slow-food Spudbars in Melbourne) features 24 vegetables–the most popular that we gardeners want to grow and eat–he plans and creates his meals around the vegetables that are in season. Besides the delicious recipes, I like the feel of this book. The cover is thick cardboard with a printed fabric binding and the paper feels substantial and recycled; the layout and graphics are at once tasteful and a bit funky. Photos accompanying the recipes are appealingly simple and mouthwatering. In the intro of each vegetable entry, there is information on growing, varieties, preparation and cooking.

How to Move Like a Gardener by Deb Soule, Under the Willow Press, Rockpot, ME, 2013.
This lovely book is written from the heart of a long-time, experienced gardener and herbalist; I respect and admire Deb and am happy to know her as a kindred spirit, herbal comrade and teacher. See previous review /item/14141/book-review-how-to-move-like-a-gardener-planting-and-preparing-medicines-from-plants
Drunken Botanist by Amy Stewart, Algonquin Books, Chapel Hill, NC, 2013.
As with her other books, this well-researched tome displays Amy Stewart's work as a fine researcher and writer with a sense of humor. This book gives us the background of so many of the world's crops… not to mention libations. See previous review /item/13752/summer-reading
The Herbal Calendar 2014by Susan Belsinger, Tide-Mark Publications, Windsor, CT, 2013.
I suppose I am tooting my own horn here, however this is a handsome calendar featuring herbs. I did the text and photographs and highlighted herbs of the year chosen by the International Herb Association since 1995. The calendar includes culinary, medicinal and ornamental herbs, as well as recipes from cocktails and shrub to veggies, sauces and desserts. There are instructions for making your own calendula oil, herbal moth repellent and sugar scrub. You can order this from www.tidemarkpress.com or www.susanbelsinger.com. I am working on 2015 now!
Here's to a happy, healthy and herbal new year!