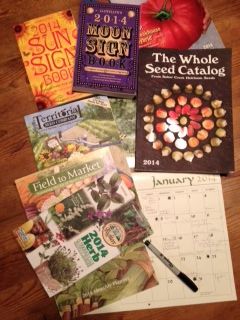 Every new year's eve brings about reflection and closure of the past year and plans, hopes and expectations for the new year. The influx of gardening and seed catalogs has surely whetted the appetite for most of us gardeners. Golly day, I have been salivating over some of the vegetables, herbs and edible flowers to be! I know seeds which I want to sow again, some that I don't care to grow again–and then a whole world of new ones I want to consider.
This time of year finds most gardeners with a pile of seed catalogs–maybe a calendar, notepad or even graph paper–and a few favorite gardening resources at hand. An herbal libation, tropical cocktail or glass of champagne, with perhaps a splash of a homeade herbal cordial or bitters, sitting by the woodstove or fireplace is a great way to ring in the new year. Also included in my reading materials for perusal are Llewellyn's Moon Sign Book, Llewellyn's Sun Sign Book, and of course, The Farmers' Almanac (these are always on my holiday wish list). Here is a past blog reviewing the merits of these publications: /item/13176/start-the-new-year-with-books.
I must admit that the Baker Creek Heirloom Seed Catalog is topdog this year. Kudos to the folks at Baker Creek as they have outdone themselves; this is more than a catalog–it bedazzles. Read a review in a recent post by Jodi Torpey. /item/14513/a-gardeners-collectible-the-whole-heirloom-seed-catalog.
Just last week, this tome was the topic of a luncheon conversation between long-time gardeners and friends. How can one decide between 37 types of eggplant–each one more enticing than the last? Besides an array of shapes, sizes and colors, their descriptions read like a travel guide.

I am carrying on the family tradition of lentil soup for New Year's Eve–which seems to be popular with many others than just my family–Chris McLaughin's family serves it on New Year's Day. /item/14611/new-years-day-country-soup-rosemary-salt. While many celebrate the custom of lentil soup, it is the black-eyed pea which is prepared in the Southern U.S. It might be cooked into a soup with a ham hock and served with a mess of greens and cornbread. Although a very popular recipe is for Hoppin' John, which is made with black-eyed peas, tomatoes, corn and often, okra. Whatever the bean or green–you can't go wrong for great flavor and nutrition with this combo.
Tonight's soup was a version of another of mine, which is Mediterranean in flavors (/item/11769/lentil-and-greens-soup). Using this basic recipe, I sauteed onion, celery, red bell pepper, rainbow carrots and garlic. Then I added them to the nearly cooked lentils along with a can of coconut milk, about a tablespoon of hot curry blend and some hot pepper flakes. Toward the end of cooking, I added about 2 cups of coarsely chopped greens. It was warming and delicious served with scallion pancakes and a leafy green salad with fennel and pistachios.
Recycle for the new year: Oh by the way–if you are popping corks to celebrate the new year–here's a link you might check out: https://www.wholefoodsmarket.com/blog/whole-story/cork-reharvest. I've got grocery bags of corks which I have saved over the years. I've had all sorts of great craft plans, especially after reading Cork Boat: A True Story of the Unlikeliest Boat Ever Built by John Pollack. Then I visited a vineyard where they covered a ceiling in corks. On a smaller scale I've imagined a bulletin board. I have made trivets that actually turned out pretty nice and functional, however it barely made a dent in the quantity of corks I've gathered. I am glad to know that I can recycle them.
Now to settle in with my reading material; I'll throw a few more logs in the stove and await the midnight hour. Wishing you a happy, healthy and bounteous 2014! Cheers!