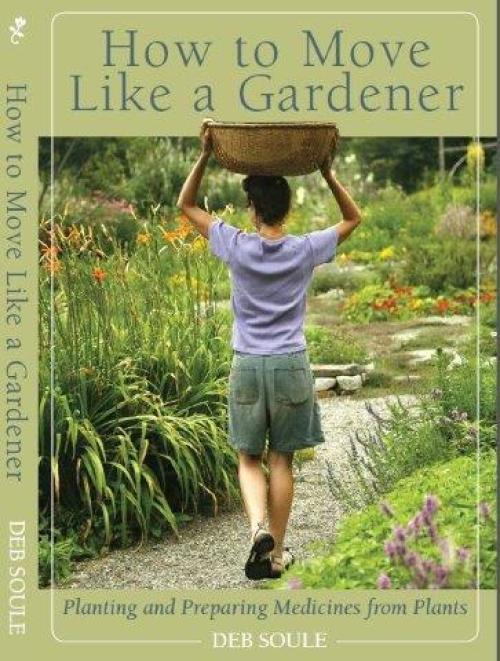 At the moment, I have a plethora of new books awaiting my perusal. However, there is one in the pile that has called out to me to be read before all of the others. Actually the very day that I purchased the latest book from Deb Soule, she inscribed it for me, and I took it back to my room and began reading it that evening.
How to Move Like a Gardener: Planting and Preparing Medicines from Plants by Deb Soule, (Rockport, Maine: Under the Willow Press, 2013) is a delightful, insightful and inspiring read. Infused with poetry and quotes, not to mention stunning garden photography, this sensitive and thought-provoking book shows a deep and reverent appreciation for all living things.
Deb Soule is founder of Avena Botanicals in Rockport, Maine and has been growing fine medicinal plants and creating excellent herbal products for over 25 years. She is a gardener, herbalist, medicine maker, photographer, teacher, author and keen observer of nature. In her book, Deb combines all of these life experiences with a balance of sensitivity, practicality and spirituality:
"Become attentive to using all your senses when in the garden. Always keep the health of the soil in your awareness. And remember that as you cultivate the garden, the garden is cultivating you, both inwardly and outwardly. Gardeners are shaped, pruned, and informed by the garden, moment by moment, day by day, month by month, year by year."
This book moved me deeply. I must admit that I had to get out my highlighter as I perused the pages and I used it often, as I read and reread Deb's words. In her description of how she came to gardening, she says "Like many gardeners, I fell in love with the tasks and patience required-planting seeds, waiting, watching, watering, listening, praying." 
Deb's descriptions of everything she does–from preparing the earth, practicing her biodynamic gardening methods, cultivating herb plants from sowing seed, germination, transplanting and tending to harvesting, drying and tincturing–are thoughtful and thorough. Part of the charm of this book, is how she can step aside and observe nature, taking us along with her, as she delights in just stopping to enjoy a moment, whether it is a new verdant green bud or curling tendril, the sound of a birdsong, the flight of a pollinator or the fragrance of an herb.
Deb does hard labor and long hours, all the while observing the garden and the processes with reverence and joy. "The garden continues to teach me how to show up, and be present, whatever the internal and external weather may be. It's a place where gratitude lives."
The bones of this book are divided into five sections. "A Gardener's Notebook" begins with the most basic and precious element, the soil, and also discusses in detail compost, tools and baskets, pollinators, our ancestors, gratitude, plants and prayer.
Part II is all about "Biodynamics: Agriculture in Service of the Earth and Humanity". In this fascinating and information-packed section, Deb tells us the how, who and why of biodynamic gardening and how she practices it daily, following nature's rhythms in the Avena gardens. She gives clear and precise explanations and instructions of her biodynamic methods without being preachy. Many of us gardeners practice gardening by the moon, which Deb describes along with lunar and seasonal rhythms.
In "Living in Harmony with the Seasons", there are five seasons included with 'late summer' being the fifth one. Each season is discussed, with insight from Deb's years of experience and reflection, highlighting the particular attributes, and lists the foods and herbs which sustain us during these times.
Part IV features "Energetic and Elemental Associations of Plant Parts". I thoroughly enjoyed this section wherein Deb discusses the plant parts in detail: roots, leaves, flowers, fruits and seeds. She guides us through the elements, energetics and the zodiac signs represented by each plant part. The photos in this section handsomely illustrate the plant parts.
Last yet not least, is Deb's Materia Medica, which demonstrates her knowledge and familiarity of these medicinal herbs and why she uses them. Her approach here is unique in that she divides them into the categories of plant parts, which I found was ingenious as well as practical. Although, I have studied many of these plants for years, I learned lots and used my highlighter especially here. She inspired me to start using some of these herbs, which I haven't used in awhile, right away.
End pages contain a glossary, seed and plant sources and resources.This book is a beautiful publication. I am captivated by Deb's ability to share her life's work-her skills, experience, and observations in such a caring and mindful way-and this she achieves this with grace and flair in How to Move Like a Gardener.
Get this book from: www.avenabotanicals.com, where you can also watch Deb's weekly garden video.