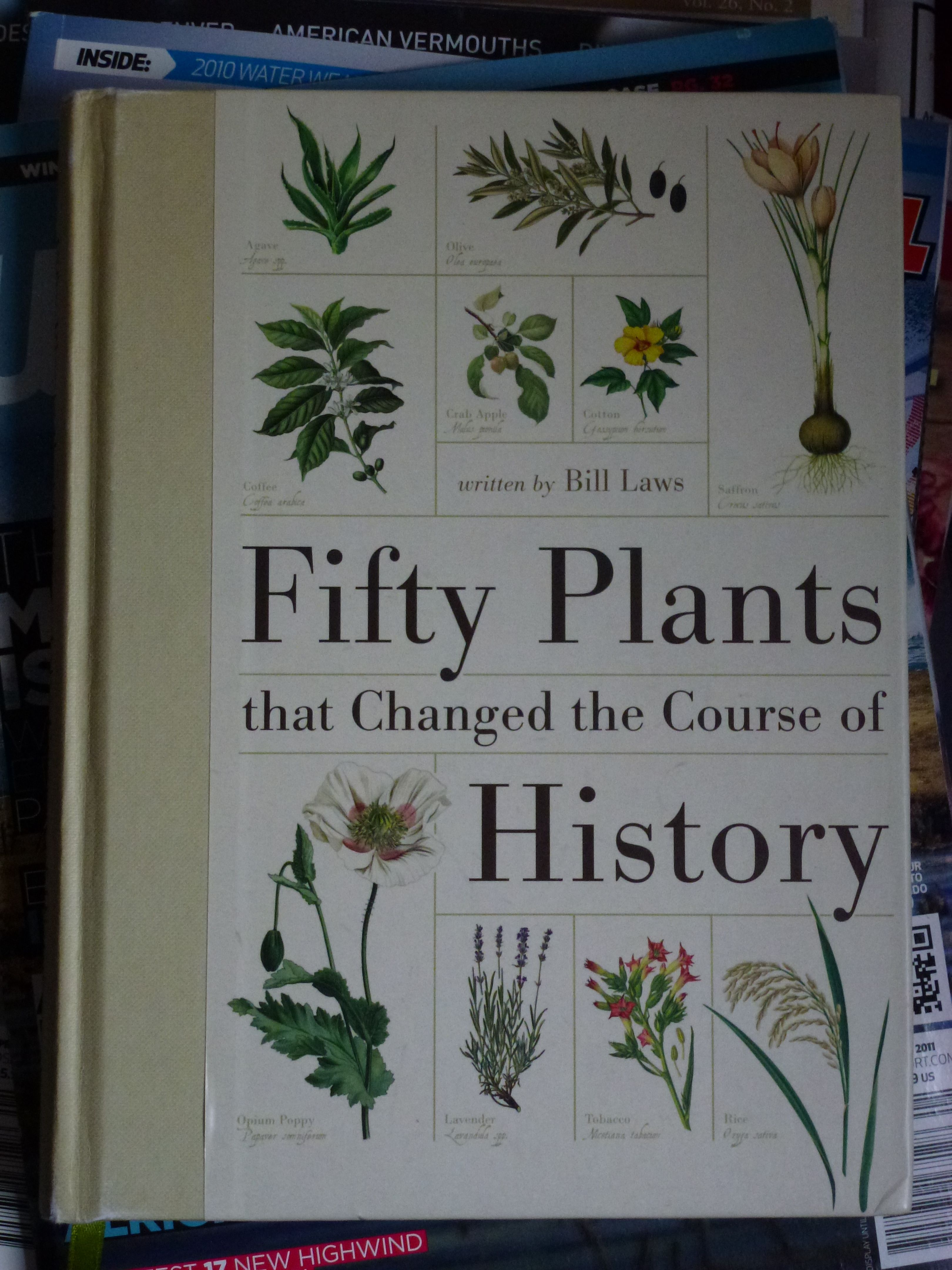 "Just the knowledge that a good book is awaiting one
at the end of a long day makes that day happier."
                                  
                                          –Kathleen Norris
I love to read. I like the feel of a book in my hands or on my lap. I appreciate the tactile-the binding, the endpapers, the heft of the paper, the smell of the newness and the ink. Covers entice me, I peruse the layout, typestyle, browsing for illustrations and photographs, captions and quotes. I look at the table of contents and read both dedication and acknowledgements before the introduction. I savor the ritual of a book.
Books are for both enjoyment and leisure, research and work. I have too many and never enough. I must confess that I do write in my books. Sometimes I highlight or underline and make notes in the margins. It makes them more valuable to me. Below are a few books which I am reading at present.
Fifty Plants that Changed the Course of History by Bill Laws, Firefly Books, second printing 2012.
This handsome book fulfills my personal book aesthetic as it contains botanicals, photographs, illustrations, as well as other artwork. It is fascinating reading for a gardener–full of fact, lore, history, commerce, science and cultivation. It contains plants which we would expect to appear like cacao, coca, coffee and tobacco, and then there are those which are unexpected like white mulberry, sweet pea, English oak and cilantro. This is not a book which I would sit down and read all at once, instead I read an entry every day or so and it makes it last longer (and perhaps I'll retain more).
The Art of Fermentation by Sandor Ellix Katz, Chelsea Green Publishing, 2012.
I have examined this book more than once-in a bookstore, a friend's library and amongst a chef's cookbooks. It was on my holiday wishlist and no one surprised me with it, so I finally purchased it myself. Although I am a cook of many years, this book is daunting. Partly, because it is nearly 500 pages of intense kitchen science, and mostly, because there is a lot of unknown territory in it for me.
Having been a vegetarian for over 40 years, I am familiar with foods like yogurt, crème fraîche and kefir, grains, beans, seeds, nuts, miso, tempeh, and more. I bake bread, make pickles and preserves, sauerkraut, kimchi, and have made beer. This tome offers so much more-and best of all-the why of how these foods happen.  
My first sessions with this book, I was blinded by science-that is what it is all about-and pretty much in layman's terms. I already have pages marked and notes here and there. And in my kitchen, I have used Sandor's instructions for making my own sourdough starter, there is a batch slowly bubbling on the counter. This books promises hours of learning, and exciting cooking projects for me!
Llewellyn's 2013 Moon Sign Book, Llewellyn Publications, 2012.
I have purchased these Llewellyn Guides every year for many years. I try to follow the earth's rhythms and plant by the moon, planting aboveground crops while the moon is waxing and root crops when the moon is waning. The moon tables and the weekly almanac are great tools to have on hand. I look at this book every morning.
Llewellyn's 2013 Sun Sign Book, Forecasts by Kris Brandt Riske, Llewellyn Publications, 2012.
I enjoy reading the yearly and monthly astrological forecasts for my sun sign as well as for those around me.
The Old Farmer's Almanac 2013, Yankee Publishing, Inc., 2012.
This little publication is chockablock full of information. Not only does it give us a monthly calendar with skywatch observations to look for, and the name of each full moon, holidays and celebrations, it notes everything from sunrise and sunset, daylength, tides, and more, for each day. Many snippets of interesting lore from weather forecasts, calendar info, gardening and farming as well as a few recipes are scattered throughout.
Hope I have inspired you to check one of these books out-Tell me what you are reading!