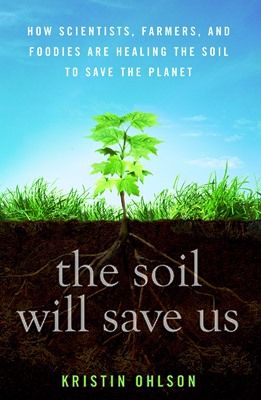 Kristin Ohlson is a Portland, Ore., journalist and best-selling author whose new book is groundbreaking. The Soil Will Save Us: How Scientists, Farmers, and Foodies are Healing the Soil to Save the Planet (Rodale, 2014) explains how taking care of our soil is the answer to some of today's most pressing issues.
She was inspired to write the book after hearing about a movement of "carbon farming" from a chef in Cleveland. As someone interested in local and organic food for his restaurant, he told her about farmers who were considering what was happening in their soil, about the complex biological relationships there, and the importance of helping the soil become healthier.
"That sent me off on an exploration of the subject," she says.
While researching her book she traveled to North Dakota, Vermont, Zimbabwe and both coasts of Australia. She says she was "blown away by the farmers and scientists and the local soil expert from the USDA's Natural Resources Conservation Service" who are working collaboratively to figure out how to farm and ranch and heal the land at the same time.
"The book introduces readers to the ancient partnership between plants and soil microorganisms that created our lush planet," she explains. "It discusses how humans have interfered with that partnership to our peril, and how visionaries around the world are healing soil and landscapes."
While writing her book, Kristin discovered how much good comes from healing the soil. Farms are more productive, food becomes more nutritious, the air and water become cleaner, and the land is more resilient to droughts and floods.
"Then there's the biggie," she says. "We've lost 80 billion tons of soil carbon from bad farming and other land practices over thousands of years, a loss intensified by modern industrial agriculture, and most of that carbon is now in our atmosphere."
Through her engaging storytelling, Kristin explains how individuals are working to restore the partnership between plants and soil microorganisms, healing our soil and putting carbon back in the ground.
"I think this is good news. We have trillions of allies underground and people are finally figuring out how to let them do their job," she says.
Gardeners will be especially interested to learn how important it is to keep planting gardens. 
"Plants remove carbon dioxide from the air through photosynthesis and make food out of it for themselves," she explains. "But they also pass a lot of that carbon through their roots to soil microorganisms, which feed there and deposit the mineral nutrients that plants need."
Kristin says plants will be healthy if the soil is healthy. "What makes it unhealthy is tilling and digging. The less you disturb the soil, the better," she says.
She also recommends keeping the soil covered with growing plants, or even dead plants. That way the soil microorganisms have the food they need to do their many good jobs.