Top Pick: Sundrops is a ray of light in summer and an essential pollinator plant
Name: Oenothera fruticosa
Zones: 4–8
Size: 15 to 30 inches tall and wide
Conditions: Full sun; dry to medium, well-drained soil
Although sundrops is a cousin of the weedy, 6-foot-tall evening primrose (Oenothera biennis, Zones 4–9), it's daintier and much better behaved. We welcome sundrops' red-tinged leaves in May, knowing that soon they'll give rise to a mass of stunning lemon yellow that never fails to elicit a "What is that?" from garden visitors. The four-petaled blooms are held in clusters atop a slender stem with reddish brown accents in the leaves and calyxes. Plant at least five together and they'll gradually fill in to form a cheery little colony in a sunny border. For a nice textural contrast, place them next to narrow­leaf blue-eyed grass (Sisyrinchium angustifolium, Zones 4–9). Bees, skippers, and butterflies appreciate sundrops as a source of nectar and pollen, especially the sweat bee (Lasioglossum oenotherae), which is a specialist pollinator (only visiting flowers of one or very few plant species). This no-muss, no-fuss plant that is tolerant of poor, dry soils and some shade is wonderful in the meadow, cottage, or rock garden. It's a great pass-along plant too, so you can spread the cheer.
More Picks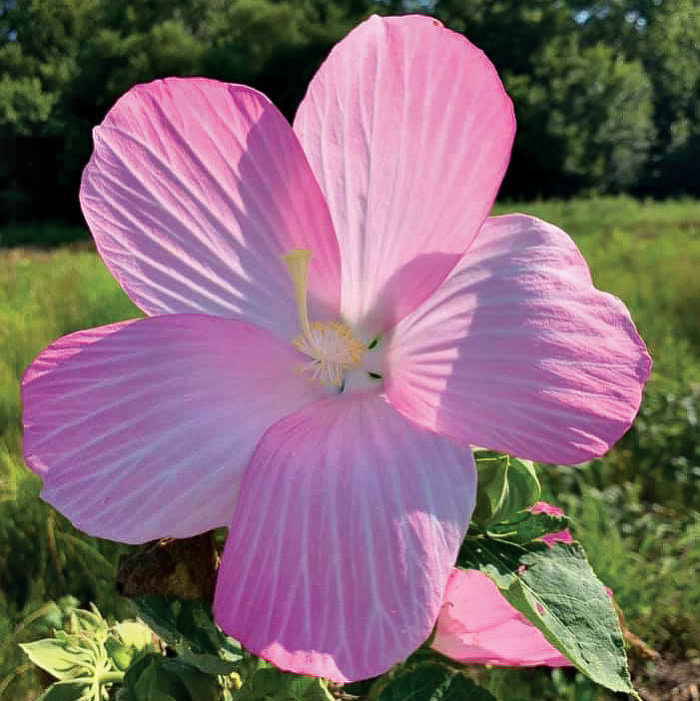 Swamp mallow
Name: Hibiscus moscheutos
Zones: 5–9
Size: 4 to 7 feet tall and 3 to 4 feet wide
Conditions: Full sun; medium to wet soil
Not to be confused with that shrub that was the pride of your grandma's front yard, this herbaceous hibiscus has the exotic look of a tropical plant but is firmly rooted in the Midwest. In the wild, it grows in moist to wet soil and is covered July through September in large, hollyhock-looking flowers with five overlapping white-and-pink petals. Though swamp mallow would love a place in a rain garden or bioswale, it is drought tolerant, seeming quite content in medium soil with six hours of sun a day. A pollinator magnet, it attracts native long-tongued bees and provides nectar for ruby-throated hummingbirds. It also hosts the caterpillars of the Io moth, painted lady and gray hairstreak butterflies, and the common checkered skipper. Watch out for Japanese beetles that want to make a meal of the delicate blooms. Otherwise carefree and reliable, swamp mallow is rarely seen in Midwest gardens, but it well deserves to be.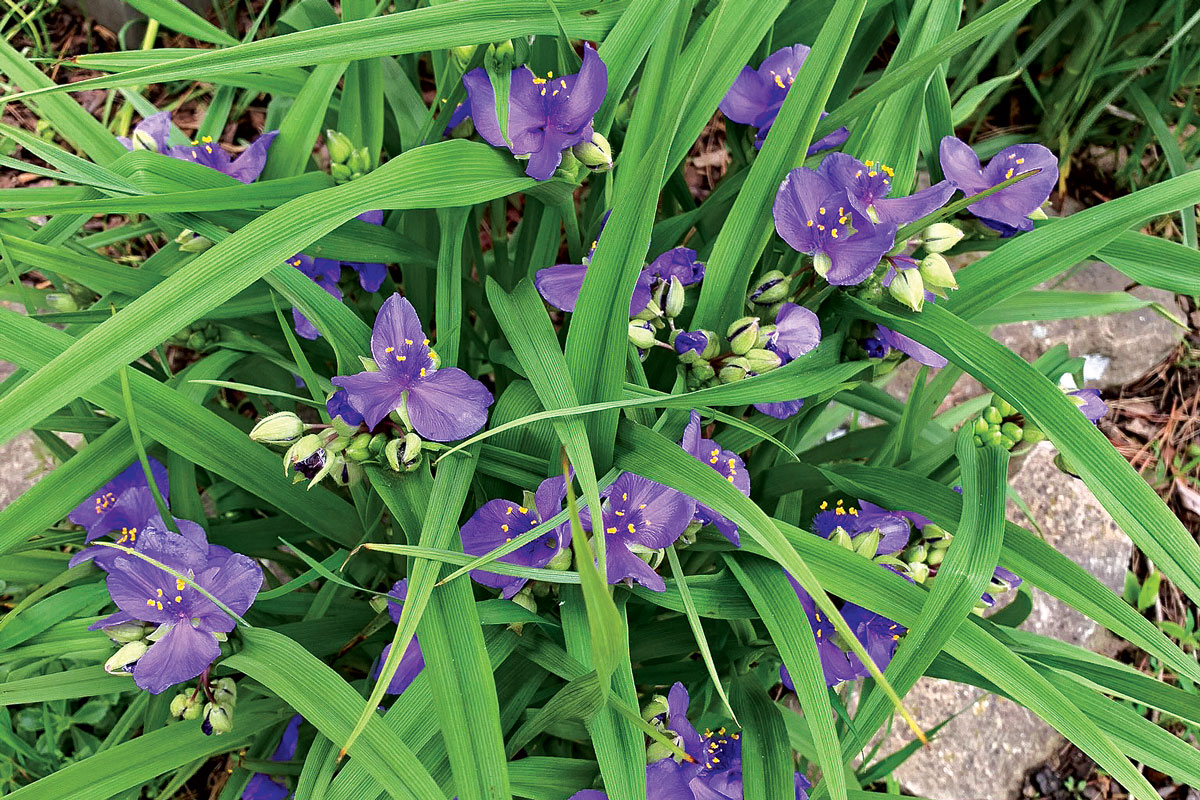 Spiderwort
Name: Tradescantia ohiensis
Zones: 4–9
Size: 2 to 3 feet
Conditions: Full sun to partial shade; dry to medium, well-drained soil
What an ugly name for such a giving plant! With its long season of bloom, glowing flowers, and easy-going nature, there's plenty to love about spiderwort. Just don't try to confine it to one place; it goes where it wants, throwing seeds and appearing in new places every year. But you'll forgive it when you see the show it puts on. Clumps of dark grassy leaves support a spray of intense rosy blue, three-petaled flowers—with a center of yellow anthers—in spring. Pollinated by bees and flies, each flower lasts only a day, closing by afternoon on sunny days, but each clump has many buds ready to step forward from late May to early July. Cut it down when blooming has finished and it reforms into a neat, short, grassy mound.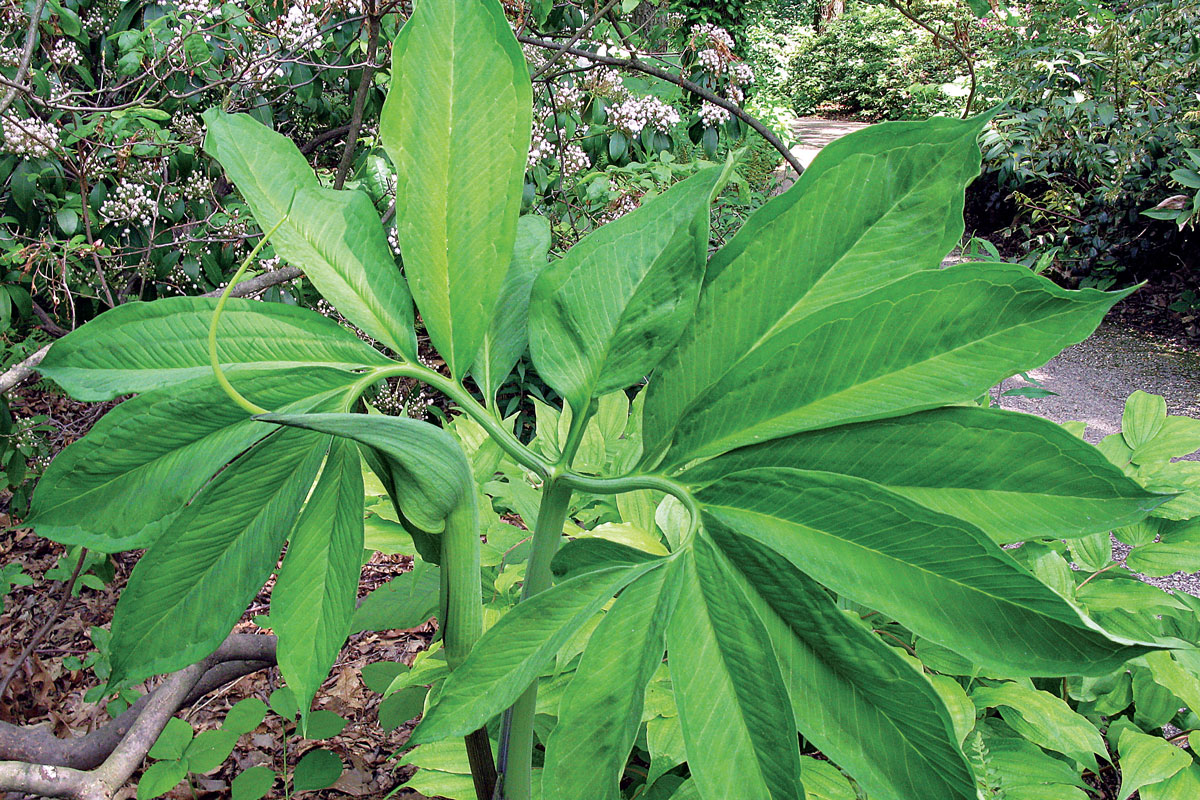 Green dragon
Name: Arisaema dracontium
Zones: 4–9
Size: 1 to 3 feet tall and 12 to 18 inches wide
Conditions: Partial to full shade; medium to wet, rich soil
What's not to love about a plant that sticks its tongue out at you? This spring ephemeral bears but a single palmate leaf on a forked stem; the accompanying flower stalk is where the action is. To get an accurate picture, think of green dragon's cousin, Jack-in-the-pulpit (Arisaema triphyllum, Zones 4–9), with the "pulpit" upturned and "Jack" poking out like a lizard's tongue. When the emerging stalk splits open, both bloom and leaves resemble the rumpled wings of a dragon, growing on to provide striking green architecture in the shady spring garden. Plant it close to a path where you can observe its personality before it goes dormant for summer and where you can enjoy its fat cylinder of smoldering scarlet berries in fall.
Celandine poppy
Name: Stylophorum diphyllum
Zones: 4–6
Size: 12 to 18 inches tall and 8 to 12 inches wide
Conditions: Partial to full shade; medium to wet soil
If you're blessed with trees that cast dappled shade, celandine poppy can be your ticket to a magical spring garden of ephemerals mimicking the wild wooded hillsides and moist banks where we see this plant naturally in April and May. Its green scalloped leaves, showy in themselves, bear bright golden, four-petaled flowers. These soon turn to fuzzy, dangling seed capsules, promising ever-spreading drifts. Don't confuse this plant with the invasive lesser celandine (Ficaria verna, Zones 4–8). Celandine poppy's leaves hold up well into summer, but surround it with some native ferns to mask any browning that shows up when the soil dries out.
Noteworthy Native nurseries in your area
Prairie Moon Nursery, Winona, MN; 866-417-8156; prairiemoon.com
Buy Natives Directory, Indiana Native Plant Society, Indianapolis, IN; 317-413-5918; indiananativeplants.org/landscaping/where-to-buy (vetted list of nurseries)
Lupine Gardens, Amery, WI; 715-222-6669; lupinegardens.com
The experts
Photo: courtesy of Brenten Reust

Nancy Hill is a past president and annual conference co-chair for the Indiana Native Plant Society.

Photo: courtesy of Wendy Ford

Wendy Ford is communications director for the Indiana Native Plant Society and a garden designer specializing in native and sustainable landscapes.
From Fine Gardening #196