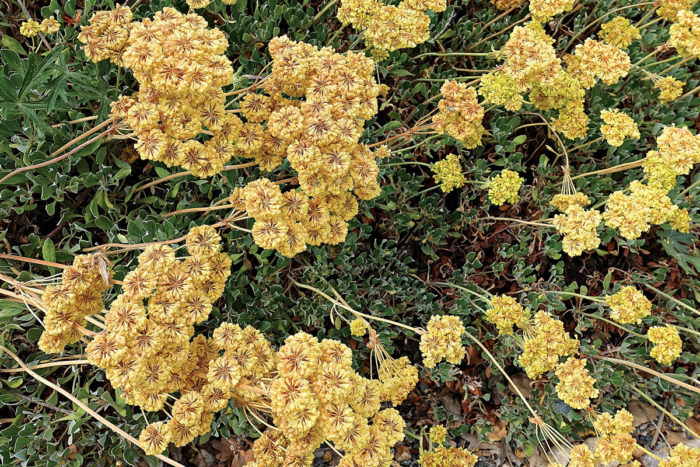 Top Pick: Sulphur flower is an adaptable evergreen that shines in every season
Name: Eriogonum umbellatum
Zones: 3–8
Size: 6 to 15 inches tall and 15 to 24 inches wide
Conditions: Full sun to partial shade; average to dry, well-drained soil
Come late fall and winter, the leathery oval foliage of sulphur flower takes on reddish hues—making you appreciate its handsome, long-lived, ruddy mounds even more. When spring returns, the leaves become deep green again, and as summer draws near, flower buds begin to expand into luminescent lemon yellow pompom-like clusters—hence the common name. These shimmer in the bright, hot sunlight of daytime at high
eleva­tions as well as in the waning light of cool mountain evenings, drawing the attention of native bees and human beings alike and blooming for well over a month. As the blossoms begin to dry and form seed, they persist in a papery form that often turns orange or reddish for weeks longer before disintegrating. Undemanding, sulphur flower needs no more than  a tidying snip of the remnant flower stems in fall and perhaps a drink or two of water during an especially dry summer.
More Favorite Picks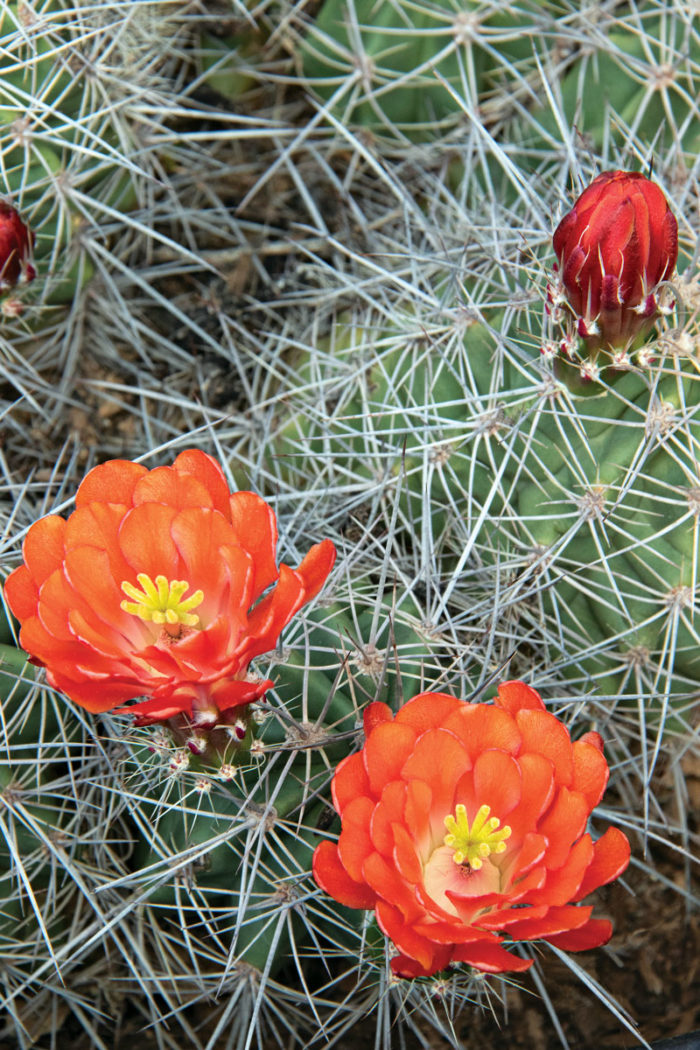 Claret cup cactus
Name: Echinocereus triglochidiatus
Zones: 5–9
Size: 8 to 24 inches tall and 12 to 24 inches wide
Conditions: Full sun; dry, lean, well-drained soil
One of the hardiest and most adaptable cacti, this long-lived and variable species grows thick, water-storing, bright green, leafless stems that are protected by spines. Over time it forms handsome, basket-like mounds. An individual's spines can vary from pale straw in color to reddish to gray to black, and rarely can they be mostly or completely absent. The common name refers to the stunning bright red cup-shaped flowers—from 1 to 3 inches wide depending on the selection—that top each stem in spring, attracting hummingbirds and native bees. Small-stemmed shorter selections tend to be hardier than the largest.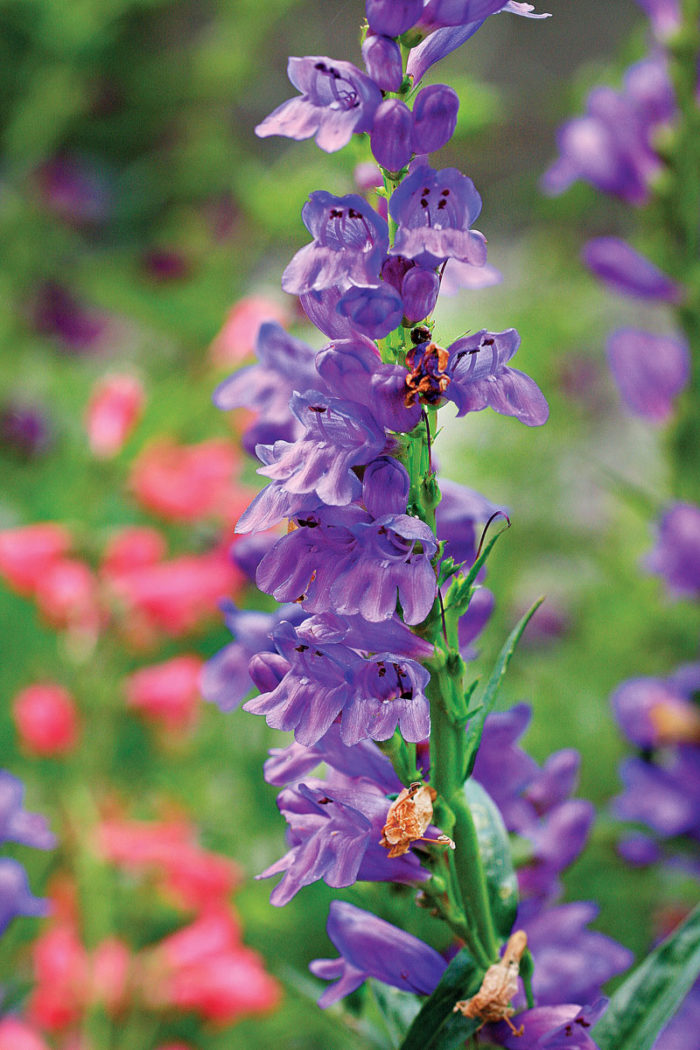 Rocky Mountain penstemon
Name: Penstemon strictus
Zones: 3–7
Size: 18 to 24 inches tall and 24 to 36 inches wide
Conditions: Full sun; average to dry, well-drained soil
North America boasts well over two hundred species of penstemons, native mostly to the western states. Sadly, many are fussy and short-lived as garden plants. Big, bold Rocky Mountain penstemon bucks that trend, persisting for over a decade in most gardens and soil types as long as it gets sun and good drainage. For several weeks in late spring and early summer, snout-shaped indigo-blue flowers open all along dozens of strongly upright flowering stems, drawing native bees, bumblebees, and even the occasional hummingbird. The low evergreen foliage mat is a shiny rich emerald green. Pair it with sulphur flower for a great duet.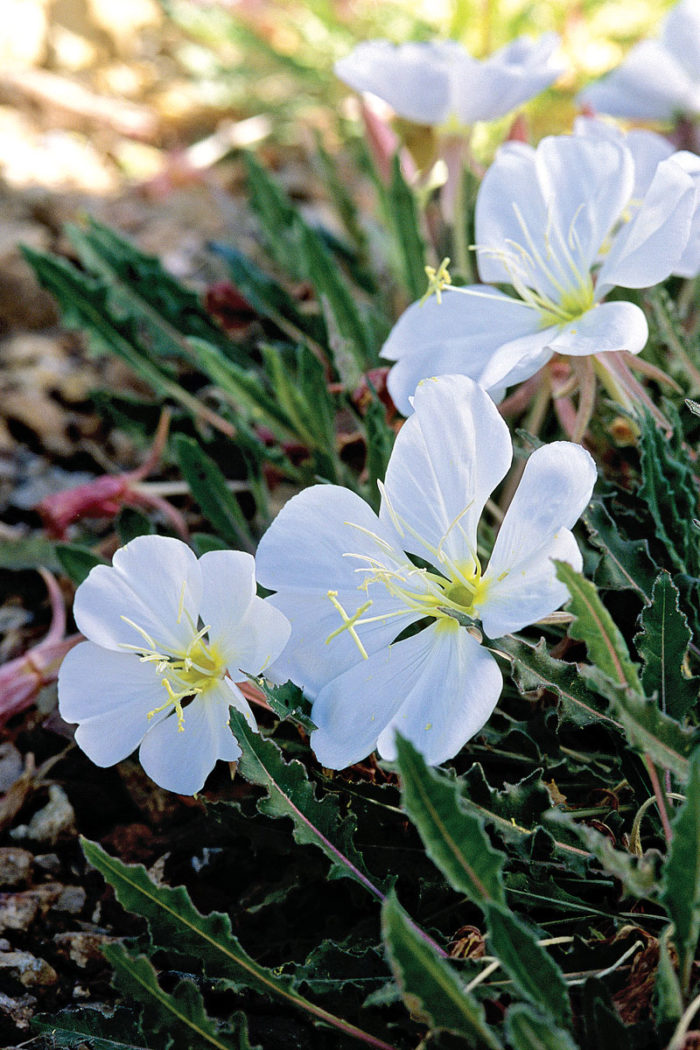 Gumbo lily
Name: Oenothera caespitosa
Zones: 4–9
Size: 6 to 12 inches tall and 12 to 24 inches wide
Conditions: Full sun; dry, well-drained, lean soil
The most parched, inhospitable badlands soil—called gumbo—begets this lovely perennial wildflower and gives it the fun common name. Narrow wavy-edged gray-green foliage forms a rosette from which 3-inch-wide white flowers arise in spring and early summer. These open in the afternoon and remain expanded all night and on cloudy days, wafting a sweet fragrance to entice sphinx moths and delight passersby. Both buds and pollinated blossoms are pink rather than white to reroute dusk- and night-flying pollinating insects to the paler, more visible, freshly opened blossoms. Hot sun and dry conditions suit this deceptively demure-looking denizen of harsh places.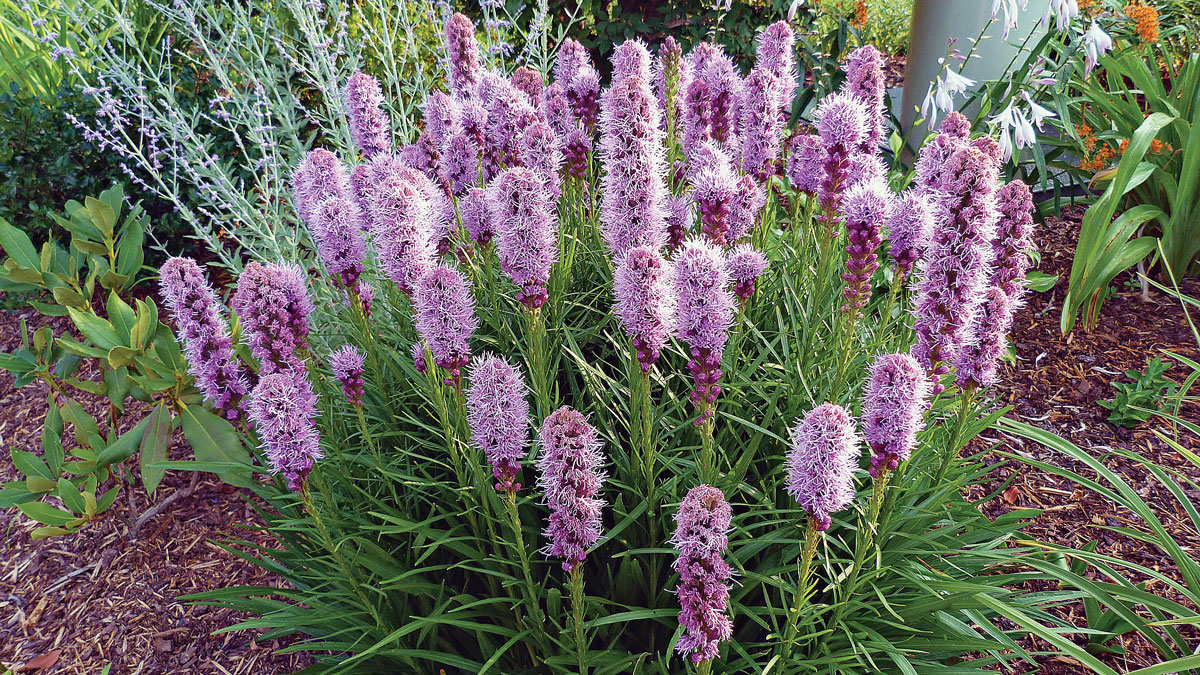 Plains gayfeather
Name: Liatris punctata
Zones: 4–8
Size: 12 to 18 inches tall and wide
Conditions: Full sun; average to dry,
well-drained soil
This is the most drought-tolerant species of a wonderful genus native to North America. Long-lived plains gayfeather grows from a woody storage root and crown, sending up pinelike, dark green narrow foliage in whorls along stiffly upright stems. A bit slow to get started, this survivor matures over a few years to produce well over a dozen stems of rose-purple flower spikes per plant, making a brilliant late summer "bouquet" favored by bees and butterflies. These bouquets blend perfectly with small-bunch grasses such as blue grama grass (Bouteloua gracilis, Zones 3–10). Monarchs are drawn to the plant while on their migration south, suddenly appearing like magic as the first flowers open.
Noteworthy native nurseries in your area
Harlequin's Gardens, Boulder, CO; 303-939-9403; harlequinsgardens.com
High Mountain Nursery, Draper, UT; 888-832-1262; highmtnnursery.com
Washoe State Nursery, Carson City, NV; 775-849-0213; forestry.nv.gov/ndf-state-forest-nurseries/washoe-state-tree-nursery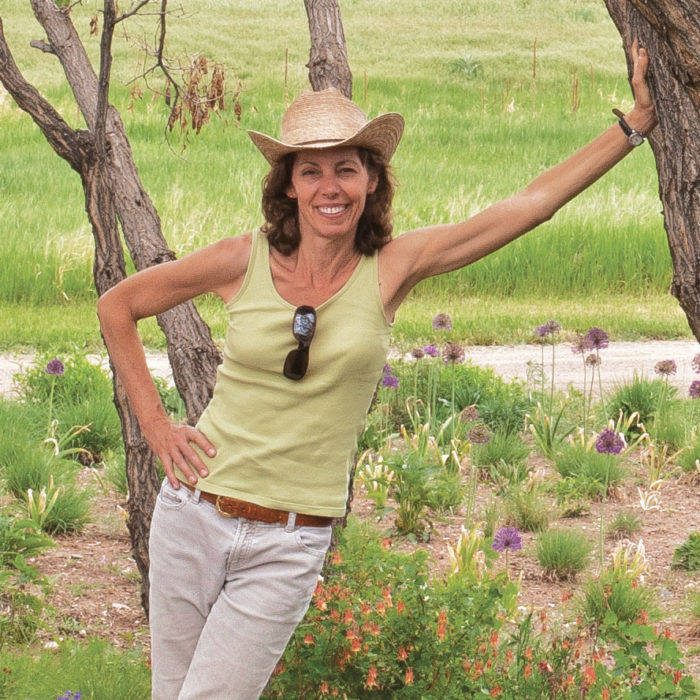 The expert: Lauren Springer is an author, designer, and horticulturist at the Gardens on Spring Creek in Fort Collins, Colorado.
From Fine Gardening #196