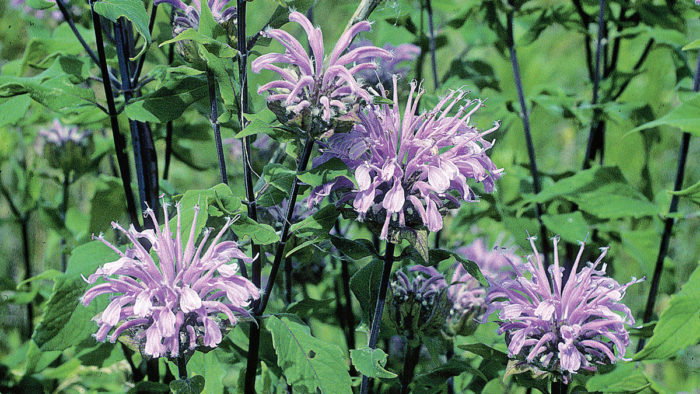 Top Pick: Wild bee balm is a long-blooming,

tough-as-nails stunner
Name: Monarda fistulosa
Zones: 3-8
Size: 2 to 4 feet tall and 2 to 3 feet wide
Conditions: Full sun to partial shade; well-drained soil
Tall and extremely hardy, with charismatic spherical ­flowers, wild bee balm makes an excellent backbone to any garden bed or border. As its common name suggests, its shaggy pink-to-purple flowers are quite a hit with bees and other pollinators and will stay in bloom for most of the summer, though not every floret will bloom at once. If you prefer a shorter, bushier plant with a denser cluster of flowers, simply pinch back the stems by one-third in spring. This workhorse of the mint family also has foliage with a savory smell, making it deer resistant.
More Favorite Picks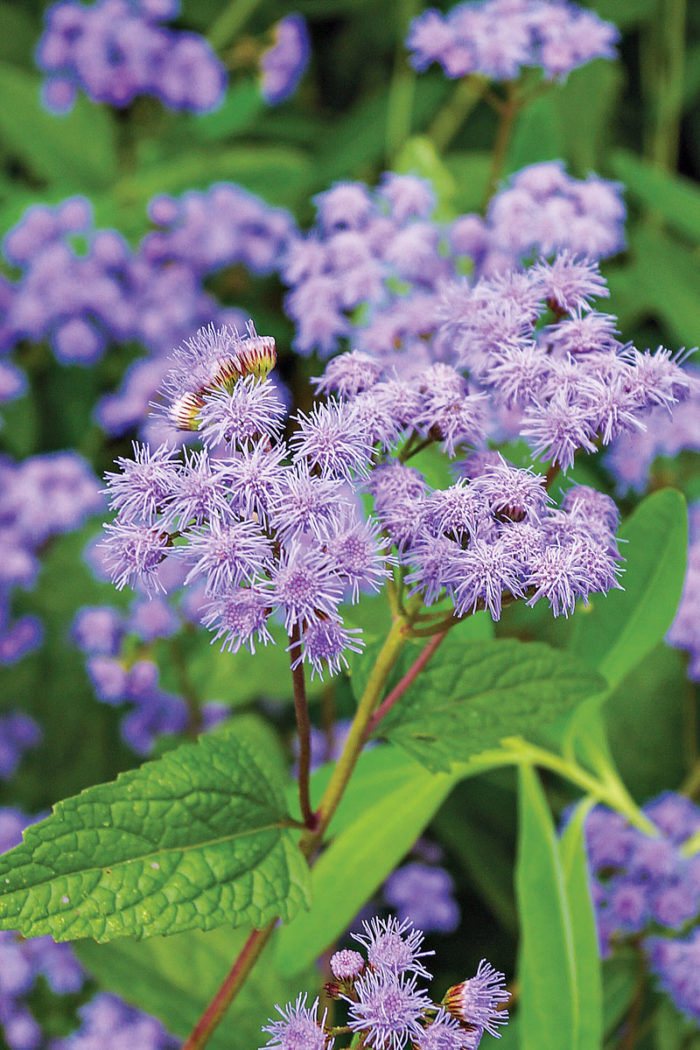 Blue mistflower
Name: Conoclinium coelestinum
Zones: 5–9
Size: 2 to 3 feet tall and wide
Conditions: Full sun to partial shade; well-drained soil
Blue mistflower is a robust plant with truly fascinating periwinkle flowers. It grows equally well in sunny and shady areas, and it can handle dry soil and drought with little trouble. This hardiness, along with its propensity to spread through underground rhizomes, makes it the perfect native plant to put in those hard-to-reach areas of your garden that don't get as much care and maintenance as they should. On the flip side, its bullish nature might not make it the best candidate for spots where it can't run free. Despite its rough-and-tumble nature, its late-summer flowers are show-stoppers. When planted in a large group, this plant appears to create a cloudlike bed of color, with the flowers seeming to blend into each other and the surrounding landscape. Its stems take on an enchanting dark purple color as it matures, which only adds to its beauty.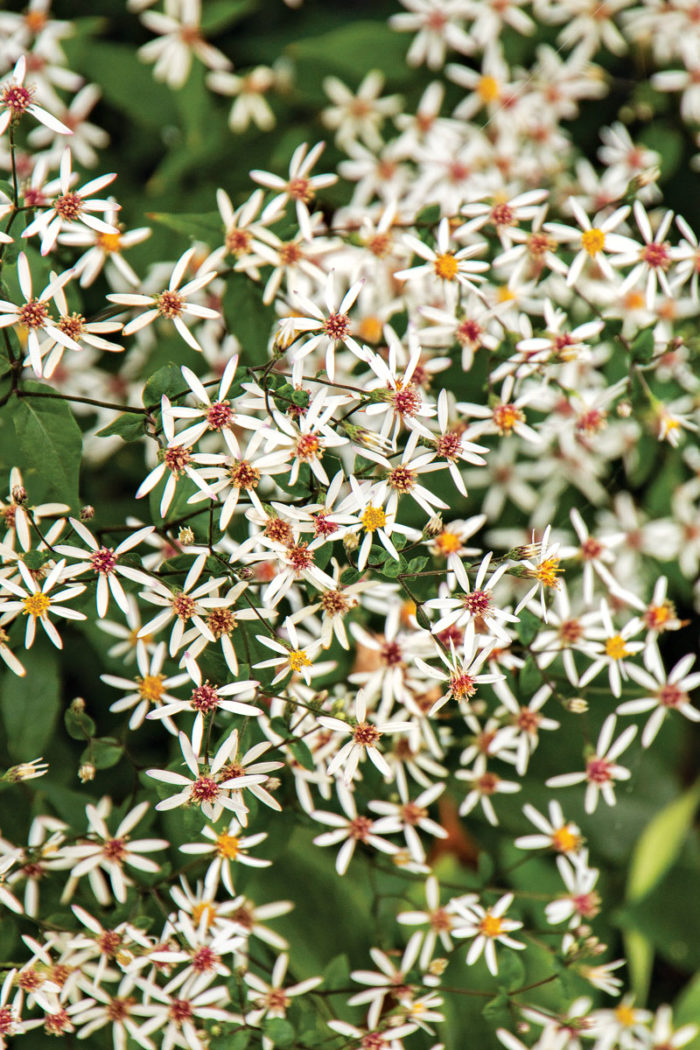 White wood aster
Name: Eurybia divaricata
Zones: 3–8
Size: 12 to 18 inches tall and 18 to 24 inches wide
Conditions: Partial to full shade; well-drained, medium to dry soil
With elegant, zigzagging stems and toothed, heart-shaped leaves, the white wood aster imparts a subtle beauty to any shaded bed. Flowering in mid to late summer, it blossoms later than most shade-loving perennials but earlier than most ­other asters, which makes it the perfect candidate for filling in that late-summer-to-early-fall bloom gap. This plant is remarkably tolerant of drought and dry soil, and it will flower happily even in deep shade, which lends it even more flexibility as a low-maintenance alternative to more traditional short-statured summer-blooming perennials.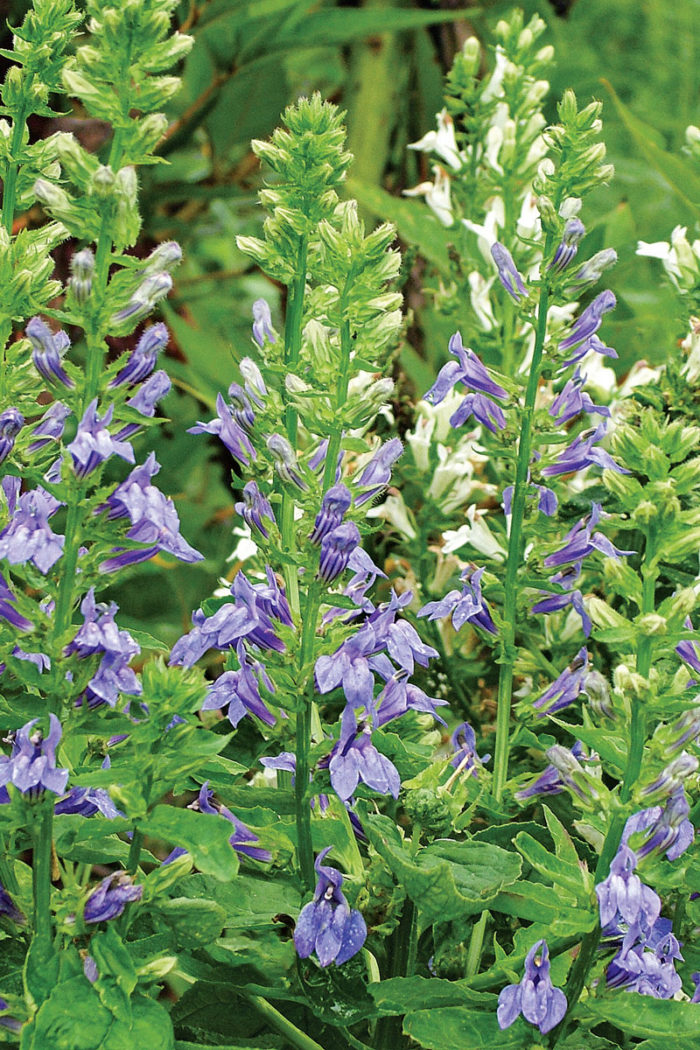 Great blue lobelia
Name: Lobelia siphilitica
Zones: 4–8
Size: 2 to 3 feet tall and 1 foot wide
Conditions: Partial to full shade; medium to wet soil
In the wild, the striking great blue lobelia grows in the shade of forested valleys, often along stream banks. In a garden, it will grow happily under the shade of trees or buildings, making it the perfect midsize plant for your not-so-sunny areas. Its spikes of blue flowers and light green foliage are softer and more rounded than the spikes of its red-flowered cousin, the cardinal flower (Lobelia cardinalis, Zones 3–9), and it will bloom vigorously from midsummer onward. Coupled with shorter shade-loving plants such as wild ginger (Asarum canadense, Zones 4–8) or Jacob's ladder (Polemonium reptans, Zones 3–8), it can bring color and texture to almost any shady space.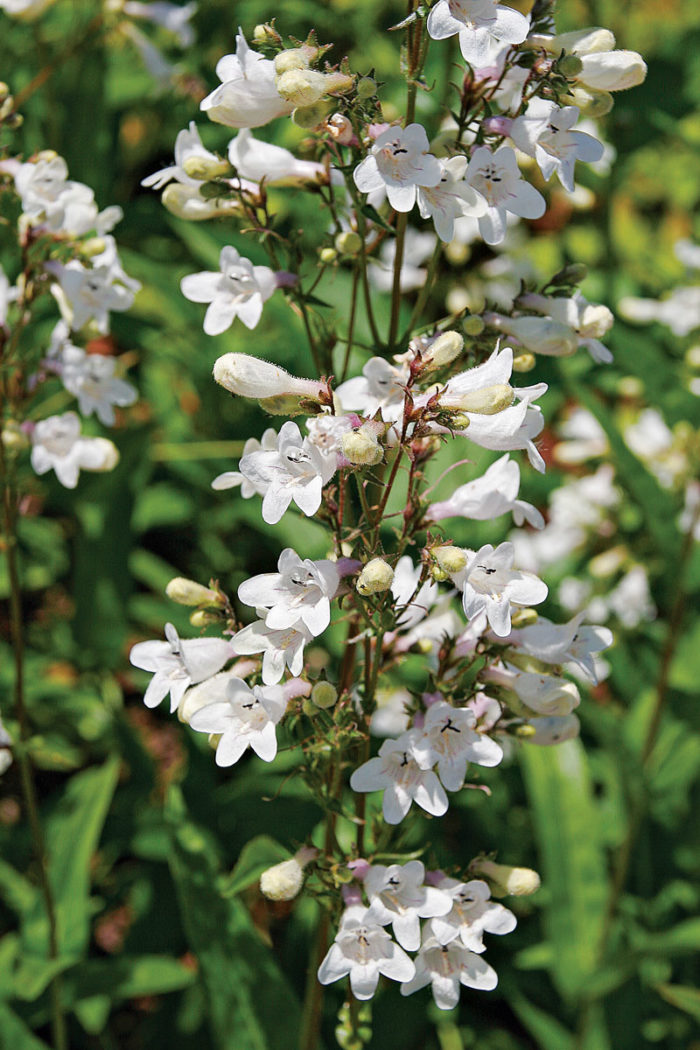 Foxglove penstemon
Name: Penstemon digitalis
Zones: 3–8
Size: 2 to 4 feet tall and 1 to 2 feet wide
Conditions: Full sun to partial shade; well-drained medium to dry soil
This stately native perennial is easy on the eyes and popular with pollinators to boot. Flowering from April to early June, it puts on a show earlier than most sun-loving natives, which makes it a favorite food source for native bumblebees that are most active throughout this time. With its racemes of dense white to lilac flowers, it makes an impressive visual statement planted en masse in a bed, interspersed with tall native grasses, or as part of a more diverse mixed planting. It also needs very little maintenance: No watering is
required once it gets established, and it forms clumps that will gradually fill up any space you give it without being too aggressive to other plants.
Noteworthy native nurseries in your area
Wild Earth Native Plant Nursery, Freehold, NJ; 732-308-9777; wildearthnpn.com
Nature by Design, Alexandria, VA; 703-683-4769; nature-by-design.com
Edge of the Woods Native Plant Nursery, Orefield, PA; 610-395-2570; edgeofthewoodsnursery.com
The expert: Jack Monsted is the assistant curator of the native plant trail at the State Arboretum of Virginia.
From Fine Gardening #196