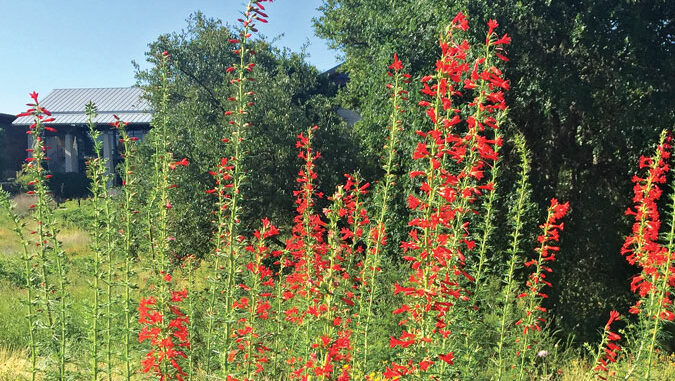 Top

pick: Standing cypress is a reblooming hummingbird magnet
Name: Ipomopsis rubra
Zones: 6–9
Size: 3 to 6 feet tall and 12 to 18 inches wide
Conditions: Full sun to partial shade; dry, sandy, or rocky soil
Standing cypress brings unusual beauty to the garden. Technically a reseeding biennial, it spends its first year as a delicately fringed rosette. In its second year the rosette suddenly rises in a single spike, up to 6 feet tall, which erupts into bright red tubular flowers with yellow throats. The flowers, which are about 1 inch long, flare open at the rim and attract hummingbirds. The bloom cycle begins in May and finishes up in July, at which point the flower spikes can be pruned off to allow new spikes to emerge for continued blooms. I love this deer-resistant and drought-resistant plant for its sheer tenacity and striking good looks. It's a show-stopper underutilized in gardens, so it always gets a lot of attention from passersby when it is in bloom. It looks especially stunning en masse in cottage gardens and along sunny borders. If you are starting it from seed, sow the seed in fall, making sure it gets good ground contact. Once established, it self-sows reliably, and those seedlings are easily transplanted when small.
More Picks
Antelope horn milkweed
Name: Asclepias asperula
Zones: 5–9
Size: 1 to 2 feet tall and up to 3 feet wide
Conditions: Full sun; dry to moist soil
Milkweed species are best known as the larval food of the monarch butterfly, which is a sacred status to be sure. But even if you don't take that into account, antelope horn milkweed is a strikingly beautiful plant in its own right. The seedpods, which are large and curving (like antelope horns), burst open and disperse fluffy white seeds—a sight to behold. Prior to that comes the flower heads, which are unusual and almost alien-like: perfectly globe-shaped clusters of five-pronged blossoms with fleshy white petals. I find myself stopping to photograph their blooms every single year ­because they are so striking and their geometry so surprising. Antelope horn milkweed blooms from March to October; I typically start to see it bloom in Central Texas in April.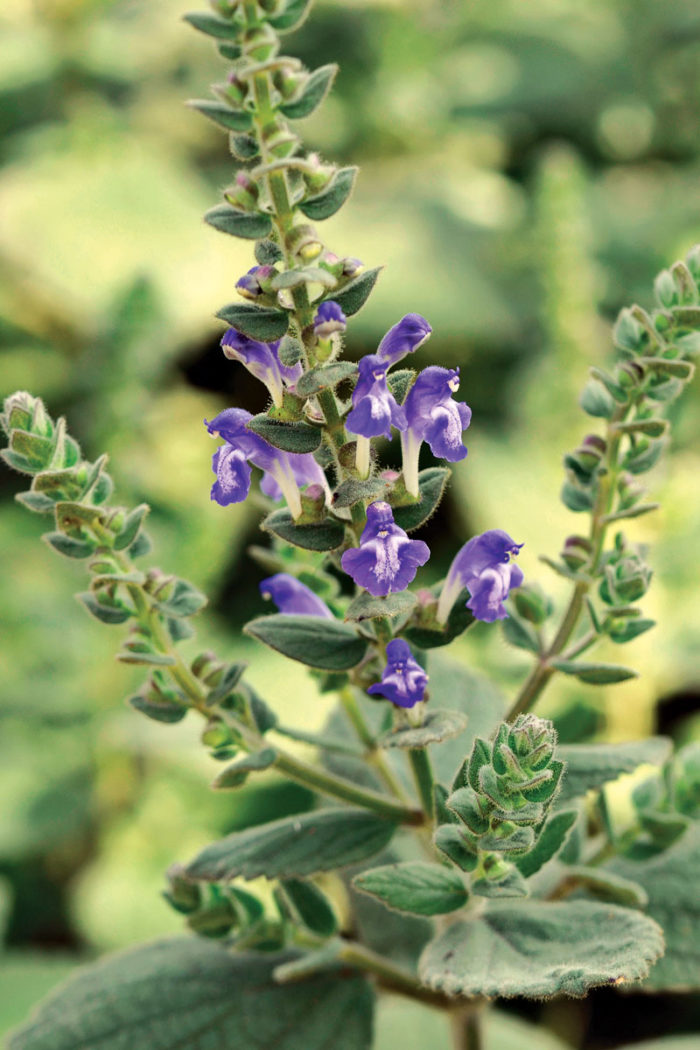 Heartleaf skullcap
Name: Scutellaria ovata
Zones: 4–9
Size: 1 to 2 feet tall and 1 foot wide
Conditions: Partial to full shade; moist to dry soil
This is an absolute star for dry to moist shade. Heartleaf skullcap's coloring is what makes it really stand out; the slightly downy, heart-shaped foliage is grayish green, and the flowers are a muted blue or purple. The foliage is arranged in low rosettes, which bear flower spikes of snapdragon-like tubular blooms from April through June. Heartleaf skullcap is in the mint family, which contributes to its high deer resistance. It is easily grown from seed and will self-sow, as well as spreading through a network of underground rhizomes. Because of its low stature, it makes an excellent border plant and also looks lovely in meadows and open woodland.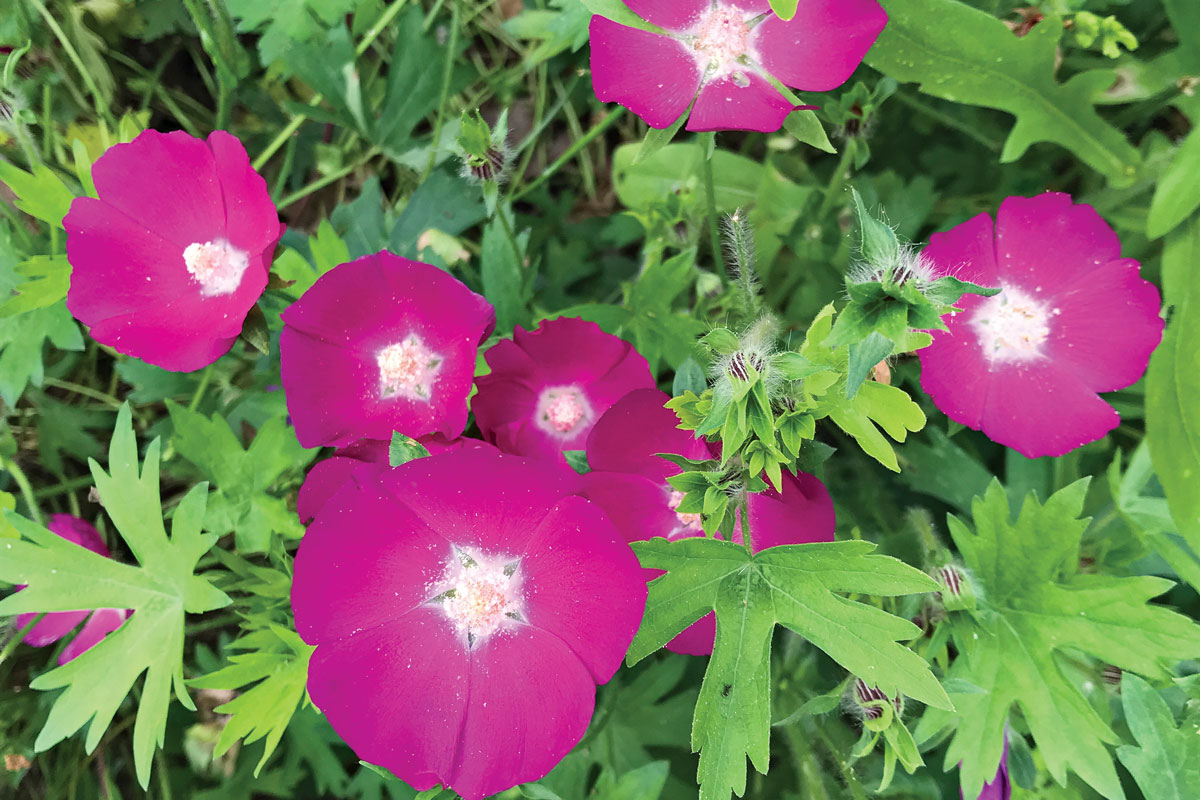 Winecup
Name: Callirhoe involucrata
Zones: 4–8
Size: Up to 1 foot tall and 3 feet wide
Conditions: Full sun to partial shade; dry to moist, well-drained soil
Winecup produces a lovely, sprawling mass of green foliage and chalice-shaped purple blooms throughout spring and early summer. A hardy perennial, it forms a deep taproot that makes it drought tolerant but difficult to transplant unless it's young. The foliage consists of 1-inch green leaves palmately divided into five to seven lobes, with the degree of incision variable ­between and within individual plants. As the weather gets too hot, the foliage may begin to look straggly and ugly. At this point, trim it back to the rosettes or even to the ground for another flush of growth. Rabbits like to nibble on winecup, but powder-based repellents work well for deterrence and are worth the small amount of trouble.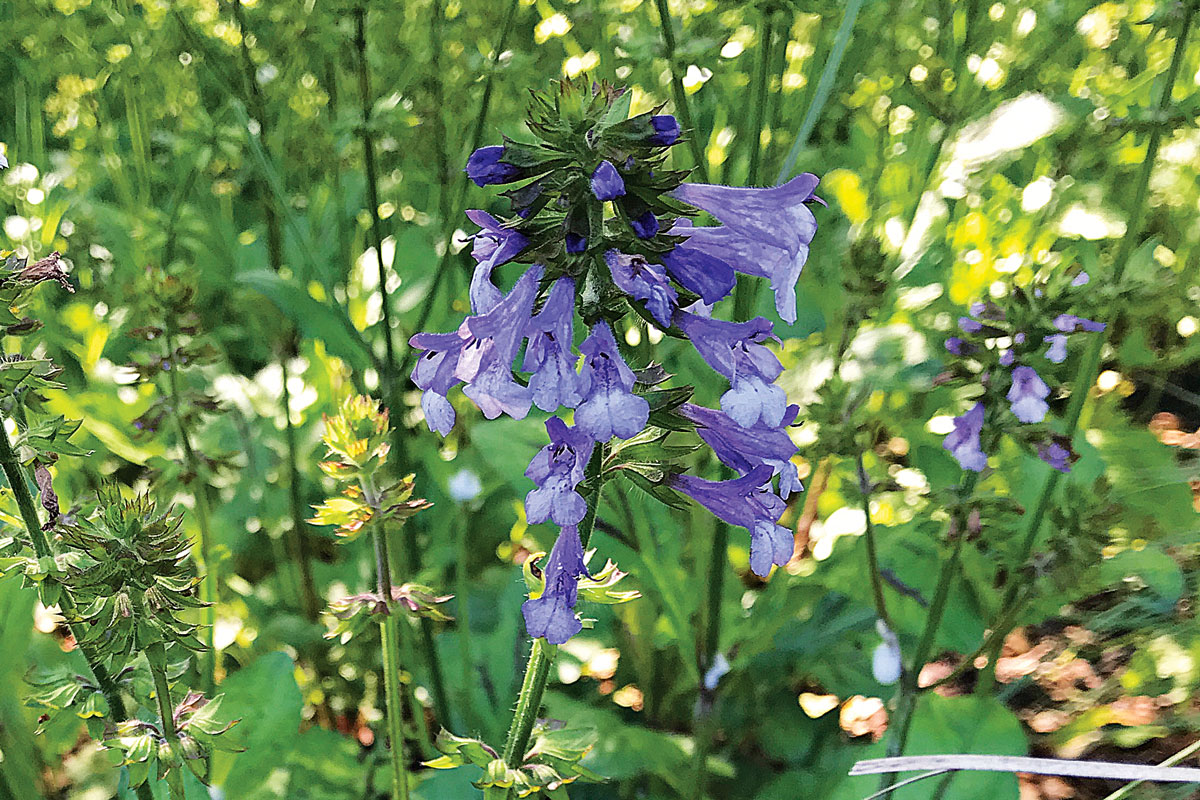 Lyre leaf sage
Name: Salvia lyrata
Zones: 5–8
Size: 1 to 2 feet tall and 9 to 12 inches wide
Conditions: Full sun to partial shade; dry to moist, well-drained soil
This sweet little sage thrives in all kinds of conditions. Acidic soil? Yes. Alkaline soil? Yes. Dry and well-drained soil? Yes. Damp clay? You get the point. A self-seeding, evergreen perennial, lyre leaf sage does it all. The basal rosette of leaves, solid green in spring and summer, becomes lined with purple in winter. The white or purple blooms emerge on short stalks (about 9 inches tall) between March and June and continue to provide visual interest even after the blossoms are dried. I leave the flower stalks, with their tiny copper-colored bells, standing for most of the winter and only prune them off when they start to break off and look messy. Because it is evergreen and can stand up to some foot traffic, some folks even use lyre leaf sage as a ground cover, mowing it or string-trimming it after blooming. Whether as a ground cover or in a perennial border, this species stands out as a hardy beauty.
Noteworthy Native nurseries in your area
Native American Seed, Junction, TX; 800-728-4043; seedsource.com
Prairie Wind Nursery, Norman, OK; 405-579-8846; prairiewindnursery.com
Concho Natives, San Angelo, TX; 325-656-2884; conchonatives.com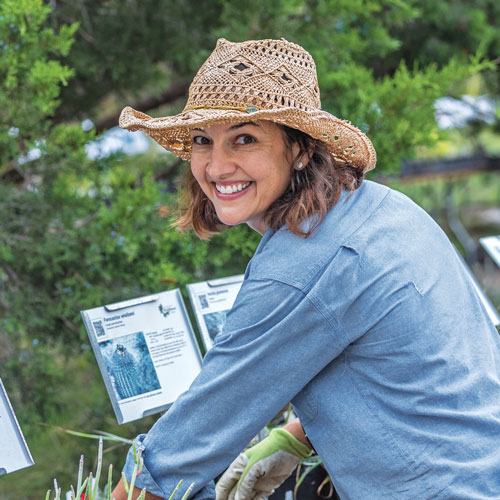 The expert: Karen Beaty is a horticulturist at the Lady Bird Johnson Wildflower Center in Austin, Texas.
From Fine Gardening #196