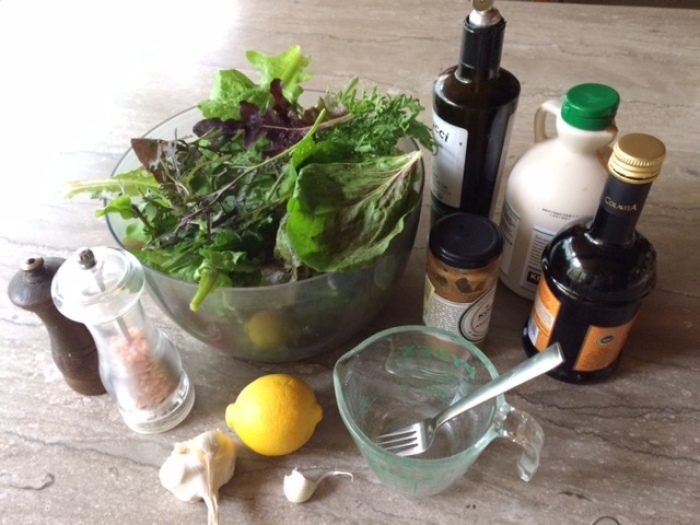 Vinaigrettes are so easy to make and are far better than storebought bottled dressings. This is my "little black dress" dressing–my family's favorite–simple and tasteful.
Serve over any green salad–it goes well with seasonal accompaniments from spring asparagus and beets; summer tomatoes and cukes; fall pears and fennel; to winter citrus and onion and works well with any kind of toasted nut garnish.
Here are a few variations:
Use an herb vinegar, white or red wine vinegar in place of the balsamic. Add the extra tablespoon of vinegar if you like the acidity.
Lemon juice is optional if you just prefer vinegar; it does brighten the vinaigrette.
Mustard is not absolute, though I like the tang. It can be creamy or coarse ground; if you use a honey mustard, don't use the maple syrup.
Maple syrup is totally optional–my kids like it with it–it is also good without it (more classic).
Add more garlic or use a green garlic or a small shallot.
Add about a tablespoon of fresh minced herb; tarragon, basil, chives, chervil, dill or parsley are all good.
Basic House Vinaigrette
Makes about 2/3 cup
2 to 3 tablespoons good-quality balsamic vinegar
1 tablespoon fresh-squeezed lemon juice, optional
Salt and freshly ground pepper
About 1/3 cup extra-virgin olive oil
2 teaspoons Dijon-style mustard
2 teaspoons pure maple syrup, optional
1 large garlic clove, minced or pressed
Place the vinegar and lemon juice in a small bowl or glass measuring cup. Add salt and pepper and stir with a small whisk or fork to dissolve the salt. Whisk in the olive oil to make an emulsion. Whisk in the mustard, maple syrup and garlic until well blended. Taste for seasoning and adjust to taste. Stir well before drizzling over and tossing with salad.
The dressing will keep in a jar in the fridge for about 5 days.