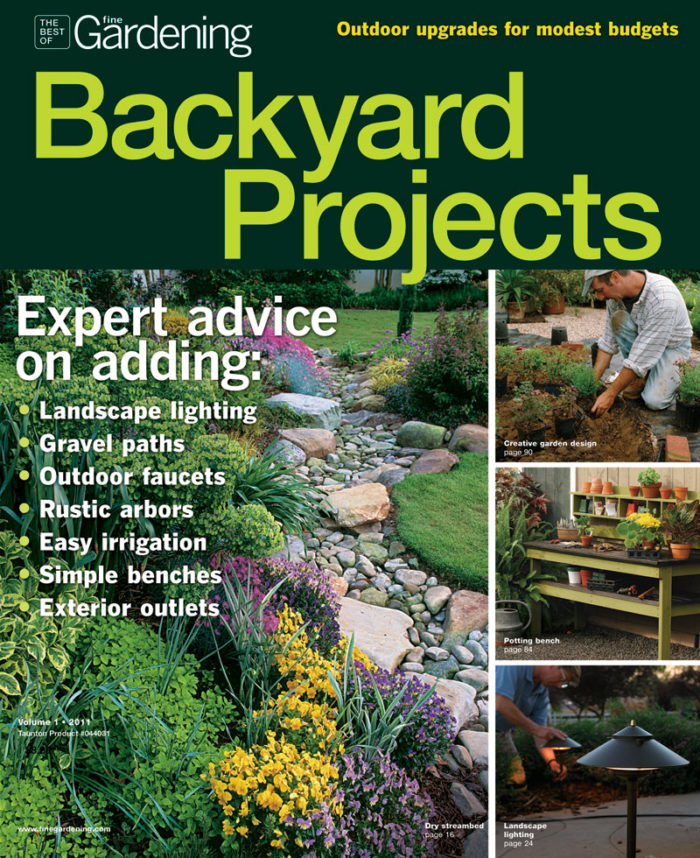 Projects large and small can enhance your home's outdoor spaces. This season, consider crafting garden lanterns, making a garden gate, and creating a water garden. Follow the links below for how-to advice on these projects and more.
A web extra to Fine Gardening's Backyard Projects.
How to Make Garden Lanterns
Pierced-tin candleholders are easy to create and add a folk-art touch to your garden. Even better, most of the materials can be found in the recycling bin and in a reasonably well-stocked tool shed.
A Garden Set in Stone
Visit a garden where rock is the star, and find tips on designing and creating walls, paths, steps, and focal points made of rock.
Build Brick Garden Pathways
A veggie grower tired of contending wth mud and weeds built brick garden paths in his vegetable garden. Here, he offers advice on selecting and working with brick, preparing a foundation, blocking weeds, and filling gaps.
Video: Build a Rain Barrel
For less than $50, you can build a rain barrel that will collect roof runoff that you can use for watering your garden.
Build a Rustic Trellis
With scavenged vines and saplings, you can create handsome, one-of-a kind plant supports and decorative structures for your garden.
Planning Your First Water Garden
An expert offers some important installation tips to help you get your feet wet.

How to Build a Stone-Edged Gravel Path
Get expert advice on material selection, design, layout, and building techniques to help you create a cobblestone-lined gravel path.
Detailed project plans from our sister sites
Click on the links to read an article summary; site membership is required to download the complete articles in pdf format. FineWoodworking.com and FineHomebuilding.com both offer free 14-day trial memberships.
Stone Steps
*requires FineHomebuilding.com membership
A stonemason reveals his techniques for installing stone steps in a way that makes them look like they've always been there.
Build an Adirondack Chair
*requires FineWoodworking.com membership
This version of the quintessentially American outdoor chair has a curved seat and back for added comfort. The article includes instructions for building the seat, back, side, and leg assemblies and a gallery of Adirondack chair designs.
Build a Garden Gate
*requires FineWoodworking.com membership
This sturdy garden gate features delicate round spindles with finials, a curved oxbow rail, twin panels, and pegged mortise-and-tenon joinery.