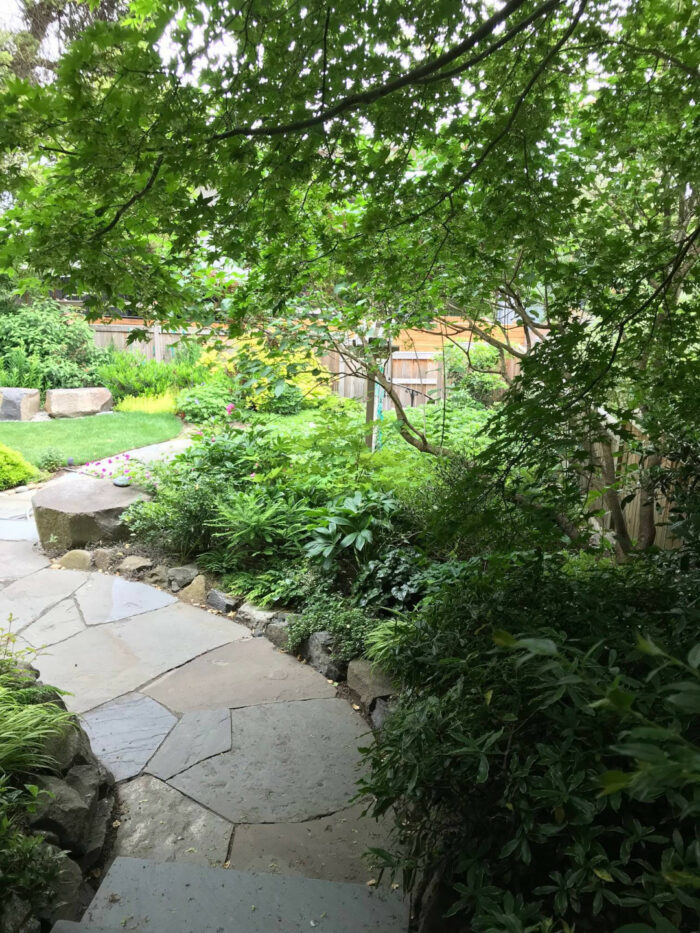 Last week Angela O'Brien-Ruff shared some favorite photos of her Seattle garden from last year. Today she's back, sharing a transformation of her garden space over nine years.
I am Angela O'Brien-Ruff, and I garden on a small lot in Seattle, Zone 8b. What started as a project to replace our 40-year-old wooden fence and precarious steps to the alley turned into a major project. You know how it goes. While the fence was going to be down, it gave us an opportunity to make other improvements. Below are pictures over a period of nine years that show the evolution of our garden from a kind of wild hodgepodge to one that has visual order in a small space.
We sought the assistance of local landscape designer Heidi Fehr of Ashworth Design Studio, who my husband knew, to provide drawings for the hardscape and a planting plan. I admit that I deviated wildly from the recommended plants, as I am an active gardener always tweaking and trying new things. Heidi introduced us to the idea of "sitting" stones in the garden, which created extra seating and focal points within the garden.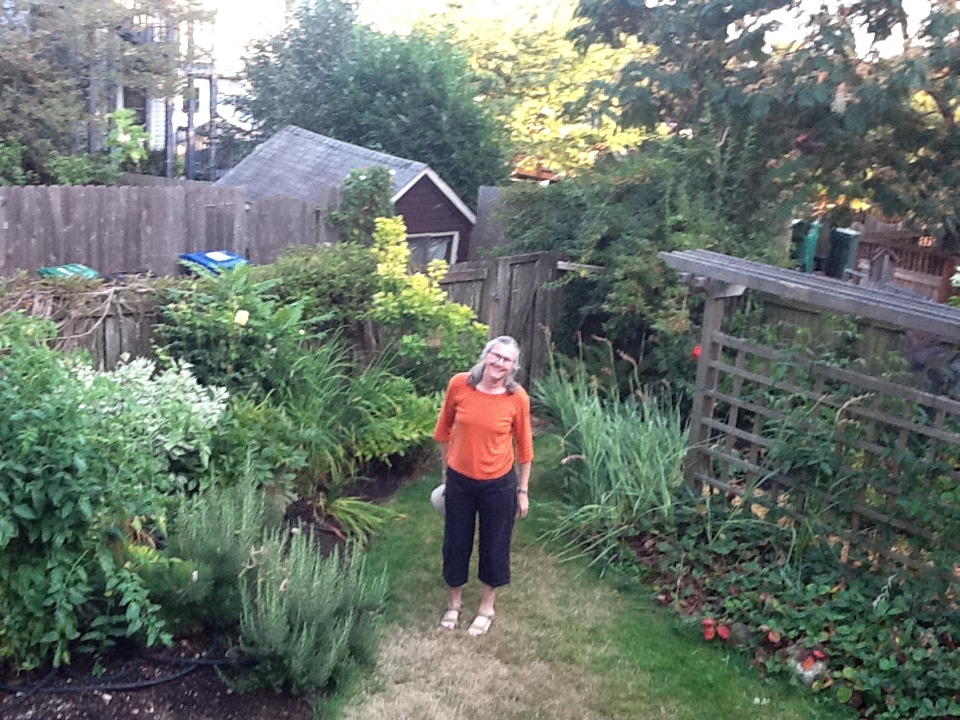 This picture of our wild garden, which looks toward the gate to the alley, was taken in 2012. As you may have heard, it rains quite a bit in Seattle in the winter, and a trip to the alley to take out the garbage could be a squishy one. I hoped for a flagstone path to match the Pennsylvania bluestone that is used elsewhere on our property.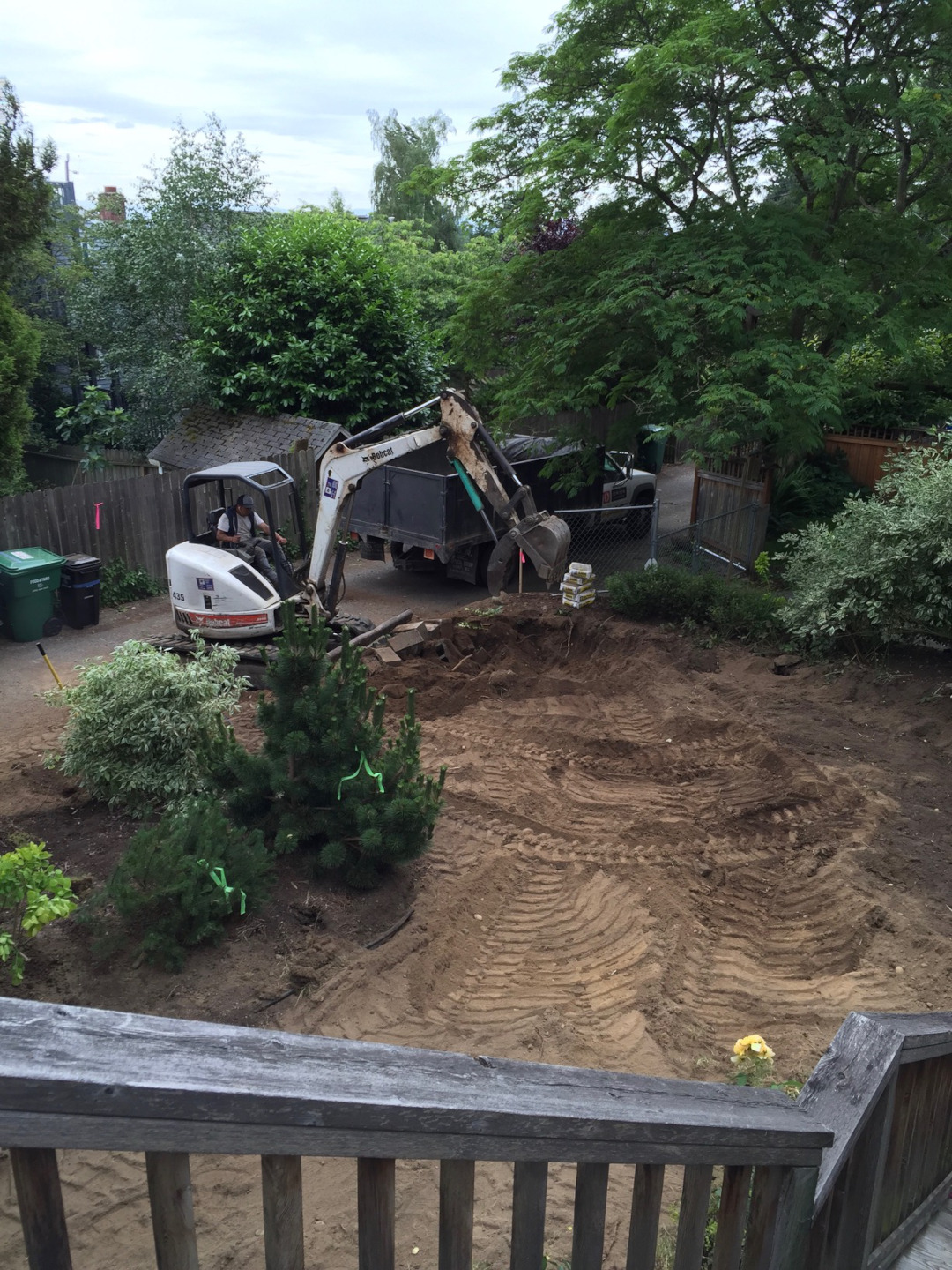 In the summer of 2016 after months of planning, designing, and hiring the landscape installer Alejandro Delucio, owner of Orion Rockscapes, work began. We told all our neighbors what we were going to be doing, that things were going to get messy and that alley access would be interrupted at times. Things would get worse before they got better.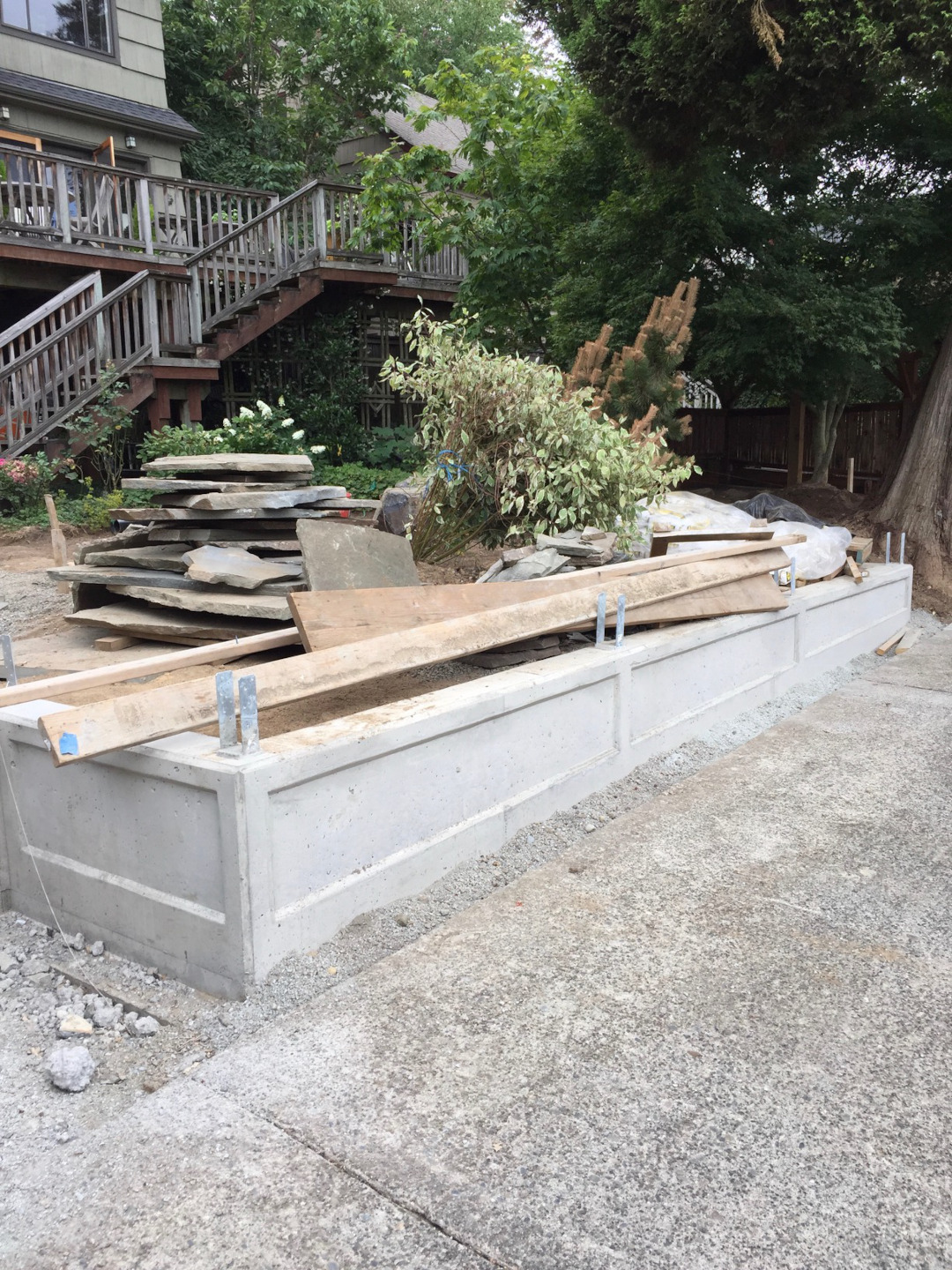 Because our lot slopes, a concrete retaining wall was designed to hold back the soil at the property line. A structural engineer was enlisted for this design, and the staff from Orion Rockscapes did a beautiful job installing the wall.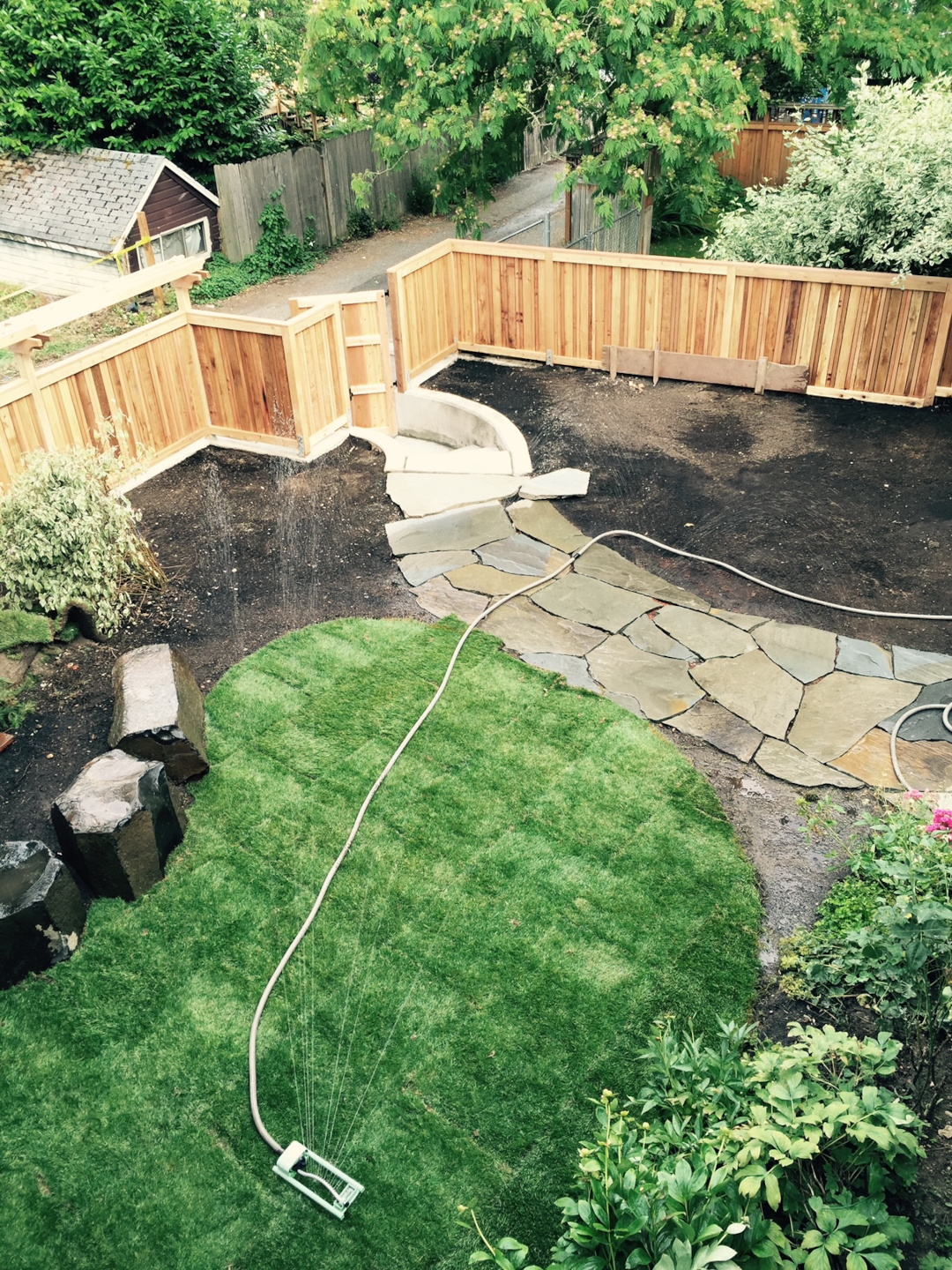 About a month later, most of the work had been completed. The fence was almost complete, new steps leading to the alley had been installed, sitting stones were in place, sod had been laid, and the Pennsylvania bluestone path was almost done. I called the installer the "stone whisperer." No more muddy feet taking out the garbage. My work of planting would begin shortly.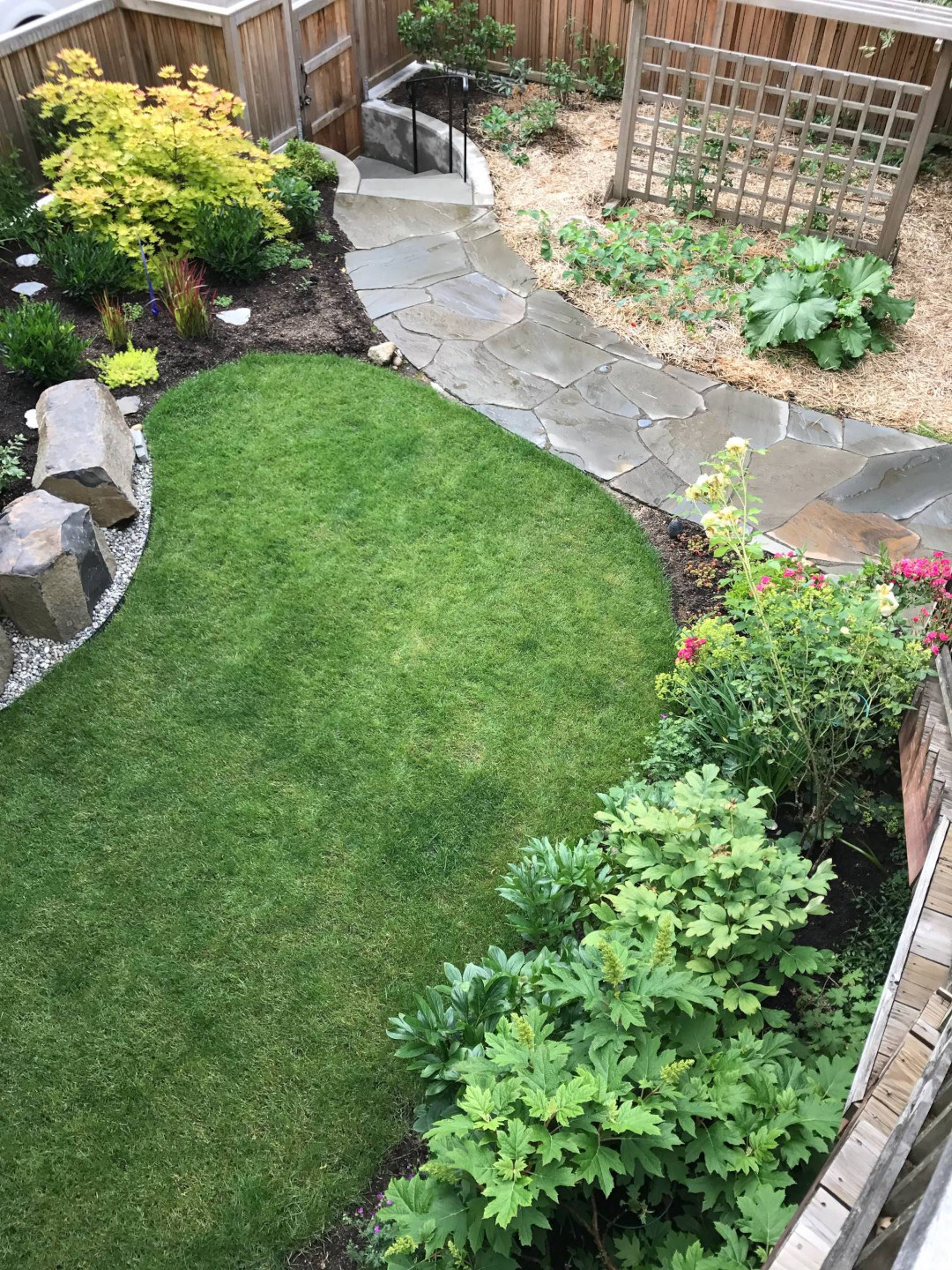 About a year later the plants were starting to fill in, and the trellis my husband had built years earlier was back in place. The sunnier side of the garden was reserved for strawberries, rhubarb, tomatoes, and other fruits and vegetables. On the left near the curved steps is an 'Autumn Moon' Japanese maple (Acer shirasawanum 'Autumn Moon', Zones 5–7), with small Otto Luyken shrubs (Prunus laurocerasus 'Otto Luyken', Zones 6–8), Japanese blood grass (Imperata cylindrica 'Rubra', Zones 5–9), and Sedum 'Angelina' (Zone 5–9).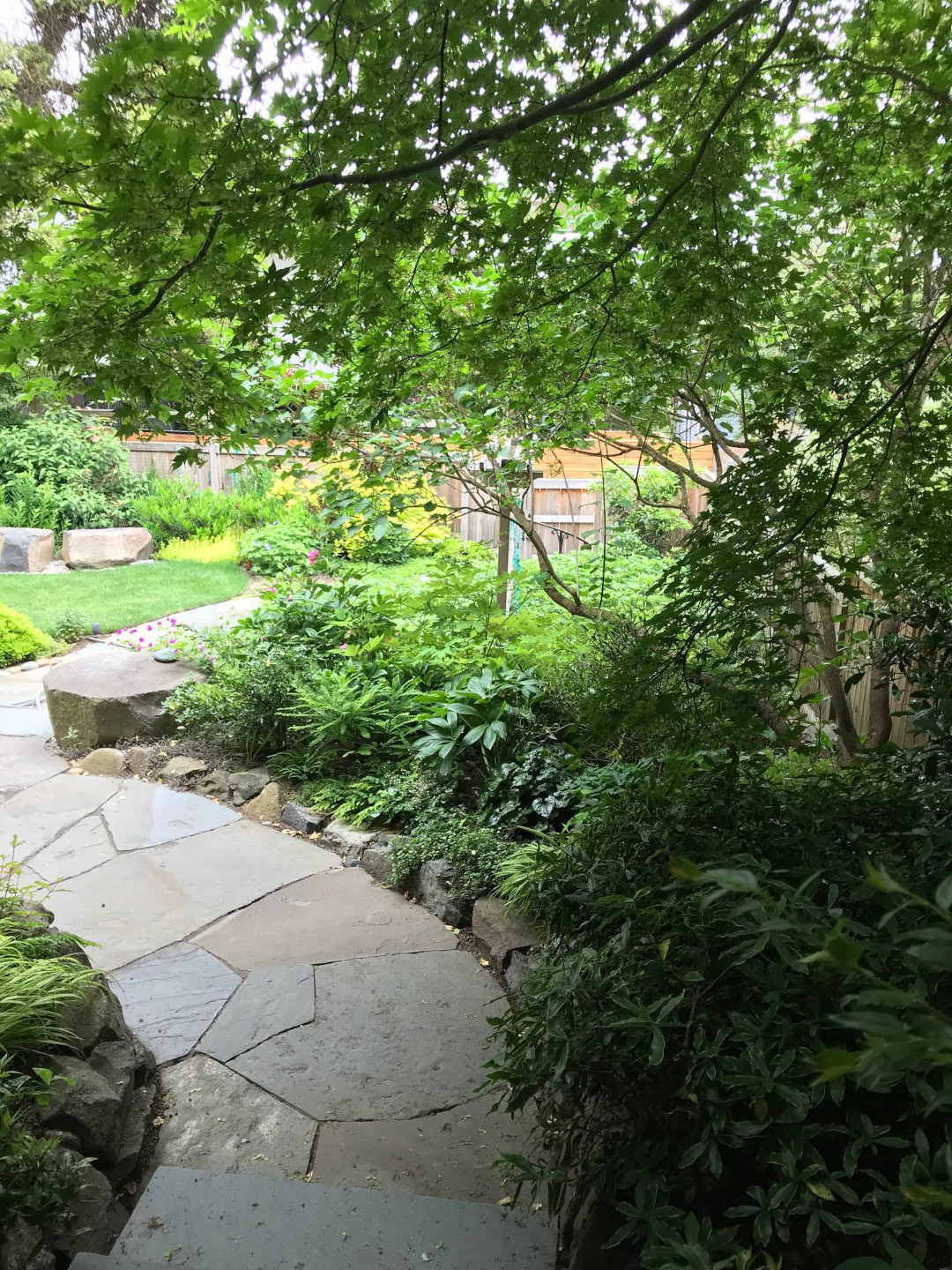 This photo was taken from the side garden that is mostly in shade, looking toward the back garden. This garden appeals to my preference for texture and shades of green in plants over flowers. A Japanese maple (Acer palmatum, Zones 5–9) shades the area planted with Daphne odora (Zones 7–9), beesia (Beesia deltophylla, Zone 6–9), hellebores (Helleborus hybrids, Zones 4–9), maidenhair (Adiantum pedatum, Zones 3–8) and Himalayan (Adiantum venustum, Zones 4–8) ferns, Sarcococca ruscifolia (Zones 7–9), and Japanese forest grass (Hakonechloa macra, Zones 5–9).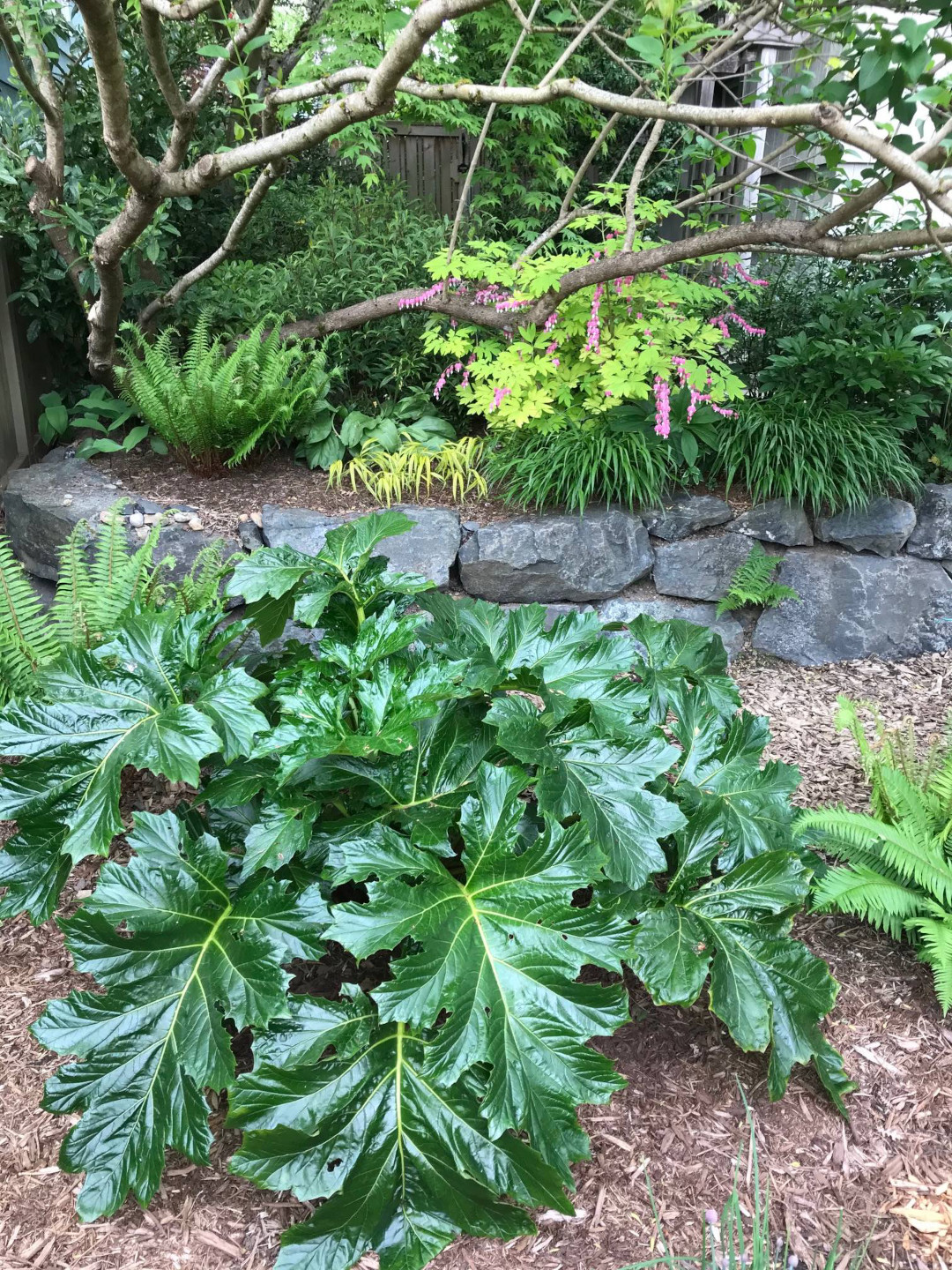 An Acanthus mollis (Zones 7–10) is in the foreground, with sword fern (Polystichum munitum, Zones 3–8), Japanese forest grass, Dicentra spectabilis 'Gold Heart' (Zones 3–9), and Erythronium 'Pagoda' (Zones 4–9) lily at the top of the stone wall and arching branches of lilac 'Ludwig Spaeth' (Syringa 'Ludwig Spaeth', Zones 3–8) above. This is the transition area between the shade garden and the lower back garden.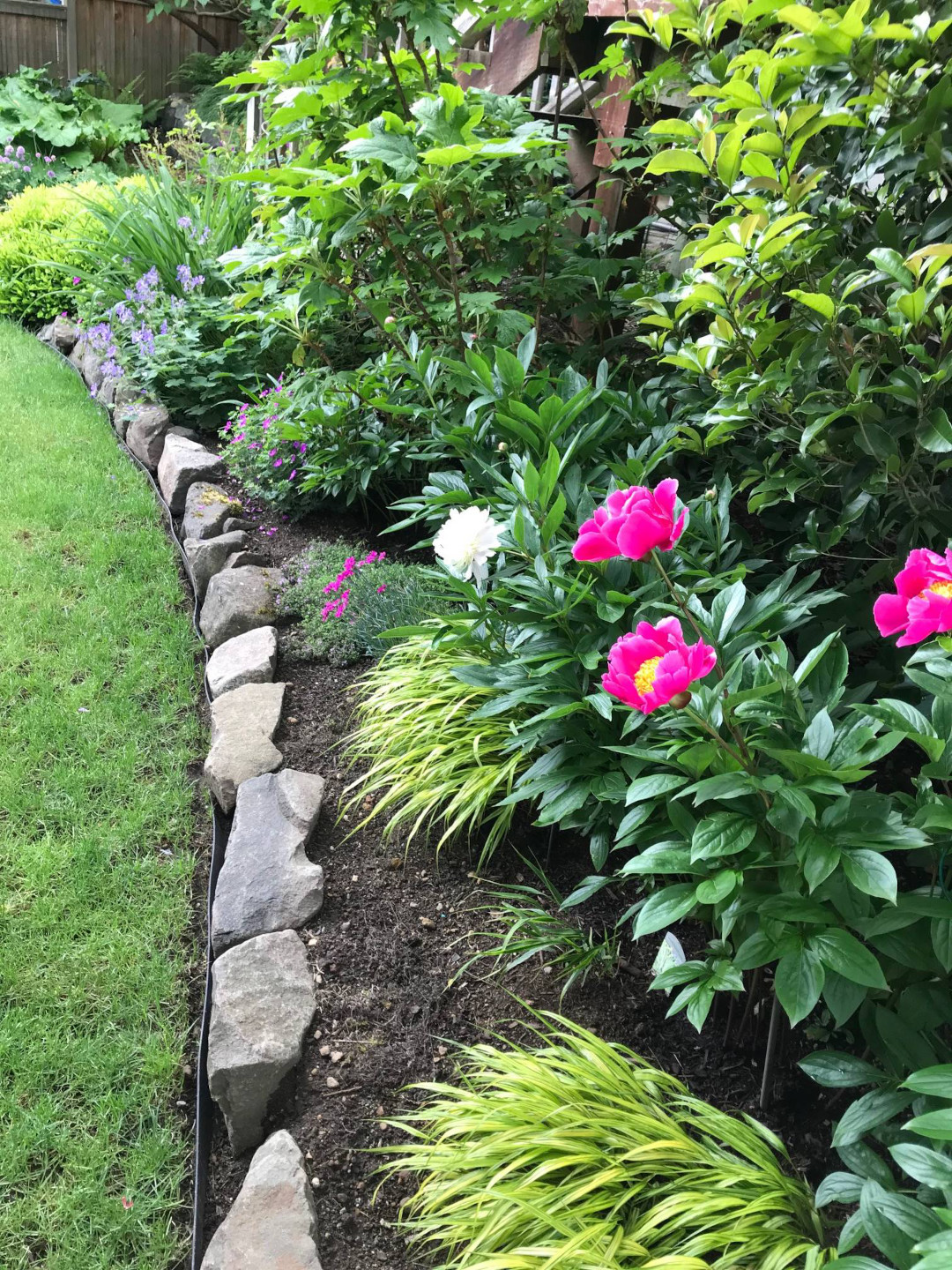 I salvaged wheelbarrows full of stones that my neighbors were discarding to edge a mixed planting bed in the back garden. It contains Japanese forest grass, peonies (Paeonia hybrids, Zones 3–8), Osmanthus fragrans (Zones 8–11), oakleaf hydrangea (Hydrangea quercifolia, Zones 5–9), tree peony (Paeonia hybrids, Zones 3–8), and daylilies (Hemerocallis hybrids, Zones 4–9).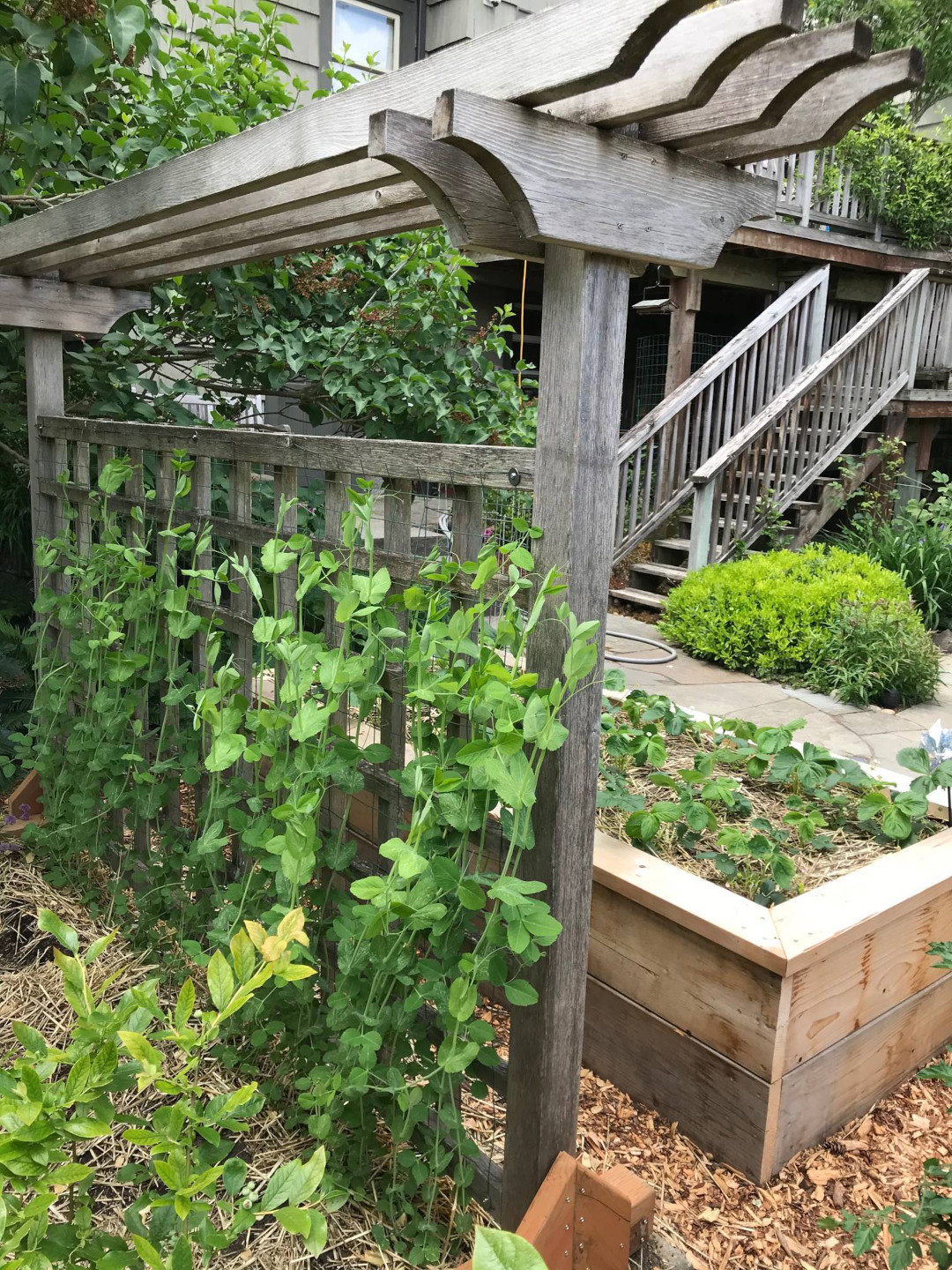 This spring my husband built a raised bed for the strawberries, which will make it so much easier to pick them. I grew sugar snap peas on the trellis he built many years ago. We attach green wire fencing to the frame so the pea tendrils have something to climb on. In previous years I grew indeterminate tomatoes alongside the trellis.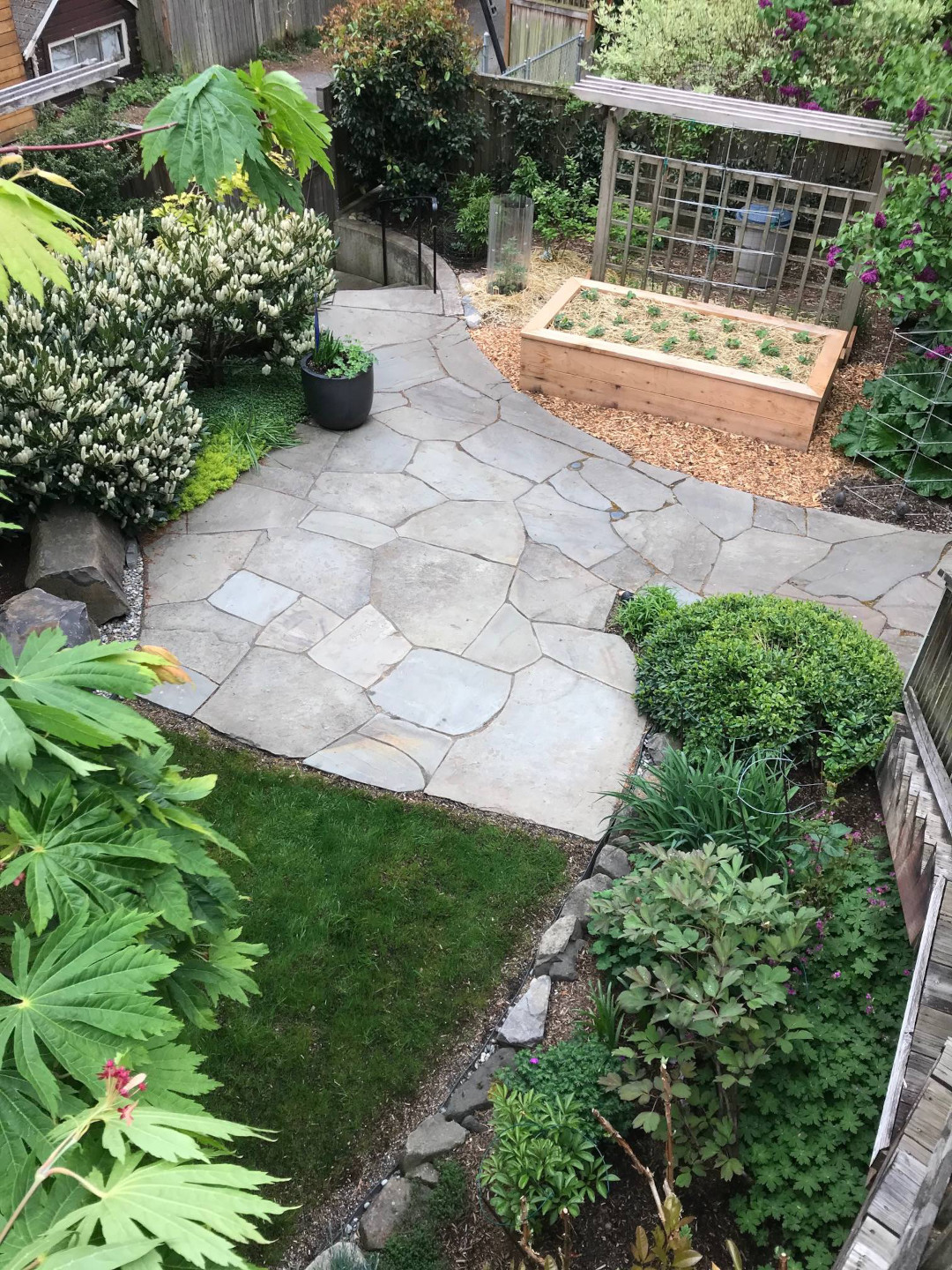 In 2020, during the pandemic, we had the stone walkway expanded to include an area for a firepit and gathering space for social distancing in our back garden. To the left are the sitting stones, with Otto Luyken laurels and Osmanthus fragrans beside the curved stairs. In the right planting bed are Wheeler's dwarf pittosporum (Pittosporum tobira 'Wheeler's Dwarf', Zones 8–11) at the bottom of the stair, and daylilies, peonies, and an oakleaf hydrangea that I had severely pruned.
As we all know, gardening is a journey taking us places we didn't always plan, but we learn to enjoy the unexpected and are only limited by our imagination and pocketbook. It slows things down and allows us to be creative, to get our hands dirty, and to listen to the birds. Any day I am able to work in the garden is a good day.