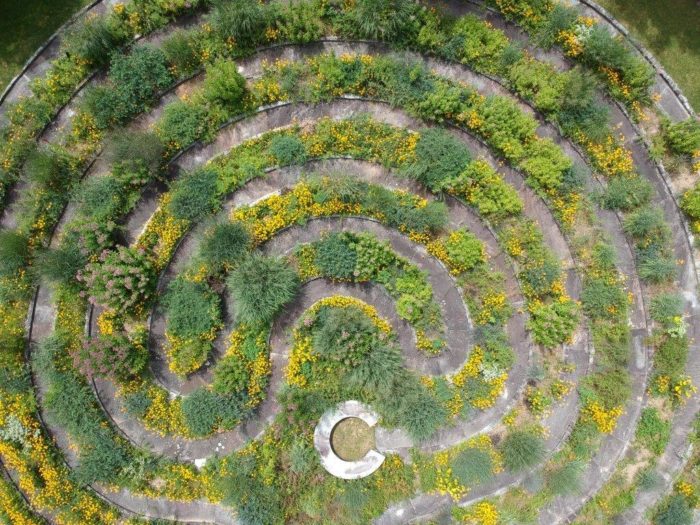 Today's photos come from Eric Kimbrel.
Here is a photo of the Wildflower Labyrinth where I work at Southern Highlands Reserve in Lake Toxaway, North Carolina.
The Southern Highlands Reserve is a 120-acre native plant arboretum and research center that not only displays plants but also conserves them—for example, by growing red spruce (Picea rubens, Zone 3–8) on site and getting them to mountaintops on which they are or were located in the past.
The landscape was designed by Gary Smith and consists of many garden "rooms." One of those is the Wildflower Labyrinth. This labyrinth design is one of the original ancient designs, with a quarter-mile path to the center, where there is a granite circular bench. The plants create an organized meadow of Baptisia, black-eyed Susan (Rudbeckia hirta, Zones 3–7), lobelia, cut-leaf coneflower (Rudbeckia laciniata, Zones 4–9), mountain mint (Pycnanthemum muticum, Zones 4–8), Hypericum, Carex pensylvanica (Zones 3–8), switchgrass (Panicum virgatum, Zones 4–9), little bluestem (Schizachyrium scoparium, Zones 3–9), and Indian paintbrush (Castilleja coccinea, Zones 4–8).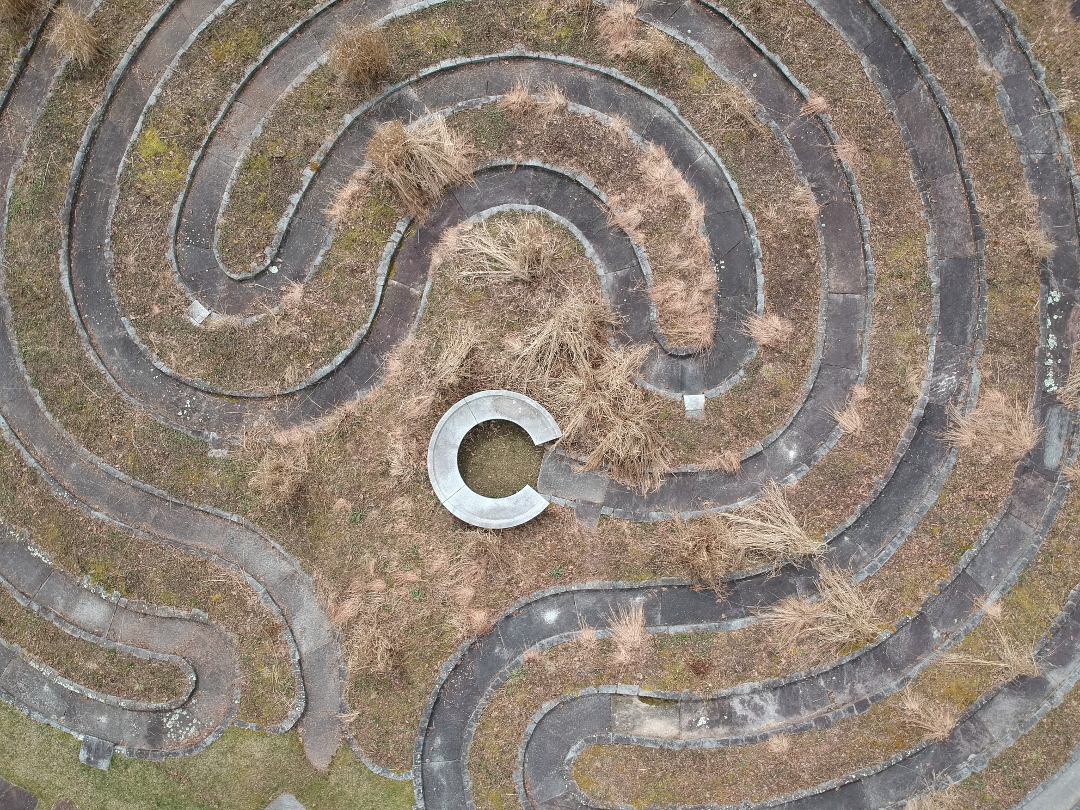 The labyrinth from above on a day in March. A garden labyrinth isn't a maze; rather, it is a single winding path that you walk slowly as a form of meditation or prayer. Many were created in medieval cathedrals. This is a beautiful version, created outside using native plants. You can see that the grasses have been left standing over the winter. Leaving grasses and other perennials standing over the winter rather than cutting them back in the fall is a great way to provide valuable habitat for all sorts of native insects that hibernate in the stems and under the leaves of perennials.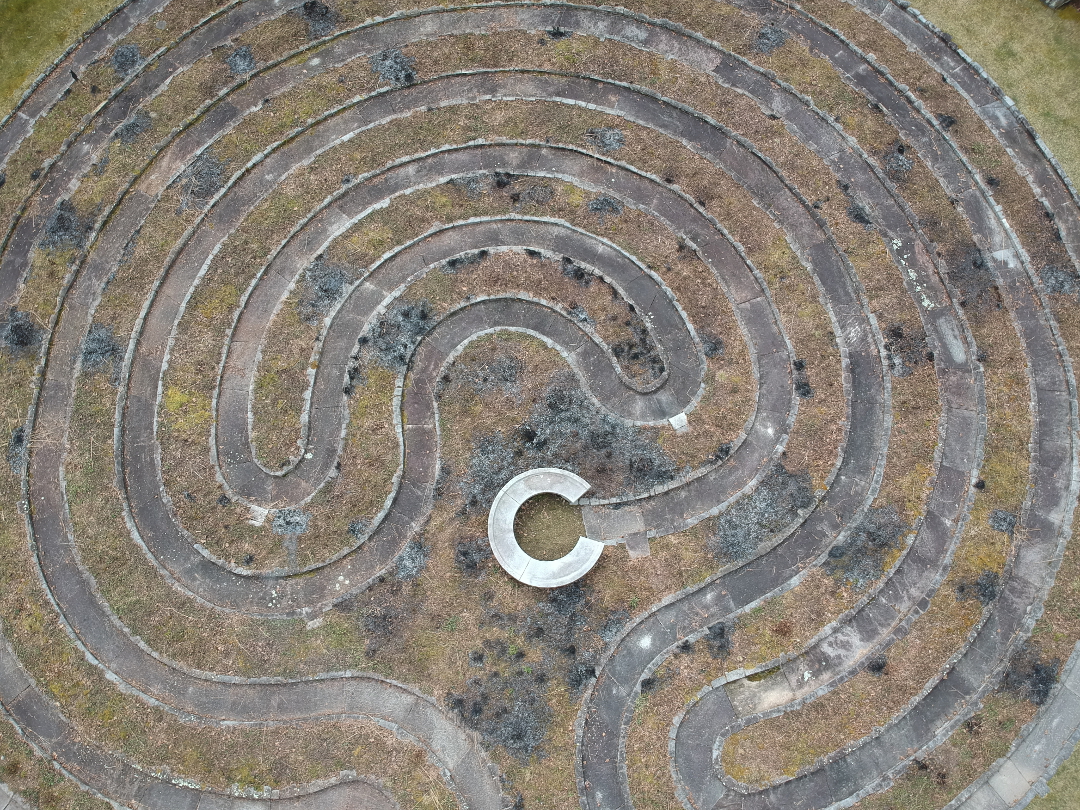 The same view, later on the same day. Look closely, and where the grasses were you can see ash. Lots of our native grassland species are adapted to burn regularly.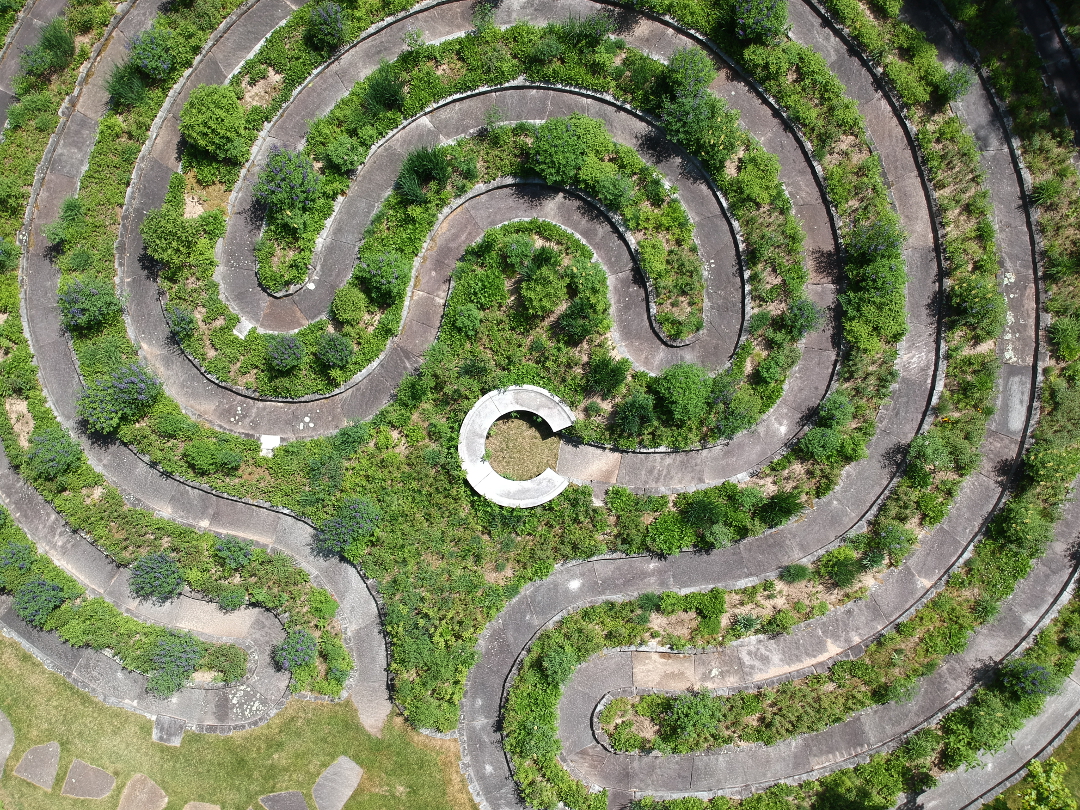 In May, the labyrinth has come alive with lush greenery.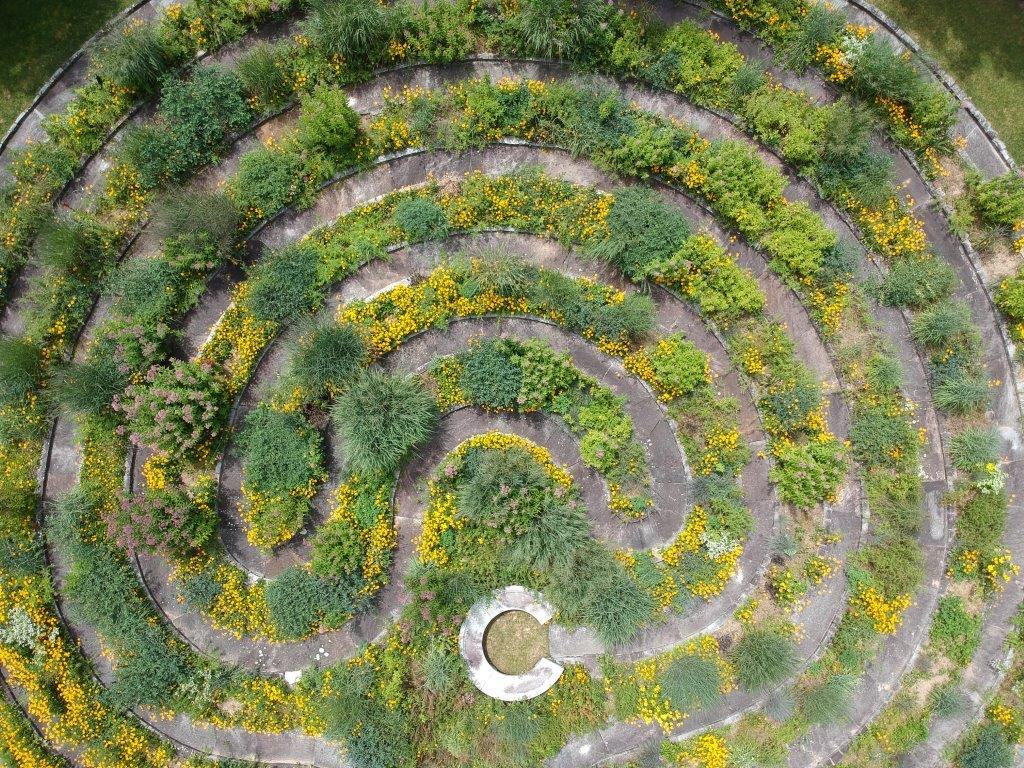 By August, the labyrinth is alive with flowers. The yellow is from the black-eyed Susans.
When you reach the center of the labyrinth, this bench is there to provide a spot to sit and enjoy the experience and the native plants around you.
Have a garden you'd like to share?
Have photos to share? We'd love to see your garden, a particular collection of plants you love, or a wonderful garden you had the chance to visit!
To submit, send 5-10 photos to [email protected] along with some information about the plants in the pictures and where you took the photos. We'd love to hear where you are located, how long you've been gardening, successes you are proud of, failures you learned from, hopes for the future, favorite plants, or funny stories from your garden.
If you want to send photos in separate emails to the GPOD email box that is just fine.
Have a mobile phone? Tag your photos on Facebook, Instagram or Twitter with #FineGardening!
You don't have to be a professional garden photographer – check out our garden photography tips!
Do you receive the GPOD by email yet? Sign up here.