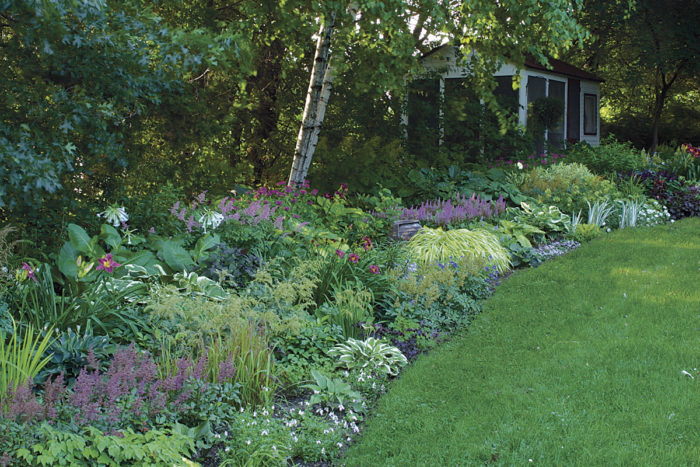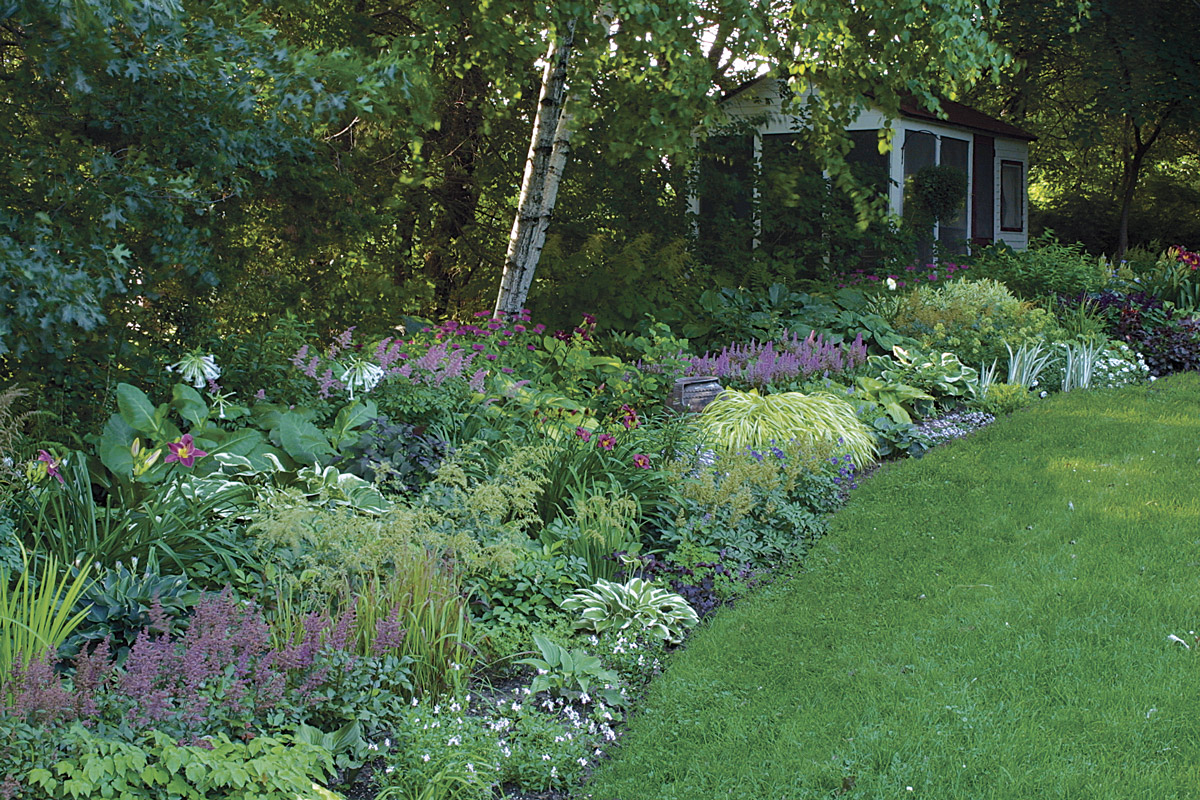 When I began planning my garden, I knew I wanted a long border in front of the row of trees and shrubs that edged my property. Each year, I removed more sod and filled the space with perennials until the border was about 15 feet wide and 150 feet long, the entire distance from the house to the road. Although its length was impressive, the garden looked like a hodge-podge of plants until I started to improve sections of it by creating vignettes, small well-designed groupings of plants, all along its length. Since I could complete a vignette in a day or two, it was a relaxing way for me to bring order to my long border. I designed each by selecting a distinctive foliage plant and choosing five or six plants to enhance its form, texture, and color. I loved watching a vignette come together, seeing how one plant complemented another. At first, I was so intent on getting the combinations just right for each vignette that I didn't consider how one would influence the next. Then I realized that repeating colors and plants in each vignette could hold the entire border together.
Repeating colors, whether it's indoors in a room or outdoors in the garden, is a simple design technique for pulling a design together. Since I had used purple flowers in most of the first vignettes I created, I decided to include shades of purple in all the vignettes that followed. That way, instead of jumping from one vignette to the next as the eye travels down the border, it follows a trail of purple flowering plants. Purple works well because it is a restful color that doesn't clash with other colors. It contrasts well with gold foliage and complements plants with purple, blue, gray, and green foliage. I never feel I have too much purple, even when astilbes with rosy-purple spikes are blooming alongside purple-flowering hostas and lavender daylilies. Purple also works in this border because it is a subtle color; if I had scattered plants of a bright color like white or gold in all the vignettes, the garden would look spotty.
It would have been hard to weave a continuous thread of color from spring to fall with perennials alone, because most shade-tolerant perennials bloom for only two or three weeks. I provided for long-term color by including annuals like Browallia speciosa 'Blue Troll', Ageratum houstonianum 'Blue Horizon', and Salvia splendens 'Salsa Purple', planting them in groups of five to nine to create drifts of purple that weave into nearby perennials. I also included purple-foliage plants like coral bells (Heuchera spp. and cvs., USDA Hardiness Zones 4–8) and the self-sowing annual perilla (Perilla frutescens 'Atropurpurea') in a few vignettes.
Although I wanted purple to hold the border together, I didn't want it to be the only color in my garden, so I occasionally included a pink-, yellow-, or white-flowering plant in a vignette for variety.
Repetition of the same plants in many vignettes, regardless of the color scheme, also makes the long border feel connected. For instance, I used different varieties of hostas, with their dense mounding shape, throughout the garden, either as the focus of a vignette or in a supporting role to provide structure and restful foliage. I combined astilbes in shades of white, pink, and purple with the hostas to add contrasting texture. From the end of June into August, as the many varieties bloom, their fluffy panicles wave like banners from one end of the border to the next. I also included many daylilies with yellow and purple blooms to complement nearby flowers and foliage. Hostas, astilbes, and daylilies unify the garden because they run along its entire length and, since I selected varieties with different heights, they span its width as well.
Most of my garden is shady, but if it received full sun, I would have used more types of plants and repeated one or two dramatic ones in some of the vignettes. The silver-foliage cardoon (Cynara cardunculus, Zones 7–9), silver sage (Salvia argentea, Zones 5–8), and lamb's ear (Stachys byzantina 'Countess Helen von Stein', Zones 4–8) are excellent plants to repeat in sunny vignettes because of their bold leaves and shimmering color.
The third strategy I used to unify this border was to repeat vignettes with the same color theme. For example, several of my vignettes are dominated by gold-foliage plants and accented by yellow flowers. The plants in the vignettes vary, but they have the same overall color scheme. Each gold vignette acts like a color echo of the others. Repeating gold-themed vignettes periodically throughout the border draws your eye and unites the long space. Vignettes based on luminescent colors like gold or silver work best at carrying the eye long distances because they reflect light so well. I also included multiple purple-themed vignettes in my border, but they don't engage the eye and get noticed the way gold and silver ones do. Purple is easy on the eye, so it was a cinch to scatter it liberally throughout the border to bind vignettes, but that same quiet presence makes it impossible for vignettes based on purple foliage to draw much attention. Consequently, I used purple throughout the border as the foundation for my color scheme, and eye-catching gold in just some of the vignettes to create movement down its length.
I recommend using silver-themed vignettes in sun because most plants with silver foliage require full sun. Gold-foliage plants like three to four hours of morning sun to develop their eye-catching color, but they will burn in full sun, so gold-themed vignettes are more successful in shade. In my border, which is located on the east side of a windbreak, the gold-themed vignettes are bright and cheery, creating patches of light that accent the border.
It became apparent to me as I was making these gold vignettes that those extending to the front edge of my garden drew my eye quickly and held my attention longer than those farther back. When green-foliage plants were in front of gold ones, the gold seemed muted, so I pulled the gold color forward in all the gold-themed vignettes, using small gold hostas and plants like the annual lime-green flowering tobacco (Nicotiana alata 'Lime Green'). When my border is cloaked in afternoon shade, these vignettes mark the garden's edge like lamps spaced along a dark path.
Looking at my garden now, it's hard to see where one vignette ends and another begins, as many have expanded to accommodate maturing perennials or more plants. Now some vignettes link directly with plants in the next vignette, and the plants look as if they belong to both. No one would guess that I designed my garden one piece at a time, because the repetition of colors and plants helps one vignette flow into the next and makes the garden come together as a whole.
Repeat plants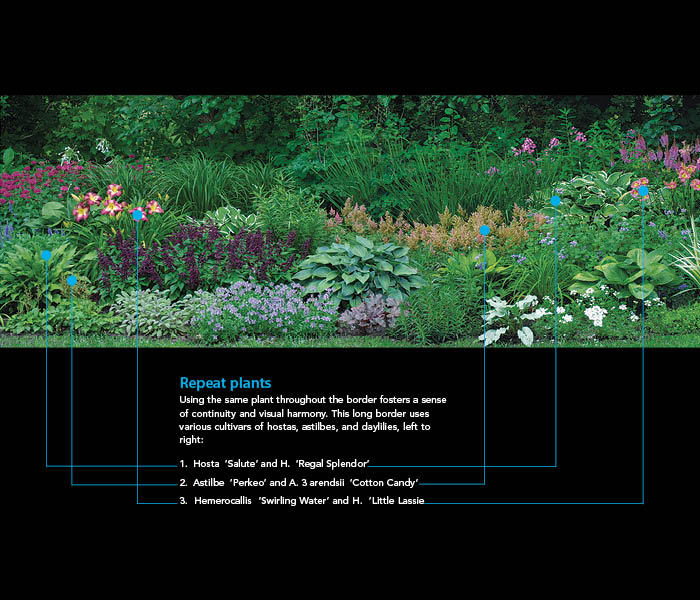 Using the same plant throughout the border fosters a sense of continuity and visual harmony. This long border uses various cultivars of hostas, astilbes, and daylilies, left to right:
Hosta 'Salute' and H. 'Regal Splendor'
Astilbe 'Perkeo' and A. X arendsii 'Cotton Candy'
Hemerocallis 'Swirling Water' and H. 'Little Lassie'
Repeat colors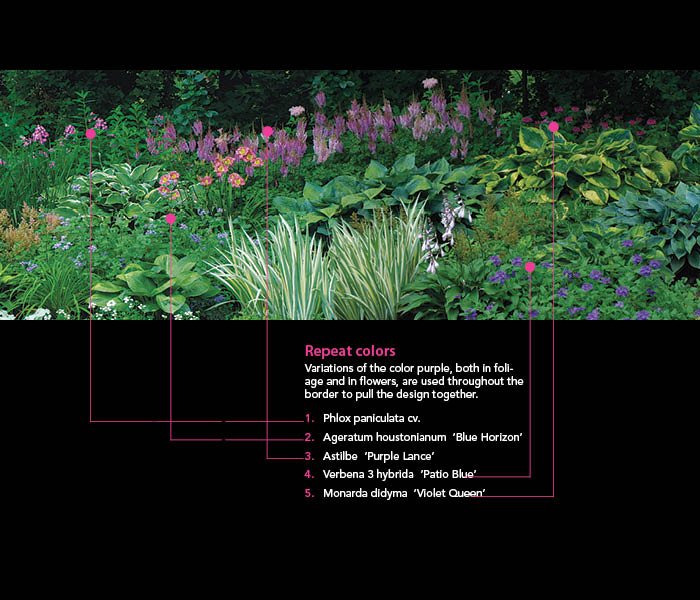 Variations of the color purple, both in foliage and in flowers, are used throughout the border to pull the design together.
Phlox paniculata cv.
Ageratum houstonianum 'Blue Horizon'
Astilbe 'Purple Lance'
Verbena X hybrida 'Patio Blue'
Monarda didyma 'Violet Queen'
Repeat gold vignettes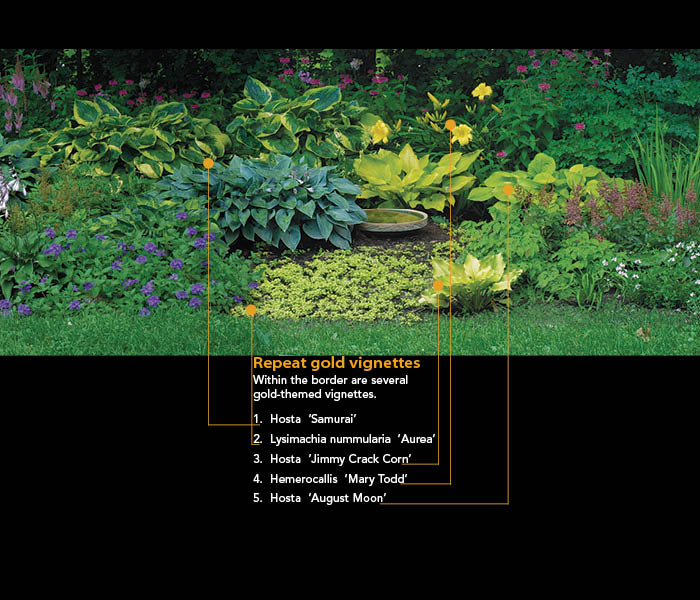 Within the border are several gold-themed vignettes.
Hosta 'Samurai'
Lysimachia nummularia 'Aurea'
Hosta 'Jimmy Crack Corn'
Hemerocallis 'Mary Todd'
Hosta 'August Moon'

Repeat gold vignettes
Another gold-themed vignette includes golden hostas and Hakone grass.
Hosta 'Jack of Diamonds'
Filipendula ulmaria 'Aurea'
Hakonechloa macra 'Aureola'
Hosta 'Little Aurora'
Repeat colors
More cultivars of astilbe and hosta are used to continue the theme in the border.
Hosta 'Blue Jay'
H. 'Blue Angel'
Astilbe chinensis 'Visions'
Repeat colors
Shades or variations of the color purple lead the eye down the long border.
Thalictrum kiusianum
Astilbe chinensis 'Visions'
Perilla frutescens 'Atropurpurea'
Salvia splendens 'Salsa Purple'