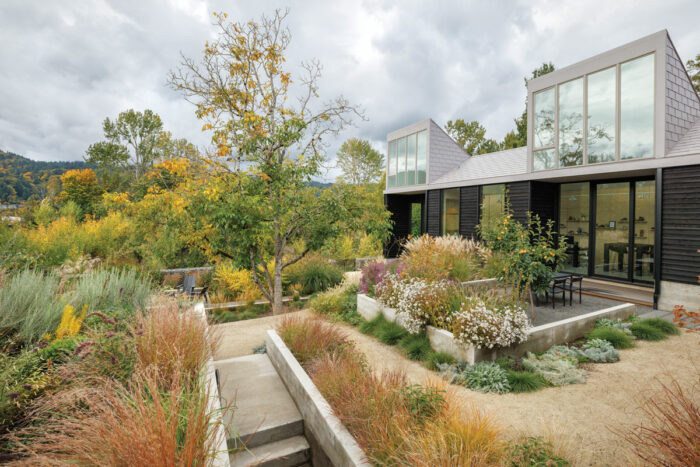 Despite our best efforts, we humans can't do it all. Life in the 21st century often moves at a busy pace and is jam-packed with responsibilities and wonderfully abundant ways for us to spend our "free time." While many of us love to spend a large chunk of that time enjoying our gardens, we don't necessarily love (or have the necessary resources) to care for them. As a landscape designer, I've found that one of the best ways to create sustainable gardens for my clients is to develop designs that work with the sites, not against them, while also hitting on the clients' wish lists.
That scenario was certainly the case for a recent project with a modern aesthetic in North Portland, Oregon. My clients are busy professionals, so the landscape needed to take care of itself. Combine that with a global pandemic and a major shift in people working from home, and the must-have list grew to include multiple areas where the homeowners not only could relax and dine but also where they could make a phone call or have a meeting in the garden just outside their home studio.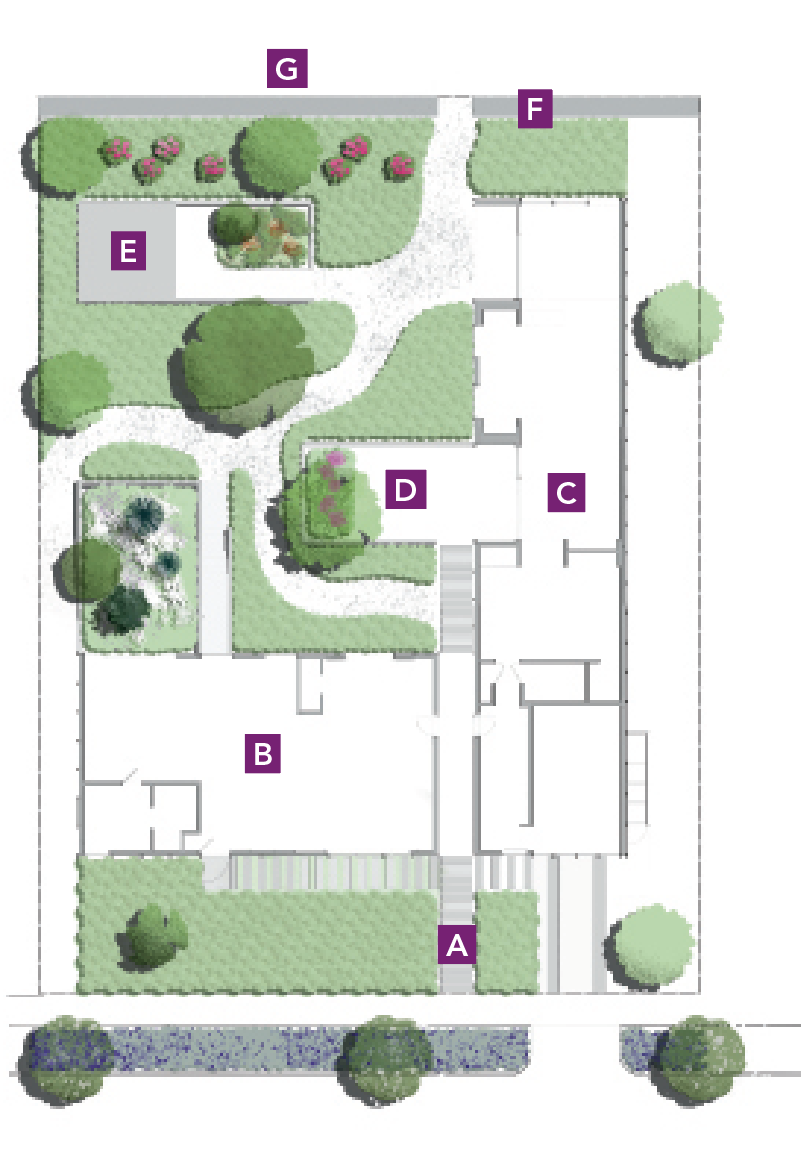 | The Plan |
Tackling transitions
Because the house sits above a wild green space, one of our main design objectives was to blur the line between the landscape and the natural space below, while also creating intentional, functional outdoor rooms. As a result, we affectionately dubbed this project the "Gradient House," celebrating its many successful transitions from space to space.
A. Front yard and entrance
B. Main house
C. Studio
D. Outdoor dining area
E. Lounging/firepit area
F. Gabion wall
G. Meadow
Work with your site to overcome challenges and discover design opportunities
The landscape was not the only part of this property getting an update. The old house was also on deck for a major modern makeover. I was lucky to come into the project at an early stage and work closely with the architect on the new look and feel of the landscape. Because this was a construction site, we had the opportunity to improve much of the existing poor clay soil. To create a successful lasting landscape, it's always important to start with amending the soil as needed—so we brought in yards and yards of compost.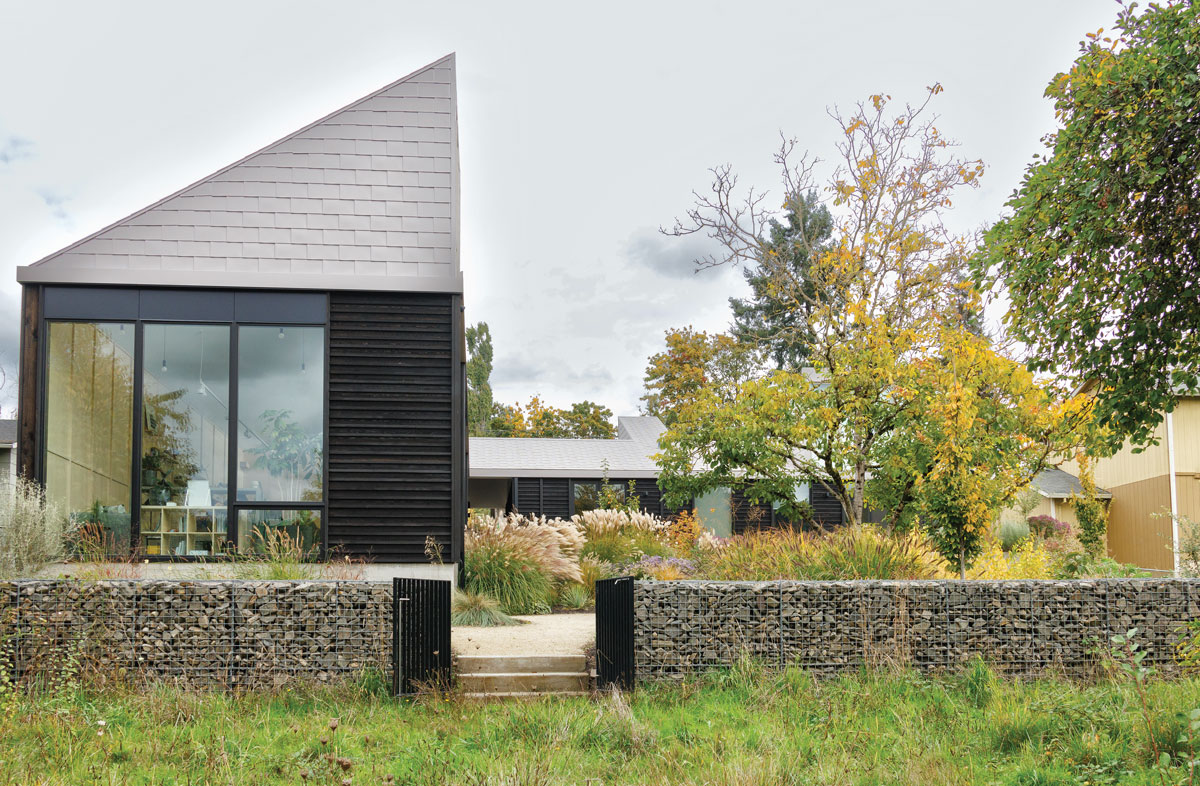 Even with good soil, though, Oregon has a challenging climate to contend with that includes hot, dry summers and long, wet winters. The plantings had to tolerate both seasonal extremes. In addition to tough conditions, there were site considerations to address. The backyard is where the owners would spend most of their time, yet the neighboring houses sit very close to the side property lines in that area. And the back side of the property abuts an urban green-space meadow. The multifaceted goal became creating functional outdoor spaces composed of new plantings that provide privacy, are primarily self-sustaining in extreme conditions, and blend with modern architecture and a wild meadow.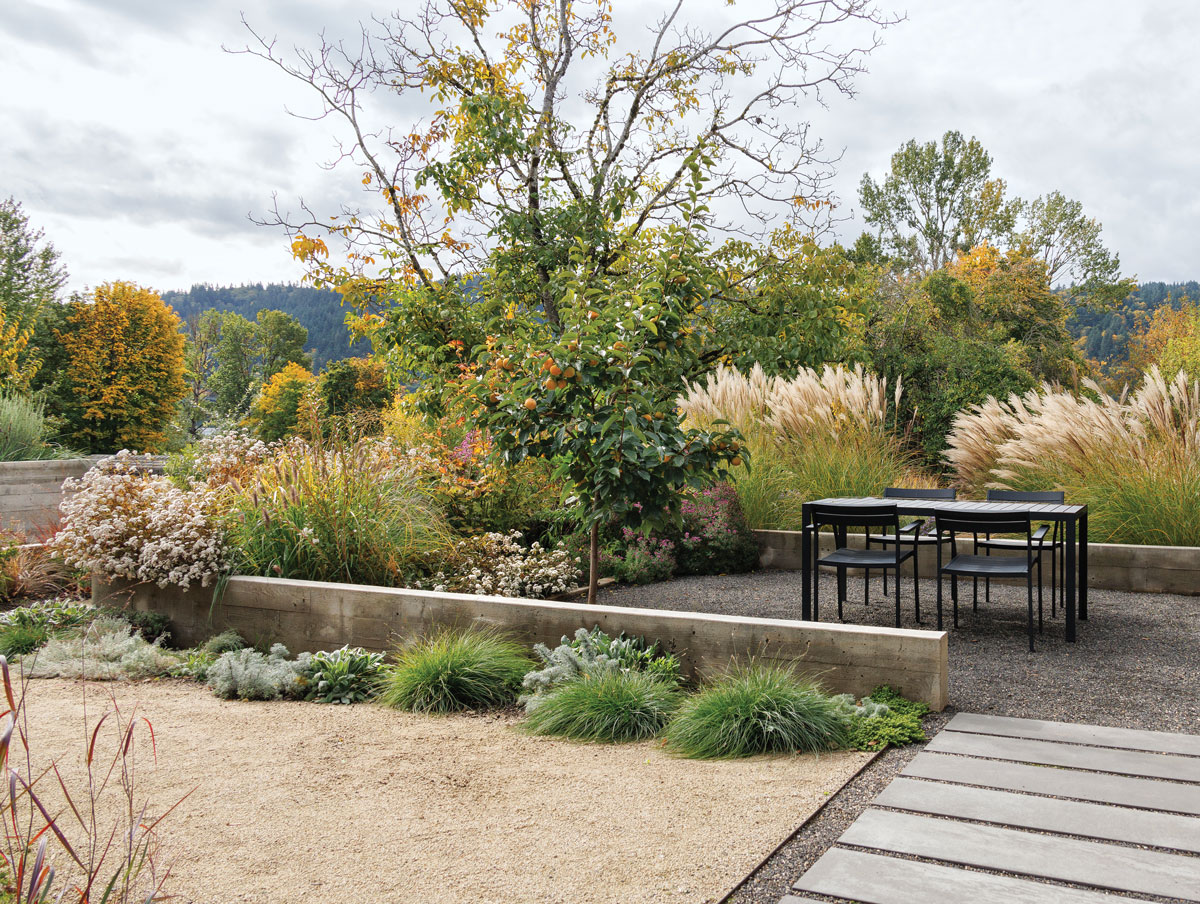 To accomplish that, I avoided including any lawn and focused on a limited plant palette to deliver the performance and forms this site needed. From some vantage points, the garden looks like it goes on into the meadow with no interruptions. This is thanks to a variety of ornamental grasses and "wild-looking" perennials. Grasses such as 'Adagio' maiden grass (Miscanthus sinensis* 'Adagio', Zones 5–9) and Cayenne™ fountain grass (Pennisetum alopecuroides 'TIFT PA18', Zones 5–9), along with asters (Symphyotrichum spp. and cvs., Zones 4–8) and flowering 'Chocolate' snakeroot (Ageratina altissima 'Chocolate', syn. Eupatorium rugosum 'Chocolate', Zones 3–9), provide excellent, reliable texture and form. Privacy was achieved with a screening of plants that includes evergreen holly oak (Quercus ilex and cvs., Zones 7–10) and columnar 'Vanessa' Persian ironwood (Parrotia persica 'Vanessa', Zones 5–8). Harlequin glorybower (Clerodendrum trichotomum and cvs., Zones 7–10) blocks the view of a sitting area from a neighboring house in the summer, while evergreen star jasmine (Trachelospermum jasminoides and cvs., Zones 8–11) does a fantastic job at concealing a chain-link fence on the boundary line.
*See invasive alert below.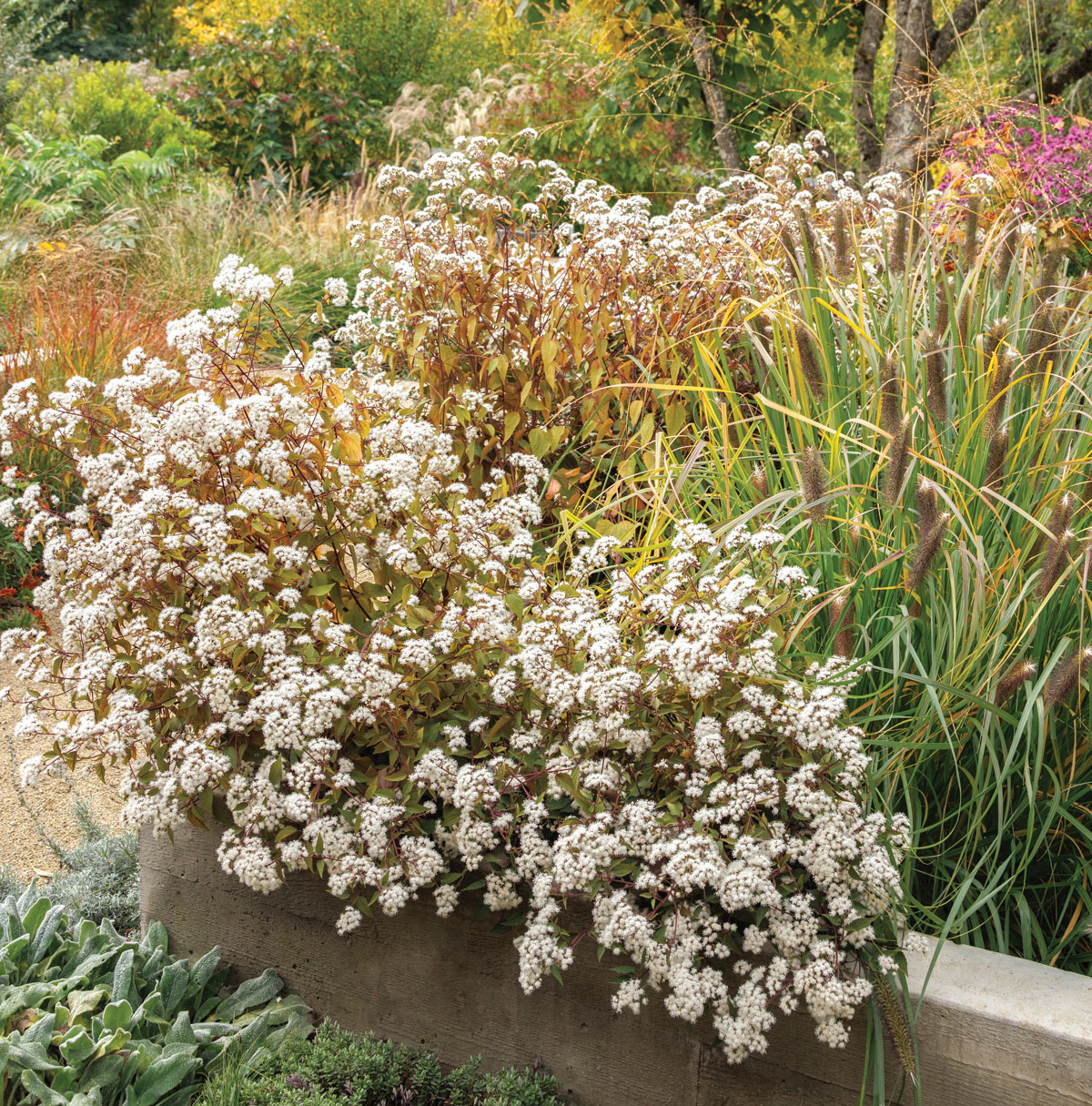 Establish a hardscape foundation that is functional and beautiful for the long haul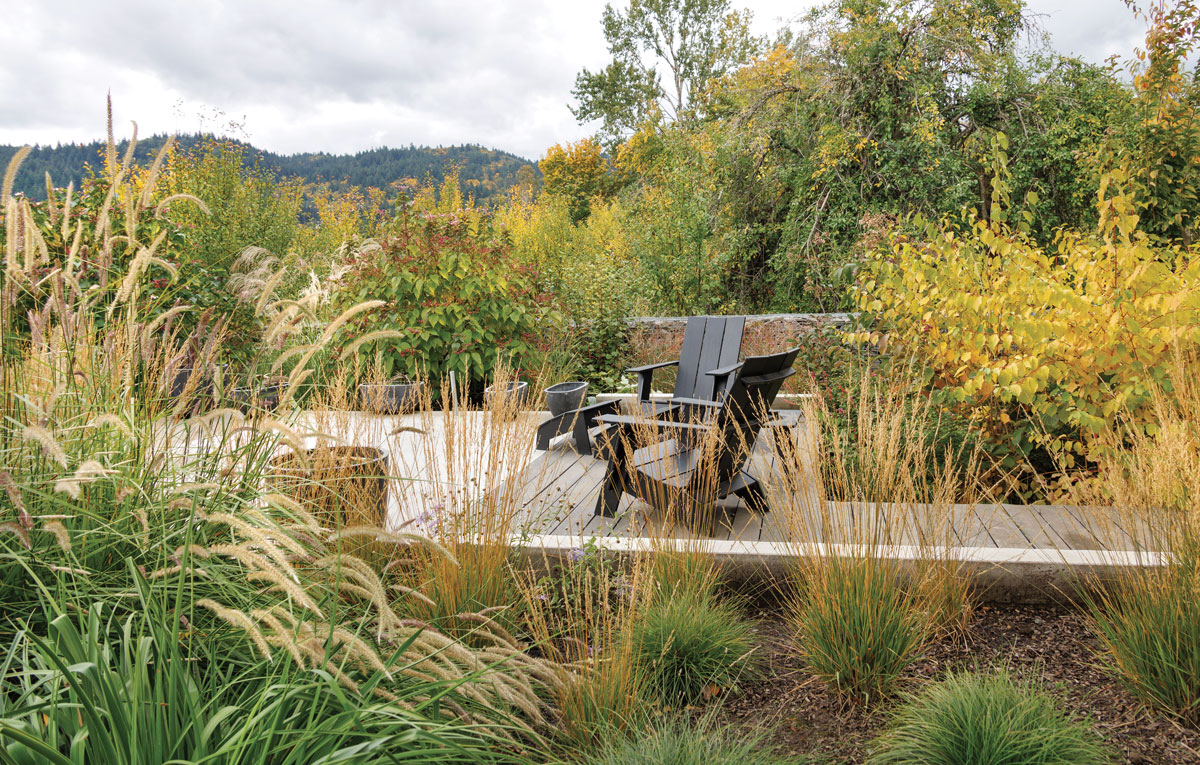 I love creating secret areas that make people feel like they are not even in their own garden anymore. I also enjoy building cozy spaces where they can sit and have coffee or spend time with friends around the firepit. We worked with the architect to create outdoor rooms for living and working. These include a dining and meeting area closer to the house, a seating area for lounging and making phone calls deeper into the garden, and a firepit and sauna area for relaxing in seclusion farther away from the house. A critical and unifying component to all of these rooms is hardscape that is functional, aesthetically pleasing, and long-lasting.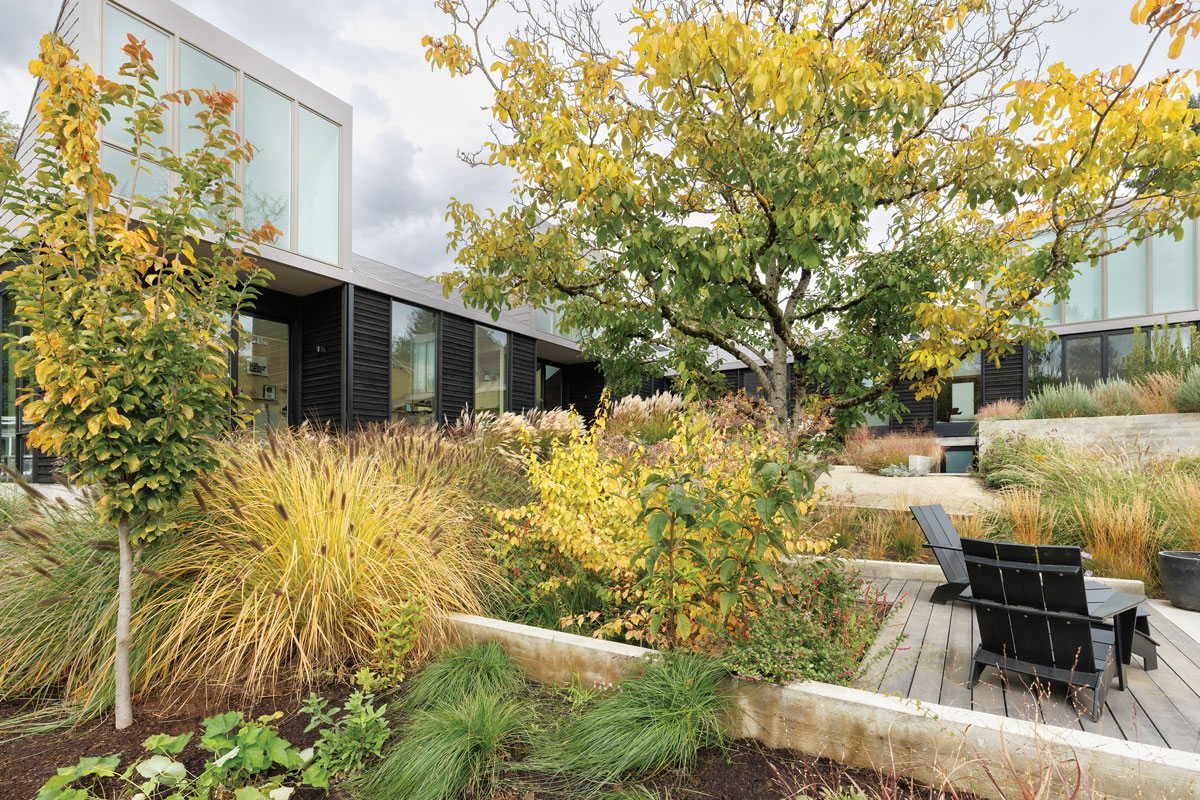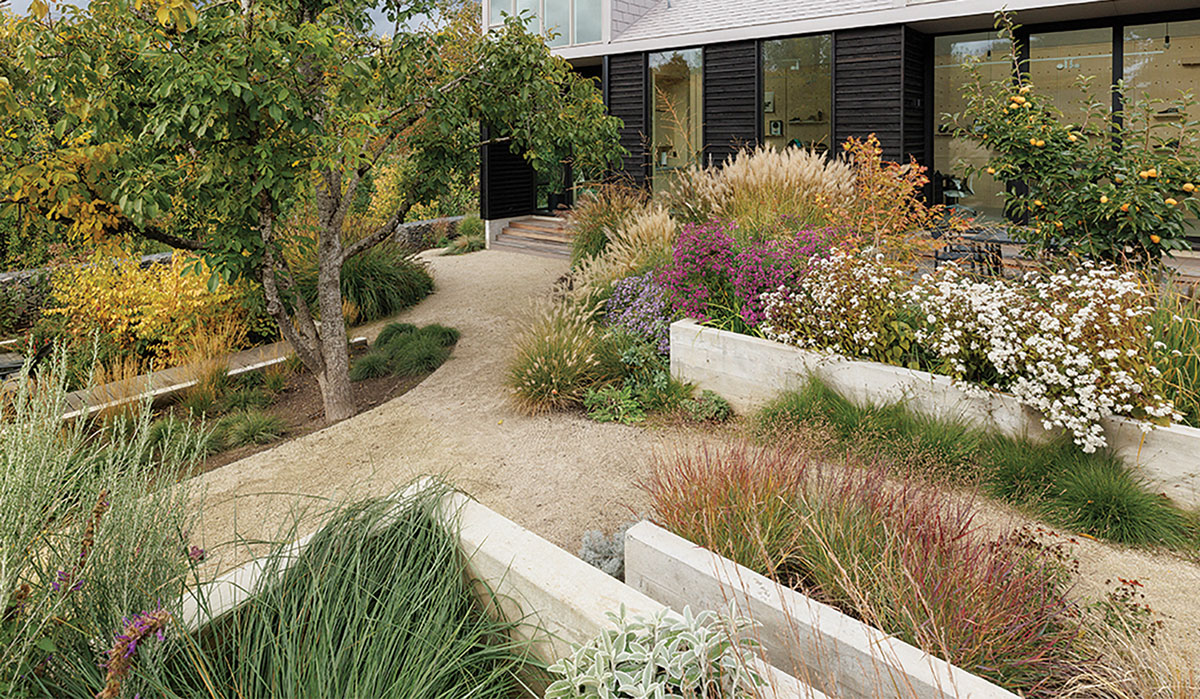 In keeping with the modern design of the residence and to connect the garden with the house, poured-concrete retaining walls were installed. These walls cleanly delineate the outdoor rooms and provide needed structure and support for the planned elevation changes, runoff management, and planting areas. Precision-cut and straight-edged wooden planks, rectan­gular concrete pavers, and decomposed granite gravel serve as attractive foundational materials for the footpaths and the dining and lounging areas—giving the softscape plants the perfect year-round backdrop to shine.
Layer plant color and texture to pull the scene together
I look at designing gardens as similar to creating a painting, with a lot of consideration given to layering. As I begin, I ask myself: What color palette will I use? What is in the foreground? What shapes are in the distance? Layers are important to good garden design, just like layers of paint on a canvas. I even love the subtle color and textural detail that tiny ground covers such as brass buttons (Leptinella squalida and cvs., Zones 4–10) provide right at your feet when you're walking through a garden—something that I feel is often overlooked.
Flowers are an incredible source of color, so it's best always to have something in bloom. I especially love it when people are surprised by a pop of blossom color they had no idea was coming. However, I try to avoid one-hit wonders and use multiseason plants. Herbaceous and woody plants that have pretty flowers, attractive bark or stems, and striking fall color, fruit, and/or seed are worth their weight in gold. Pollinator-friendly plants such as Joe Pye weeds (Eutrochium spp. and cvs., Zones 4–8) and coneflowers (Echinacea spp. and cvs., Zones 3–9) look great in bloom and have interesting seed heads when the flowers fade in fall.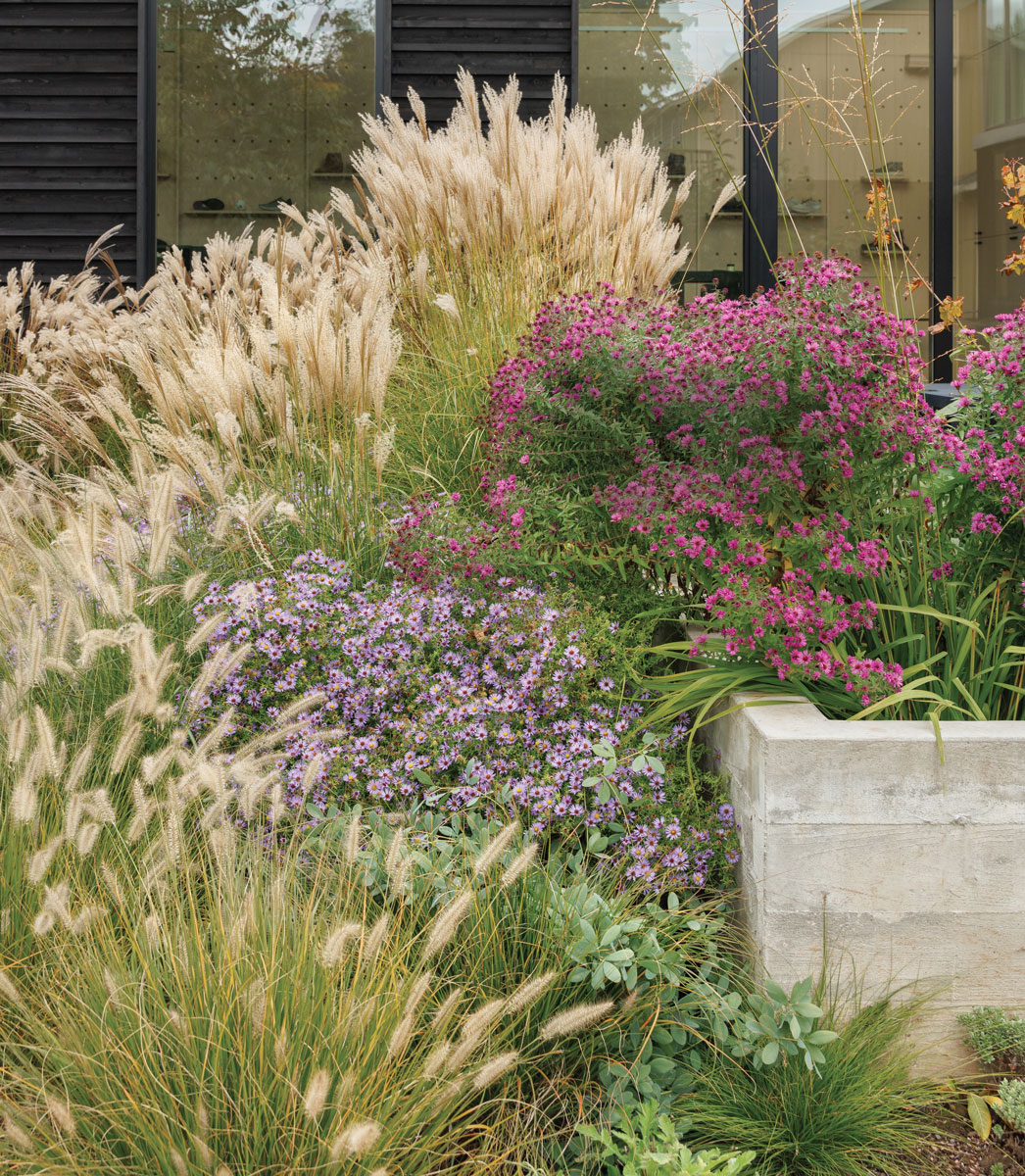 Foliage color is often just as important as flower color. The bright, silver-white foliage of 'Sea Foam' artemisia (Artemisia 'Sea Foam', Zones 4–10) and daisy bush (Brachyglottis greyi, syn. Senecio greyi, Zones 8–10) is stunning. Repeating plants and/or colors to create color echoes throughout the garden is very important. I always tell people you can have a crazy garden with every plant in the world, but it only works if you have some repeating elements. The ornamental grasses are the main hardworking, repeating element in this garden. With green fine texture early in the growing season, followed by fall color and airy blooms in autumn, grasses look great year-round and have only a brief window of downtime when they are cut back in early spring.
In winter, dried pods and dried tan leaves give this garden great texture, but for color I look to bark, such as that on the bright red stems of 'Midwinter Fire' bloodtwig dogwood (Cornus sanguinea 'Midwinter Fire', Zones 5–8). I always tell my clients and landscape contractors in fall to keep their gardens up as long as they can. The seedpods and dead leaves not only provide visual interest, but they also provide habitat and food sources for birds and wildlife. This seasonal functionality ties into the garden's overarching theme of working with the site rather than against it. The thoughtful plant and structure choices in this garden meant that everyone got their wish-list items—the homeowners as well as the wildlife.
---
*Invasive Alert:
Miscanthus (Miscanthus sinensis)
This plant is considered invasive in AL, CT, GA, IN, KY, MD, NC, NH, NJ, NY, PA, SC, TN, and VA.
Please visit invasiveplantatlas.org for more information.
---
Wesley Younie is an artist and landscape designer who transforms landscape "canvases" into beautiful, functional, and sustainable works of art in the greater Portland, Oregon, area.