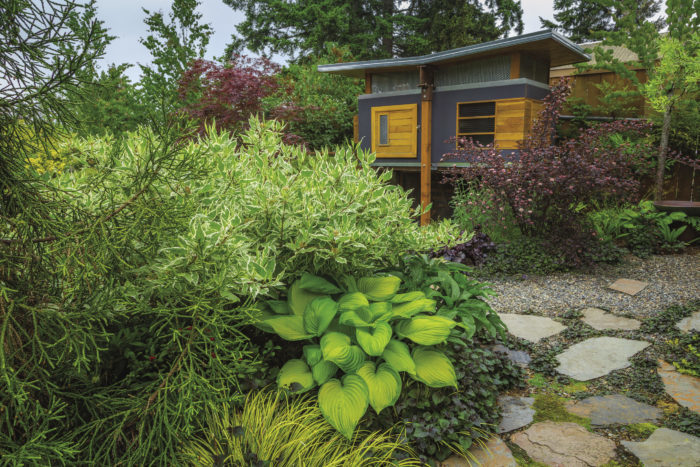 My husband and I moved into our house in November nine years ago. I recall the weather vividly because, instead of starting my new journey indoors with painting walls and arranging furniture, I immediately went outside to enlarge the garden borders and tear out overgrown and invasive plants. I was struck by the potential for a large, lush garden, with space for entertaining; a place for chickens to roam and a coop to house them; quiet spots to sit and ponder the flowers or read a good book. But what I had in front of me was an overgrowth of ivy and blackberry bushes, with invasive holly trees and bay laurel shrubs interspersed throughout, and rangy, weed-choked grass coming up where the other things weren't growing.
Armed with a burgeoning knowledge of sustainable practices and a desire to stay outside each day until I had cleared a full section of blackberry bushes, I daydreamed as I worked, envisioning a yard full of my favorite plants. I wanted to add layers of plants, from ground covers to large trees, to make sure we had a space filled with vibrant color, texture, and all season interest, balancing my use of evergreen and perennial plants, to give our surroundings a very private feel. And I wanted to create a space just beyond our patio door that invited you to bring all of your senses with you when you walked outside. Not only did I want it to be beautiful, I wanted it to be useful, to us as well as to all of the creatures we would be sharing it with, from birds to mason bees.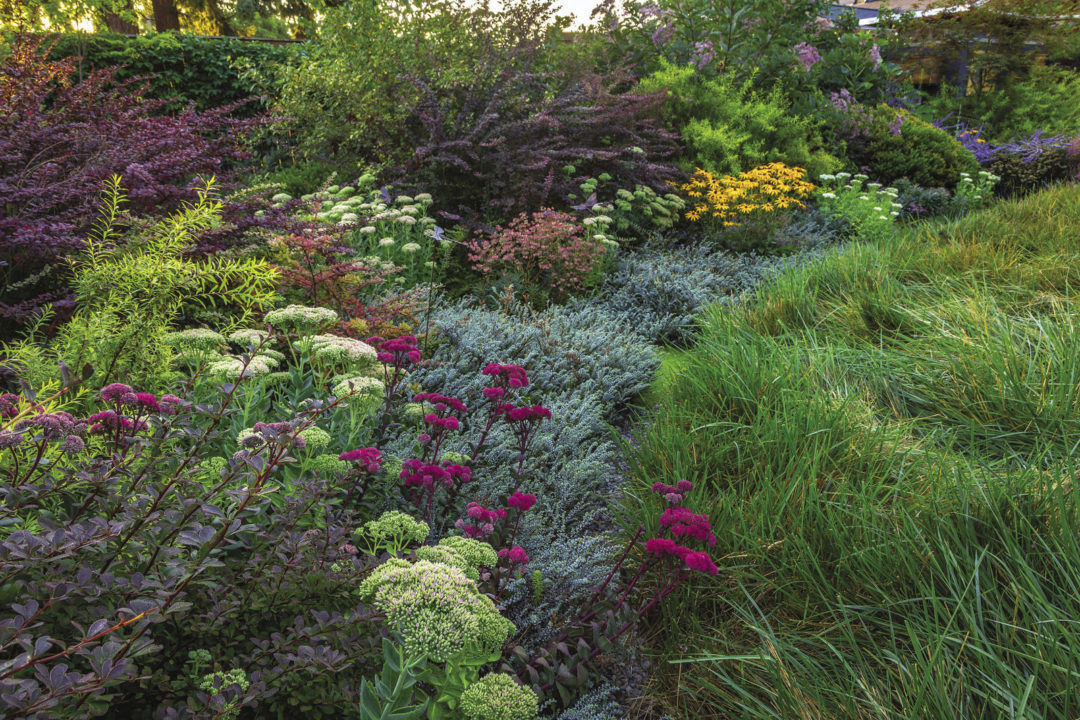 A color scheme simplifies plant choices
I had chosen the basic color scheme for our space long before I had torn out the last of the ivy. Having fallen in love with the autumn color of a 'Grace' smokebush (Cotinus 'Grace', USDA Hardiness Zones 5–9) years before made it easy to choose purple as a front-runner, and lime—as shown on the color wheel—as an obvious complement to it. I enjoy using bright, contrasting colors to create lively, visually stimulating spaces, and when I put examples of the two colors together, I knew they would do just that. Purple and lime would be a bold framework I could use to build the rest of the garden around. Adding yellow, orange, red, and dark green would allow for more plant options and contrast.
With the foundation colors chosen early on, I had direction and the freedom to move on to the next design step in an organized way. I looked forward to choosing plants that would follow my palette and meet my low water/easy maintenance expectations. It was my favorite part of the project.
Expand the living space with a dining area
When I had finally cleared the space for planting, and added the majority of the large anchor shrubs and trees, as well as supporting plants and ground covers in spaces that were finished, the next step was to add the first outdoor space that would allow us to sit and watch the new garden unfold. The old patio slab was just outside the kitchen. Being able to bring a meal outside to enjoy in the warmer months would allow us an opportunity to move away from the television and toward the sights and sounds of the landscape. Our living space would grow exponentially when we were able to consider the backyard as part of it.
As I chiseled through the old, cracked, and uneven concrete slab, I left the space around the patio area free of plants. It was important to give the area enough room to be functional. I anticipated having people over for dinner, enjoying family time, and having pets constantly moving around the table. I also wanted to allow for smooth passage around the seating area to admire the plants and the wildlife. When I had decided how large to make the footprint by staging it with table and chairs and then walking the paths around it, I reused some of the broken concrete to fill in behind a small retaining wall along our walkway. The rest became the foundation for our gravel patio. I filled in the space with oversized pavers and permeable gravel. The pavers make it easy for the chairs to slide in and out from the table, and the gravel prevents rainwater from puddling.
My husband and I love to add recycled items to the landscape when we find opportunities for them. A piece of reclaimed metal channel he found at a salvage yard was filled with gravel to create the step that leads to the patio. Recycled glass from local glass blowers mixed with the gravel gave the step surface a fantastic pop of color.  When it rains and the water hits the glass, it looks as though we have pirates' treasure just outside the back door. It's a good way to be cheered in January, when the sky is bleak and it will be raining for at least three more months.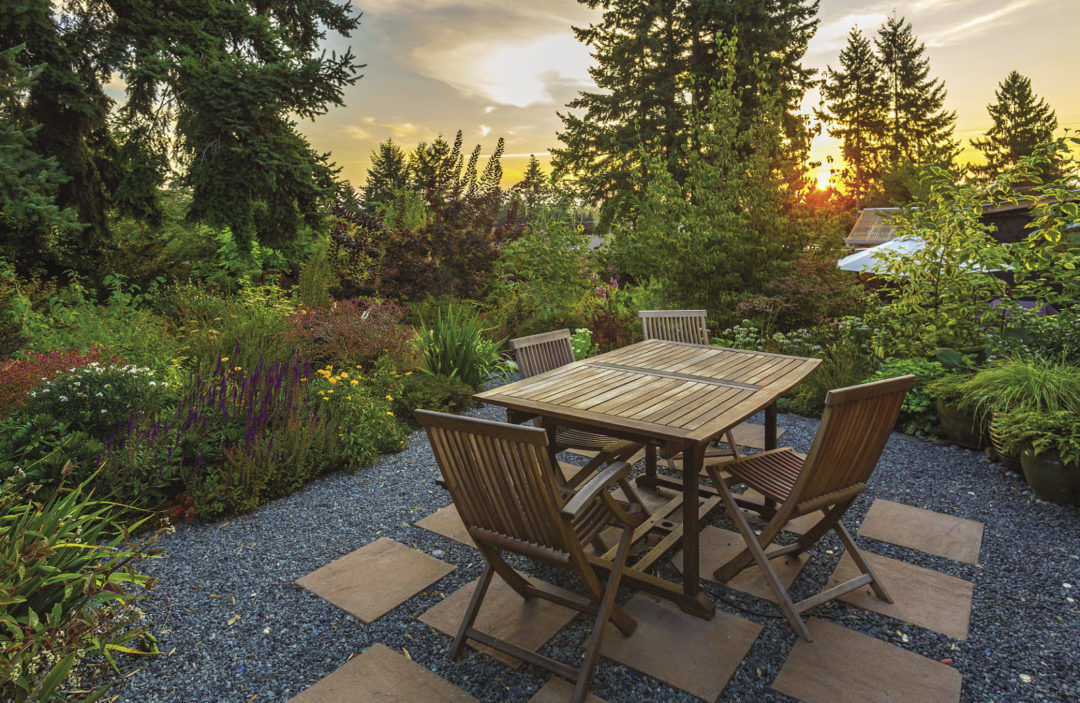 Shade is the perfect place to relax
From the dining room, we had an uninterrupted view of the garden from the patio all the way to the back fence. If we had only a moment, we could pause to watch a hummingbird at the daphne flowers, or dragonflies zigzagging high above the plants. But during the heat of a summer day, sitting outside in that wide-open space definitely made us pine for a bit of shade.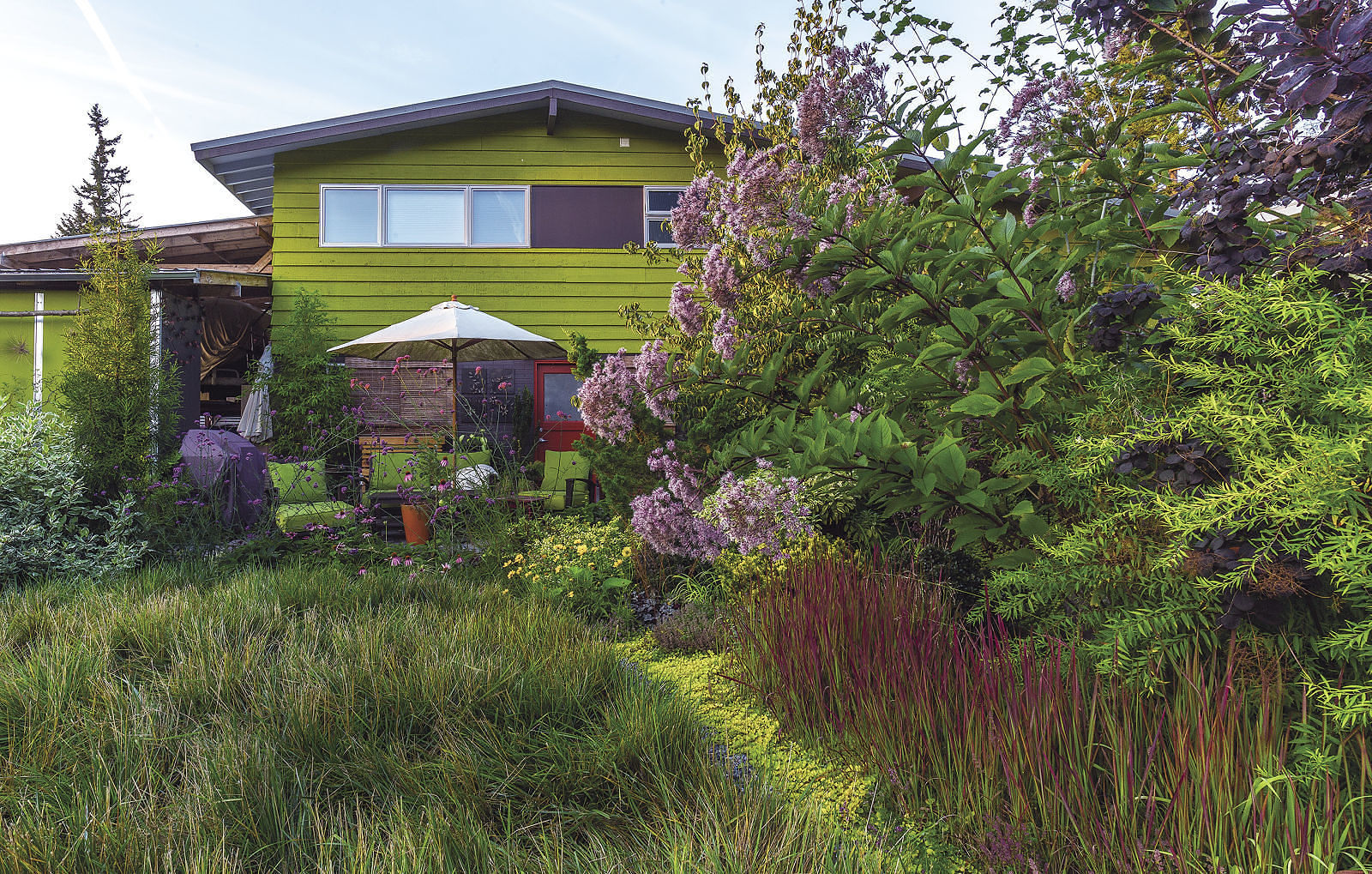 Our lower patio area was born from the need for a place to sit with friends on days when the temperature encouraged a search for shade. On warm evenings, we could find shelter there from the setting sun, after bringing dinner down the few steps from the back door. A dogwood tree (Cornus kousa var. chinensis, Zones 5–8) provided the perfect screen. As the dogwood grew and created more shade, I was able to surround us with my favorite shade-loving plants, including fuchsia (Fuchsia spp. and cvs., Zones 6–11), 'Chocolate' eupatorium (Ageratina altissima 'Chocolate', syn. Eupatorium rugosum 'Chocolate', Zones 4–8), and golden dwarf sweet flag (Acorus gramineus 'Ogon', Zones 5–9), complete with ferns and hostas.
I encouraged an outdoor living room feel in the space, complete with a cushioned couch in a shade of lime, some metal sculpture art on the house's exterior wall facing the furniture, and potted plants intermixed with the seating. The intent was to give the feeling of being a part of the living landscape, rather than being separate from it. The effect is a space that's relaxing, soft, and about 15 degrees cooler on a warm day.
Don't forget to add a place for yourself
There were many times that I wanted to invite friends or neighbors over to relax while catching up. There were other times, however, that I wanted to go into the garden on my own to observe nature in the spots that weren't just outside of our back door. What had once been time spent pulling out blackberries and ivy became time I could relish in everything that I've grown, sit amid the flowers, or walk through the tall grass and feel it brush my ankles.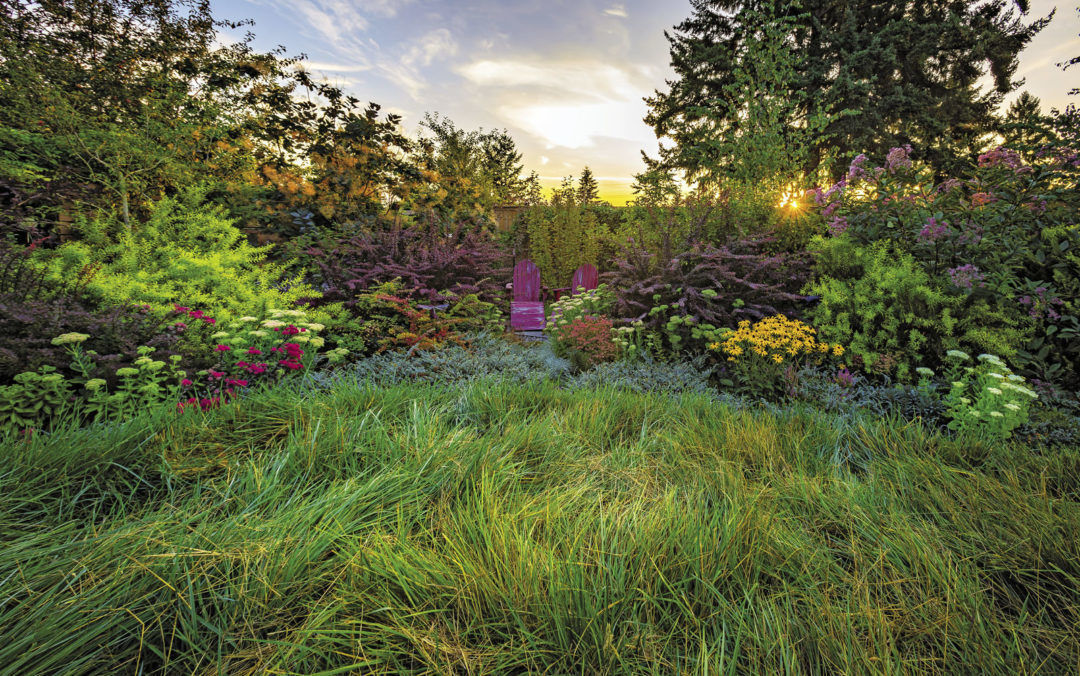 My favorite spot to relax by myself is at the back of the garden, along the fence that separates the chicken run from the rest of the yard. We have given the chickens a lot of space to run, jump (they do), forage, and to just be chickens. In that far off corner, I tucked two Adirondack chairs and a small table, and chose plants that would grow softly next to, as well as up and around, the seating area. I sit there and feel as though I am enveloped in plant life. Because I kept it small and surrounded by friendly-to-the-touch plants, it is a cozy, comfortable, and intimate space. It's a perfect spot to bring a glass of lemonade and observe ladybugs, or just close my eyes and listen to the sounds of the garden. The recycled window frame, lined with part of an old bathroom mirror and hung on the fence, creates the illusion of even more space beyond it.
When I spend time in our garden, I am able to come back to basics: the sound of the birds, the sun on my face, the buzz of the bees as they move from flower to flower. An affirming connection to nature is made each time I stop to watch a butterfly or beetle. I've created a garden that invites a visitor to pause and take a breath. Time just moves more slowly here. As I stop to sit and observe, whether I am stepping away from my workday, or relaxing with my morning coffee, I find joy in watching a hummingbird's wings beat over 100 times a minute or a plump bumblebee defy gravity. There is mystery in the movements of hunter wasps and dragonflies. My garden offers something for everyone.
A bold color palette of diverse plants draws the eye, interesting hardscape throughout piques curiosity, and the wildlife I have encouraged to visit by using sustainable practices changes every day. Watching nature at work is an inspirational, highly satisfying way to spend time, and cultivating a space where both humans and wildlife can thrive is a reward in and of itself.
Design Overview: A lot of elements in a little space
One could spend hours just enjoying the plantings in this garden before even getting to the seating areas, chicken coop, and fascinating details that turn this suburban lot into something special.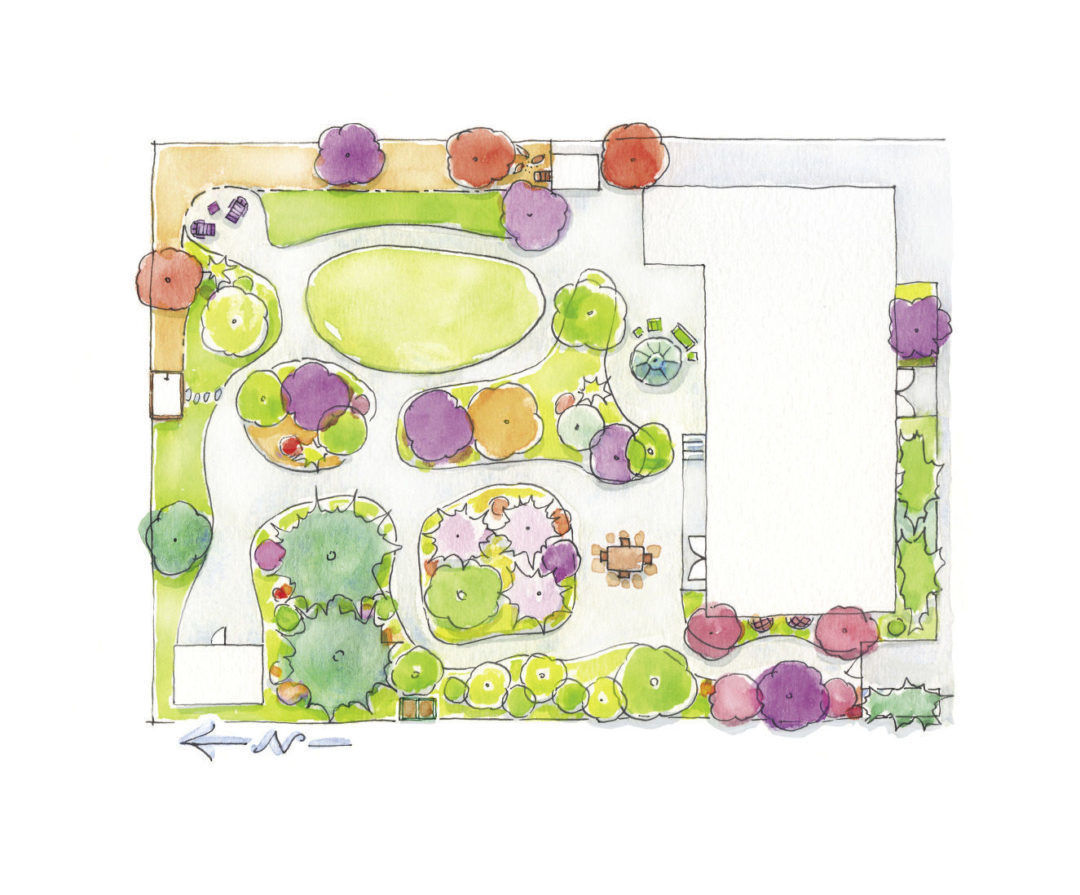 ---
It must be a lot of work
Our property is on a quarter acre, a generous size for our area. Every few weeks, I take my coffee with me and stroll the length of the garden, familiarizing myself with the news of the day, making mental notes if I see anything I would like to give attention to, and just enjoying what I find. I have put in the time to encourage the yard to work for itself, with minimal support from me. Here are some examples:
Built the garden up with compost to feed new plants and retain moisture while they establish
Used drought-tolerant seed mix on the small lawn area
Used ground covers liberally to create a living mulch that suppresses weeds, holds moisture
Chose native plants and plants from similar climates
Keep lawn as high as possible, mowing infrequently with an electric string trimmer
Collect rainwater
Mulch with compost from chicken droppings and yard waste
Use "right plant, right place" strategy
Encourage birds and insects to be the pest-management system
Use organic fertilizer for fruiting shrubs and trees. Everything else gets composted.
---
Manda Galbraith gardens in Burien, Washington.
Photos: David E. Perry. Illustration: Elara Tanguy