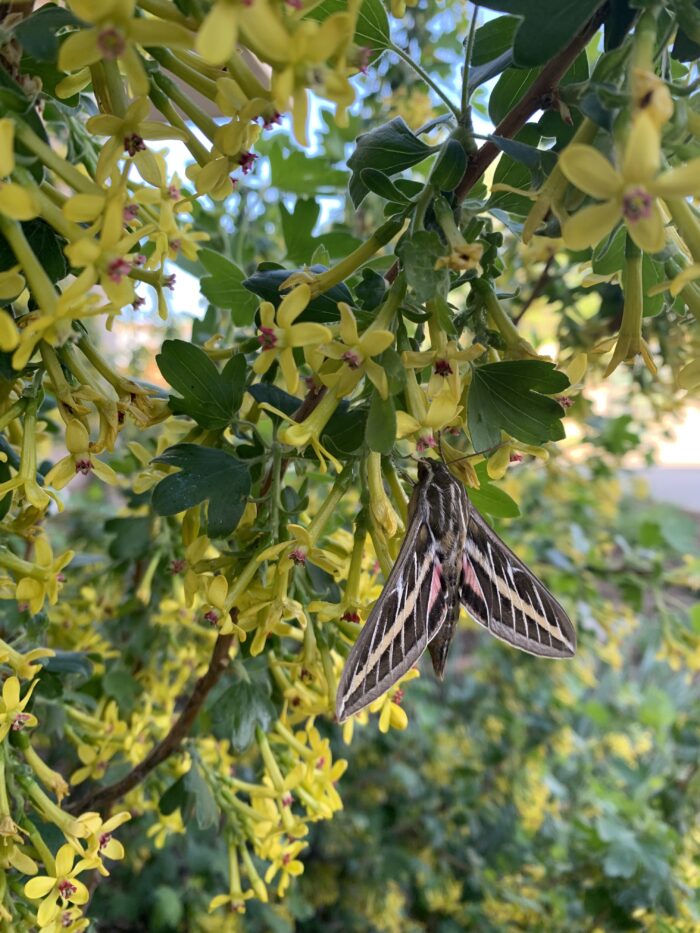 A trend I see among many gardeners is experimenting with "new" perennials, either novel cultivars from breeders or older varieties that the plantsperson in question has never grown. Most of our budgets can accommodate trying a few new perennials each year, and it's easy to understand why gardeners may go for these exciting options over native shrubs. Flashy, flowering perennials are much more eye-catching on a nursery shelf than woody plants begging to get out of their #1 nursery pot.
I believe there is a missed opportunity here, though. As far as impact goes, a single shrub purchase can go farther than a purchase of perennials for the same price. This is true for visual impact in our gardens as well as for value to wildlife. If investing in a garden with year-round appeal and wildlife value is high on your priority list, consider native shrubs to round out your end-of-spring purchases.
One plant that should definitely be on this list is Colorado barberry (Berberis fendleri), and you will find the profile I wrote on that plant in Fine Gardening #213, which will be published in August. Below, you'll find three more native shrubs with comparable appeal to both people and wildlife that should be easy to find at your local nursery.
Golden currant (Ribes aureum; photo above)
Zones: 3–8
Size: 4 to 6 feet tall and 4 to 6 feet wide
Conditions: Partial to full shade; moist to dry soil
The native range alone of golden currant should be a tip-off that it's one of the most adaptable shrubs around. It can be found in the mixed woods of the Midwest, across much of the Great Plains, throughout the Mountain West, and across the Great Basin to the Sierras. Saying this shrub is easygoing might be an understatement. Called golden for its clusters of starry, fragrant flowers, this plant make a strong early-season show, blooming in late April or early May in my Colorado garden. While the most common cultivars of the nursery trade present with fruits that ripen to black, native plants in my area often bare jewel-like, amber fruits that glow when sidelit in the morning or the evening. Regardless of their color, they are beloved by songbirds and make for great eating fresh off the shrub or cooked down into sauces and jelly, thanks to their high pectin content. Come fall, these plants reward the gardener with a third round of interest in the form of blazing red autumn color. Thornless, unlike many of their relatives, these plants excel in full sun and with moderate moisture but adapt to most sites (moderate-wet to dry and sunny to partial shade) without fuss.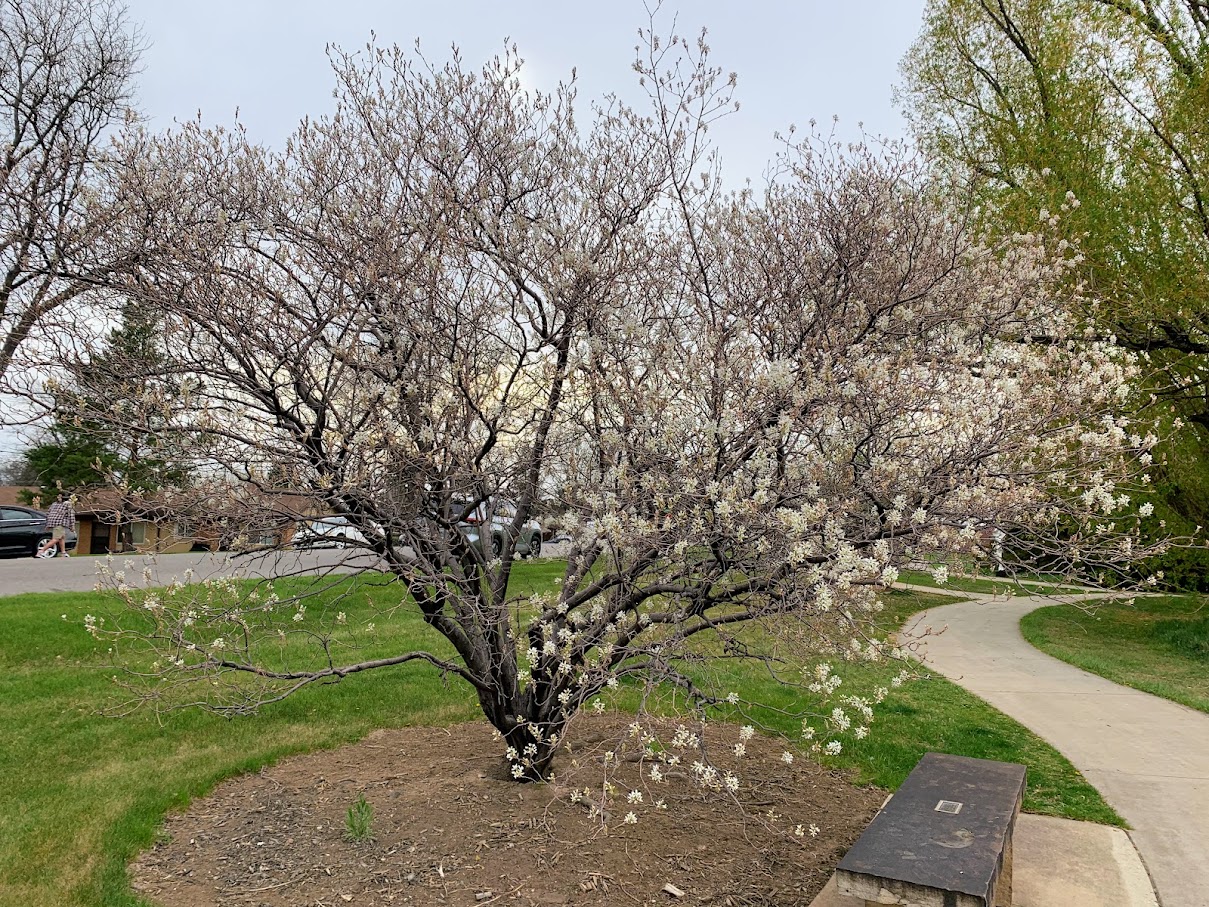 Serviceberry (Amelanchier alnifolia)
Zones: 2–8
Size: 4 to 12 feet tall and 4 to 12 feet wide
Conditions: Full sun to partial shade; moderately wet to moderately dry soil
This native shrub is widely available at nurseries and is a cinch to grow. Actually, it might be easier to describe where it won't grow than where it will: deep shade and sites that are bone dry and very hot. Otherwise, these adaptable natives provide a host of benefits, ranging from delicate-looking, five-petaled flowers in spring to bird-feeding berries in summer and reliable fall color before leaf senescence. Like many native woody members of the rose family, serviceberry is a remarkably valuable host plant, feeding dozens of native caterpillars. When shopping for this species, watch nursery tags carefully, as mature size varies wildly by cultivar. Some plants remain shrubs, while others attain treelike size. Some are even columnar! In my experience, tree forms will sucker if stressed, either by drought or other stresses. Gardeners in the drier portions of our region should consider the cousin Amelanchier utahensis (Utah serviceberry), a more xeric-friendly lookalike. Both plants display attractive, rounded leaves and edible berries enjoyed by critters with two legs or more.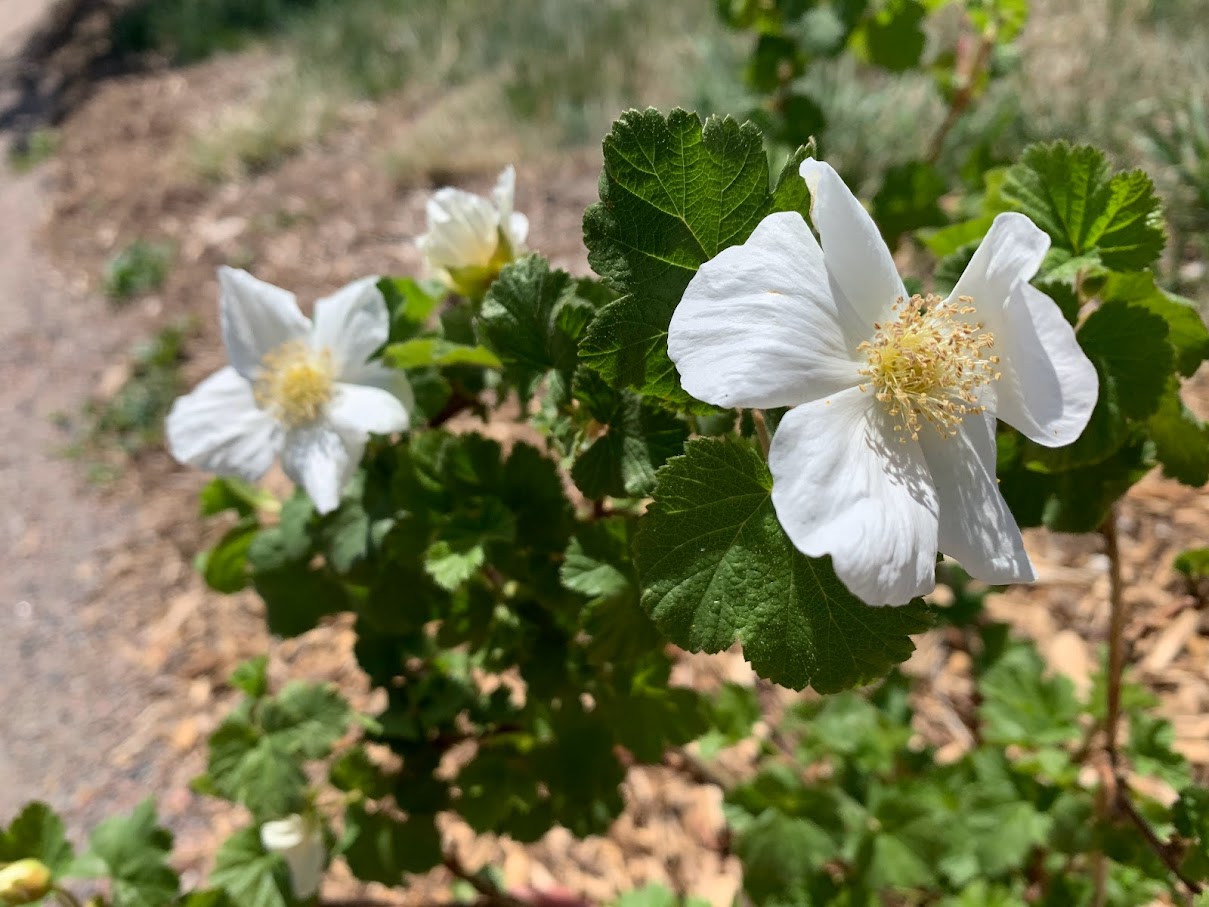 Boulder raspberry (Rubus deliciosus)
Zones: 4–8
Size: 4 to 6 feet tall and 4 to 6 feet wide
Conditions: Full sun to partial shade; moderately wet to moderately dry soil
My main complaint with this plant is the downright misleading epithet of deliciosus; it's a berry only a bird (or maybe a bear) could love. Dry and mealy, these berries aren't worth eating, as I discovered as a kid—to my great disappointment. Thankfully, I've moved past that brief offense. As an adult, I consider these plants fantastic native additions to well-rounded landscapes. With tawny, exfoliating bark, plants provide off-season interest and cloak themselves in large, attractive rugose leaves during the growing season. In late spring, look for a flush of gigantic, white, five-petaled flowers, each with an eye-catching, fuzzy-looking center. I grow this plant like I grow serviceberries, including it as an understory plant in partial-shade sites in more-mature garden spaces where its unusual, warm-toned bark and striking foliage add interest to such understated spaces. Plants need irrigation in areas with hot summers to retain their charm but are well suited to rocky and gravelly soils.
See more gardening advice for the Mountain West
---
---
Bryan Fischer lives and gardens at the intersection of the Great Plains and the Rockies. He is a horticulturist and the curator of plant collections for a local botanic garden.