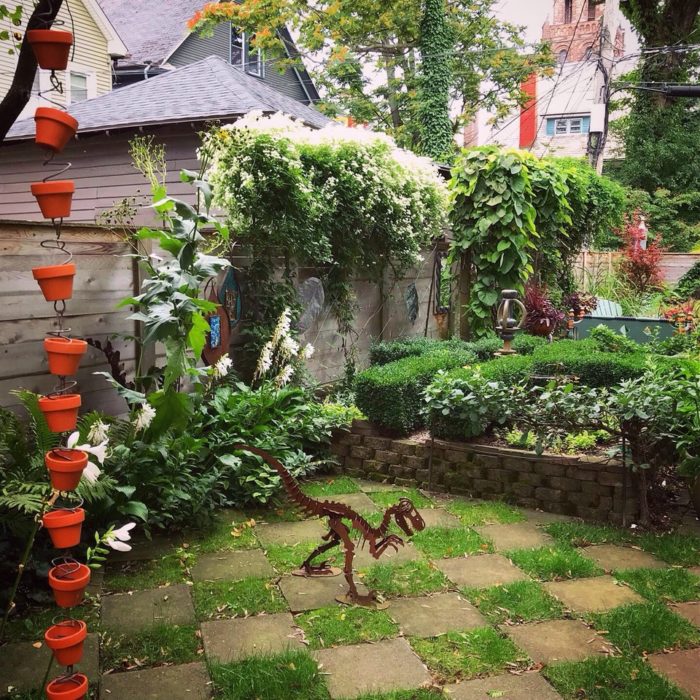 Today we're visiting Jim Charlier's garden.
I garden in Buffalo, New York, which is in Zone 6 along the temperature-moderating Lake Erie. I've been gardening at this house for 20 years now. We get our garden project inspiration from visiting gardens on our trips around the United States and abroad.
Biggest failure? I built the raised bed potager to grow vegetables. The same year, I planted a river birch east of it, across the driveway. Three years later, the potager doesn't get enough sun to grow vegetables, so I've spent the last 10 years trying to find something that will grow there with less light. After trying annuals (too expensive, not enough sun for flowers), shade-happy vegetables (don't like summer heat), and sedums (look too scraggly) I went last year with bugleweed (Ajuga reptans, Zones 3–9). We'll see how that works out in its second year.
Successes? Many, but I'm most proud of having designed and built the potting shed to replace a timber jungle gym that was in the spot when we bought the house in 2001. It took two summers to build, but we now have a respectable place to store our garden gear and can now, once again, fit a car in our garage in the wintertime.
If I had to choose my favorite "thing," I would have to choose the three espaliers we have.
The first is a diamond-shaped espalier of four dwarf pear trees along a garage wall. It makes a beautiful backdrop for the dining area on our deck. It's hard to explain to people that it's trained along cables. Even after I explain it, and even show them pears growing, some people have left muttering that they've never seen a pear vine before.
The second espalier is two knee-high dwarf apple trees on either side of the raised bed potager garden. It killed me to top off the trees at about 2½ feet, but they have been there for eight years and seem happy. Last year I even got an apple. Yes, just one. We saw a similarly espaliered apple tree at Monet's Garden in Giverny, France, and stole the idea.
The last espalier really isn't an espalier. I call it a "poor man's espalier." It's blackberry canes trained (strapped) to wire rope in a diamond pattern across our back fence. It's large and dynamic and surprises visitors, who have never seen blackberries in anything but annoying brambles. It fills in much faster than trees and needs much wrangling.
Favorite plant? Heuchera (coral bells). They come in so many colors—and textures, sizes, and sheens. I collect them when I can in one particular bed. They look impressive together. I built a copper fountain that looks like a 3½-foot-tall heuchera in the middle of the heuchera bed.
We're on Garden Walk Buffalo each year. It's the largest garden tour in North America, with more than 400 gardens. More than 65,000 guests from around the United States, nearby Canada, and beyond visit each year. We get about 3,500 people just in our garden alone each year. It's nice to garden with passion, and it's nice to enjoy it on our own, but we also like to share it with others.
All photos are mine.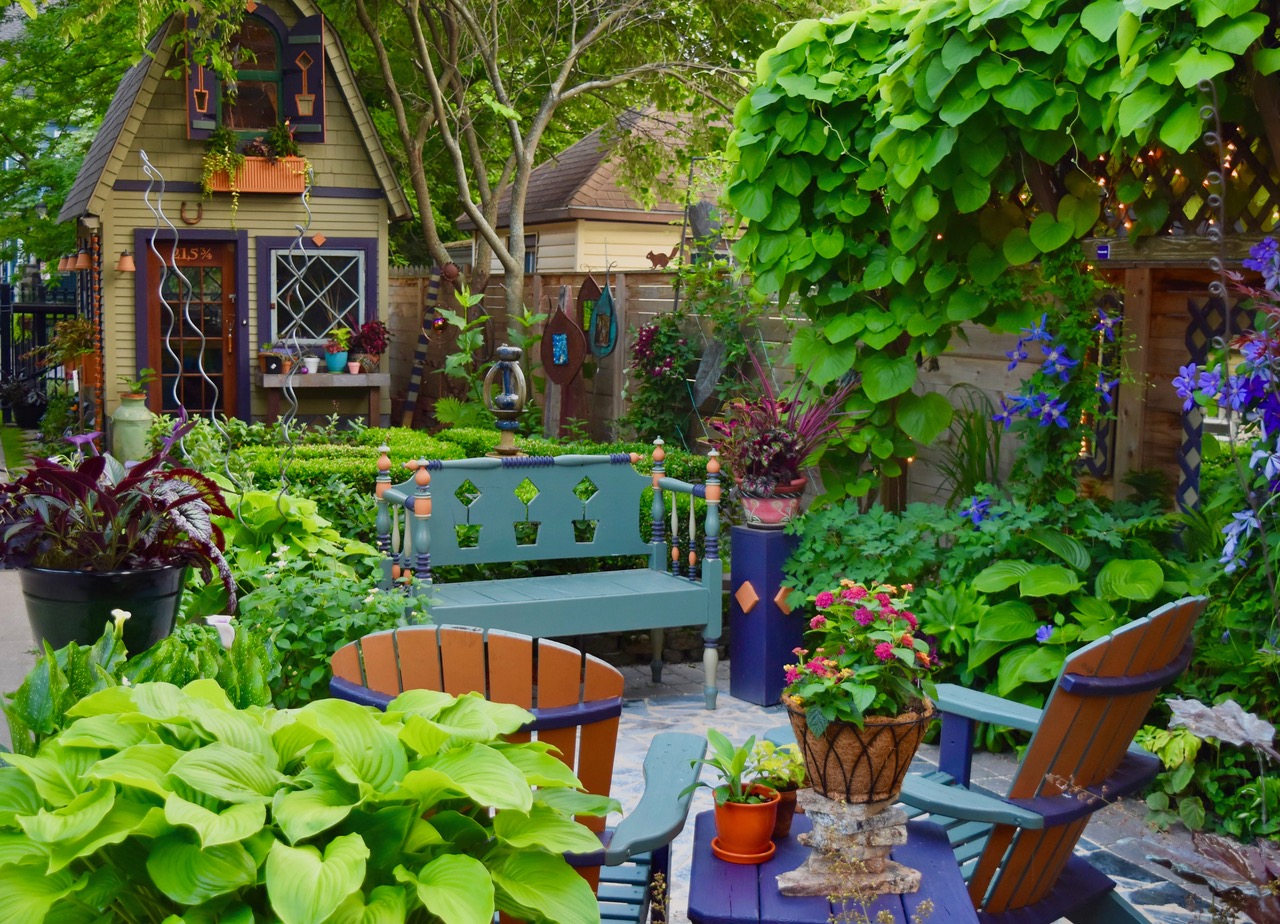 A hosta in a tall planter in the foreground. At the top right, Dutchman's pipe (Aristolochia macrophylla, Zones 4–8) and a clematis climb an arbor. I made the bench from my mother-in-law's childhood headboard. On tables and the pedestal are various annuals.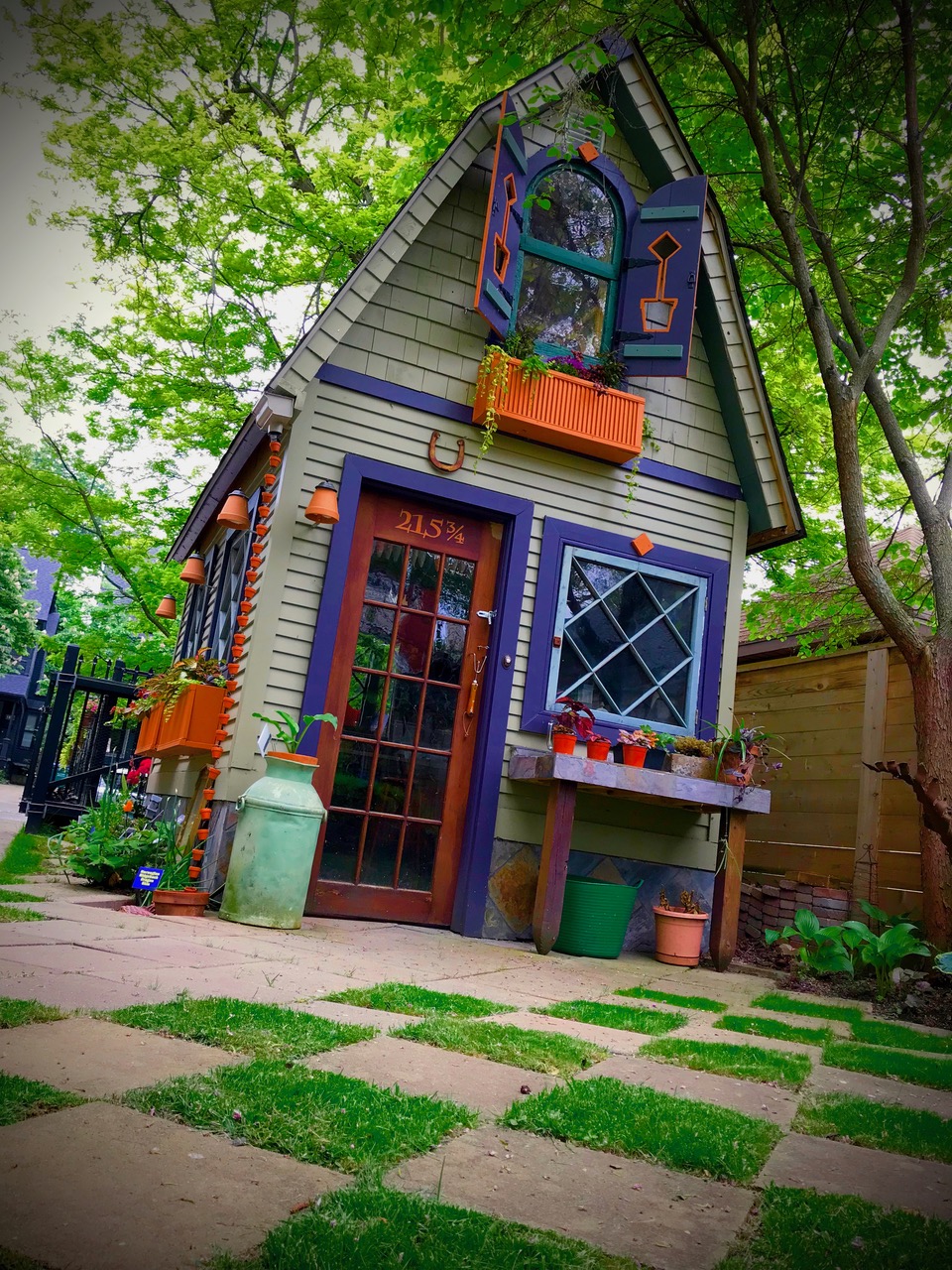 Grass and paver checkerboard garden in front of the potting shed I designed and built myself. Window boxes are made from repurposed bifold closet doors. Windows and doors were original to the 1897 Dutch Colonial house. I made the terra-cotta pot lights with solar lights, as well as the recirculating terra-cotta pot rain chain. On the left of the potting shed is a "Harry Potter Garden" of odd-looking annuals and perennials we've labeled with the names of plants from the Harry Potter books with each plant's magical properties.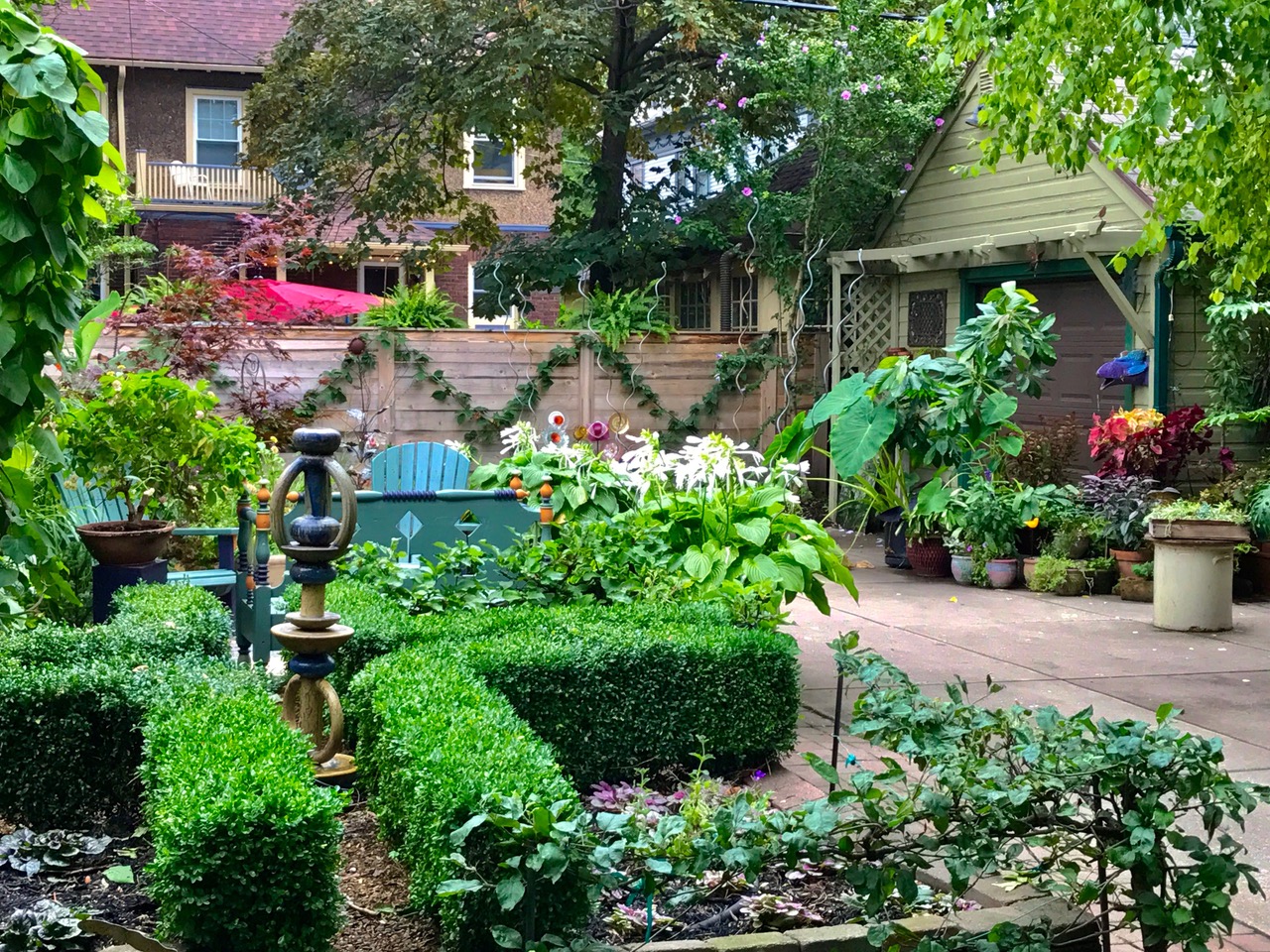 Foreground: raised bed pottage garden with boxwoods and bugleweed, surrounded by a knee-high dwarf apple tree espalier. Background against fence: blackberry canes along a diamond-shaped wire rope. On right: houseplants and annuals enjoying their summer outdoors, avocado tree, elephant ears, and more.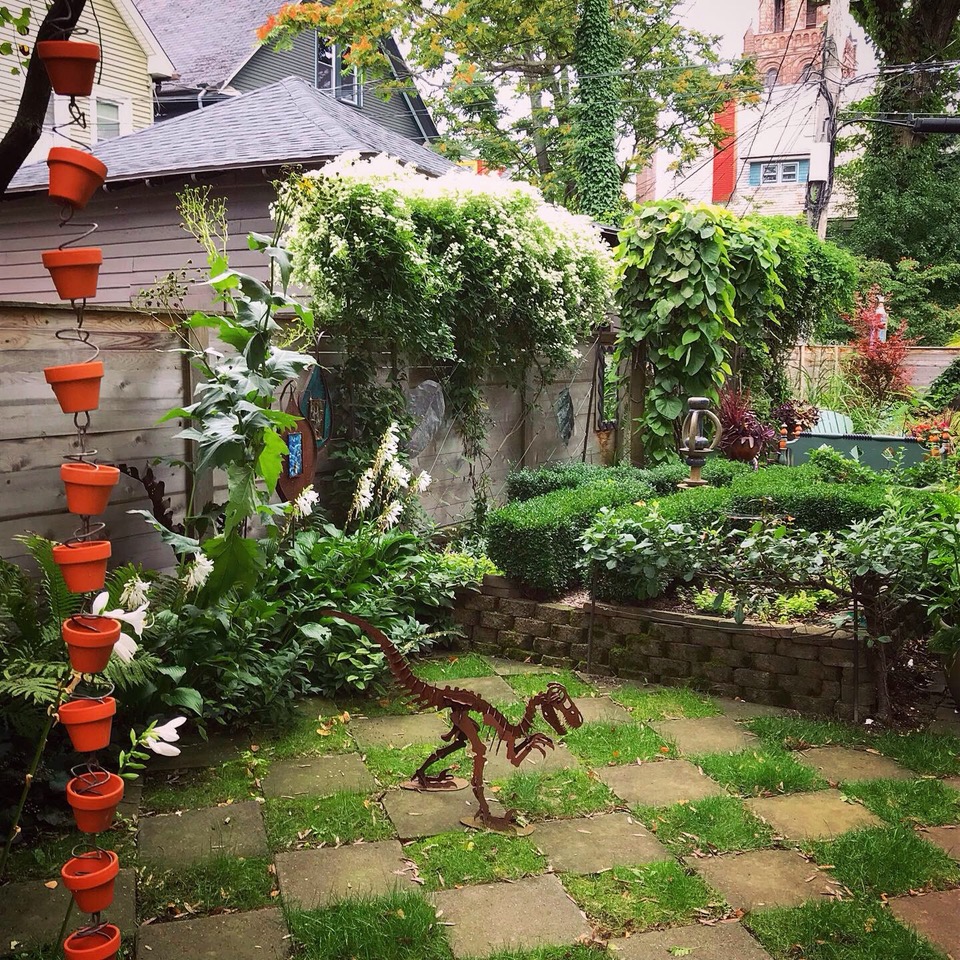 Grass and paver checkerboard. Along the fence are hostas and ferns, the raised bed pottage and knee-high dwarf apple tree espalier, sweet autumn clematis (Clematis terniflora, Zones 4–9) climbs a copper trellis. On the left, the small terra-cotta pots are a rain chain connected to a circulating pump with hidden basin.
A collection of heucheras (coral bells) in a variety of colors surround a handmade copper heuchera fountain.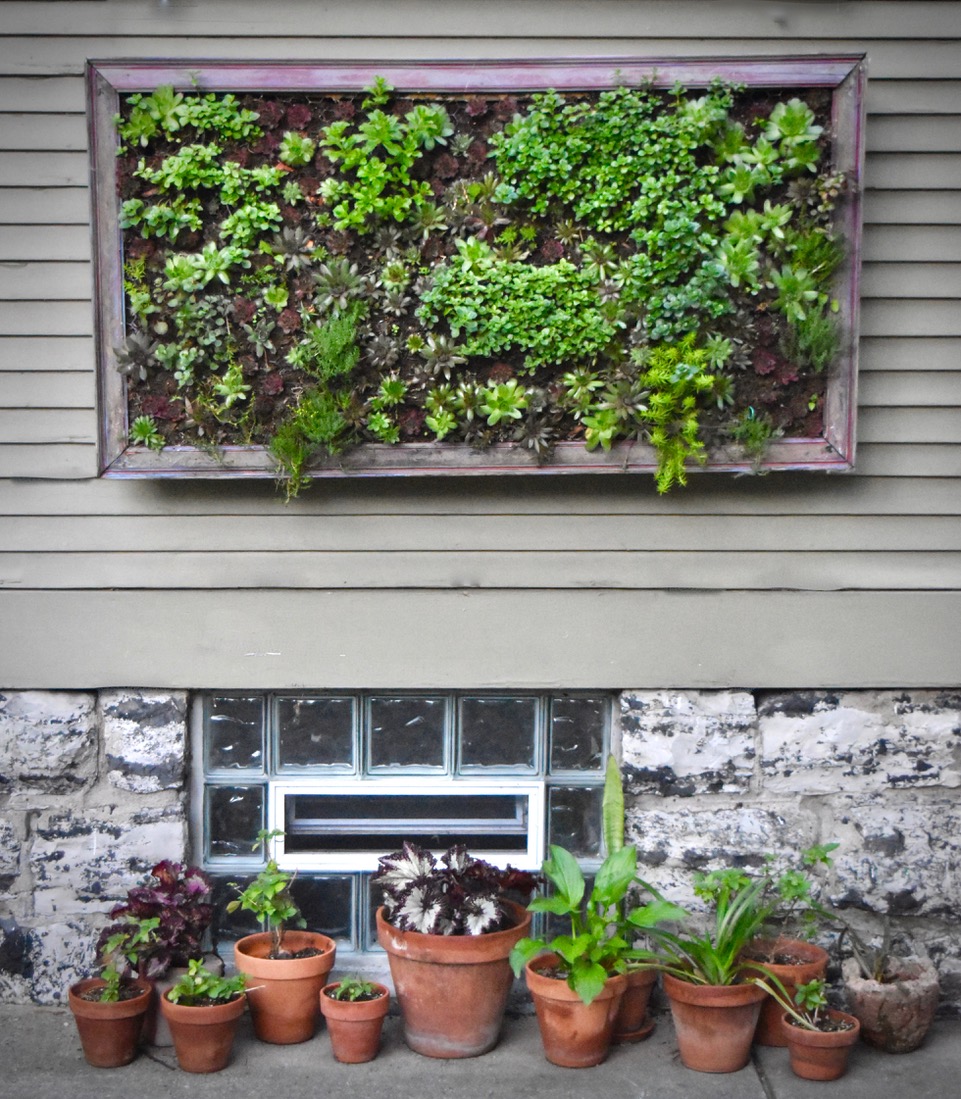 A hanging 5-foot by 3-foot vertical garden of hens and chicks and sedums. Young lantana, hosta and begonias in pots.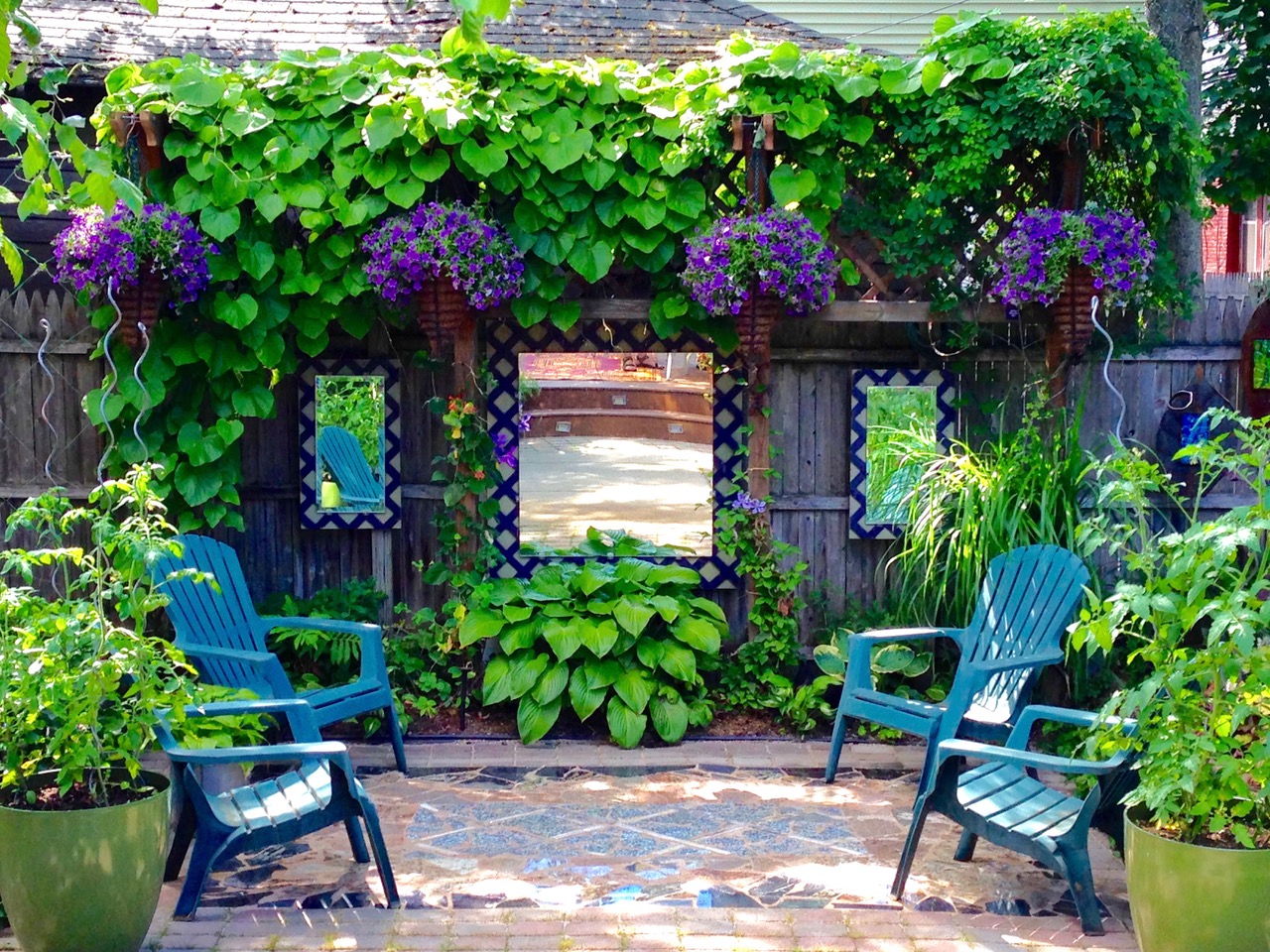 Arbor of climbing vines (left to right): Dutchman's pipe, honeysuckle (Lonicera), clematis, five-leaf chocolate akebia (Akebia quinata, Zones 5–9). A marble and granite scrap carpet is inset into the brick patio. In the center is a hosta, at each side are tomato plants in green pots.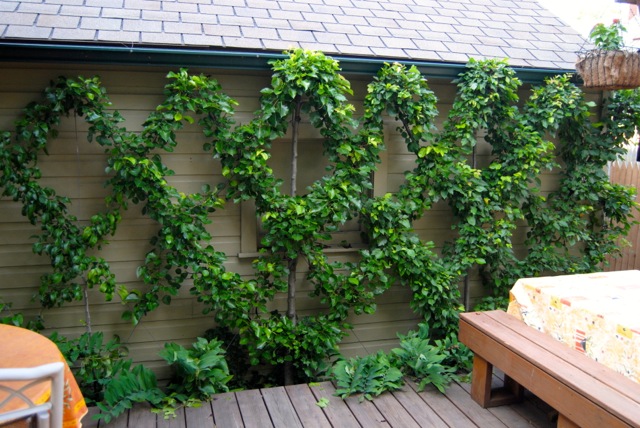 A diamond-shaped dwarf pear tree espalier against a garage wall next to the deck.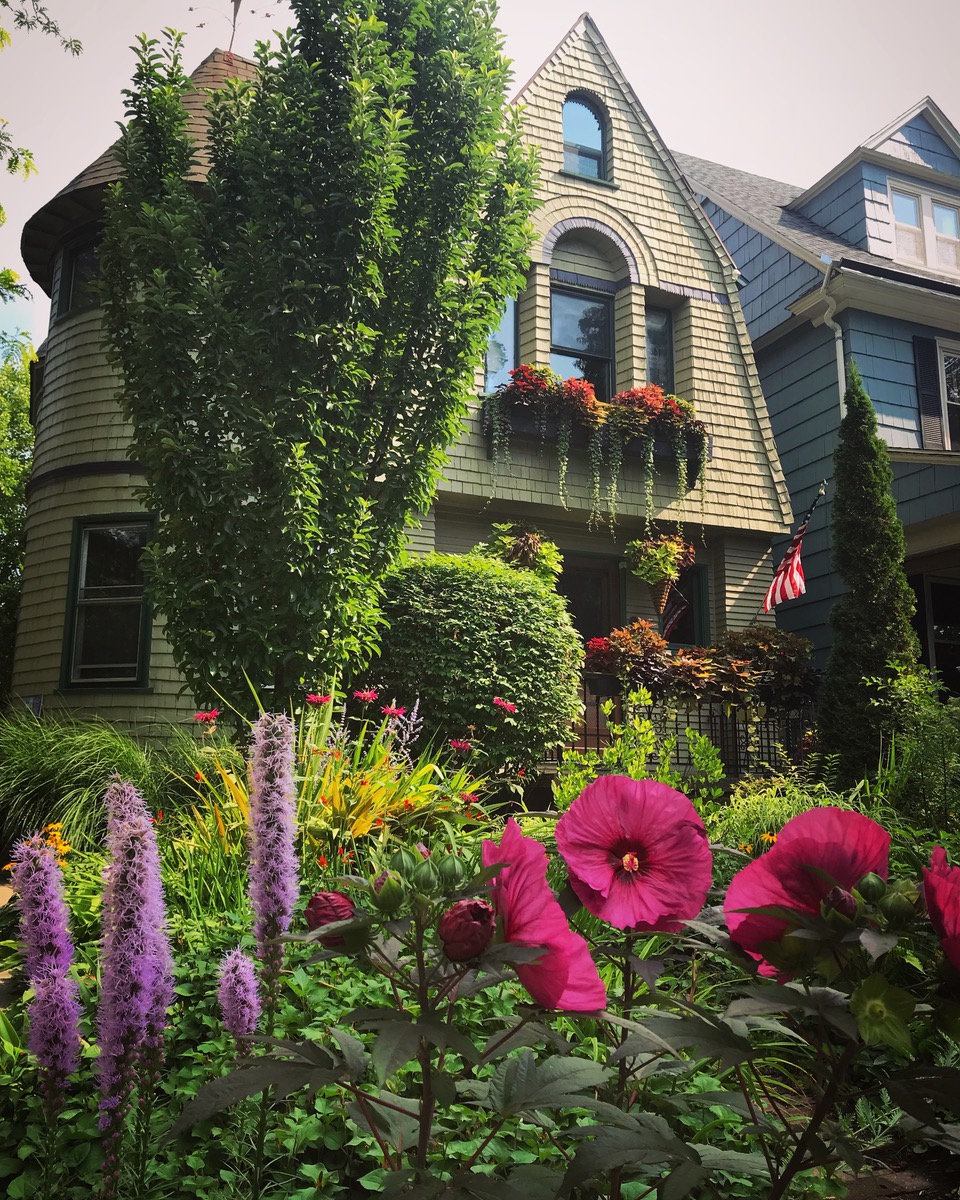 A columnar apple tree in the front yard garden, which contains liatris (Liatris spicata, Zones 3–9), hardy Hibiscus, hostas, 'Lucifer' crocosmia (Crocosmia 'Lucifer', Zones 6–9), Japanese forest grass (Hakonechloa macra, Zones 5–9), and dozens of other perennials and shrubs. In the hanging baskets and window box are mostly coleus, sweet potato, and variegated creeping Charlie (Glechoma hederacea, Zones 4–9).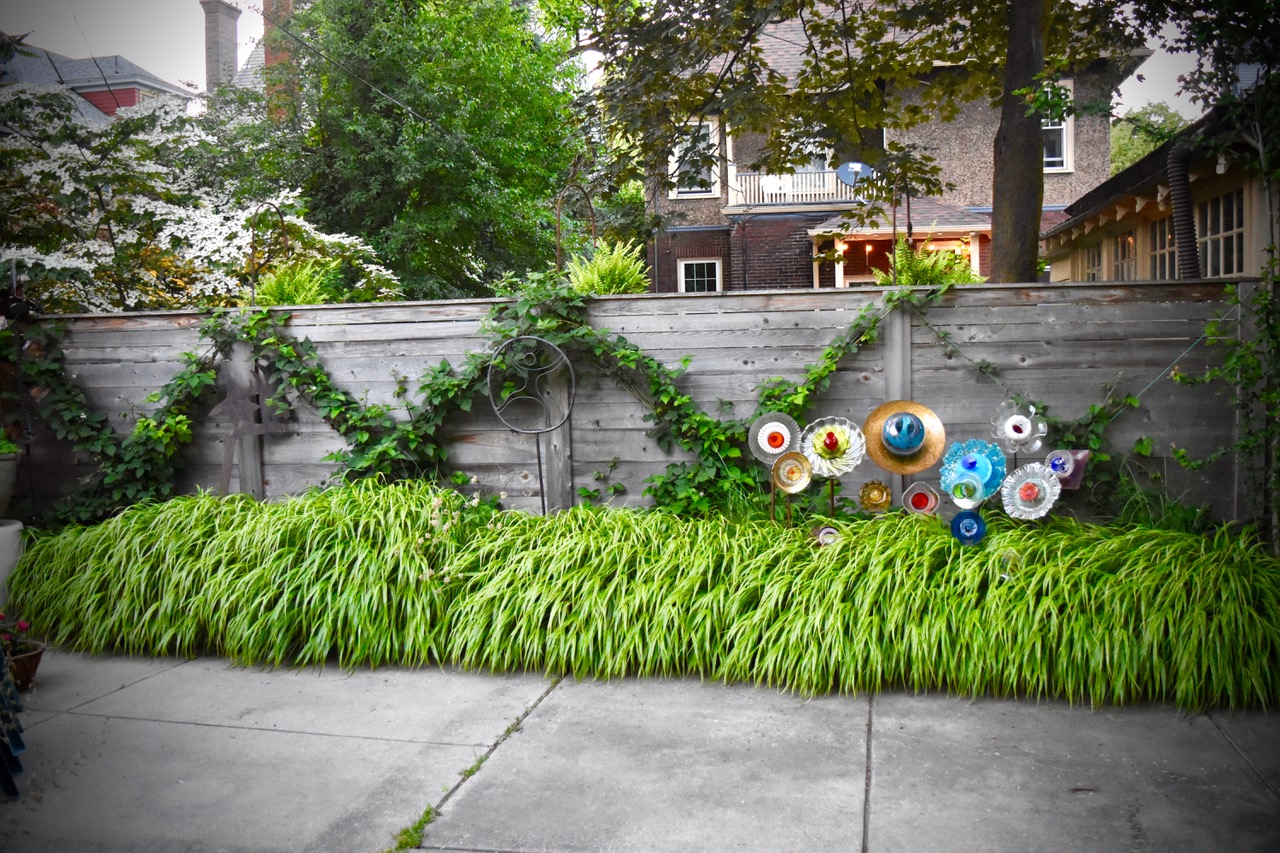 Blackberry canes growing along wire cable fronted by a row of Japanese forest grass and a collection of glass flowers.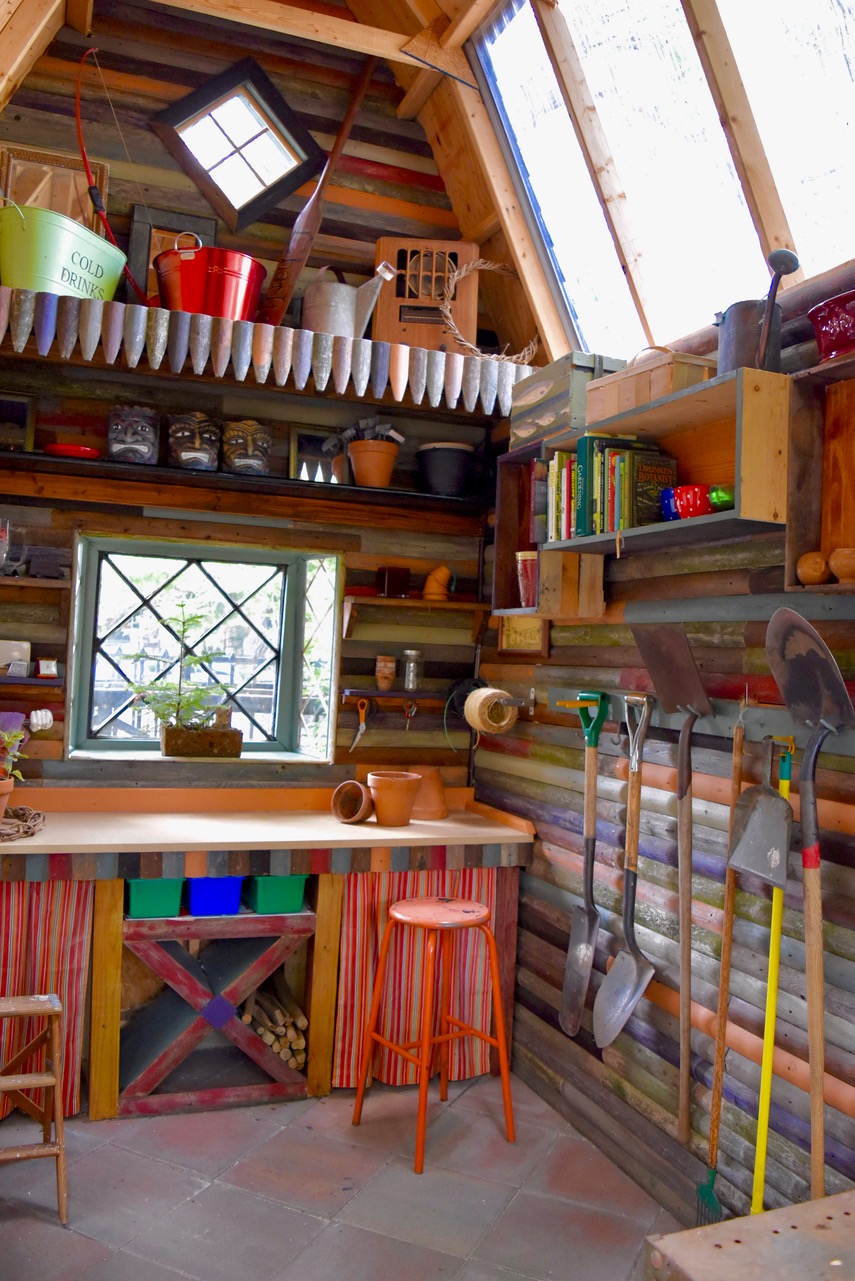 The inside of the potting shed has roof panels of clear plastic, so it's nice and bright. The walls are picket, stained and painted with leftover house paints, from an old picket fence that surrounded the house. The window is original to the 1897 house. The floor is made of the same pavers that make up the checkerboard garden in front of the shed.
Have a garden you'd like to share?
Have photos to share? We'd love to see your garden, a particular collection of plants you love, or a wonderful garden you had the chance to visit!
To submit, send 5-10 photos to [email protected] along with some information about the plants in the pictures and where you took the photos. We'd love to hear where you are located, how long you've been gardening, successes you are proud of, failures you learned from, hopes for the future, favorite plants, or funny stories from your garden.
If you want to send photos in separate emails to the GPOD email box that is just fine.
Have a mobile phone? Tag your photos on Facebook, Instagram or Twitter with #FineGardening!
You don't have to be a professional garden photographer – check out our garden photography tips!
Do you receive the GPOD by email yet? Sign up here.