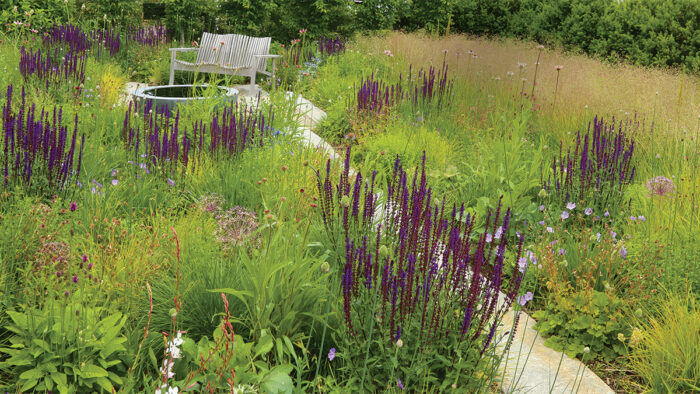 Many gardeners dream of having a landscape inspired by a designer such as Piet Oudolf. Think of the High Line in New York City or the Lurie Garden in Chicago. We want that naturalistic fullness, that seasonality, and that endless diversity when we look out our windows. But the reality is that most of us cannot wrap our heads around planting 50,000 plug perennials to achieve that look—which to average gardeners feels like a project of commercial scale. Garden designer Adam Woodruff spent many years planning and installing large-scale naturalistic landscapes for clients, but in 2020 he found himself faced with a new challenge: designing a small landscape for his new home in Marblehead, Massachusetts. He now needed to adapt the techniques he'd perfected on bigger swaths of land to a more modestly sized plot. "It's an experiment, a learning and teaching tool," Adam says of his new garden. "I envisioned a captivating atmosphere, painterly in composition yet suited to a smaller residential property of just 10,000 square feet. For these conditions, the garden needed to be deliberate and coherent and not appear wild or unkempt."
Adam reached out to Matthew Cunningham, a noted New England landscape architect, to collaborate with him on the master plan for the space, and together they were able to create magic. The garden evolved into a beautiful scaled-down version of a grand meadow that looks like it's 10 years old, yet it has existed for only three years. The landscape has all the allure of a fast-to-mature matrix-style garden—diversity, fullness, and seasonality—but with a bit more legibility and nuance, which a smaller footprint demands.
---
The plan: An adaptation of a large-scale design
This garden is a perfect example of how a ­design style traditionally associated with a large lot can be scaled down to bring interest to a smaller space.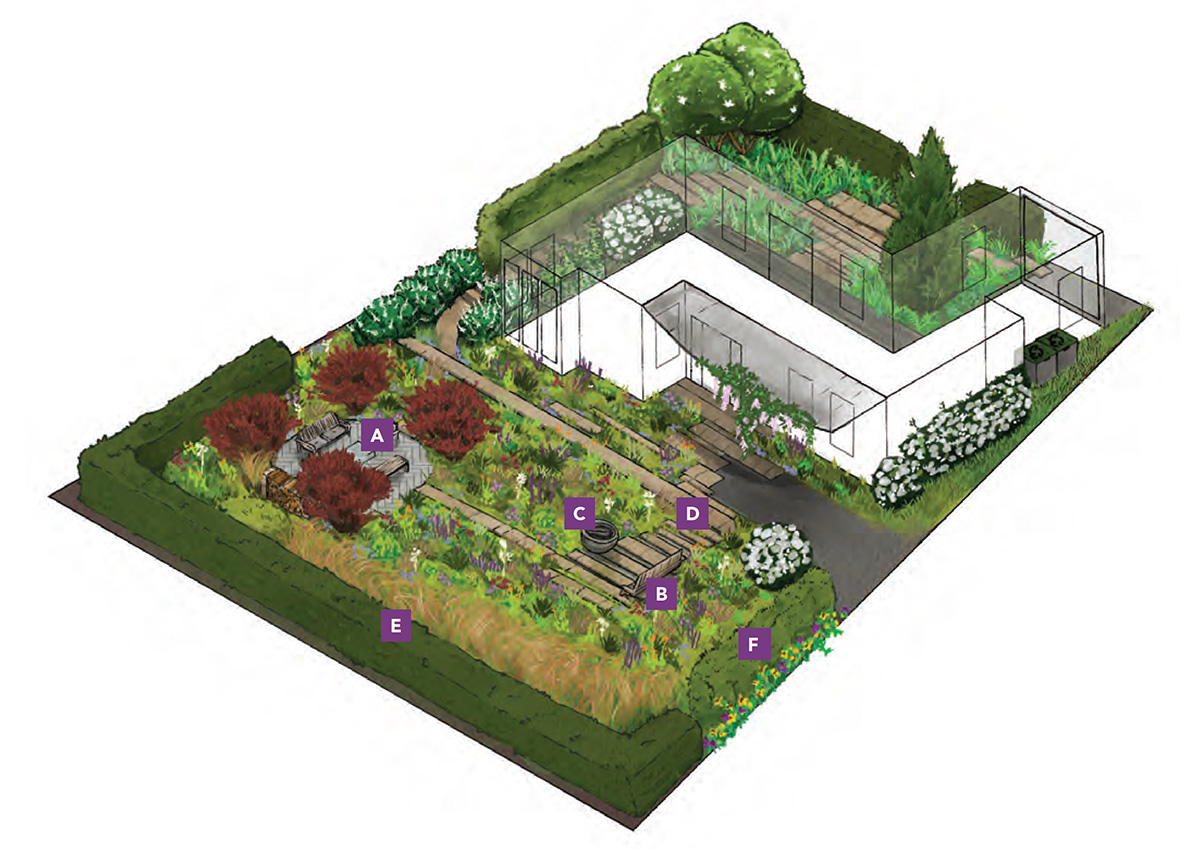 Herringbone-patterned brick terrace
Bench seating area
Water bowl
Granite curbstone bands
Yew hedge
Hornbeam hedge
---
Get the hardscape in place during the off-season
Ask any designer what the first step should be in planting a brand-new landscape and you will hear the same thing: Sit with the space for a bit. This will allow you to assess what the overall flow and look of the garden should be and how the space should be organized. For Adam, that contemplation period came the winter before any actual site work began. This was time he could have spent trying to get some plants into place before the New England ground froze solid. But he resisted that urge, which paid dividends in the end. Instead, he and Matthew developed a plan for a stylized meadow flowing between two seating areas connected by linear bands of reclaimed granite curbstone (which would give the garden more visual structure).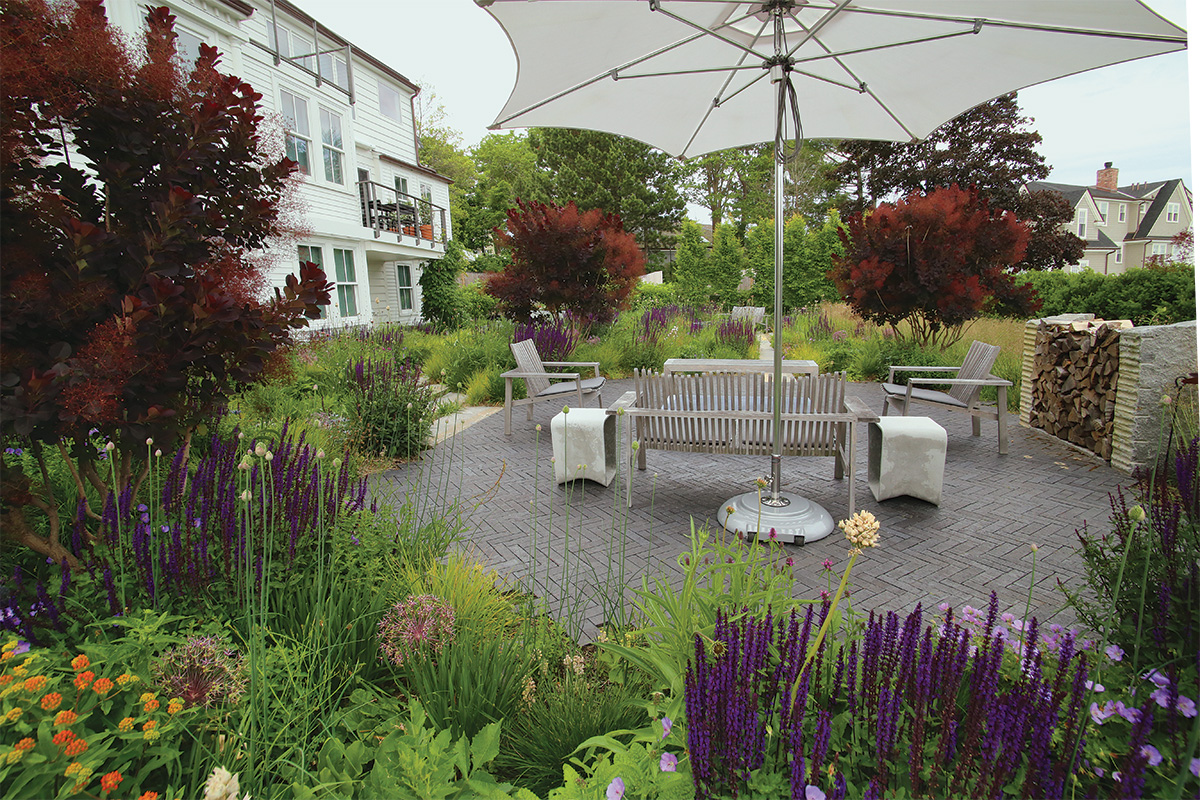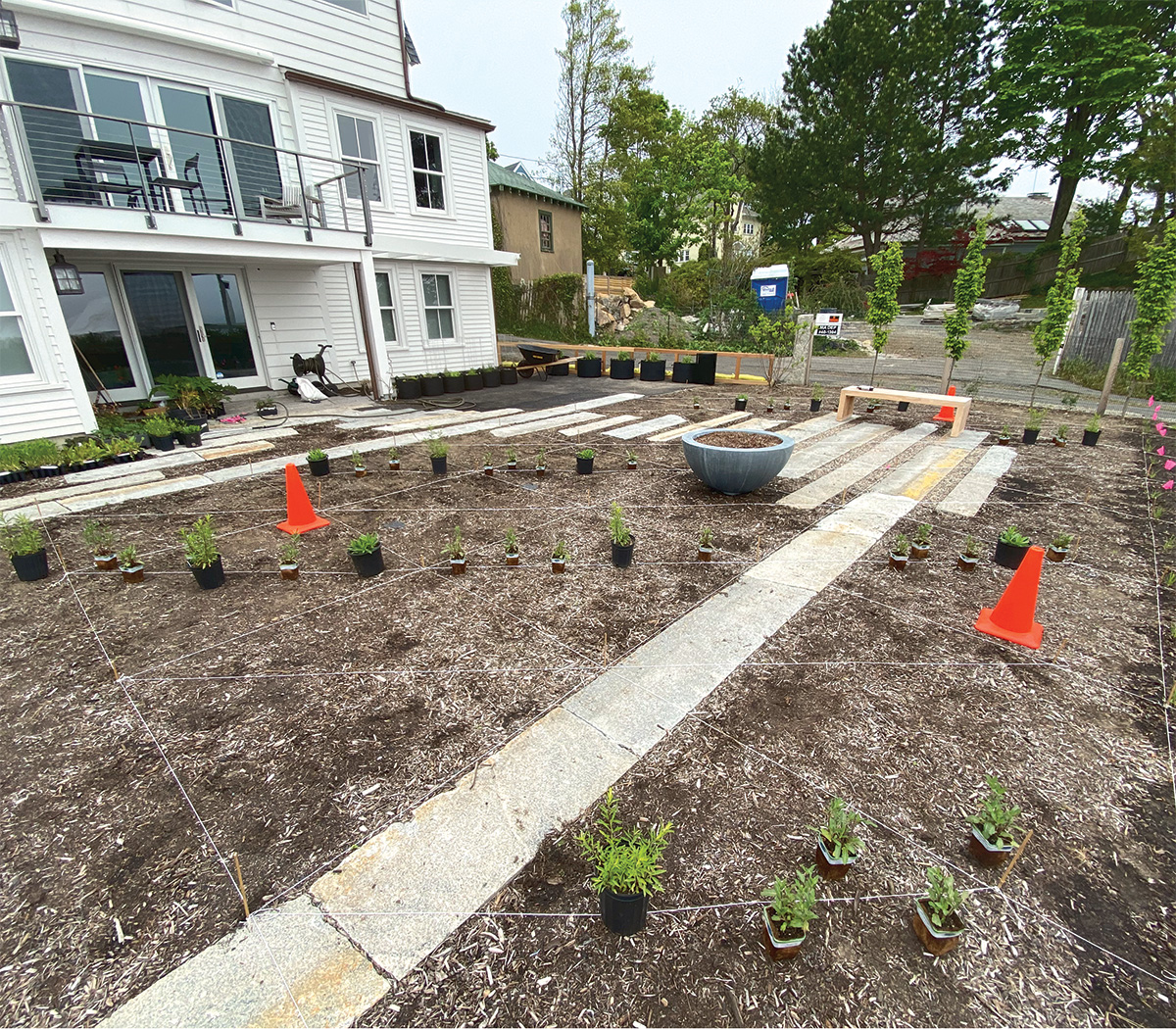 Using the off-season—a slower stretch of activity for gardens and gardeners—to install hardscaping is a great way to utilize time that isn't normally spent planting. If your off-season happens to be fall, as was the case for Adam's garden in 2019, it's also the best time to get a look at the space as a blank slate, which will allow the hardscaping layout to take shape more clearly. Because this garden was envisioned as a true outdoor living space, it needed multiple seating areas. The first installed was a herringbone-patterned brick terrace with ample space for entertaining. The clean, straight lines of the hardscape are important in keeping the surrounding plantings in check. A series of granite stone bands create a walkway of sorts and connect the terrace to a second seating area at the opposite end of the lot. This stone banding was repeated at angles throughout the planting beds as well. The rectangular blocks provided organizational structure for the meadow to come. The off-season was also a great time to complete other site projects that weren't as glamorous. Curtain drains and a retaining wall were installed at this point too, leaving early spring free for planting, planting, and more planting.
Add trees and screening to establish structure and privacy
One of the biggest goals for this garden was for it to be deliberate and coherent and not too unruly. One important way Adam achieved this goal was the integration and specific placement of woody plants. These trees and shrubs created the bones of the garden (along with the distinctive hardscape) and helped organ­ize the space further. Getting those woodies established as soon as possible allowed Adam to start forming boundaries and defin­ing the space.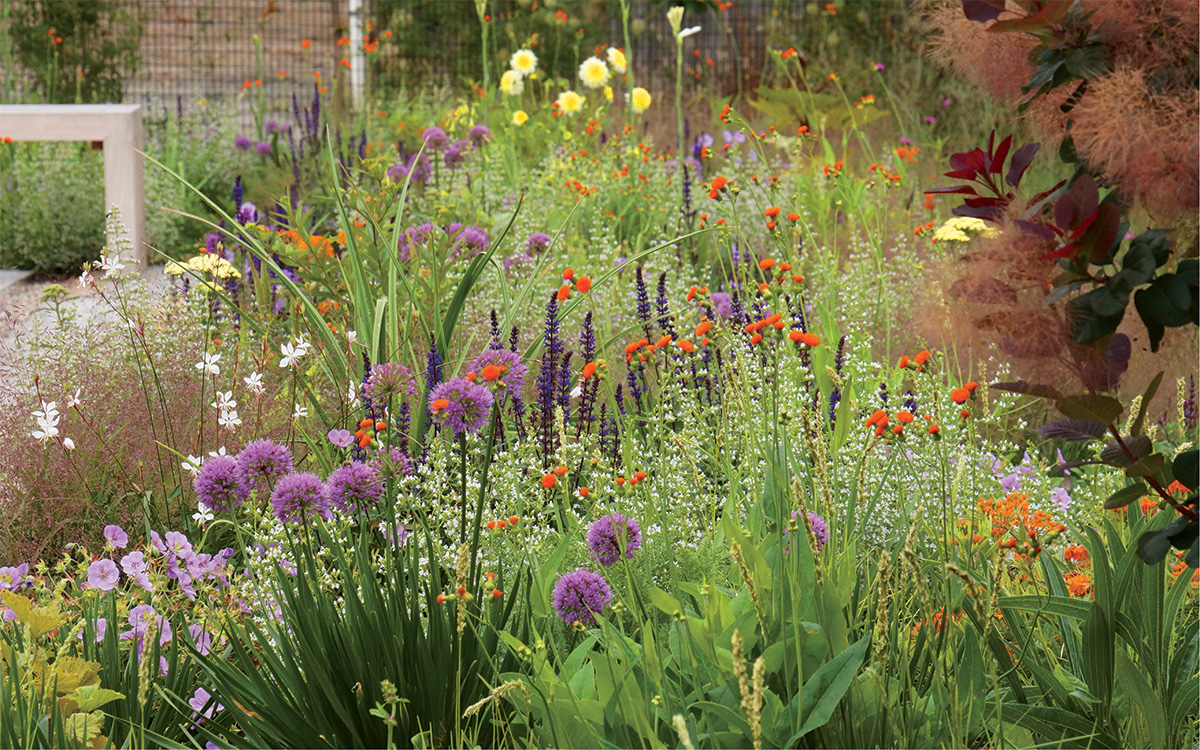 To quickly achieve the goal of structure and screening, Adam enclosed the space with Hick's yew (Taxus × media 'Hicksii', Zones 5–8) and 'Frans Fontaine' hornbeam (Carpinus betulus 'Frans Fontaine', Zones 4–8) hedges. "This improved privacy and created a crisp backdrop for the new plantings," he says. Next, he placed 'Royal Purple' smokebush shrubs (Cotinus coggygria 'Royal Purple', Zones 4–9) as anchors around the herringbone terrace. These were chosen for their dramatic color, floral display, and ability to be coppiced, which ensures that they don't obscure the view. Those three key woodies provide a 12-month presence. But the trees and shrubs aren't the only elements that bring structure to the garden. Adam went a step further and imposed a pattern on the main planting beds.
---
Check out Adam's 3 Tips for Evolving a Naturalized Garden Quickly
AND get a comprehensive list of all the plants in this meadow garden.
---
Lay out blocks of plant communities for the greatest seasonal impact
By now many of us are familiar with the garden design style known as "matrix." "It's meant to emulate naturally occurring plant communities where plants knit together and thrive to the exclusion of weeds, and in the long term it requires less maintenance than traditional planting schemes," explains Adam. This garden's matrix-style planting is composed of more than 40 genera (low-growing perennials, grasses, bulbs, and annuals) selected for their length of bloom, high aesthetic value (foliage, flower, seedhead, fragrance), and ability to thrive in an often punishing coastal environment. The sheer amount and types of plants used in a matrix-style garden, along with their thoughtful placement, lead to gardens that fill in rather quickly.

Unlike in a traditional matrix-style planting, however, Adam organized selected plants in repeating diagonal bands. This gives the meadow a sense of order, creates an illusion of depth, and ensures that a gardener with limited time or skills could easily maintain the mini-meadow. "Depending on the time of year and where you are standing—particularly when looking down on the meadow—the diagonal bands can be quite evident," says Adam. "It's difficult for me to feel comfortable with such a tight pattern in naturalistic planting, but it works in a small space that you're experiencing all at once." The banding isn't as apparent from all angles, however. That was a deliberate design feature because the garden is ­enjoyed from the upper floors of the house and its balconies, and at ground level when you're fully immersed in the meadow. Each point of view delivers a different experience. Adam says it helps to think of this garden as a Persian rug; when you look down on it you see the design, but if you lie on it and look across it, you get a different perspective.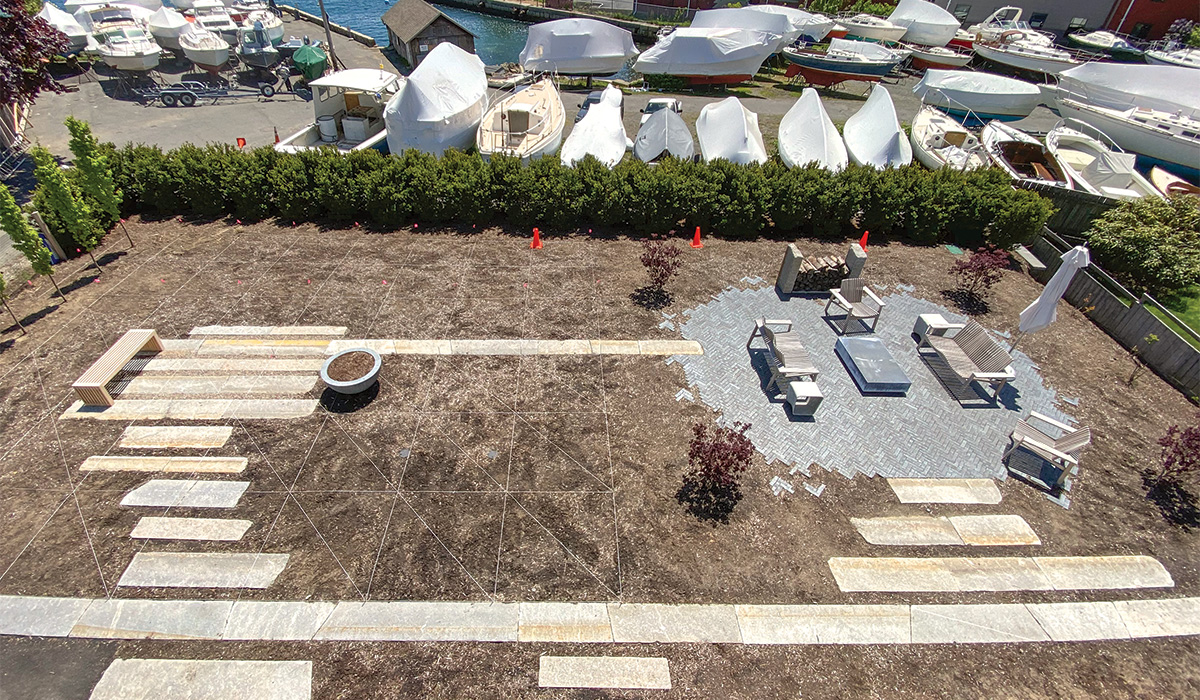 Each month, new structural and seasonal theme plants emerge from within the bands to enhance the overall composition. "I evaluate the performance of each species, scrutinizing its distribution and proportion in the meadow, and edit on a season-to-season and year-to-year basis to find a balance," ­Adam says. For instance, in mid-May of this year, he thinned out the 'Caradonna' salvia (Salvia nemorosa 'Caradonna', Zones 3–8) by 50% to allow the plant to have a more open form as the flowers emerged. The plants also developed a second flush of blooms from the lateral cuts. Another example was in year 2, when he removed 30% of the pale coneflower (Echinacea pallida, Zones 3–9) from the meadow when he realized that it was overwhelming the garden as a whole.
The main garden beds and planting scheme gave way to a neutral band of grasses in front of the yew hedge. This was ­done to obscure a slight depression in the grade. "The grasses act as a foil for the more complex plantings in the foreground," Adam says. This East Coast location was perfectly suited for cool-season grasses because they emerge early in spring and cover the ground more quickly than their warm-season counter­parts. This also helped the garden achieve a lushness seldom seen in a young landscape.
The quick evolution of this space is nothing short of extra­ordinary. But its beauty proves that with thoughtful advance planning and the right planting scheme, it is possible to get a gorgeous garden in just a few years. "This garden has become a model that I can adapt for future projects," says Adam. "I can play with different patterns, organizations, species, color palettes, proportions, and distributions to create unique atmo­spheres and experiences." Anyone lucky enough to sit within this garden and watch the ships sailing in the distance would have to agree that it is an incredible experience, regardless of the garden's age.
---
A Quick Primer on Matrix-Style Plantings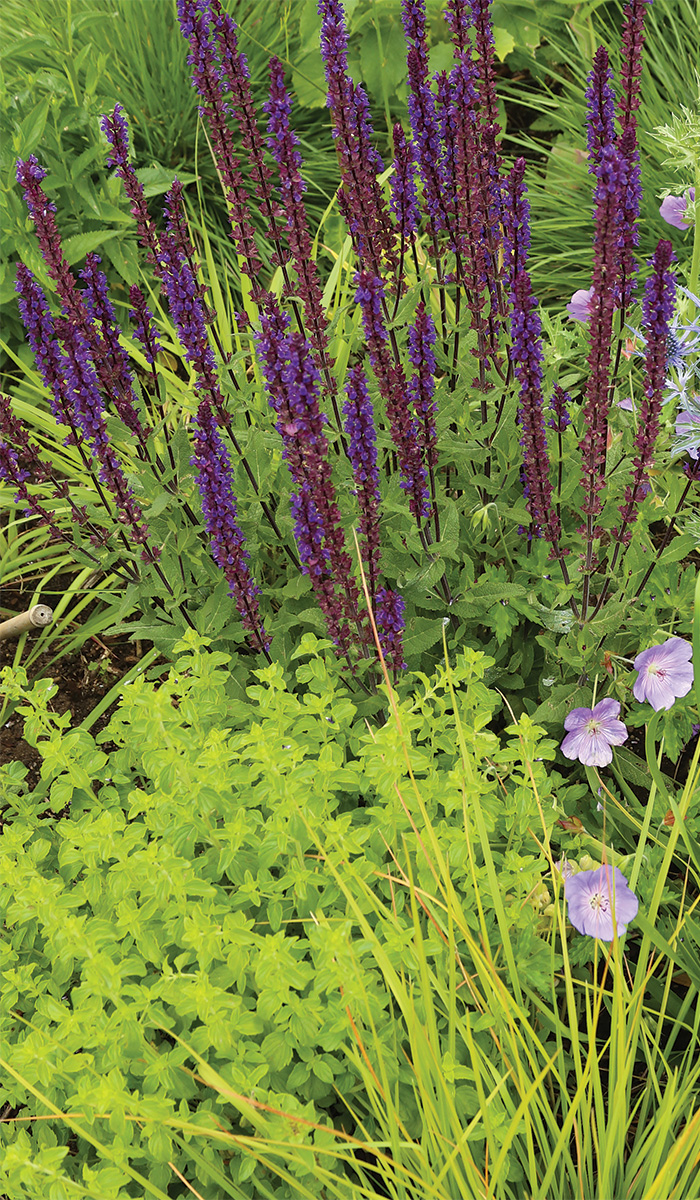 No doubt you've heard a lot about "matrix planting" in the past few years. These stylized meadows are best seen through the work of Piet Oudolf, Bettina Jaugstetter, Cassian Schmidt, and Nigel Dunnett, among others. Simply speaking, a matrix is an organizational strategy whereby a high-density mix of plants (eight to nine per square meter) with similar cultural requirements and growth rates are arranged in a planting based on their function. Below are the categories that plants fall into within a matrix planting, along with an example from Adam's garden of a plant in each category.
STRUCTURAL PLANTS
These are visually strong and architectural selections that break the horizontal plane and/or act as a focal point.
'Big Blue' sea holly (Eryngium × zabelii 'Big Blue')
Zones: 5–9
Size: 1½ to 2 feet tall and wide
Conditions: Full sun; well-drained soil
Native range: Hybrid
SEASONAL THEME PLANTS
Colorful and changing from season to season, these options create rhythm in the design.
Smallhead liatris (Liatris microcephala)
Zones: 6–9
Size: 18 to 24 inches tall and 8 to 12 inches wide
Conditions: Full sun; well-drained soil
Native range: Southeastern United States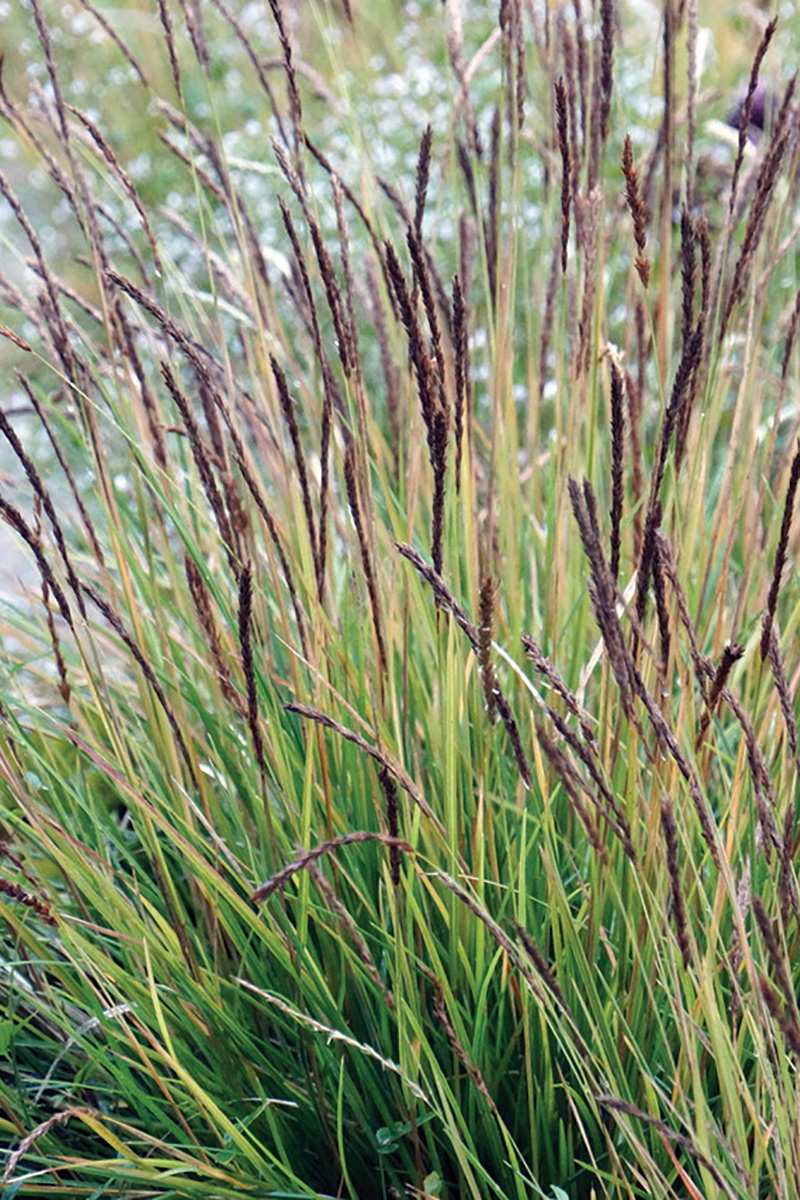 GROUND-COVER PLANTS
Think low-growing creepers that are early to emerge and that suppress weeds.
Autumn moor grass (Sesleria autumnalis)
Zones: 5–9
Size: 8 to 24 inches tall and 18 to 24 inches wide
Conditions: Full sun to partial shade; well-drained soil
Native range: Southern Europe, the Caucasus region
FILLER PLANTS
These can include tender bulbs, annuals, biennials, and short-lived perennials, all of which cover ground quickly and hold space until the perennials mature.
Tuberose (Polianthes tuberosa)
Zones: 4–9
Size: 2 to 3 feet tall and wide
Conditions: Full sun; well-drained, average soil
Native range: Garden origin
SCATTER PLANTS
Randomly sprinkled throughout the garden, these can be annuals or perennials.
Tassel flower (Emilia javanica)
Zones: Annual
Size: 12 to 18 inches tall and wide
Conditions: Full sun; well-drained soil
Native range: Asia, Africa
---
Danielle Sherry is the executive editor.
Photos, except where noted: courtesy of Adam Woodruff