Design
Six Ways to Improve Your Garden With Containers
These ideas can help you improve the overall appearance of your space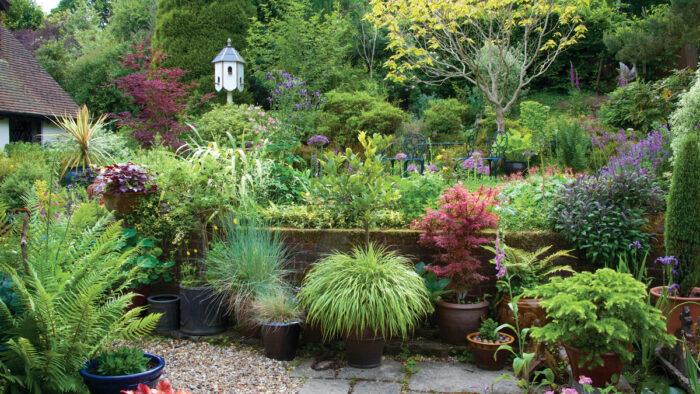 If there were a gardening equivalent to the cooking adage "Salt makes everything better," it would likely be "Pots make everything pop." Many of us spend precious time and energy each growing season planting containers, and we rely on these designs to dress up our decks and welcome visitors into our entryways. But if our pots can have a magical effect in those traditional locations, why couldn't they provide some of that same magic out in our beds and borders? Andy and Ra McIndoe decided to pursue that question in their lush English garden, using pots to improve the overall design of their space. From softening edges to creating focal points, the McIndoe garden proves there are myriad ways for containers to work harder in our landscapes.
Learn more: Designing Long-Lasting Containers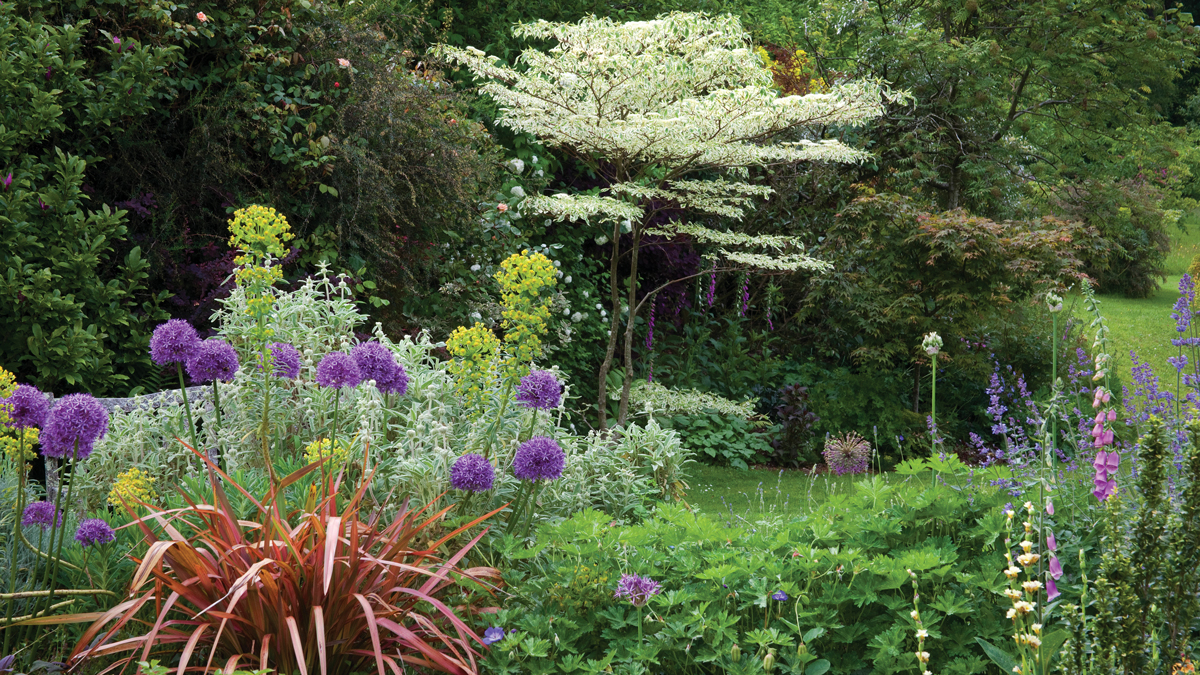 1.

Enhance an established bed

Have you ever stared out at a section of your garden and thought, "Something is missing." Maybe there is a visual hole that never seems to be filled or a sea of green that needs a color boost. In mature garden beds, finding a place to plug in a new plant to "fix" the problem is next to impossible. If you don't want to rip out any existing plants or risk disturbing the root systems of your core performers, consider placing a pot with a choice plant right into the bed. Containers can easily be nestled between larger plants without much effort. This is also a good tactic to use for incorporating tender plants, like this New Zealand flax (Phormium tenax cv., Zones 9–11). It enhances the garden bed for several months before getting picked up and overwintered in an unheated garage.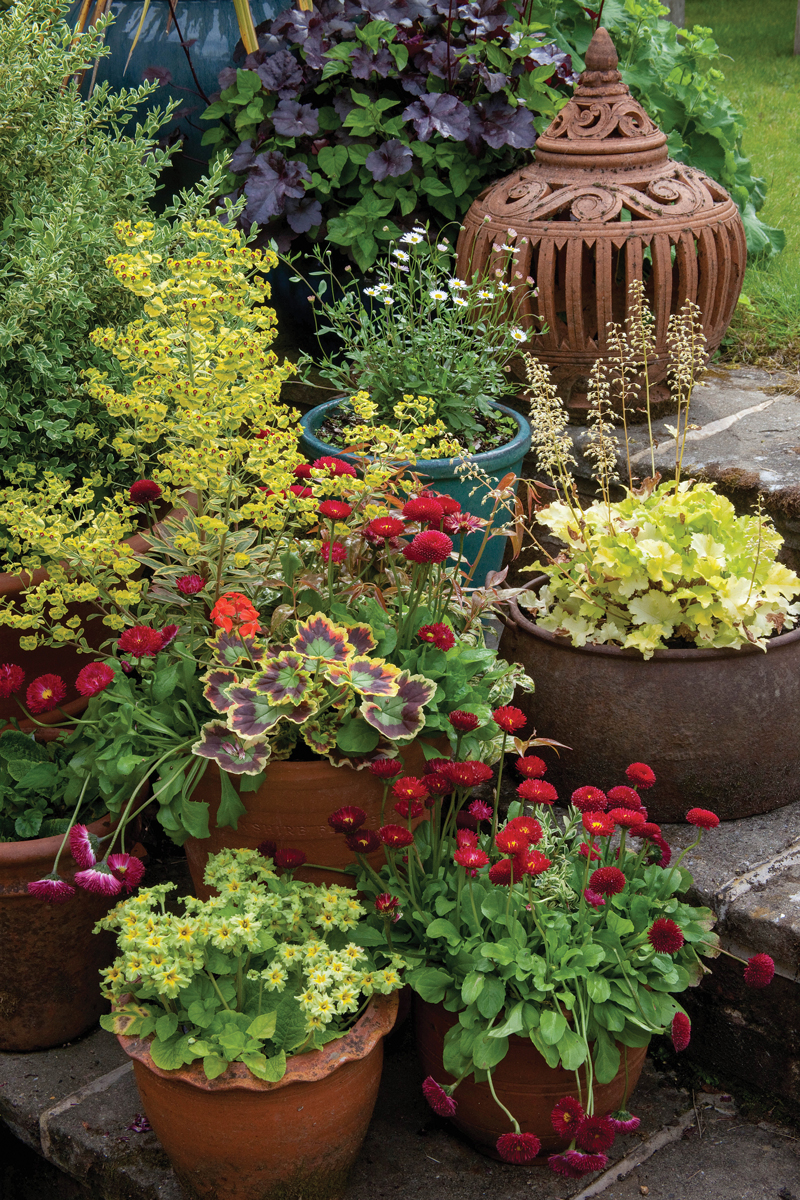 2.

Turn something utilitarian into something decorative

 

Every place should be looked at as an opportunity to locate a pot. A wide set of stairs leading up from the seating area in this garden has ample space to house several pots. This collection changes annually with seasonally appropriate plants. In late spring an array of bright blooms from the English daisies (Bellis perennis cv., Zones 4–8) pair brilliantly with the splashy foliage of a chartreuse heuchera (Heuchera cv., Zones 4–8) and variegated geranium (Pelargonium cv., Zones 10–11).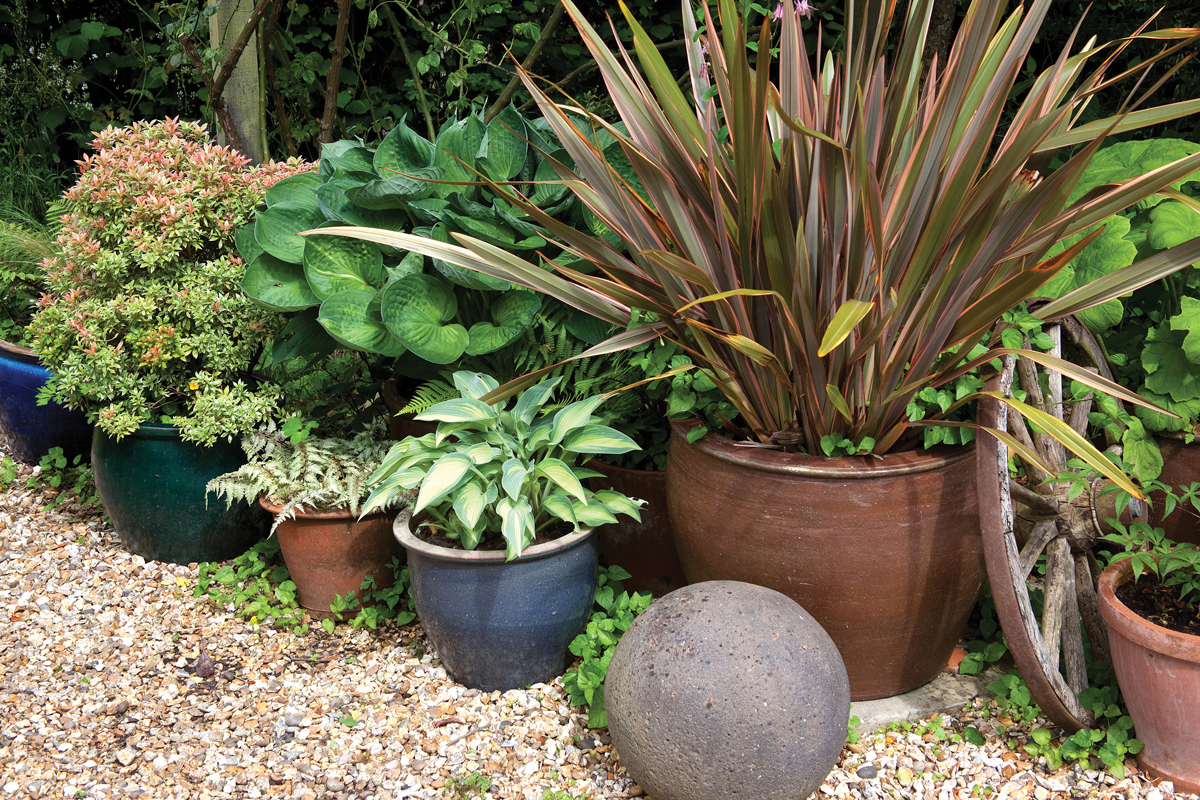 3. Define the edges

 
It's not a new or novel idea to use plants as a way to soften the edges along a pathway. Garden designers for hundreds of years have been doing just that. But plants along a walkway can easily get unruly, or too billowy, obscuring the route and making a mess. If you still want to soften the edges but keep some definition, a line of containers will do the trick. For more of a crisp look, line up those pots. If you're seeking something a bit more natural in appearance, stagger them. In either orientation, it's best to fill the pots with plants that grow more upright. A vessel filled with spillers can quickly devolve into that messier look that you're trying to avoid.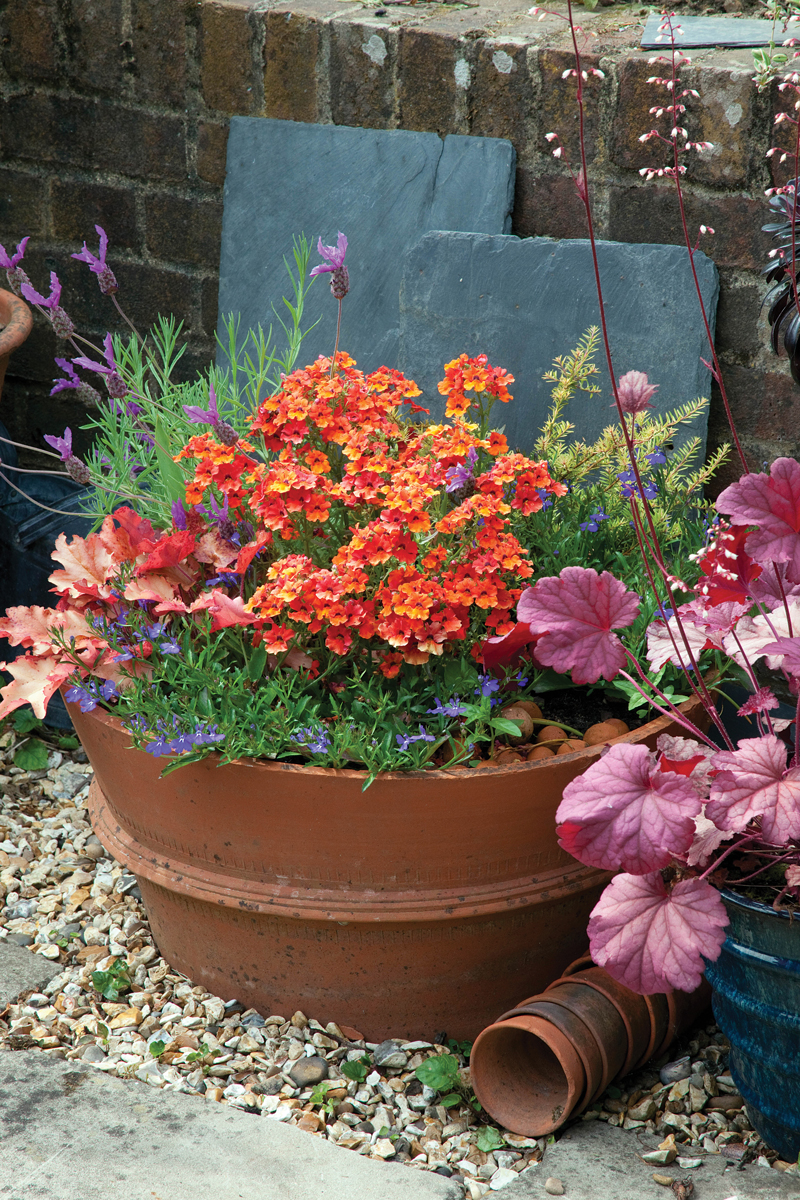 4.

Create a high-impact focal point

There is no quicker way to get instant impact in a garden than to add a plant with an interesting form, a distinctive texture, or a bright color. These plants become the focal points every good garden needs. But a container can be an impressive focal point too, and one that isn't permanent. Here, a neutral terra-cotta pot is filled with a fiery orange nemesia (Nemesia cv., annual), electric blue lobelia (Lobelia erinus, annual), and a peach-colored heuchera. The color scheme is unlike anything seen elsewhere in the garden, so it draws the eye immediately. If the complementary color scheme ends up seeming too over the top, the motif can be softened on a whim or entirely changed next year.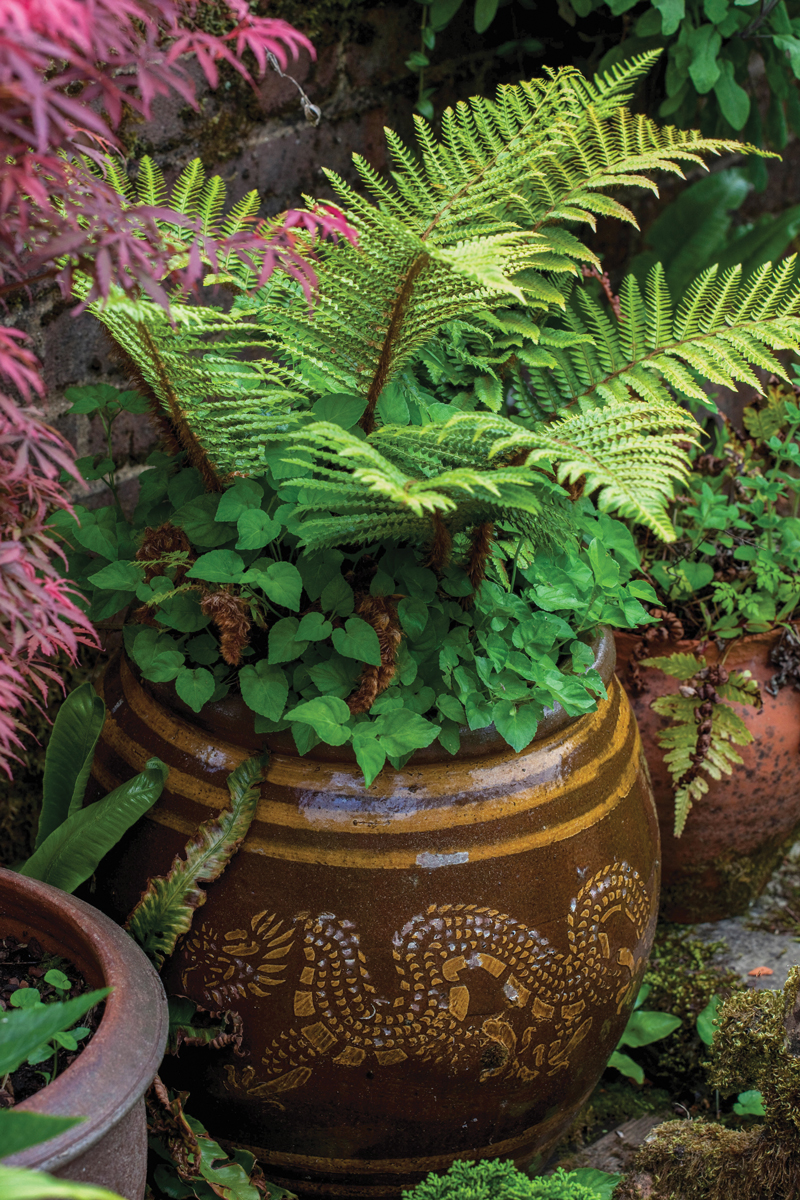 5.

Green up an unplantable space

Everyone has an ugly spot in their garden where nothing will grow. It could be because there is a lack of deep, fertile soil. Or perhaps it's an awkward space located against a foundation or by a driveway drain. Whatever the spot, turn it from an eyesore into an event by putting an especially unique pot there. Here, a clay container embossed with a dragon is spectacular all on its own, but when planted up with a mix of woodland treasures, it becomes truly picture-worthy. 

Design Tip
Not every pot needs a plant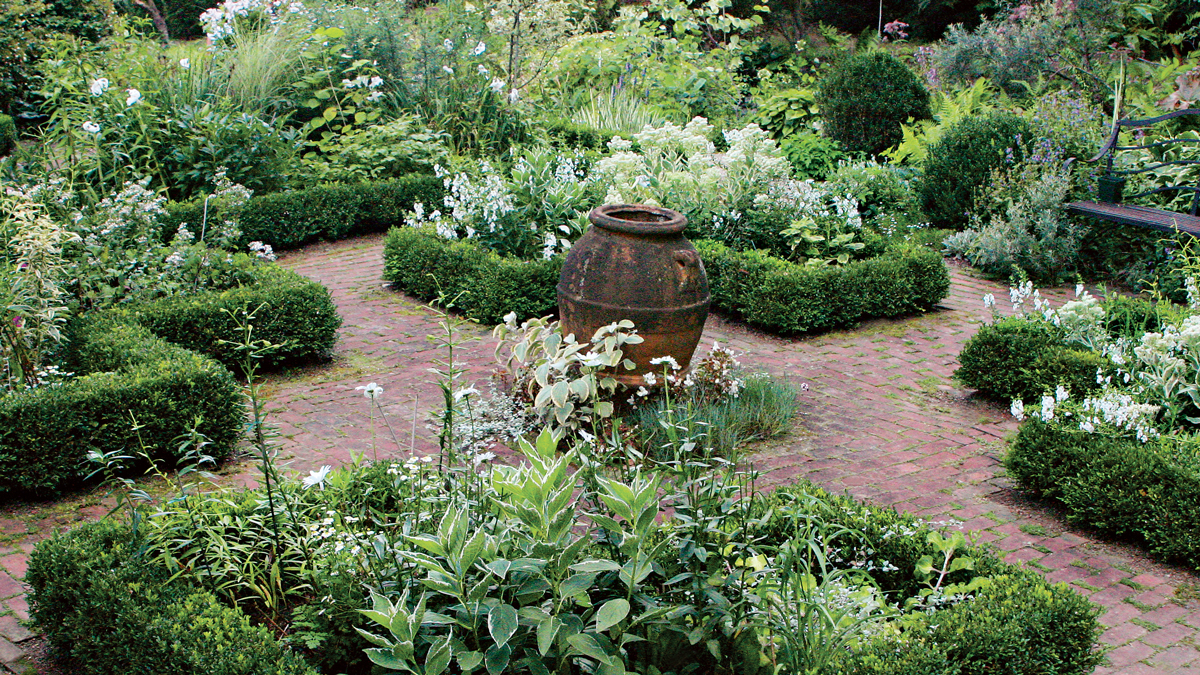 All of the ideas in this landscape feature containers filled with plants, either with a singular specimen or an appealing mix. But many of these principles would work equally well if you chose to simply use a gorgeous pot not filled with plants. For instance, here a properly placed antique urn becomes an attention-grabbing focal point, even though it's empty.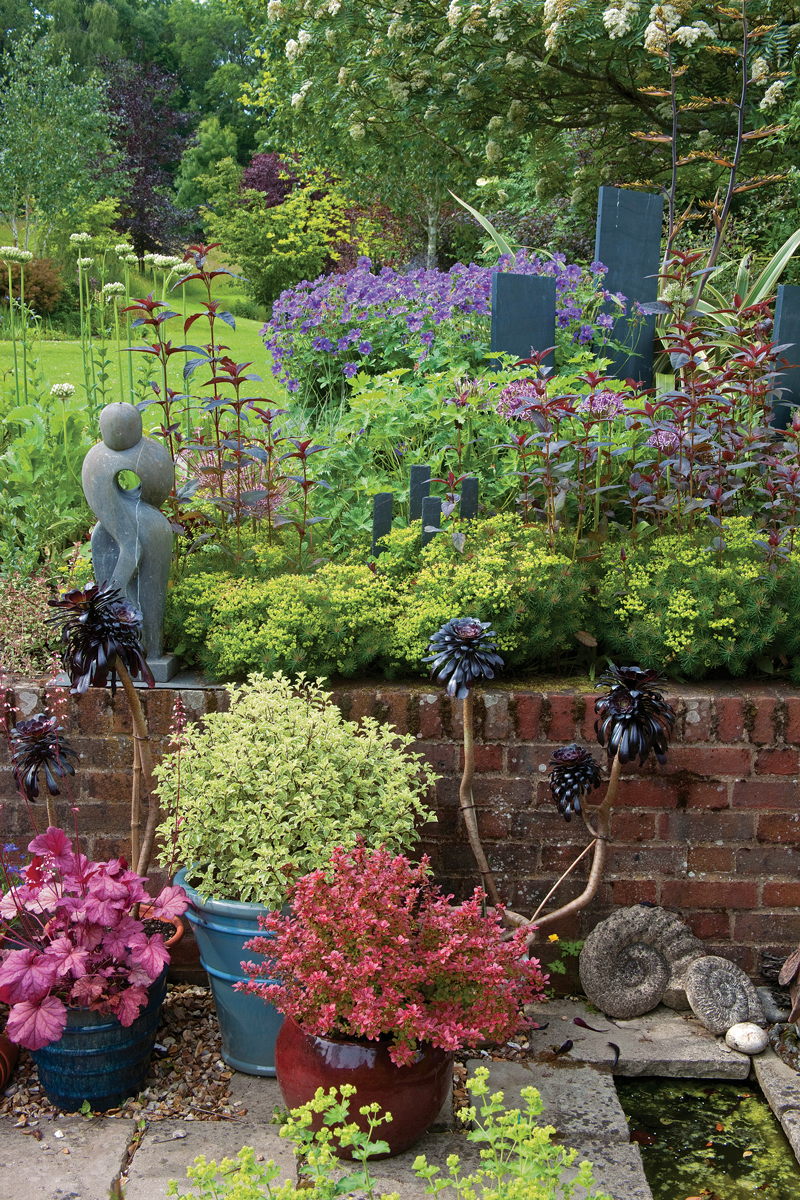 6. 

Blur areas of transition

Hardscape is a necessary element to any well-planned garden. The transition from an area of stone or brick to the lush green garden, however, is often harsh. Various containers overflowing with plants can help bridge the gap from inorganic to organic. Here, the brick retaining wall of a patio doesn't seem so jarring, and it blends in nicely with the abundant garden beyond thanks to a container collection in the transition zone. 
---
Danielle Sherry is the executive editor.
From Fine Gardening #205
View Comments