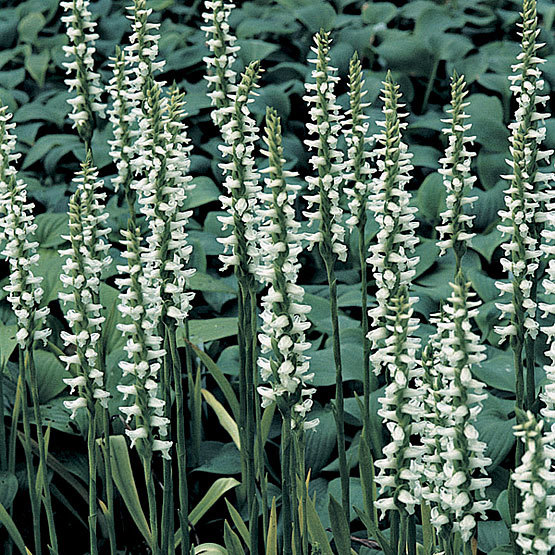 The genus Spiranthes is comprised of 50 species of usually small, terrestrial orchids. A few species are epiphytic. They are native to grasslands and woodlands, mainly in North America. From tuberous roots come basal rosettes of fleshy or papery leaves. Flowers are small and white and appear in spiral racemes along erect stems. Spiranthes can form large colonies in the garden.
Noteworthy CharacteristicsSpiral racemes of tiny white flowers. S. cernua (nodding ladies' tresses) is native from eastern Canada to Texas and Florida and grows to 2 feet tall.
CarePlant hardy species when dormant, in moist but well-drained, fertile, organically rich, leafy soil. Choose a sheltered site in partial shade. Indoors, grow in bright filtered light and water freely. Fertilize at every third watering. Keep almost dry when dormant.
PropagationDivide tubers when dormant.  Spiranthes is difficult to propagate from seed.
ProblemsIndoors, watch for spider mites and aphids.