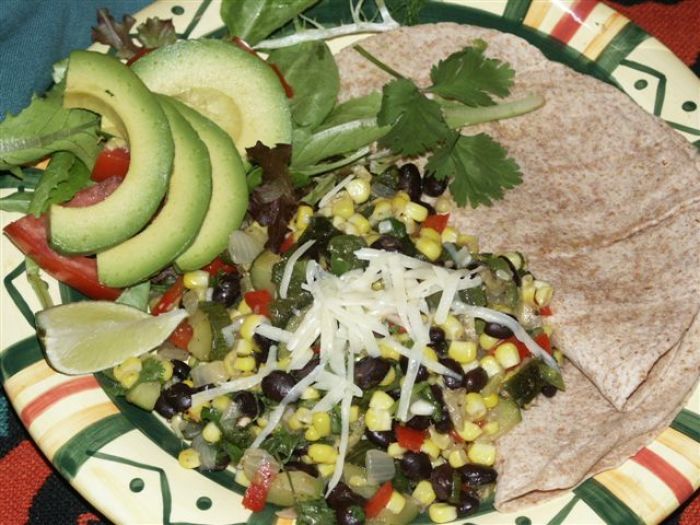 Ingredients:
Serves 6 to 8
About 2-1/2 tablespoons olive oil or cold-pressed vegetable oil
2-1/2 to 3 cups chopped zucchini, patty pan or chayote squash
1-1/4 to 1-1/2 cups chopped onion
3/4 to 1 cup diced red bell pepper
1 or 2 serranos or jalapeños, halved, seeded, and sliced, optional
3 large cloves garlic, minced
3 generous cups fresh corn
2 poblano or Anaheim chiles, roasted, peeled, seeded and chopped
1-1/2 to 2 cups cooked black beans, drained
About 1 teaspoon cumin seed, toasted and ground
Salt and freshly ground pepper
1/4 to 1/3 cup freshly chopped cilantro
Lime
1 cup grated sharp Cheddar cheese, optional garnish
There are many ways to use this sauté—it can be served as a main course garnished with some shredded cheddar and warm whole-wheat tortillas, or rolled up in them to make enchiladas or burritos. It is a delicious accompaniment to any south-of the border fare, with grilled fish, fowl or meat, and it is great leftover in a quesadilla or scrambled eggs. Later in the season, when summer vegetables are gone, I make this using winter squash such as butternut, acorn, or Delicata squash, or a small pumpkin, peeled and cut into bite-sized pieces; dried chiles like ancho or pasilla reconstituted in a little hot water or broth; and frozen corn.
Heat the oil in a heavy-bottomed sauté pan. Add the onion and sauté for 2 minutes. If you are using zucchini, halve lengthwise and slice in 1/4-inch slices, if using patty pan or chayote, quarter and slice into 1/4-inch slices. Add the squash, bell pepper, and jalapeno and sauté for 4 minutes, stirring occasionally.
Add the garlic, corn, roasted chiles, black beans and cumin, stir well, and season with salt and pepper. Cover, reduce heat to moderate, and cook for about 5 minutes. Covering the pan should bring out enough juices from the corn and squash that the addition of liquid is not necessary. If the pan is dry, add a bit of water, vegetable stock, or white wine.
Add the cilantro and squeeze a wedge of lime into the pot, stir, remove from heat and cover for a few minutes before serving. Taste for seasoning. Serve in a warm bowl or in individual plates with the grated cheese as garnish if desired.