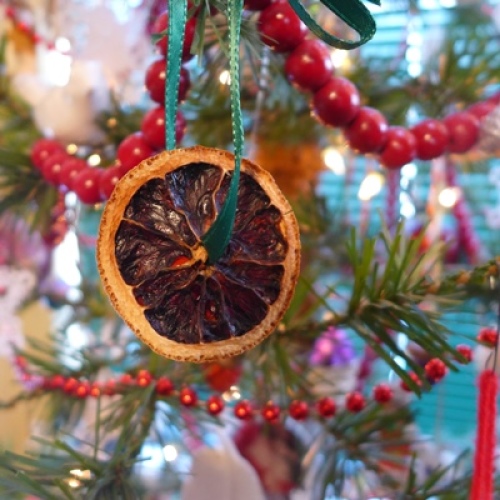 In all the hustle and bustle around the holidays, it's nice to take a moment to recognize how many plants are put to work to help us celebrate. Certainly Christmas wouldn't be complete without a fir tree, but there are many other garden plants that are an important part of the holiday, too.
Mistletoe, holly, and winterberries are some of the typical evergreens we use to decorate both indoors and outside. However, the other plants helping with the seasonal celebration include all the exotic spices mixed into our holiday baking. Citrus fruits, nuts, berries, and herbs are also essential ingredients.
Plants that originated in far flung parts of the world found their way into our homes and our hearts at holiday time. It's like a global celebration of the garden. 
"Every plant's history hangs like a treasured ornament from the world tree that gives us a home in the universe," writes Christian Ratsch in the preface to his fascinating book called Pagan Christmas.
Have you ever noticed how many Christmas ornaments and decorations are either made from or made to look like apples, acorns, cranberries, popcorn, and nuts? These symbols of the garden have been used as decorations for hundreds of years because of their value as food sources in winter.
People showed their love of hazelnuts by decorating them with feathers and hanging them on the Christmas tree to symbolize little angels. When used as Christmas decorations, walnuts are considered a symbol of both fertility and immortality.
Oranges, pomegranates and lemons also have a long history of being used at holiday time. These fruits originated in the Mediterranean and represented their grower's prospects for a good harvest for the year. 
Orange pomander balls, decorated with whole cloves, added fragrance to freshen the air when hung from mantels and trees. Dried orange slices are still fashioned into ornaments because they look like little sun wheels that help brighten dark winter days.
As you get ready to celebrate the holidays, think about all the plants that bring us so much joy this time of year: vanilla, cinnamon, chile peppers, cloves, anise, cardamom, and most especially the cocoa fruit and all its many forms of chocolate.