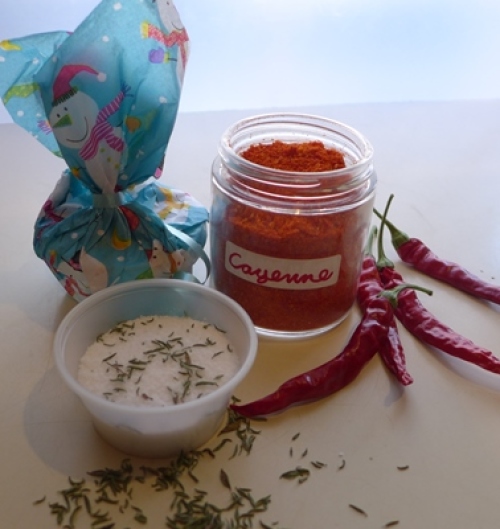 Because all my family and friends know I'm a gardener, I get a lot of garden-related gear as gifts. Gardening books, garden tools, garden center gift certificates, garden gloves, and more. 
So when it's time for me to do the gifting, it's only right that some of those presents come from my garden. I've given herb-flavored vinegars, special heirloom seeds I've saved, lavender sachets, dried herbs, fruit and berry infused liquors, and many other tasty treats.
Friends have told me these gifts from the garden are some of their favorite presents, and they look forward to getting something they can enjoy throughout the year.
This time around I was inspired by some of the recipes in the new book How to Start a Food Swap and made some batches of herbed salt. These herbed salts combine dried herbs and spices with salt to make extra-special seasonings for extra-special recipes.
The basic combination is to mix 1 teaspoon of your favorite flavoring to ¼ cup Kosher salt. For one batch, I used dried thyme that I grew in the patio garden. It was easy to blend the herbs with the salt in a food processor until it reached a good, usable consistency. The herbed salts can also be blended in a spice grinder or by hand with a mortar and pestle 
Herbed salts can be made using any sturdy dried herb that will hold up to the processing, like thyme, rosemary and sage.
Spicy salts make a great gift for someone who likes to add a little heat to their cooking. I used some of my red chiles and paprika peppers to create a nice blend of hot and tangy salt to use in spicy dishes or to salt the rims of bloody Mary glasses on Christmas morning.
I ground some cayenne peppers into pepper flakes and also into a fine powder. Then I packaged the herbed salts, pepper flakes and cayenne powder into baskets and added a few recipes to make the presents complete.
If it's too late this season to put together gifts like these from your garden, plan now to plant some garden-fresh ideas for gifting next holiday season.