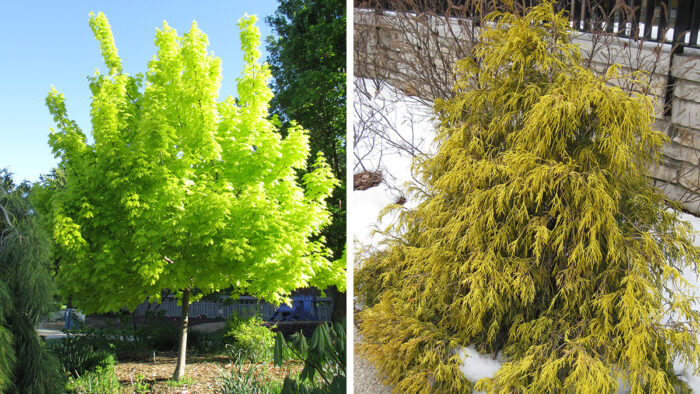 I'm a huge fan of golden foliage in the garden. Yellow flowers, of course, have their own appeal in offering color and warmth, but the lengthy contribution of chartreuse to deep gold foliage can offer a radiant splash of sunshine in the garden. While we may observe the brief but potent offering of golden foliage in the fall or perhaps with winter coloration on some conifers, those select varieties that provide bright deciduous foliage over the growing season are indispensable as substantial visual workhorses in the garden.
Yellow can go a long way in the garden whether provided by flowers or foliage. When combined with other colors, golden foliage can offer not only a textural component but also provide both depth and contrast. The repetition of yellow throughout the garden can become distracting in excess, but when balanced it can offer a punctuation of warmth that unites and perks up the garden.
The degree of yellow may fluctuate with some woody plants based on the season and availability of sunlight. Intensity will vary but may still be substantial. There are many deciduous and coniferous opportunities to "turn up the heat" in the garden with golden foliage options. Included here is just a smattering of selections to consider for Midwest gardens.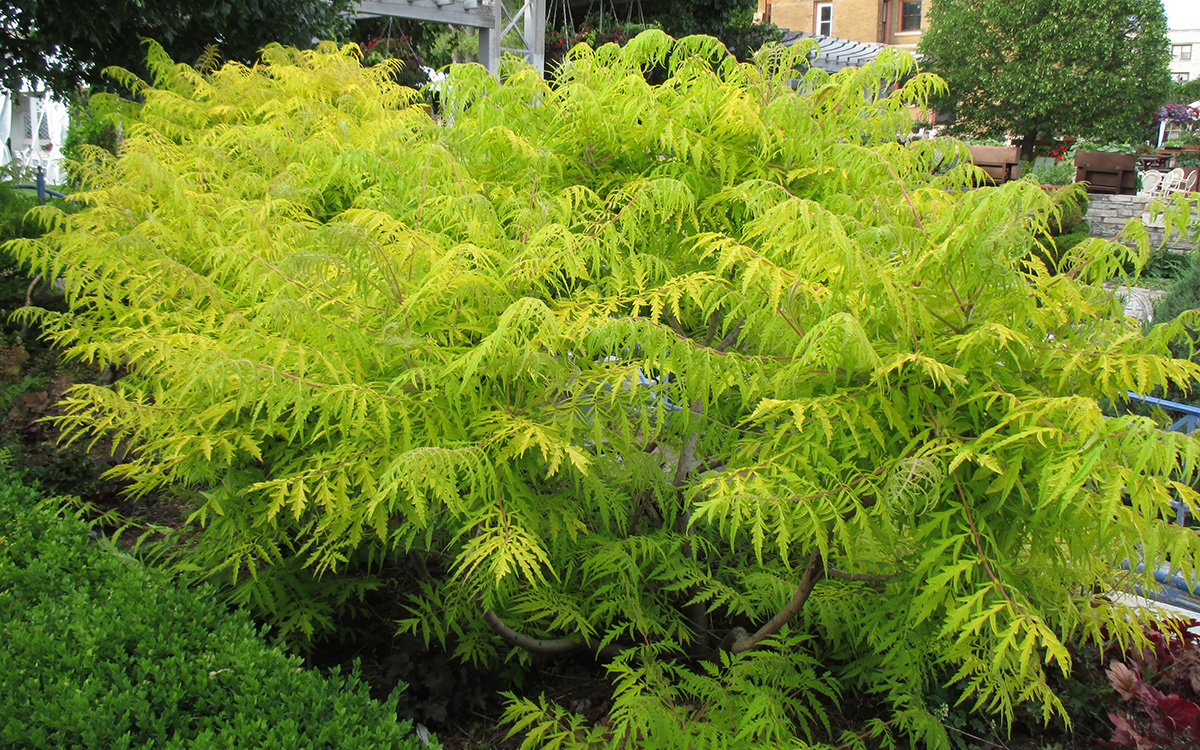 Tiger Eyes® golden staghorn sumac
Rhus typhina 'Bailtiger' (Zones 3–8)
Size: 10 to 15 feet tall and 15 to 30 feet wide
Conditions: Full sun; moist but well-drained, moderately fertile soil
Many gardeners are aware that this selection of native staghorn sumac spreads by suckers. I still feel there are few large shrubs as impressive as this variety. Don't be fooled by descriptions that list the mature height at 6 feet. It gains some mass, but that textural golden foliage has few rivals and the orange fall color is impressive. Diligently removing suckers can keep this showy plant in check if needed; otherwise, enjoy the show in landscape settings where it can settle in, in all its glory.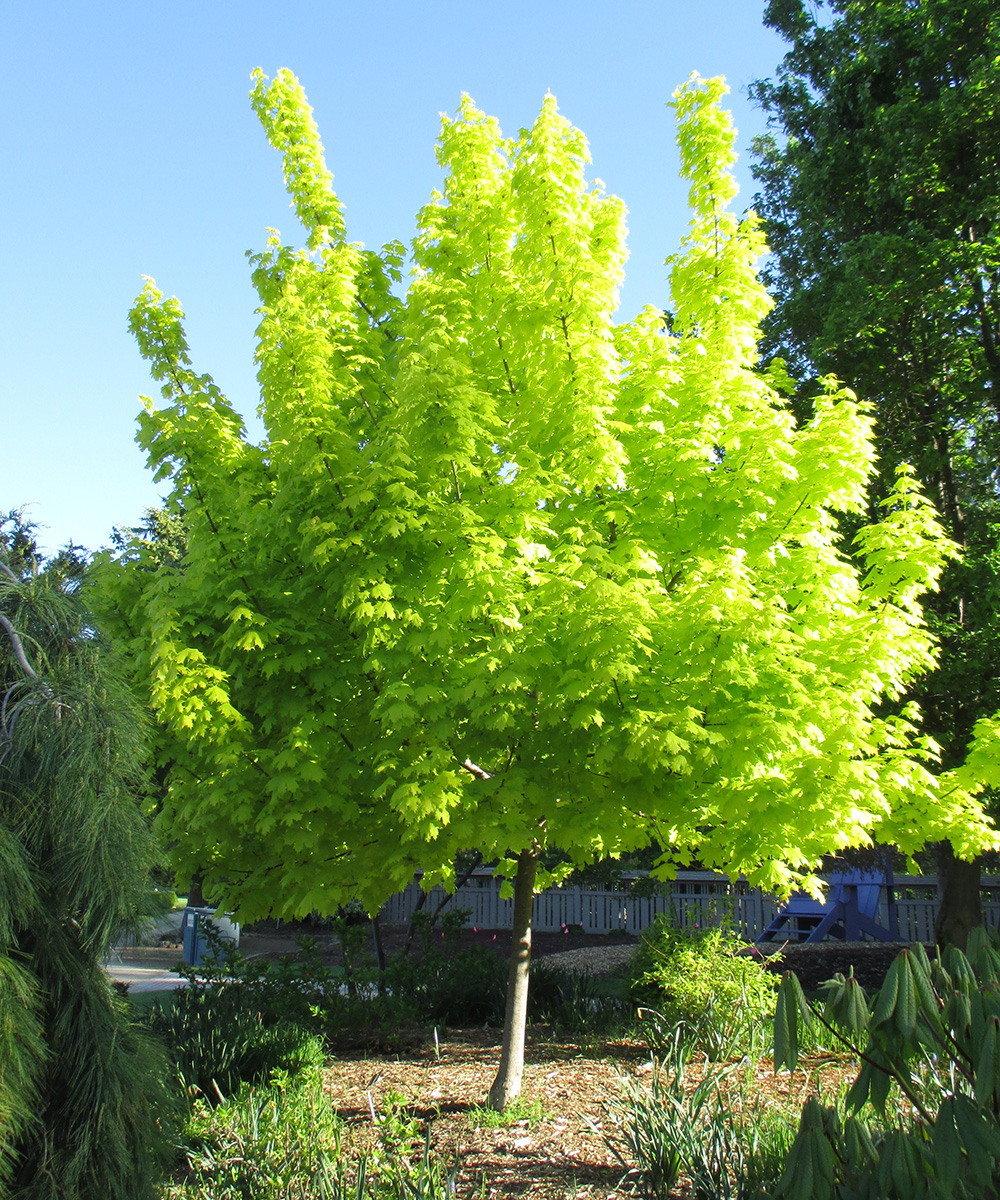 Princeton Gold® Norway maple
Acer platanoides 'Prigo' (Zones 3–7)
Size: 50 feet tall and wide
Conditions: Full sun; moist, well-drained soil
Although Norway maples are common, this selection is quite unique in having solid, bright gold coloration all season long. While intensely gold with leaves emerging, the color may fade a bit to chartreuse in the heat of summer and then maintain yellow until hard frost. I've grown a dozen of these over the years, and they are amazing focal points in the landscape. The color is quite rich and rare on a tree that will get that big. This tree is spectacular. Keep in mind, though, that the species is invasive in parts of the United States, primarily in the Mid-Atlantic and Northeastern regions. Be sure to check your state's invasive plant list before adding this one to your garden—a good best-practice to follow when adding any new plants.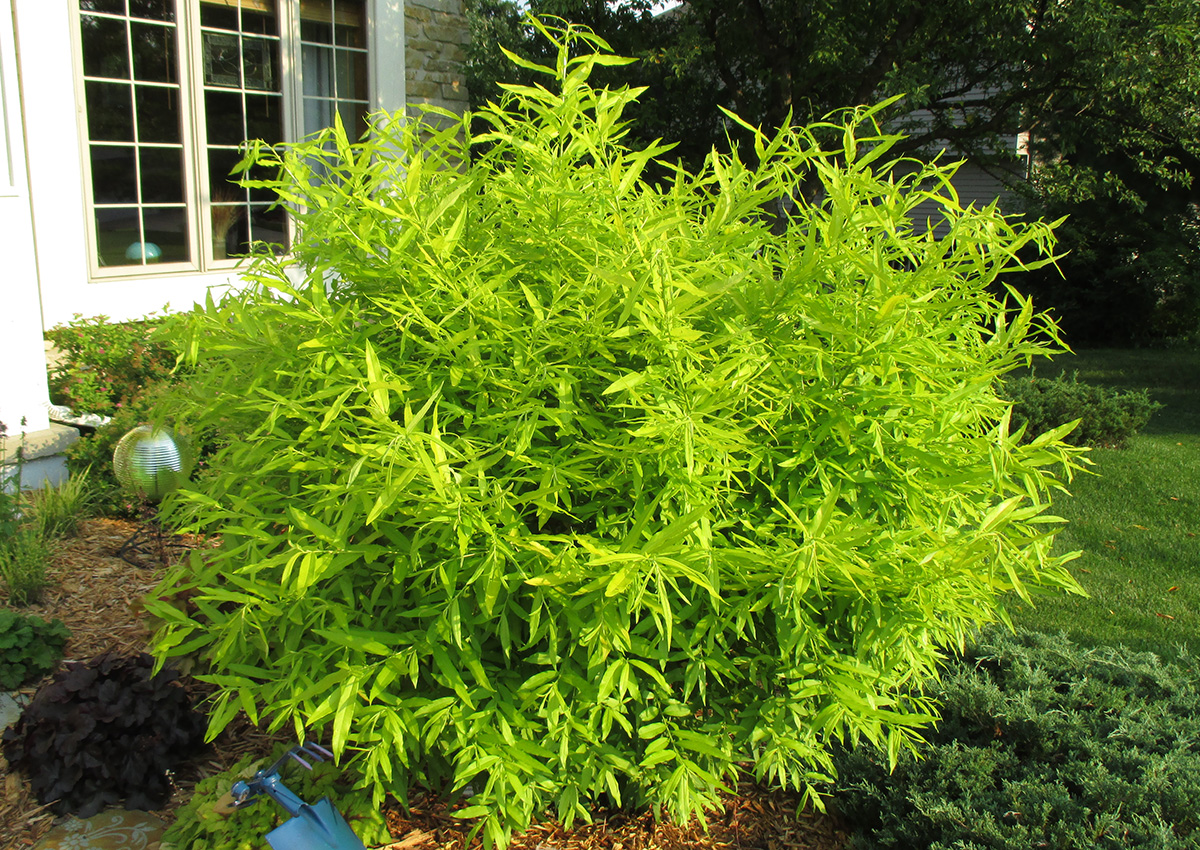 'Golden Sunshine' willow
Salix sachalinensis 'Golden Sunshine' (Zones 4–10)
Size: 16 feet tall and wide
Conditions: Full sun; moist, well-drained soil
The texture of this interesting willow is quite fine with narrow leaves. The bright gold coloration is striking on this large shrub, which can be cut back in winter to generate new growth and ensure a maximum height between 6 and 8 feet. Popular and not easy to find, 'Golden Sunshine' is an amazingly textured bright beacon in the landscape. Consider the mature size, and firmly dictate height as desired with renewal pruning.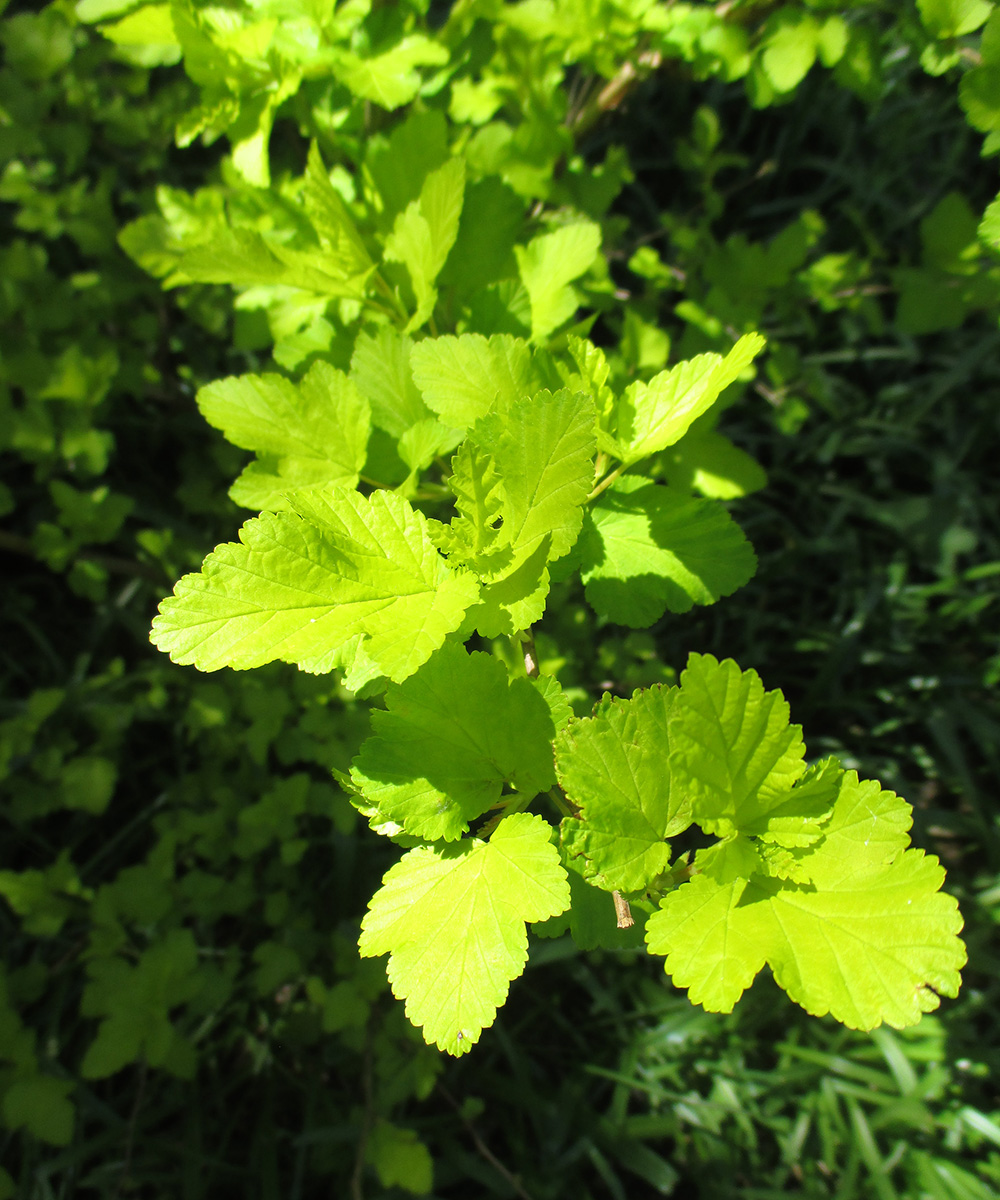 Lemon Candy™ ninebark
Physocarpus opulifolius 'Podaras 3' (Zones 2–7)
Size: 5 feet tall and wide
Conditions: Full sun; moist, well-drained soil
This golden ninebark selection is a brilliant color upon leaf emergence. There are many other golden ninebarks on the market, but I like this one for its intense golden yellow foliage, consistent medium height, solid hardiness, and uniform shape. The white flowers are a bit lost in the leaves, but the remarkable foliage on arching stems screams for attention.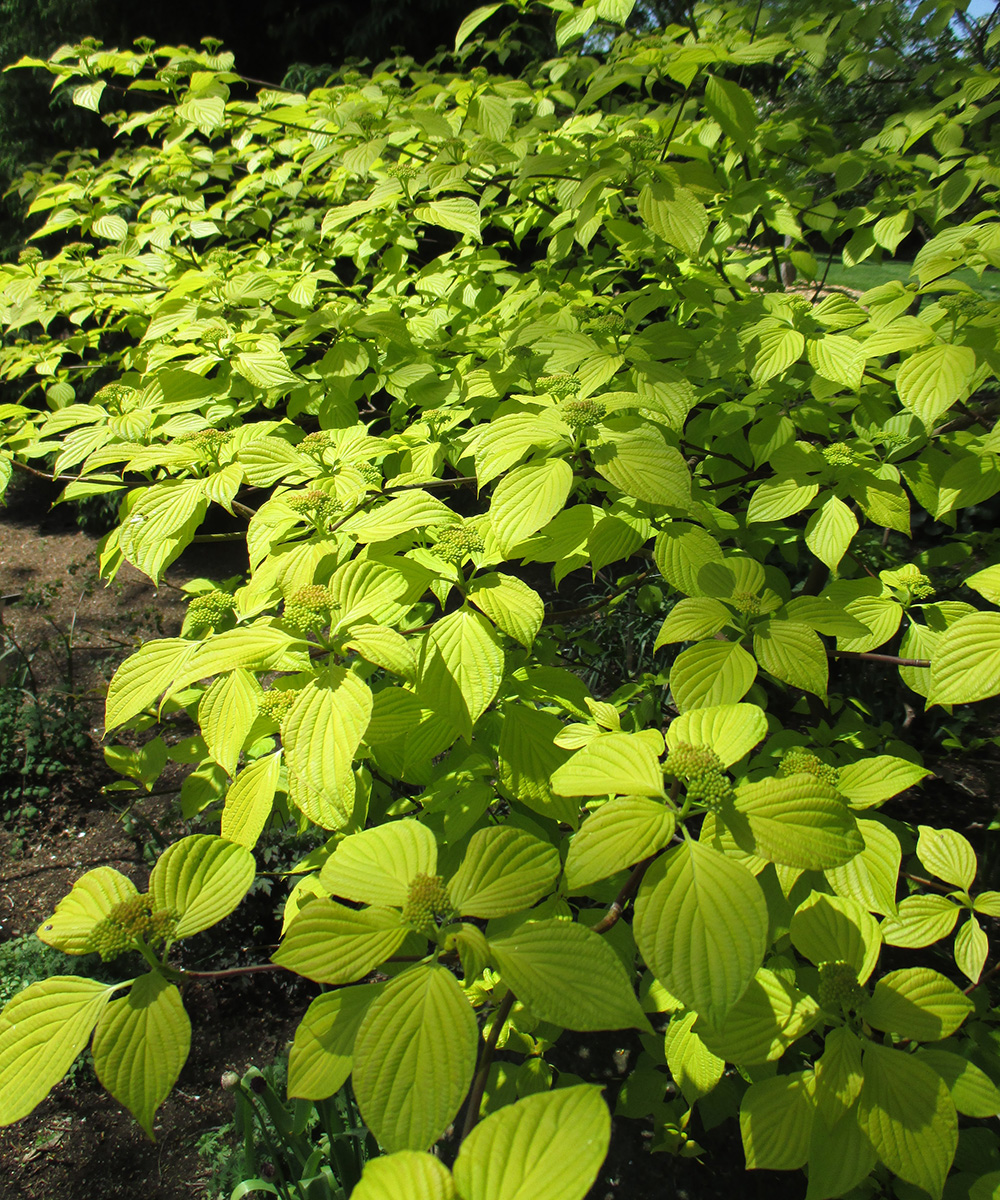 Gold Bullion™ pagoda dogwood
Cornus alternifolia 'Bachone' (Zones 3–7)
Size: 15 to 20 feet tall and wide
Conditions: Full to partial shade; moist, well-drained soil
I've grown this native dogwood species on the north side of my home for over 15 years, and the bright gold foliage arranged on layered branches always entrances me. This selection will certainly brighten up a shady location, but it is likely destined for some degree of leaf scorching in the heat of summer (even mine). I've observed many specimens, and the spring gold and summer chartreuse-yellow foliage is dynamite. Light pruning is recommended as needed to maintain layers. Keep an eye out for the common golden canker problems prevalent with this species.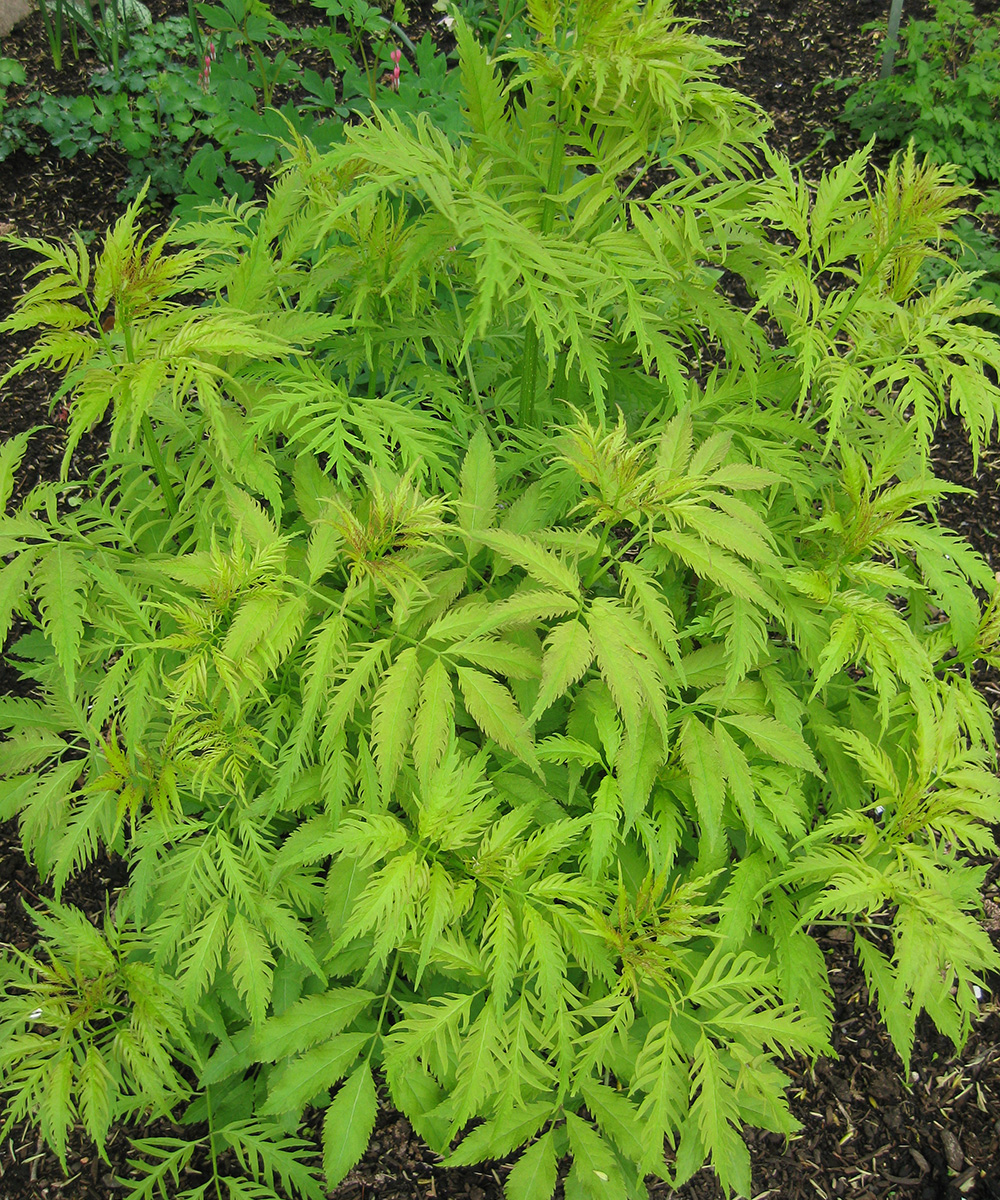 'Sutherland Gold' elderberry
Sambucus racemosa 'Sutherland Gold' (Zones 3–7)
Size: 6 to 10 tall and wide
Conditions: Full to partial sun; moist, well-drained soil
I've used this selection of red elderberry as a cutback shrub for many years. The vivid golden, textural foliage is the star of the show, and established plants can be cut down to 12 inches or so in winter to regenerate 5 to 6 feet of vivid new growth quickly once spring arrives. Cutting these back negates the white flowers and red berries, but consider the ultimate size you'd like and enjoy the show. The newer selection, Lemony Lace® (S. racemosa 'Smnsrd4'), is worthy of investigation for all of the same reasons.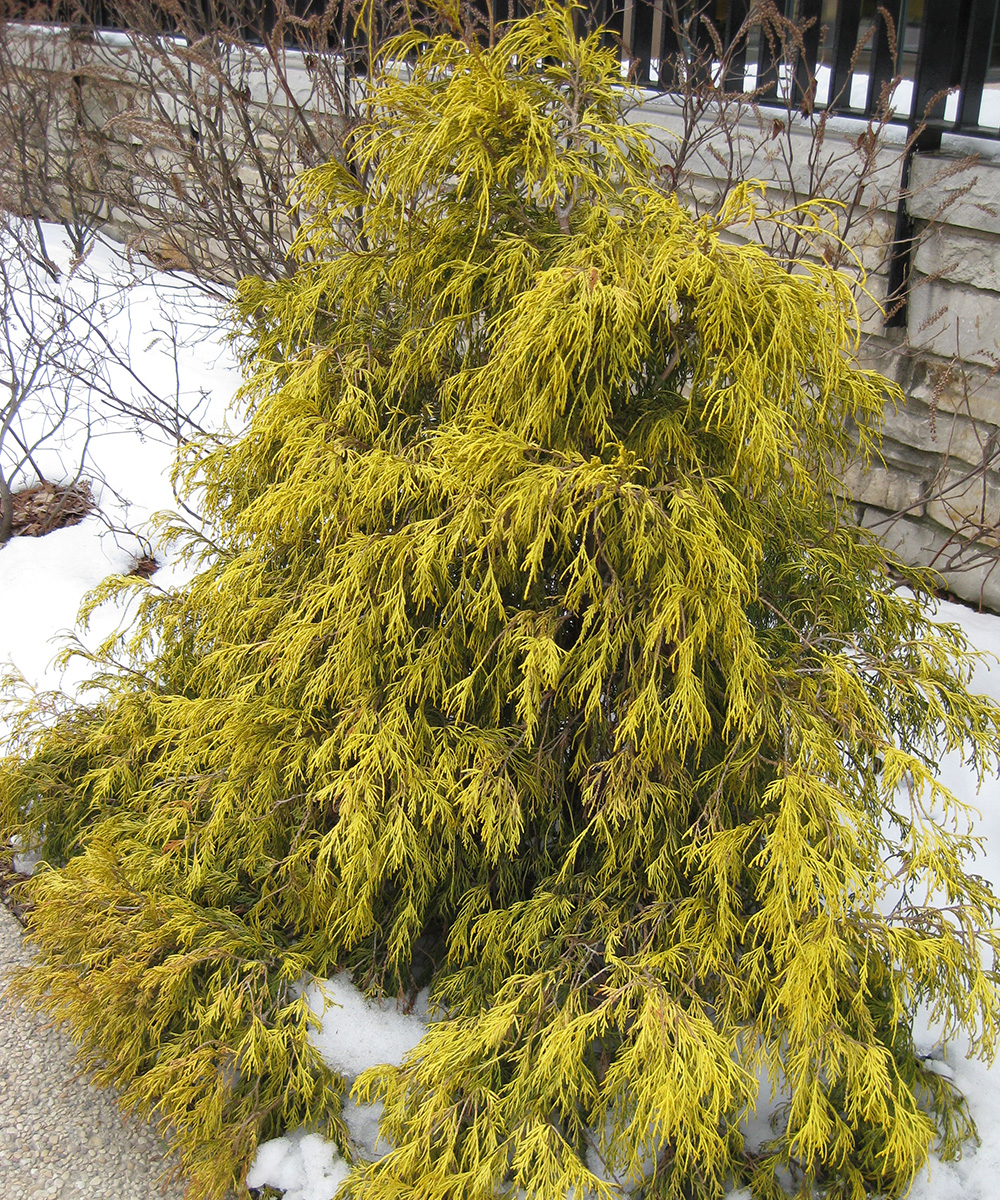 'Sungold' falsecypress
Chamaecyparis pisifera 'Sungold' (Zones 3–7)
Size: 8 feet tall and 12 feet wide
Conditions: Full to partial sun; moist, well-drained soil
This brilliant yellow conifer, which can be kept at any desired size, is one of my favorite falsecypress selections. The fine texture and color contribution throughout the entire year make this plant a lengthy contributor in the garden. While many other conifers exhibit intense gold with new spring growth or winter transitioning of colors, this selection is consistently beautiful 365 days of the year.
—Mark Dwyer is the garden manager for the Edgerton Hospital Healing Garden in Edgerton, Wisconsin, and he operates Landscape Prescriptions by MD.
Photos: Mark Dwyer