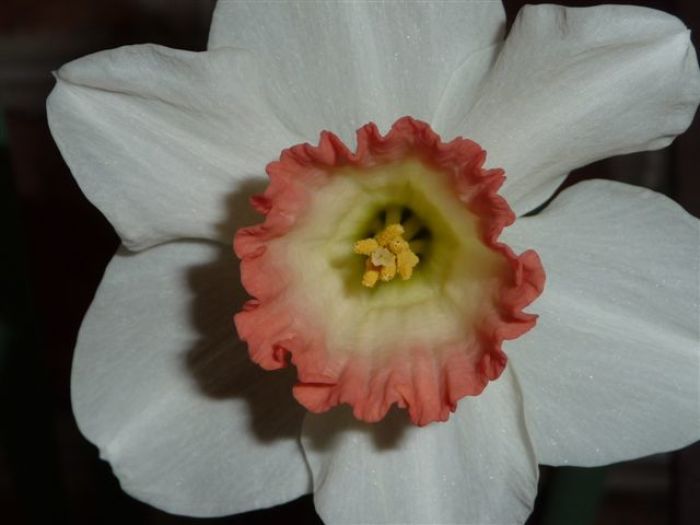 Ah, it's springtime for the traveling gardener. Which means that instead of being home working in my own garden, I am on the road teaching other folks about garden-related topics. I am writing this post on a laptop riding down the highway (no I am not driving)! This is my busy time of year for roving about the country giving lectures to fellow gardeners who are anxious for the growing season to begin anew. Don't get me wrong–I love what I do–it is just sometimes I don't get enough hands-on time in the garden earth.
In the past month, I have been to Texas, Arkansas, Florida and most recent a road trip from Maryland to South Carolina and back. The seasons have varied enormously–with temps ranging from low 30s to high 80s—and clothing from boots and coats to flip flops and sundresses. As a gardener, most noticeable to me are the varying stages of plant growth in each locale.
Arkansas
When I departed for Little Rock about a month ago, I wore my winter coat and boots; in my yard my snowdrops were blooming, the daffodils were only an inch or two in height, most trees were barely budded if at all and the green garlic was about three-inches tall. Arriving in Arkansas, I found spring. My co-author and herbal cohort, Tina Marie Wilcox, who is head gardener and herbalist at the Ozark Folk Center in Mountain View, Arkansas, picked me up in a loaded pick-up hauling a trailer full of flats of herb plants. Daffodils and forsythia were blooming brightly as we headed south to Fort Smith for the River Valley Garden Show. Trees were budding along the highways and neighborhood yards showed rowdy tulips and multi-colored violas. That particular flower show has an abundance of the most friendly and helpful master gardeners, who all pitch in and bring quite an impressive potluck lunch everyday and feed all of the exhibitors and presenters. You go Fort Smith master gardeners!
From there, heading north to Mountain View for the Handpicked and Handmade Craft Show and Mountain View Spring Bluegrass Festival, we saw flowering wild plum trees and redbuds standing out from the other bare trees in the woods. We unloaded the truck and turned the heater on in the Herb Shoppe while we set up for the show. While there, we'd roll the plastic sides of the hoop house up everyday and close them each evening. The hoop house has raised beds with heat coils which are full of perennial herbs that winter over happily and quite healthily in these conditions.
Hoop house at the Ozark Folk Center
By the end of a week there, spring weather had brought about a peak in the daffodils and forsythia and the iris had begun opening. My class, 'Everything You Always Wanted to Know about Cooking with Herbs' for the Ozark Folk School began and we were able to spend time outside in our shirtsleeves, harvesting the herbal harbingers of spring. We gathered sprigs of spearmint, peppermint, lemon balm, oregano and chives that were just putting up new growth in various garden beds and containers. We pruned sprigs from the woody, robust perennials (which winter-over in that zone 7 garden) such as thyme, rosemary in full bloom, sage, and bay.
| | | |
| --- | --- | --- |
| | | |
| Chickweed | Italian flat-leaved parsley | Arugula in bloom |
Wild greens salad
The Kitchen Garden there provided us with leaves from many of the perpetual patches of both cultivated and wild weeds that volunteer every season–arugula, cilantro, sorrel, fennel, parsley, chervil, chickweed and dandelion. We also reaped the bounty of a few crops that wintered over such as kale, collards and green garlic that was about 12 to 15-inches tall. We reveled in these glories of spring creating soups, sauces, butters, syrups and vinegars, scones, bounteous and beautiful salads, and even chocolate pudding with bay. Our piece de resistance resulted from the lemon tree that was in bloom and filled our classroom with a heady scent. Its fragrance inspired me to create a lemon flower gelato that was absolutely ethereal.
Texas
Folk school ended at noon and we loaded Tina's pick-up with our luggage, cooler, cases of books, props and more (the Beverly Hillbillies image came to mind except we didn't have a rocking chair!), and headed south for the Herbal Forum in Round Top, Texas. The road to Texas led us into a much hotter climate and the flora progressed from late spring to early summer. I was impressed by the winter kale and cabbages that were in full bloom outside of the Comfort Inn—I've never seen them in bloom like that back in Maryland! The highways were a constant source of wonder as we passed fields and masses of bright scarlet Indian Paintbrush and Texas Bluebonnets with their hues of indigo. Once we reached the International Festival-Institute at Round Top, we found the gardens in full summer bloom.
Texas Bluebonnets
In my estimation of a Zone 7 Maryland gardener, the flora in Arkansas had about a one month lead time to my garden and Texas was at least two months ahead in plant growth. All of the trees and shrubs were fully leafed-out and the perennial herbs like lavender, rosemary, sage, etc. were round and full with bushy growth—some of the lavenders were already showing off their purple flower spikes. Poppies, iris, snapdragons, calendulas and roses were in full bloom; the gardens were in full swing bursting with color and sweet scents perfumed the hot afternoon air.
The weather was picture-perfect for the Herbal Forum, which is an annual event, along with its impressive selection of plants at the Plant Sale. About 250 herbies and gardeners attended the event coming from all over the country. Henry Flowers, who is the Garden Director at Festival Hill, harvested gorgeous Mediterranean herbs for my program and provided me with five different cultivars of Laurus nobilis for my program on Herb of the Year 2009.
Madalene Hill
The bittersweet note to this event was the passing of one of our oldest and most respected herbalists, Madalene Hill. Dear Madalene passed at age 95 about two weeks before we were to go to Texas to present at this year's Herbal Forum. We were so looking forward to visiting with her again and were crestfallen to hear the news of her passing.
However, I felt fortunate to be in Round Top for Madalene's memorial service. It took place in the Festival Concert Hall and it was lovely, emotional, touching and connecting to all who attended. Her daughter, Gwen Barclay, gathered photos, memorabilia, awards, etc. and made an incredible display. She chose about 10 herbies to speak and the Director of Festival Hill played three classical pieces on the baby grand. Needless to say, many tears were shed.
| | |
| --- | --- |
| | |
| Henry Flowers & Madalene Hill | Close-up of Madalene's hands |
Herbs and flowers for blessing of the garden at Festival Hill
Madalene was truly an amazing being and an inspiration to us all. Would that we could follow in her path and teach as a living example until the end. I was with her last year and she was so vital—she loved books, learning and sharing—curiosity got the best of her regularly. She walked her walk using a sassafras cane, smelling the herbs and flowers along the way; when she could no longer walk about the gardens, she acquired a 4-wheel vehicle called a Jazzy, and let me tell you—I had to practically run to keep up with her on that thing—even over rough terrain! She was one of my heroes. Someone aptly said that "losing Madalene was like losing a library" which is quite true.
She will be leaving a big empty space at Round Top, as well as HSA functions, and the herbal world. It was a sad occasion at Festival Hill, yet it was a coming together and a celebration of many herbies who came to honor this doyenne of herbs. I cried with Henry in the gardens; he is carrying on her traditions giving garden tours, stopping and picking a leaf, rubbing and smelling. I cried with Billi Parus in the Menke House where Madalene and Gwen made their home for so many years; I cried with Lucia Bettler as she gave this year's blessing of the garden; and I cried big tears with Tina Marie in the parking lot when we pulled up and all of the flags were flying at half mast. Madalene will live on in our hearts and memories and in the many things that she has taught us.
Home Again & Back to Spring
Black pussy willow in bloom
We had to depart immediately after the memorial, in order to drive back to Little Rock to make my flight the following afternoon. When I flew into BWI, I was cold, arriving at the airport in sandals and capris and I had to dig in my suitcase for a sweatshirt, socks and shoes. Arriving back home was like going back in time—my daffodils and pussy willows were just beginning to bloom and the garlic was about 6 to 8-inches tall.
After unpacking, doing laundry, checking mail, phone calls, e-mail, attending to family and playing overall catch-up, I actually was able to spend a day in my garden. I cut back a lot of dead-plant material (I leave Echinacea, anise hyssop, bee balm, sunflowers, milkweed pods, and many other herb stalks so the birds can eat their seed heads as well as find cover and perches in the fall and winter months), pruned off winter damage, moved leaves from some areas where there was emerging plant growth, and trimmed off brown leaves from the masses of blooming hellebores. Since I was getting ready to depart for my next trip, I carried my 16 large rosemary plants out of the greenhouse to their benches with a southern exposure so they could experience the fresh air, sunshine and rain showers of springtime in Maryland. These tender perennials are much happier now being outside—I didn't bring them inside until last December—basically if the night temperature is falling below 30º F I move them indoors. It's time to get ready for the next trip.
Stay tuned for the next destination: the International Epcot Flower and Garden Festival—feels like summertime in Florida!
links:
www.ozarkfolkcenter.com
International Festival-Institute at Round Top, Texas