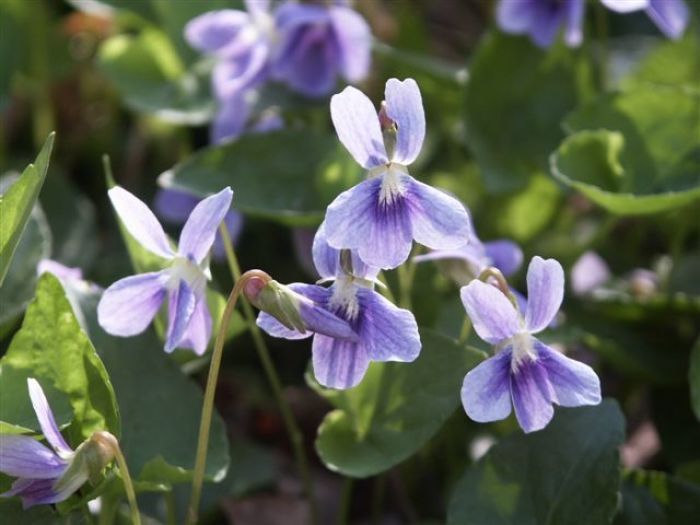 Writing from the road continued…
lThe Epcot International Flower and Garden Festival, Disney World, Orlando, Florida
In order to get ready for the Epcot Flower and Garden Festival, I had to dig out my summer clothes. I was invited to present over spring break for three days, twice a day. My noon program was titled 'Cooking Under the Influence: Using the Mediterranean Herbs in the Kitchen' and the 3 o'clock slot was
'Not just desserts—sweet herbal recipes,' which is the title of one of my recent cookbooks which features using fresh herbs in desserts and baked goods. My daughters, Lucie who is 21, and Cady who is 18, accompanied me to Florida.
The heat blasted us as we left the Orlando airport with our friendly Disney host (who met us holding up a sign with my name on it). It felt like hot summer there and the air conditioner was on in the car. Whizzing by palm trees, palmettos, and roadside elderberry trees already in bloom, we arrived at the Beach Club Resort where the manicured, landscaped gardens displayed beds of gaily colored blooming annuals such as violas, snapdragons, and marigolds, along with rose bushes bordered by sculpted hedges of boxwood and other low-growing shrubs. The general attire was sandals or flipflops, shorts and bathing suits, or sundresses. We sat outside on the palm-shaded patio by the pool alongside fragrant blooming gardenias and other tropical foliage sipping on rum drinks, transported far from our Maryland spring weather, with night temps still in the 30s.

On stage at the Epcot Flower and Garden Festival
For the next few days, we saw the sights of Disney World and Epcot Center with the multitudes of families on spring break, going from park to park, wearing blisters on our feet from all of the walking and "glowing" with the heat. My programs were well-attended—I had a very nice set up—with huge pots overflowing with every kind of herb that I asked for, and many more. I was amazed at the large number of attendees who lived and gardened right there in Florida; most of them had season passes to attend the six-week long garden festival. Of course, growing herbs in the heat and humidity of Florida is entirely different than in my Maryland Zone 7 garden, and there were gardeners there from diverse climates and as far away as Alaska, England, and even China. There were many garden plots, mass plantings, and lots of large trees throughout the parks, and I was fortunate to meet many of the gardeners who are employed at Epcot. The magnitude of the tasks of keeping the impressive gardens looking perfect in the heat and humidty is mind-boggling.
Mickey Mouse topiary
Living dragon created from
bromeliads and tropical plants
Impatiens
I particularly loved the topiaries of Disney characters from Mickey and Minnie and Winnie-the-Pooh friends to fairies, teapots, and more; the huge dragon created from exotic tropicals and bromeliads in the Chinese garden; the tiered towers of impatiens; and the blooming avenues with masses of bright-colored combinations of annuals with blooming shrubs. I found out from the gardeners that when it is time to change out a display, the gardeners come in after the parks close in the evening and work all night to remove and replant the display beds—and they have to be finished and completely cleaned up before the parks reopen the next morning! And these folks seem happy all of the time! Each gardener is responsible for tending various display beds throughout the different countries. Of course, there is an amazing watering system, not to mention greenhouses for propagation and maintainance of a vast assortment of plants.
Wild Animal Kingdom
The girls and I stayed an extra day after my programs so that we could spend a day at the Wild Animal Kingdom Park and do the safari ride, which was pretty far out—the park was like a savannah with watering holes for the elephants and crocodiles and flamingos. We got really close to giraffes and ostriches and even a rhinoceros; they all just grazed about the plains. There were really cool huge termite mounds and I liked the baobob trees best with their huge wide trunks that hold water in dry, desertlike conditions. My girls went to ride the Everest roller coaster while I went into the Tree of Life attraction to see the 3D 'It's a Bug's Life Show' (I screamed 3 times with the rest of the audience when larger-than-life insects made a beeline toward us at high speed). The almost daily afternoon rain shower blew through and soaked us, and then everything was hot and steamy. We flew out in the heat of the night in our flipflops and sundresses, only to search for our sweatshirts as soon as we reached BWI.
Still Spring Back in Maryland
Arriving home again, it was spring in full swing, my plantings on my daffodil hill were blooming at full tilt boogie. I gathered many bouquets of them, put them round the house, and shared them with friends and family. All the trees were finally budding out and it was springtime in the woods with spicebush and dogwoods showing green buds; no violets quite yet. Picked chickweed and small dandelion leaves for an omelet. Yum. When I had a little time and the moon was right, I filled some deep flats with Pro-mix and sowed greens—brassicas, thick leafy greens, and salad greens—and watered them in. Hopefully they will sprout in the cool weather and I will have salad greens to eat before long and other greens to transplant to the garden.
South Carolina Here We Come
My daughter Cady and husband Tomaso and I headed to South Carolina for a quick trip to visit Coastal Carolina University. Where Florida was a good two months ahead of us in their growing season, the Carolinas were about a month ahead of us. In route, in both North amd South Carolina, the daffodils had finished blooming, and the yards were full of blooming azaleas and dogwoods and roadside stands were selling collards and mustard greens. On the beach, sun-seeking spring-breakers were actually sunbathing and some even braved the surf of the Atlantic Ocean. Headed back home, eager to sleep in my own bed and get out in my garden.
Home Again
Back to the land of daffodils; the violets are just opening up. The garden garlics are a good 10 to 12 inches tall and delicious when oven roasted with asparagus. Some of the greens that I sowed are already germinated. I walk down in the woods to the river to see if the skunk cabbages are up yet and they are just poking through the wet earth. Tomaso has been working on getting the rototiller running. We spread amendments on the garden and he tills so we can get the potatoes and onion sets in the earth before the moon changes from root moon. Meanwhile trying to tidy up the perennial beds and cut back dead stems.
The Seasons Go Round and Round
It seems that I have been on a rollercoaster ride of Mother Nature–going in and out of spring and summer. I feel blessed that I am able to come and go and experience the glories of the seasons–whatever and wherever my journeys take me. I get to see and smell all of the wonderful plants each new place has to offer and I get to commune with like-minded people who also love to garden and eat good healthy food.
Next Stop:
Off to the Ozarks for the annual Spring Extravaganza at the Ozark Folk Center. My co-author and long-time herbal cohort, Tina Marie Wilcox is head gardener and herbalist there. We will be joining world-renowned ethnobotanist Dr. Jim Duke and photogapher and author Steven Foster for a two-day celebration of herbs and a Bay Spectacular as well as a wild foods brunch and nature hike. Springtime in the Ozarks!