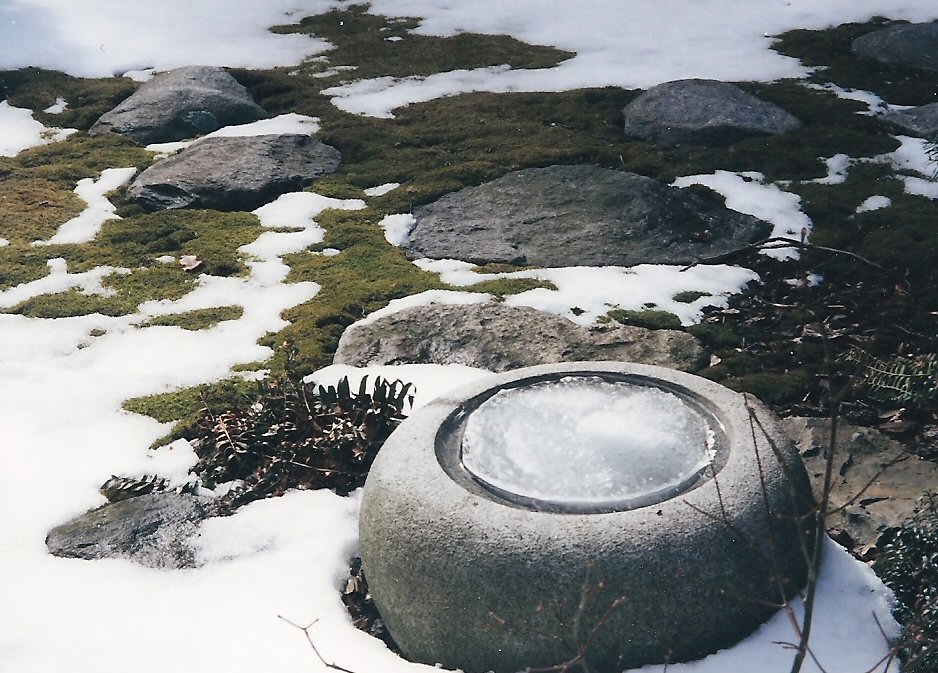 Today's photos are from Kathy Fink up in Massachusetts (Previous posts HERE). She says, "Snow conditions near Boston vary from a light garnishing to muffling mounds after a Nor'easter. Even without snow, there can be a lovely mood with oak branches with clinging leaves displayed against a glowing winter sky. In early spring, interesting patterns form as the snow gradually melts. Since the bones of the garden are more on view with a lovely subtle color scheme, winter is one of my favorite seasons in my garden." I love how we're all taking the time and care to appreciate our winter landscapes lately. Thanks so much for sharing, Kathy. Everything is beautiful!
Send me photos of YOUR garden! Email me at [email protected]
I'm scheduled to give another GPOD talk (A few of you will be getting emails in the next two weeks as I put together the slideshow…), and a number of people have emailed to say that they'll be at the show, and that they'd love to meet up with a bunch of fellow GPODers!
The RSVPs so far:
Glenda Curdy (Nurserynotnordstrom)
May Kald (GrannyMay) – tentative
Catherine Campbell (CrannyCC) – tentative
Tia Scarce
Jeanne Cronce (Greengenes)
Sheila Schultz
Nora
Shirley Graves
Chris Niblack (ChrisSeattle)
Kielian DeWitt (Annek)
Linda Skyler (Meelianthus)
Kathy Schuler
So…who else is going to be there?? Let us all know in the comments, and we can start planning an outing! Perhaps after-dinner drinks one night at the bar at the Sheraton? I'll repeat this announcement for the next week or so, at least, and keep a running list of who's coming….enticement for even more people to come. Oh, and when you comment to say you'll be there, give us your real name so that I can plan name tags that include both that and your screen name…
______________________________________________
Want to get the GPOD delivered to your inbox every morning? CLICK HERE!
Want us to feature YOUR garden, or a garden you've recently visited, in the Garden Photo of the Day? CLICK HERE!
Want to see every post ever published? CLICK HERE!
Want to search the GPOD by STATE? CLICK HERE!
And last but not least, Check out the GPOD Pinterest page, where you can browse all the post in categories…fun! CLICK HERE!