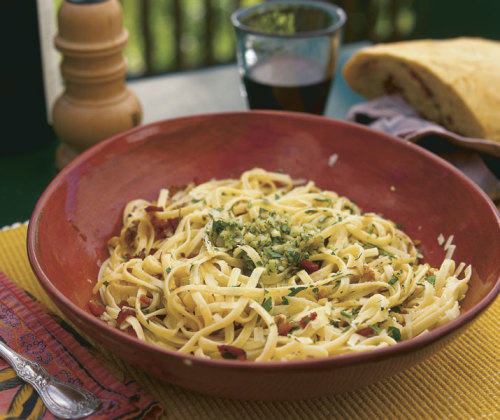 Ingredients
1 garlic bulb, cloves peeled
1 tsp. kosher salt
1 cup walnut pieces
½ cup minced fresh Italian parsley
4 oz. Parmigiano-Reggiano, grated
½ cup extra-virgin olive oil
Freshly grated black pepper
1 lb. linguine
4 oz. pancetta or bacon, diced
½ tsp. red pepper flakes
Makes 4 servings
I make this dish often, and only recently have I bothered to write it down. When the cupboard is virtually bare, I usually have these ingredients tucked in the pantry and the fridge. But be warned—this dish packs a real garlic punch.
Begin by placing six garlic cloves and the salt in a mortar, and grind this to a paste. Add half the walnuts, grind until well incorporated, add half the parsley, grind until well blended, and then use a rubber spatula to fold in about a third of the cheese. Thin with 2 Tbs. of the olive oil, season with black pepper, and set aside. Mince the remaining garlic.
Cook the pasta in boiling salted water according to package directions. While it cooks, sauté the pancetta in 1 Tbs. of the olive oil in a medium saucepan. (If using bacon, do not add the olive oil. When the bacon is nearly crisp, drain off the fat before continuing.) When the pancetta is nearly but not quite crisp, add the minced garlic, sauté 1 minute (do not let it burn), add the remaining olive oil, heat through, and remove from the heat. Stir in the remaining parsley and the red pepper flakes.
Drain the pasta, and place it in a large bowl. Pour the olive oil mixture over the pasta and toss well. Divide among individual plates, add a generous spoonful of the garlic-walnut sauce on top of each portion, and scatter some of the remaining walnuts and cheese on top. Serve immediately, with the extra garlic-walnut sauce alongside.
This recipe originally appeared in Kitchen Gardener #19 (February 1999).