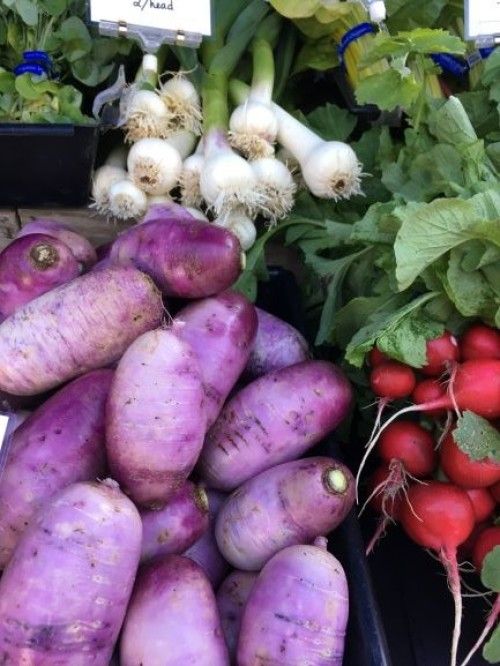 It is that time of year again already! Today we celebrate the true arrival of summer with the solstice–the longest day and shortest night of the entire year. Not that summer weather hasn't already been here for some time–it is hot here in Maryland!
Summertime and the living ain't so easy for this gardener; "traveling gardener" is an oxymoron. We've had lots of rain and the dang weeds are growing bigger than the vegetables. After planting the plants and sowing the seed, I mulched the beds with wheat straw. Then I went away for two weeks and when I returned the wheat seed had sprouted and taken hold and had surpassed the size of the baby lettuces and transplants. So I had to get down and root out that grass and turn every bit of mulch over to save the garden. It is looking okay now, though there are a number of beds that need to be weeded before they are overrun.
I just returned from nearly a week in Madison, Wisconsin, where I attended the Herb Society of America's annual conference, which is always great fun and educational of course. We visited the University of Madison Arbortetum, Olbrich Botanical Gardens and Allen Centennial Garden–all very different from one another–and all of them not to be missed if you are in the area. Our hotel was right on the main Capitol square in town, with green grassy areas and bright flowers in containers, and one of the biggest farmers' markets that I have ever seen. This is a college town–a very clean, food-, people- and pet-friendly city with lovely greenspaces and plantings. Madison is located on an isthmus between two lakes, easily within walking distance and we walked to Monona Terrace a number of times–it has native plants in raised bed gardens, a great view of Lake Monona and must-see lights at night.
Since we had conference all day Saturday, a number of us got up early to visit the acclaimed farmers' market which opened at 6:15 am! It was well worth arising early to visit with the happy vendors and see the mouthwatering array of garden bounty available in Wisconsin. Herbs, veggies, fruits, nuts, honeys and jams, baked goods, cheeses, plants and more were beautifully displayed and we oohed and aahed our way around the market, returning to the hotel laden with all kinds of goodies, as well as plants, even though we were flying back to our homes. I can attest that gardeners are adept at packing plants and foodstuffs in their suitcases.
Enjoy the photos of the Madison farmers' market here along with a few places in the city–be sure to visit your local farmers' markets and support our farmers. Celebrate the summer solstice with local, seasonal bounty–perhaps a picnic or dining al fresco–after a bit of weeding!