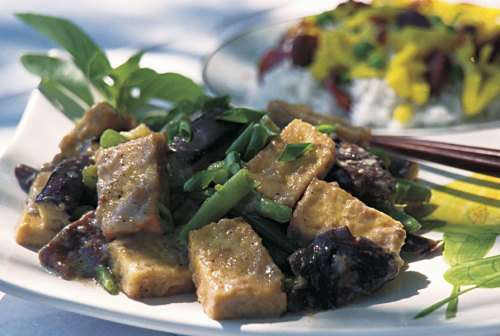 Ingredients:
1 lb. firm tofu, cut into small cubes
1/4 tsp. black pepper
3/4 tsp. salt
1 Tbs. cornstarch
2 Tbs. canola oil
2 green chiles
1 stalk lemongrass, sliced thin
2 kaffir lime leaf lobes
1 Tbs. minced garlic
1 Tbs. minced shallot
1/2 tsp. shrimp paste
1/2 cup chicken or vegetable broth
1/2 cup coconut cream
1 tsp. sugar
1 to 2 Tbs. fish sauce
1/2 lb. green beans, cut about 2 inches long
1/2 lb. fresh oyster or white button mushrooms, cut up if large
1/2 lb. Japanese eggplant, cut into little-finger-sized strips
Handful of Thai basil, torn apart
2 to 3 fresh Thai hot peppers, thinly sliced crosswise (optional)
4 servings
In this recipe, yard-long beans can be used instead of green beans, and soy sauce can be substituted for the fish sauce.
In a small bowl, mix the tofu, black pepper, 1⁄4 tsp. of the salt, cornstarch, and 1 Tbs. of the canola oil. Set aside.
Put the green chiles, lemongrass, kaffir lime leaves, garlic, shallots, shrimp paste, and the remaining 1 Tbs. of canola oil into the bowl of a food processor and process into a paste. Set aside.
In a small bowl, combine the broth, coconut cream, sugar, fish sauce, and the remaining 1⁄2 tsp. salt. Set aside.
Set a large, nonstick skillet over high heat, and gently brown the tofu on all sides. Push the tofu to rest around the outer edge of the skillet.
Pour the herb paste into the middle of the skillet and stir constantly until lightly brown and the aroma is released, 1 to 2 minutes. At this point, blend the tofu with the herb paste, stirring so the tofu can fully absorb the paste.
Pour in the sauce, bring to a boil, and add the green beans. Cover and simmer 5 minutes (10 minutes if using yard-long beans). Add the mushrooms and eggplant and cook 1 to 2 minutes longer. The eggplant should be uniformly tender. Remove from the heat. Toss in the basil and the chiles. Serve over rice or noodles.
Recipe by Bich Nga Burrill
October 2000
from issue #29