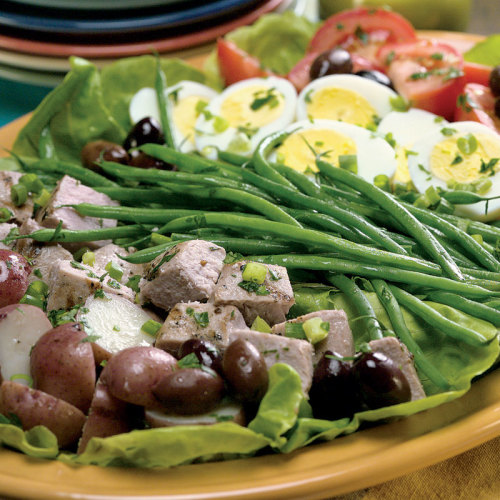 Ingredients:
1 Tbs. anchovy paste
1 garlic clove, pressed or minced
2 Tbs. plus 2 tsp. red-wine vinegar or fresh lemon juice
1/2 cup extra-virgin olive oil
Freshly ground pepper
A generous 1/2 lb. filet beans
1 head leaf or butter lettuce
6 small or 12 tiny new potatoes, boiled
4 hard-boiled eggs, peeled and cut in half
1 large or 2 medium tomatoes, cut into wedges
12 oz. cooked tuna
20 to 30 Niçoise or other black olives
4 scallions, sliced thinly on the diagonal
4 sprigs parsley, minced
4 main-course servings
In this variation, the traditional anchovy filets are replaced with vinaigrette flavored with anchovy paste. The result is a subtler taste with more universal appeal. You can use grilled or pan-seared fresh tuna or Italian canned tuna packed in olive oil. If you boil the potatoes and eggs ahead of time, this salad goes together in a flash.
First, make the vinaigrette. In a small bowl, whisk the anchovy paste, the garlic, and the vinegar or lemon juice until smooth and blended. Gradually whisk in the olive oil. Stir in a few twists of black pepper. Taste for seasoning; add more anchovy paste if desired. Set aside.
Trim the stem ends of the filet beans. Cook in boiling water just until tender, about 4 minutes. Drain immediately and rinse under cold water to stop the cooking. Wash and dry the lettuce, tear the leaves into manageable sizes, and put them in a large bowl. Slice the potatoes and set them aside.
Give the vinaigrette a stir, and drizzle just enough over the lettuce to coat the leaves lightly. Toss the lettuce until evenly coated, and divide among four dinner plates. Arrange the beans, potatoes, eggs, tomatoes, and tuna on top of the lettuce, and drizzle with the vinaigrette. Tuck a few olives onto each plate, and scatter the scallions and parsley on top.
Note: The whole salad can also be made ahead. Assemble it, without any dressing whatsoever, on a platter or a large, shallow serving dish. Cover with plastic and refrigerate until time to serve. Let each guest serve himself, and pass the vinaigrette separately.
Recipe by Ruth Lively
June 2001
from issue #33