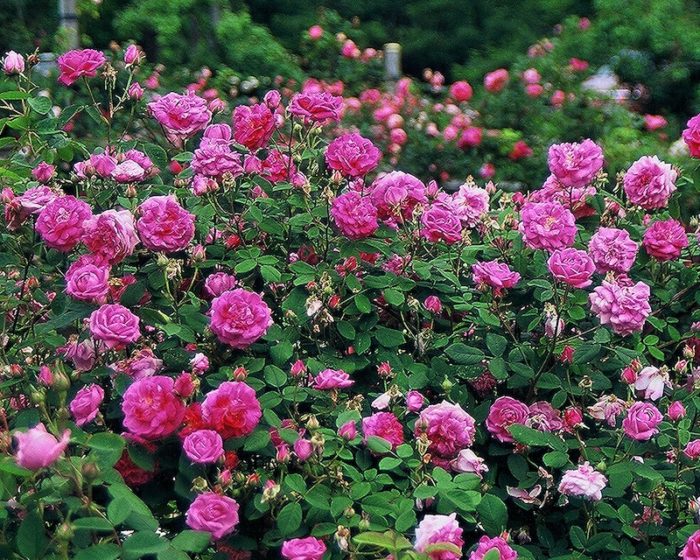 What is an Old Garden Rose? To history it is a rose being of a class in existence before the year 1867. Why 1867? Simple. This is the year a rose named "La France" was introduced. La France is considered to the be the first Hybrid Tea. It is the offspring of the Hybrid Perpetual "Madame Victor Verdier" with the Tea rose "Madame Bravy". The hybridizer was Guillot and what marked La France as being different from other roses was the high centered blossom we associate with Hybrid Teas of today. The name Hybrid Tea in fact comes from a wedding of the classes of the parents of La France. A Hybrid Perpetual and a Tea rose.
Notice I use the words "class of roses" in existence before 1867. This means that even though say a particular Bourbon (a class of Old Garden Rose) was introduced after 1867 it's still an Old Garden Rose. In fact it's possible that an Old Garden Rose could be hybridized and introduced to the growing public today.  The rose breeder Paul Barden comes to mind.
Class of roses also brings us to the other part of the definition of Old Garden Roses. Modern Roses refer to Hybrid Teas, Floribundas, Miniatures etc. Sub classes within the label "Modern Roses". It's the same with Old Garden Roses. To put it plainly, Old Garden Roses are not a class of roses but rather a group of classes that fit one definition. That definition is the class was in existence before 1867. So if you hear folks speak of Old Garden Roses then launch into Bourbons, Albas, Damasks, Teas and so on relax. They are only talking of the classes of roses that make up the group Old Garden Roses.
What are the classes of roses that make up Old Garden Roses? There are a lot but generally they fall into two subclasses; I use the terms Antique and Old Roses. Old Roses are those found in Europe before the very late 1700s and Antique Roses are those who can trace part of their ancestry back to R. Chinensis (The China Rose) which was the first true repeat blooming rose known to the Western World and was not introduced to Europe until around 1792. While this sounds confusing and technical, there is another way to separate Antique and Old Roses. Old roses for the most part do not repeat bloom and Antique Roses for the most part do. Why? Because of the influence of R. Chinensis into breeding programs. With this repeat blooming ability roses forever changed, Antique Roses were born and later all of our Modern Roses. With all of this in mind here are the classes that make up the group Old Garden Roses. (There are certainly other classes and I don't claim to be 100% correct but for the purposes of this blog these are the ones I'm listing.
Old Garden Roses – Pre China Rose Influence (Old Roses)
Gallica
Damask
Centifolia
Moss
Portland (or Damask Perpetuals)
Alba
Rambler
Old Garden Roses – Post China Rose Influence (Antique Roses)
Bourbon
Hybrid Perpetual
Noisette
China
Tea
The addition of ramblers to Old Roses might raise some eyebrows but in my mind ramblers belong with this group. There are not truly species, they did exist before 1867 and for the most part they do not repeat bloom. So allow me this indulgence. The Portland/Damask Perpetual class is also a little vague in where it might belong but I'm keeping it with Old Roses instead of Antique Roses. Even though they do repeat, they were not directly influenced by China roses and the date of their appearance and their characteristics are similar with the other Old Roses.
So now, if someone asks you what is an Old Garden Rose you know what to say!
Happy Roseing
Paul