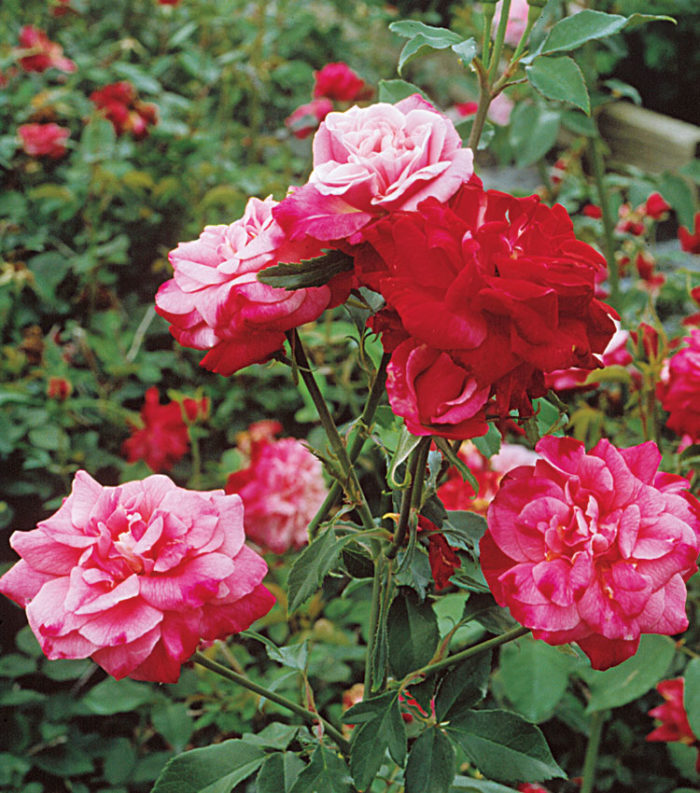 For the last 100 years, breeders have put all their efforts into perfecting the rose's flower. Brightly colored blooms, strong stems, and high-centered buds that unfurl into multipetaled flowers have been the rewards. But all this "progress" has come at a cost. With the introduction of so many modern roses, nurseries stopped selling the antique varieties. The irony is that antique roses are tougher, more disease resistant, and more fragrant than the cutting-edge modern roses ever will be.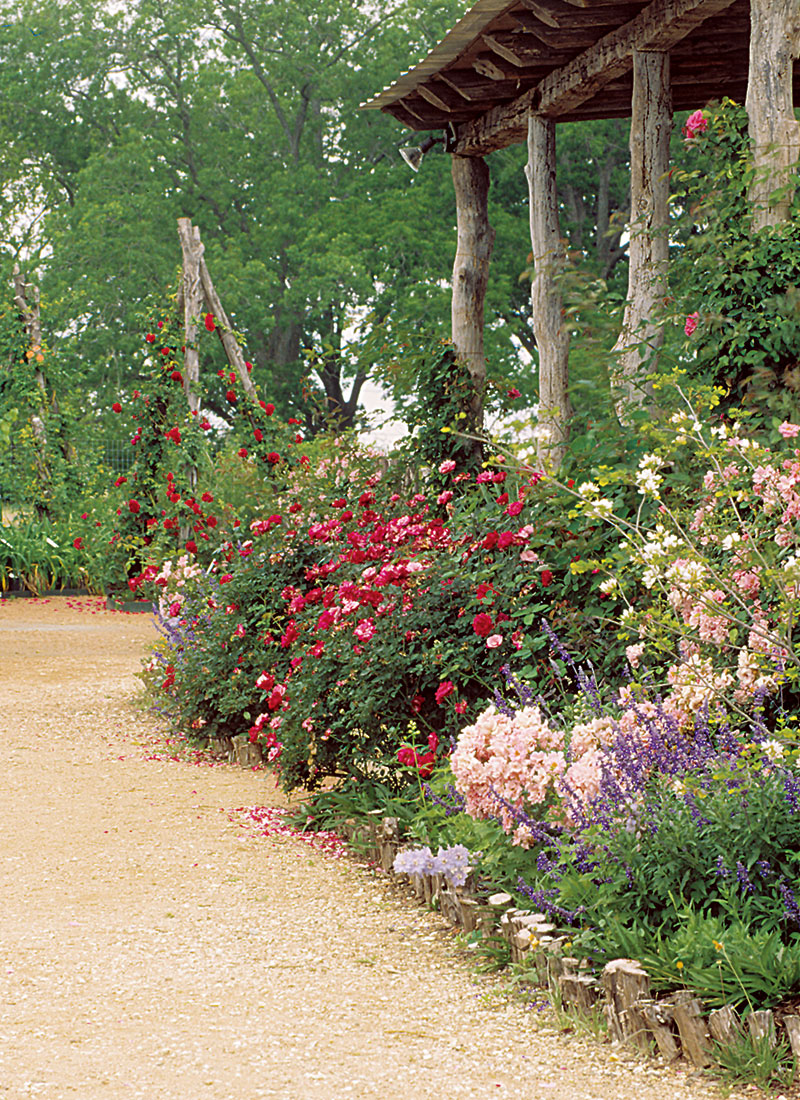 My passion for antique roses evolved in an odd way. In the early 1980s, in search of a marketing niche, I combed the Texas roadsides for interesting native plants to sell. Many of the plants I came across were displaced antique roses, and many of those were Old Garden roses, varieties introduced into commerce prior to 1867. Others were not as old, but they shared the same survival characteristics of the antiques I had found. I took cuttings of the roses I came across, with the hopes of propagating them and reintroducing them to the local market.
Not only do antique roses have good survival instincts, but they are also valuable in the garden. They climb, ramble, trail, and form bushes large and small. They bloom steadily for several seasons or overwhelmingly for one. They can be used as the backbone for a bed or massed for color in the foreground. They will also settle happily into containers.Back at the nursery, I displayed these roses in the perennial borders, in the cottage and herb gardens, and in the water, rock, butterfly, and knot gardens, hoping to pique my customers' interest. Our new business tagline read, "Our gardens are not rose gardens, but gardens that have roses in them."
Antique roses in the garden: What to plant where
To help you select a cultivar a specific situation in your landscape, I've compiled a list of my favorite antique rose cultivars for specimens, hedges, containers, and climbers. These are all good-looking, hardy selections, and the accompanying zone recommendations are conservative.
Roses for upright hedges 

'Cécile Brünner' – 1881/polyantha/Zone 5
'Duchesse de Brabant – 1857/tea/Zone 7
'Hermosa' – 1837/China/Zone 6
'Marie Pavié' – 1888/polyantha/Zone 5
'Mrs. B.R. Cant' – 1901/tea/Zone 7
'Old Blush' – 1752/China/Zone 6
'Souvenir de la Malmaison' – 1843/Bourbon/Zone 6

Roses for informal hedges

'Climbing Pinkie' – 1952/polyantha/Zone 6
'Cornelia' – 1925/hybrid musk/Zone 6
'Penelope' – 1924/hybrid musk/Zone 6
'Prosperity' – 1919/hybrid musk/Zone 6

Roses for containers

'Archduke Charles' – 1837/China/Zone 7
'Cécile Brünner' – 1881/polyantha/Zone 5
'Marie Pavié' – 1888/polyantha/Zone 5
'Old Blush' – 1752/China/Zone 6
'The Fairy' – 1932/polyantha/Zone 4

Roses for climbers

'Buff Beauty' – 1939/hybrid musk/Zone 6
'Climbing Old Blush' – unknown/CHina/Zone 6
'Climbing Cécile Brünner' – 1894/polyantha/Zone 6
'Jeanna d'Arc' – 1818/alba/Zone 7
'Lamarque' – 1830/noisette/Zone 7
'Mme. Alfred Carrière' – 1878/noisette/Zone 6
'New Dawn' – 1930/climber/Zone 5
R. banksiae var. banksiae (Lady Banks rose) – 1807/species/Zone 8
R. laevigata (Cherokee rose) – 1759/species/Zone 7
R. × fortuniana (Fortuniana rose) – 1850/hybrid species/Zone 7
'Sombreuil' – 1850/climbing tea/Zone 6
Use single roses as focal points
Tradition dictates that "show-off" roses like modern hybrid teas be cordoned off from other plants so they can be easily sprayed, pruned, and fussed with. Like soldiers standing at attention in perfect rows, boring and expressionless, modern roses planted in this fashion do little to stimulate our creativity.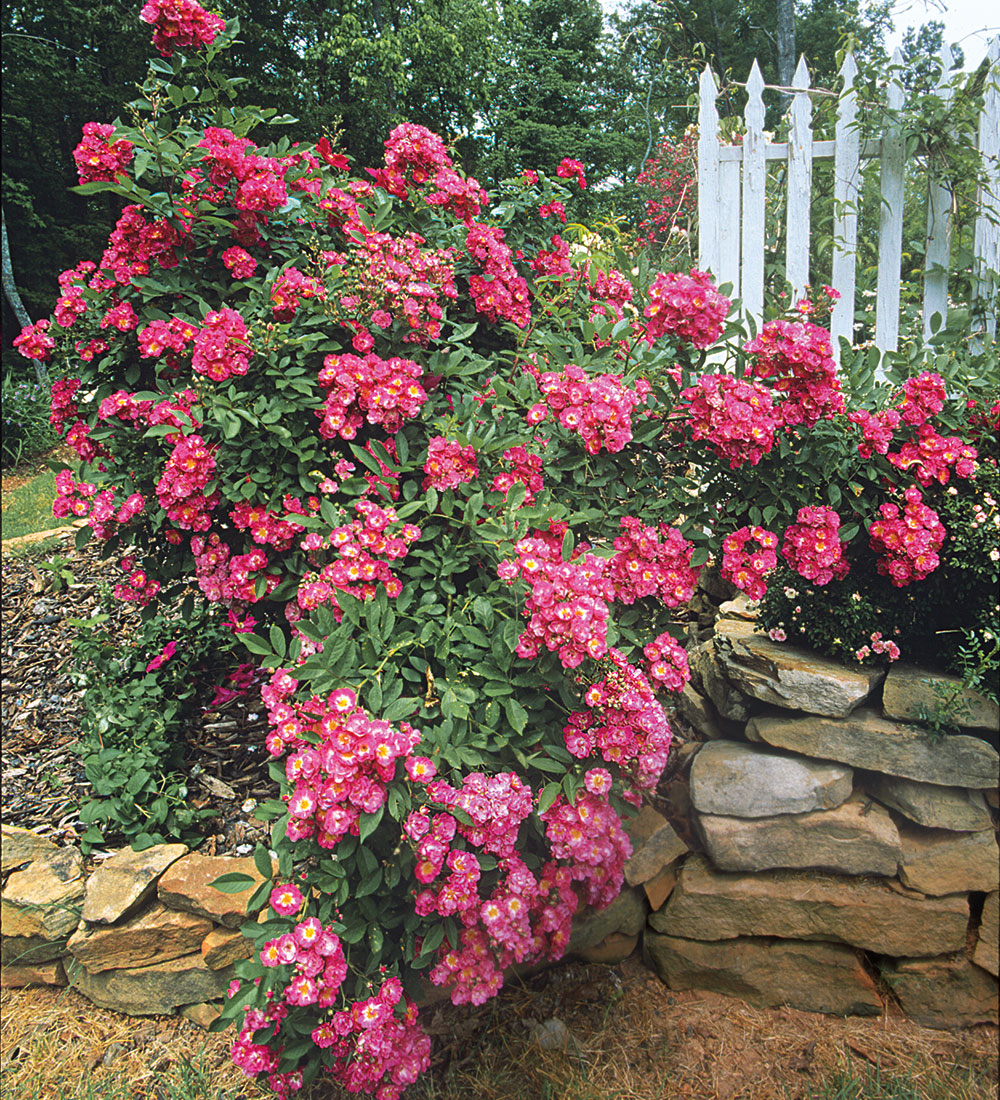 Unlike their modern cousins, antique roses are fat, full of foliage, and billowing with color and fragrance when in bloom. I place mine as specimens at the corners of my perennial borders where an exclamation point is needed, in my cottage garden where the walkway curves around the corner, on either side of an entryway, or even in large containers strategically placed where all passersby can see them. For instance, 'Duchesse de Brabant', an old tea rose that dates back to 1859, flaunts its pink flowers in our perennial border. 'Old Blush', with her consistent bloom, is the focal point in our cottage garden. There's an old twig chair by her side so visitors may sit and enjoy her company and scent. 'Hermosa', like 'Old Blush' and 'Archduke Charles', is a China rose that makes a great display in a whiskey barrel. 'Marie Pavié', 'The Fairy', and 'Cécile Brünner' are more diminutive and fit into smaller containers, where they are used to accent porches and entryways.
Use midsize growers to define space
Specimen roses that are stunning by themselves become even more spectacular planted together. I mass a single variety to impart a uniform color and form and to give continuity to a planting. These masses can take the form of hedges like the ones that separate my garden areas, or foundation plantings like those in my display gardens. I've also planted rows of roses in front of the fences that ring the nursery. Although these roses—which replaced traditional hedges of boxwood and photinia—may be bare in winter, they are certainly more showy come spring and summer.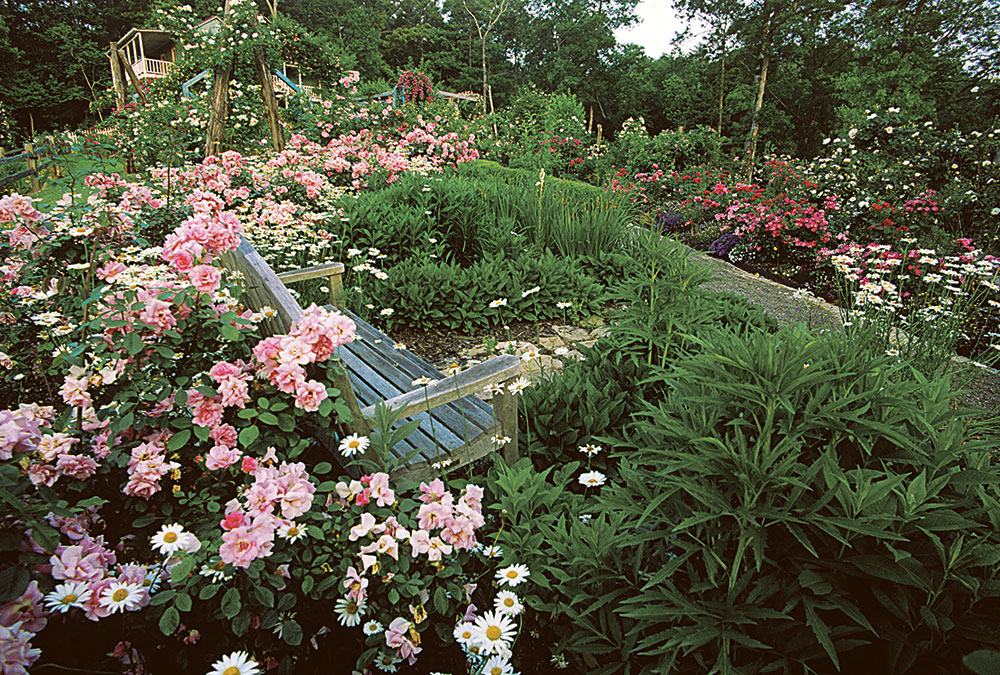 Larger roses like 'Old Blush', 'Archduke Charles', 'Mrs. B.R. Cant', and 'Sir Thomas Lipton', which reach 6 feet in height and spread, are best used along fences and taller structures where their scale will not dwarf nearby structures. Polyanthas like 'Cécile Brünner', 'Marie Pavié', and 'The Fairy', which grow to only 3 feet tall and wide, are excellent choices for borders and walkways along garden paths.
Some of these roses make excellent informal borders. 'Climbing Pinkie' and the hybrid musks 'Cornelia', 'Prosperity', and 'Penelope' are large cascading shrubs, 6 to 8 feet tall and wide. When planted together, they form tall informal hedges that ably delineate property lines or even hide unsightly parking lots. When planted alone, they create a fountain in a border where they will bloom in the spring and again in the fall.
Train climbers on fences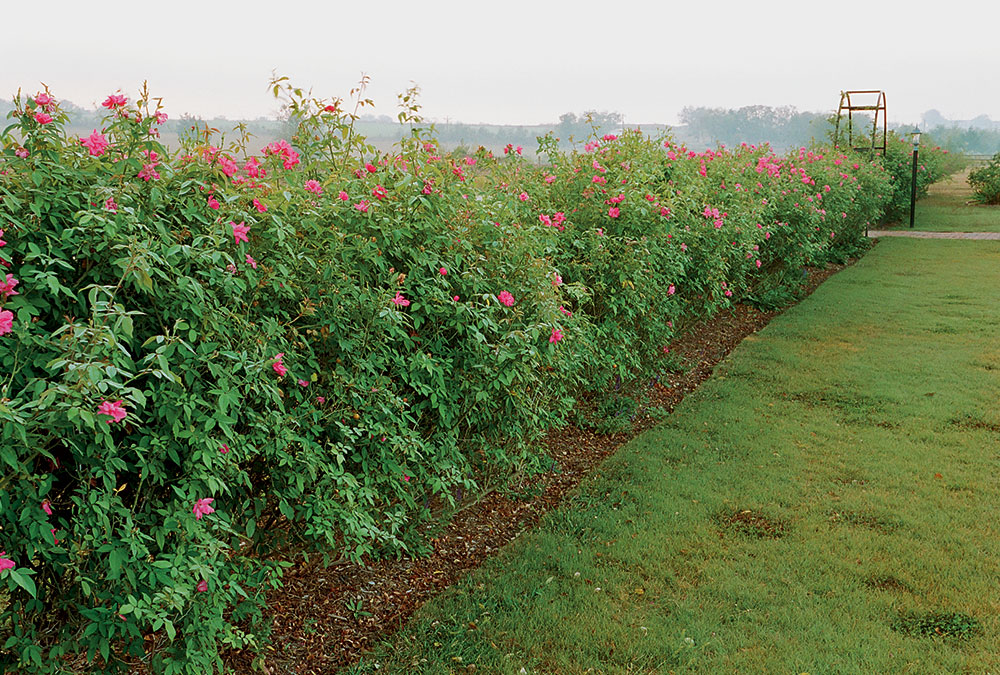 Climbers and their companions have a way of adding drama to a garden. Nothing can be more romantic than coming upon the fragrant, creamy-white flowers of the noisette rose 'Lamarque' dripping from pillars that line a garden walkway.
Many of the old roses I've acquired are climbers, and their inclusion in my gardens created a dramatic transformation to the grounds. Roses like 'Lamarque', 'Madame Alfred Carrière', 'New Dawn', 'Climbing Old Blush', 'Climbing Cécile Brünner', and the Lady Banks rose (Rosa banksiae var. banksiae) are trained on walls and porches, where they soften straight lines and dress up stark expanses with their grace and color.
When I ran out of places to train these roses, I built tripods from cedar posts as an excuse to get additional climbers like the Cherokee rose (R. laevigata) and the Fortuniana rose (R. × fortuniana) into the garden. I also trained roses up the poles and down the swags that are set in a circle to enclose the formal garden. Trellises, picket fences, and pillars became supports for mannerly climbers like 'Sombreuil' , 'Buff Beauty', and 'Jeanne d'Arc'. Annual vines like purple hyacinth bean (Lablab purpureus) and sky vine (Thunbergia grandiflora) are planted close by so they can mingle with the roses.
Whether used as a single specimen plant in a border or a container, tightly trained as a climber, or massed into a hedge, antique roses belong in the garden, where their history, fragrance and versatility can be appreciated. I am often struck by the intense beauty antique roses bring to my display gardens, and moved by the joy of neighbors and visitors as they stroll through the grounds, reveling in the fragrance.
Antique roses belong with the perennials, annuals, and woody shrubs that fill the gardens. Since they don't need to be sprayed and fussed over, roses become just another player in the overall palette of garden plants. When the roses are in bloom, the garden is beautiful. When the roses are not in bloom, the garden is still beautiful because its diversity creates interest year round.