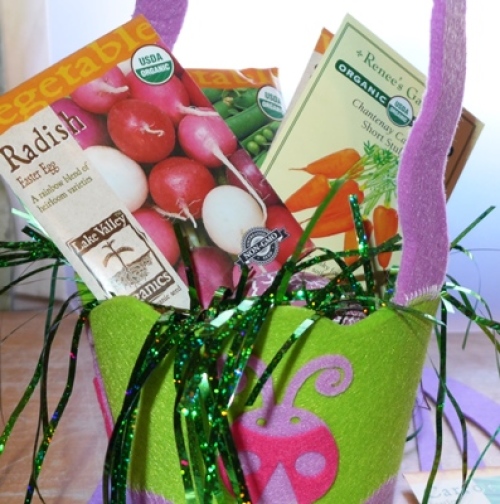 Candy's nice in the Easter basket, but carrots are sweeter. They can also help grow another vegetable gardener.
Research shows when children learn to grow vegetable gardens, they can become life-long gardeners, even if there are years between plantings. Those early gardening lessons have a tendency to stick with kids while creating lasting memories.
I've talked with many vegetable gardeners over the years and nearly all of them remember planting their first vegetable gardens. Some started by planting seeds in Dixie cups at school and bringing them home to plant. Other gardeners have told me their grandmothers helped with their first gardens. Most of them had their own little spot to plant whatever they wanted to grow.
Spring is the perfect time to help little hands learn how to plant vegetable seeds, how to keep them watered and be patient as they grow into something delicious.
One way to get started this season is by adding a few seed packets to the Easter basket with the promise to help plant them.
Easter Egg radishes are one of the quickest growing plants that fits the seasonal theme. These radishes are an heirloom variety that grow perfectly round radishes that are ready to eat in just 30 days. 
Short Stuff carrots are new this year from Renee's Garden. These small-size carrots can grow in containers making planting easy. The carrots will be about 4-5 inches long when they're ready to harvest and take about 68-75 days to get that size.
Dwarf sweet peas are another good container plant for children. Look for peas that don't need tall trellises or staking and that mature in 68-70 days. The kids I know who grow sweet peas love to eat them as soon as they pick them from the garden.
Other vegetable seed ideas for the Easter basket include the tasty treats rabbits like to eat, like spinach, kale, and lettuce. These greens sprout and grow quickly, plus the tender baby leaves can be clipped when they're only a few inches tall.
What other vegetable seed suggestions do you have to help celebrate the holiday?