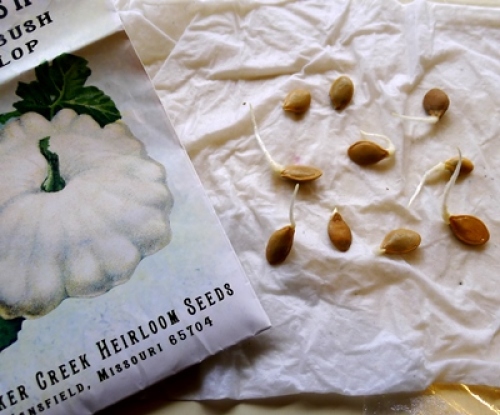 It's easy to succumb to the siren's call of the new seed catalogs that start filling mailboxes this time of year. The mouthwatering images! The tempting new varieties! The longing for warm weather! It's enough to make even the hardiest of vegetable gardeners swoon.
But before you end up spending too much money on new vegetable seeds, it makes good cents to test the seeds leftover from previous seasons.
Seeds can have a long life, especially if they've been stored in a cool and dry location. Just think how long weed seeds can live in the soil before sprouting again.
While going through my seed inventory the other day, I found a packet of white bush scallop squash seeds from Baker Creek Heirloom Seeds packed for the 2009 season. I remembered these squash plants were easy to grow, and the fruit was especially delicious.
I used a simple germination test to find out if these six-year-old squash seeds were still good for planting this season. Here's how you can conduct the same test:
Select 10 seeds of the same variety.
Place them on one side of a dampened paper towel; fold the towel over the seeds.
Place the paper towel in a plastic baggie.
Keep the baggie in a cool location and out of the sun.
Check the seeds in 7-10 days to see how many have sprouted.
Multiply the sprouted number of seeds by 10.
If this percentage is above 75 percent, you can use the remaining seeds instead of buying new seeds.
When I conducted my squash test, I checked the seeds after 7 days. I found that 8 of the 10 seeds had germinated, meaning 80% of the seeds are still viable. I'm looking forward to planting this heirloom squash again this year.
If you find that you have a stock of seeds that are still good, but you'd prefer to plant different vegetable varieties this year, there are ways to clean out old seed to make way for the new. Trading seeds at seed swaps or donating them to a school garden are just two ideas for recycling old vegetable seeds.
How do you recycle your leftover seeds?