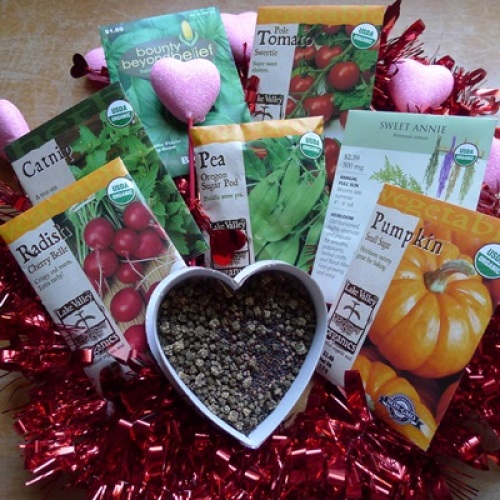 Speaking for gardeners everywhere, I'd rather get seeds and plants instead of candy any Valentine's Day. A box of chocolates is fleeting, but the vegetables and herbs planted from packets of seeds provides season-long pleasure.
It's easy to surprise your sweetie with this kind of unconventional, but much appreciated gift. Thumb through a seed catalog, shop online or stop by your favorite garden center. There are plenty of sweet-themed seeds just waiting to be picked.
From sweet herbs to sweet peas, here are some ideas to get your creative vegetable juices flowing:
Small Sugar pumpkins grow fruits that weigh about 6 pounds and are perfect for canning, baking or decorating in the fall. These pumpkins mature in about 90 days so, depending on your growing season, you can plant them in the garden or start them inside and transplant once the danger of frost has passed.
Sweetie tomatoes can be started inside, too. I've grown Sweeties in my garden and they certainly live up to their name. These are small size cherry tomatoes that grow on long vines. Start seeds inside about 6-8 weeks before transplanting when nighttime temperatures are a reliable 55 degrees. Be sure to add a sturdy trellis to help plants climb.
Cherry Belle radishes are an extra early variety that gardeners can start planting in early spring and again later in the season for a fall crop. These adorable round red radishes mature in only 22 days for some of the first fresh tastes of the season.
Sugar Pod peas are another sweet treat for spring. Peas prefer cool weather, so early spring is the perfect planting time. Look for sweet peas that mature in about 65-68 days for early harvests.
An herb with a delightful fragrance is called Sweet Annie. This old-fashioned plant produces green, aromatic foliage that's a wonderful addition to the herb or ornamental garden. Gardeners who enjoy making herbal crafts, like wreathes, will appreciate Sweet Annie. So do the bees, butterflies and other pollinators.
Cat lovers can also spread the love by planting Catnip. This easy-to-grow herb make kitties go crazy, but it can also be brewed into a healthful tea. Start catnip seeds indoors about 6-8 weeks before the last frost date for your region. In about 60 days or less, start harvesting the leaves for drying.
Once warm weather arrives, it's time to plant Sweet basil. Basil grows quickly when planted in warm soil, or you can start seeds indoors for transplanting. A container of basil is a must-have for any gardener who likes to cook.
These are just a few vegetable and herb selections for a gardening Valentine's Day surprise. What seeds can you add to the list?