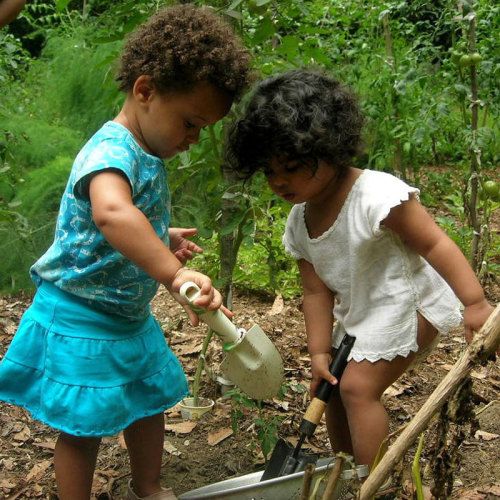 For more years of my life than not, I've been raising children. My husband and I have four kids and one sugar baby—I might as well be a Pez dispenser. I haven't even managed to keep my children out of my bathroom, much less my gardens.
So I had to give the short people gardens of their own in self-defense. I'll openly admit that when it comes to my plants, I can be extremely protective. And by protective, I mean selfish and controlling. I love my kids as much as the next mother (probably), but the day a toddler watered my zinnia's leaves and pulled the tiny yellow flowers from my tomato plants, the lines were drawn.
I called a halt to the clumsy, sticky fingers in my garden and gave them some prime real estate in another part of the yard for their own garden creations—and garden they did. I gleaned (stole) as many ideas as I could from other harried gardening moms about how to keep children focused on their own projects.
Through the years, we managed to do quite a few really awesome things in the kids' gardens. Vegetables were always in my plan because the kids could actually put these things in their mouths without me screaming like a banshee, flying across the yard, and buckling everyone into car seats for a trip to the hospital. They could actually eat what they grew—who knew? Below is some of the cool stuff we did with vegetable gardens.
Bean-Pole Tepee
No matter how many of these we grew, bean-pole tipis never got boring. This year will be the first year that we'll grow one with our three-year-old sugar baby.
All you need is six to eight bamboo poles or pieces of thin scrap lumber that are 6 to 8 feet long. The lumber or poles can be tied altogether at the top with anything you can get your hands on. Then you stand the poles upright and spread the legs out evenly tepee style. We plant four of any kind of runner beans (not bush beans) around the base of each pole and let the beans grow up. They form a live cover around all the poles—instant tepee fort!
Kid-friendly vegetables
It's the craziest thing—I started teaching my own kids about gardening and somehow ended up teaching other people's kids about plants and gardening. I'm telling you, it's the only way to keep them out of my garden.