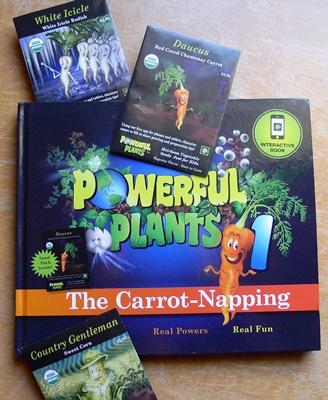 Sometimes it's easier for parents who plant vegetable gardens to get their children interested in growing vegetables, too. Some parents may even take it a step farther and prepare a gardening presentation at their children's school.
But for other parents who've never planted a seed (like my mom) it's not that easy. I had to wait until I was an adult to learn how to plant a vegetable garden.
That's why a creative father of twin eight-year-old boys has started a business dedicated to helping all children have some gardening fun. 
Al Benner is founder and owner of Powerful Plants, a company that's produced an interactive educational book and 36 varieties of vegetable seed characters for kids. The Carrot-Napping is the first book in what he hopes will become a series. 
The colorful book is just the beginning. When the book is viewed with a tablet or smartphone using the Powerful Plants free app, the seed packet characters come to life. In the first book, Daucus the carrot is kidnapped and may be headed for the juicer. Readers ages 5-12 learn interesting plant facts, answer interactive questions, and unlock animation while reading the book and using the app. Contests and prizes are part of the fun.
A free packet of carrot seeds is also included. The seeds are all easy-to-grow, organic and heirloom varieties. When viewed using the free app and smartphone or tablet, the seed packet character starts talking, dancing and sharing plant information.
Besides Daucus, other animated seed characters include a talking dinosaur called Dino Kale, Tom Thumb dwarf peas and Snow White cherry tomato. The animation, character voices and background music are all professionally done. 
I especially enjoyed Snow White's ballet. Seeing that dancing tomato made me want to plant some white cherry tomatoes in my garden this season.
The Powerful Plants concept combines the world of plants with technology to give children an interactive educational and entertaining experience. It's what Benner refers to as "edutainment."
As the creator of Powerful Plants and the book's author, Benner feels it's his responsibility to help all children develop a deep appreciation for plants, especially vegetables.
"We live in a time when children often grow up isolated from nature," he writes in his book. "Powerful Plants stories and characters reconnect kids with plants and the natural world while conveying the importance of protecting our fragile planet."
The book, seeds, free app, and all the details are available on the Powerful Plants website.
(Powerful Plants provided a complimentary copy of The Carrot-Napping for this review. As always, opinions are my own.)